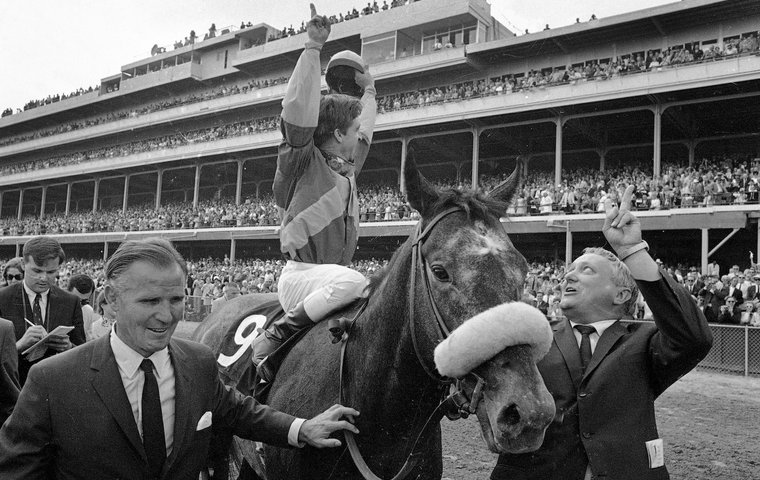 History and Bobby Ussery's mantle tell conflicting tales of an event that happened 50 years ago.

Visit the Hollywood, Florida, home of the 82-year-old former jockey and you'll see two trophies he received for riding the winner of the Kentucky Derby.

The first one honors Ussery's one-length victory aboard Darby Dan Farm's Proud Clarion in the 1967 Run for the Roses.

The other is for crossing the wire first in the 1968 Kentucky Derby with Dancer's Image, making him, on that afternoon of May 4, 1968, only the third jockey to ever win the then-94-year-old Derby in back-to-back years.

"As far as I am concerned, it was a win for me as soon as they made the race official," Ussery said in a recent interview about his ride aboard the Maryland-bred Dancer's Image.

Yet history begs to differ. Today, a half-century after the race, the 1968 Kentucky Derby serves as the most controversial, infamous and mysterious edition of the America's most famous race.

Four years of legal battles
On the Tuesday after the Derby, while Ussery was in the midst of a round of golf, news broke that Dancer's Image had been disqualified and stripped of his Derby victory after a post-race urinalysis turned up traces of the banned non-steroidal anti-inflammatory medication phenylbutazone (commonly known as Bute) in the horse's system.
It was the first and, to this point, the last time a winner of the Run for the Roses has been disqualified.
"I walked off the course and someone ran up to me and told me Dancer's Image had been disqualified," Ussery recalled. "I couldn't believe it. I thought they were kidding me."
The minute Dancer's Image was dropped to last by the Churchill Downs stewards it sparked a dark chapter in Derby history that consisted of four years of legal battles for Peter Fuller, the owner of Dancer's Image, that cost him a reported $250,000 in a bid to regain the $122,600 winner's share of the purse and the satisfaction and vindication that his horse was a legitimate winner of the race.
Was the owner victimized?
It featured a Dec. 1970 ruling in a Kentucky circuit court that overturned the Kentucky Racing Commission's rubber-stamping of the stewards' findings and restored Dancer's Image as the winner of the race, followed by a final and binding verdict in the Kentucky Court of Appeals that upheld the original decision and declared Calumet Farm's Forward Pass, the runner-up behind Dancer's Image, as the official winner of the 1968 Kentucky Derby.
There was widespread speculation about how the drug wound up in Dancer's Image, and charges that the testing was botched or the results were misread.
It also raised the specter that Fuller, a New Englander with a deep belief in civil rights for all at a volatile junction in American history, was victimized in a southern part of the country where his beliefs could spark outrage.
And, to this day, there remains no positive proof of what happened. The sample was used up in original testing and most of those involved in the affair have passed on, including Fuller, who died in 2012, and trainer Lou Cavalaris Jr., who passed away in 2013.
America was 'a tinder box'
"My father always wanted the truth to be told, but I don't know if anyone has every inch of the story," said Fuller's daughter, 59-year-old Abigail Fuller. "It's been a mystery for decades and that was always so frustrating for my father. He had so much angst about it because he could never find out exactly what happened."
Lingering are passionate feelings like those voiced by trainer Ned Allard, who started working for Fuller in the years after Dancer's Image's career came to an end and became close friends with him during about 40 years of caring for Fuller's horses. On the 50th anniversary of the 1969 Derby, he'll watch the 144th edition of the Run of the Roses on Saturday and think about Fuller and Dancer's Image with feelings that have been inside of him for decades.
"When I see the Derby," Allard said, "I'll be thinking about how they screwed Peter Fuller out of winning it."
The 94th Kentucky Derby took place at a time when America was a tinder box.
An unpopular war was being fought in Vietnam and peace protests were widespread, especially on college campuses. The fight for civil rights was bitter, especially in parts of the south, where separatism fostered one way of life for whites and another, more indignant way for blacks, who in some parts of the region were unwanted in such everyday places as restaurants and schools.
Donation to Martin Luther King's widow
Dr. Martin Luther King Jr., a black minister and leader of the civil rights movement, was assassinated a month before the Derby on April 4, 1968, sparking riots in major cities such as Washington D.C. and Chicago, as well as Louisville, the home of Churchill Downs and the Derby.
The intersection between the 1968 Derby and the battle for civil rights began on April 6, when Dancer's Image won the Governor's Gold Cup at Bowie, and Peter Fuller, devastated by King's death, donated the slightly more than $60,000 winner's share of the purse to Coretta Scott King, the widow of the slain civil rights leader.
The donation was done privately, but it was announced two weeks later during a broadcast of Dancer's Image win in the Wood Memorial at Aqueduct and quickly generated both fervent praise and hatred for Fuller.
"The donation was kept under the radar until the Wood because what my father did by donating the money was not appreciated by everyone," Abigail Fuller said. "He was a Boston guy who did things his own way and he received death threats over it. There was a fire at a little barn across the street from our house in New Hampshire and it was found to be arson."
The anger directed at Fuller, the son of former Massachusetts Governor Alvan T. Fuller, was particularly vicious in Louisville, where a year earlier King had voiced talk of a protest at Churchill Downs on Derby Day, which did not materialize.
As a result, Peter Fuller asked for additional security for his horse at its Churchill Downs barn and the iron grey colt's training for the Derby proceeded without incident.
A homebred son of Native Dancer, Dancer's Image was plagued by sore ankles entering the race and Ussery said the colt was treated with Bute, which is now permitted in Kentucky, on the Sunday before the Derby in advance of a final hard workout for the race. Both Ussery and Abigail Fuller say that was the last time Dancer's Image was treated with the medication, which normally exits a horse's system within 48 hours at most.
Popular medication
"All the great horses of that era had their issues. They needed help and they got it. Bute is no more than a strong aspirin," said the 72-year-old Allard, who has 2,687 wins in a training career of more than 45 years and started as an assistant trainer in 1967. "I'm sure Dancer's Image wasn't the only horse in that race with some Bute in him. It was a very popular medication back then. If you had a sore horse, you would use it. To get nailed with Bute back then was bullshit, pardon my French."
Abigail said Dancer's Image had stomach issues that would have prevented handlers from administering the drug close to a race.
"Bute gave him diarrhea," said Fuller, who rode in 4,337 races and posted 582 wins in a career that spanned 1982-2012 as a jockey and now works as a racing ambassador at Gulfstream Park and an equine specialist for Stable Place, an equine-assisted psychotherapy company. "If someone gave it to him, he would have become dehydrated and that would have affected him in the race."
In his book, Dancer's Image: The Forgotten Story of the 1968 Kentucky Derby, author Milton Toby wrote that treating veterinarian Dr. Alex Harthill administered Azium, a permitted medication, in the days leading up to the race to help with the sore ankles.
Controversial veterinarian
Dr. Harthill, who passed away in 2005 at the age of 80, was perhaps the most well-known racetrack veterinarian of his time, treating an estimated 26 Derby winners. He was also a center of controversy for his freewheeling issuing of medications.
"I didn't get on him between the Wood and the Derby," Ussery said, "but in the Derby, Dancer's Image was fine. I know the trainer wouldn't do anything wrong and I know the owner would not do anything that wasn't legal. So, after the disqualification, I asked Dr. Harthill about what happened. The exact words he told me were, 'I don't know what happened,' and that was as far as he elaborated."
Dancer's Image, the 7/2 second choice, was actually more than fine for the Derby. Rallying from last in the field of 14, Dancer's Image surged past favored Forward Pass in the stretch and recorded a length-and-a-half win that was a dream come true for Fuller.
"Dad knew Dancer's Image was going to win," Abigail Fuller said. "He had a dream in which Dancer's Image came from last and won. He was so confident on the day before the race, he practiced his walk from his seat to the winner's circle."
Kentucky disqualification rules
It was a euphoric celebration, until tests revealed a trace of Bute in Dancer's Image, who was one of only two horses tested after the race. Instantly a swirl of who-did-what-and-when-to-whom questions arose that were ultimately resolved in a courtroom, but were never answered in the hearts and minds of the Fuller camp.
It was a battle that became even more intense when Forward Pass was officially declared the winner of the race, even though there were published reports that the Calumet runner was not drug tested.
According to Ussery, Kentucky rules dealing with disqualifications for drug violations in 1968 called for the purse to be stripped and redistributed but the order of finish to be left untouched if there had been a payoff on wagers.
"I thought they might take the purse money away, but not take the horse down as the winner," Ussery said. "If I knew they were going to change their rules, I would have hired my own lawyer to represent me because they made the race official. It had nothing to do with me. What happens afterwards doesn't affect me. If I was disqualified for something on the racetrack, that's my fault. In this case, according to the rules in place at the time, I rode the winner."
Analytically, there would appear to be at least three logical answers for what happened.
As much frequent treatment with Bute can keep the medication in a horse's system for a longer than usual period, to remain there for six days seems improbable. Thus, the main possibilities are that Dancer's Image was treated with Bute on the eve the race; the horse was exposed to a small dose of it environmentally; or the testing was botched or exaggerated.
"When it first happened, I heard the examiner said there was a trace. What is a trace? A trace can be nothing. Then it got into litigation and it became a massive dose," Ussery said. "The test really wasn't positive, but they said it was. It was just a trace."
'Resentment over Fuller's beliefs'
Fuller's friends and family may not have proof of what happened but firmly believe the desire to disqualify Dancer's Image was fueled by resentment of Peter Fuller's political and social beliefs.
"I believe because of Martin Luther King Jr. threatening to boycott the Derby the year before and Peter giving the purse money to Mrs. King, they had it out for him," said Ned Allard. "Peter believed that as well. He talked about winning the Derby, so people there thought he was cocky and he thought they were out to get him because he liked black people.
"Peter came from a place where they were fighting for equality and the race was in a southern state that leaned the other way. There's a lot of different feelings about what happened, but where there's smoke, there's fire. They were looking for a way to get him and that was the best way to do it.
"Look at Al Capone. They couldn't get him for killing anyone, but they got him on tax evasion. It was similar in that they had to find some way to get Peter."
Bluegrass royalty
The battle over the 1968 Derby was intensified by the connections arguing on behalf of Forward Pass.
Calumet had won the Derby on seven occasions prior to the 94th Derby, and its owner, Lucille Markey, loudly voiced to Kentucky racing officials that the disqualification should not be overturned. It was a tussle between the owner of some New England car dealerships with liberal ideas and Bluegrass royalty in the owner of the sport's most famous farm in a conservative land. How it turned out was not surprising.
"Mrs. Markey raised a lot of hell about disqualifying Dancer's Image and making Forward Pass the winner," Ussery said. "I don't think the stewards and racing commission were positive about disqualifying him, but she went in and complained a lot. I don't know what her exact words were, but she complained and they were hometown people. That's when they changed the rule."
According to published reports, Markey began boycotting Kentucky races in the fall of 1968 over the dispute and Calumet did not enter another horse in the Derby until 1971.
Battle in the courts
The legal battle began with a May 13-15 hearing with the stewards in which Dancer's Image was officially disqualified. A 14-day hearing before the Kentucky Racing Commission resulted in the stewards' decision being upheld.
Then on Dec. 11, 1970, the decision was overturned in the Franklin Circuit Court by Judge Henry Meigs, who found that, because of a lack of substantial supporting evidence, Dancer's Image should be declared the winner and purse money paid to Fuller. According to a New York Times story, Meigs said the evidence was "wholly lacking in substance and relevant consequence".
The Kentucky Racing Commission appealed that verdict and, on April 28, 1972, the Court of Appeals of Kentucky ruled against Fuller, looking past Meigs' determination of the evidence and declaring that the commission was within its rights to disqualify Dancer's Image.
"I don't know how they overruled Judge Meigs," Ussery said. "The whole thing was questionable. The only thing certain was that they were intent on taking Dancer's Image's number down."
Demoted again in the Preakness
Nearly four years after Dancer's Image crossed the finish line in 2:02 1/5 for the mile-and-a-quarter, the 1968 Derby was over and belonged to Forward Pass.
"I don't care what a court said, I one-hundred percent believe Dancer's Image won that race," Abigail Fuller said. "I saw it and nothing has changed in my mind. I know what happened. I believe there were racial undertones in the disqualification because it was such an incredible time of change in this country."
As it turned out, Forward Pass and Dancer's Image met again in the Preakness, which resulted in a mismatch. Forward Pass romped to a six-length victory as Dancer's Image finished a head behind Out Of The Way in third. Ironically, while the chart of the race reads that Dancer's Image was "bumped solidly by Forward Pass and Wood-Pro leaving the gate," it was Fuller's colt who was disqualified and placed eighth for bumping two rivals in the stretch, one of them an 87/1 shot.
Forward Pass brought an asterisk, aka 61-home run champ Roger Maris, into the Belmont Stakes, but he finished second to Stage Door Johnny to remove the threat of the Triple Crown becoming entangled in the messy controversy.
Now owned by Brad Kelley, Calumet has not won the Derby since 1968, but it has a starter in Saturday's race in Bravazo. Though Calumet horses carried the stable's famed devil's red and blue in 1968 and through several ownership groups after that, Bravazo's jockey will wear Kelley's black and gold colors for the 50th anniversary of Forward Pass' much debated victory.
Filly who rewarded Fuller's devotion
Dancer's Image never raced after the Preakness due to his ankle woes, retiring with a record of 12-5-1 from 24 starts for Fuller and living a life at stud in Maryland, Ireland, France and finally Japan, where he died on Dec. 26, 1992, at the age of 27.
Cavalaris never started another horse in the Derby but won more than 2,000 races before serving for ten years as the racing secretary for the Ontario Jockey Club. Voted into Canada's Horse Racing Hall of Fame in 1995, he died at the age of 89 in 2013.
Though someone of lesser character might have left racing after such a bitter turn of events, Fuller stayed in the game until his death in 2012 at the age of 89. His devotion to the sport was rewarded in the mid-1980s with his best horse, Mom's Command.
Ridden by Fuller's daughter Abigail and trained by Allard, Mom's Command swept New York's Triple Tiara series of the Acorn, Mother Goose and Coaching Club American Oaks in 1985 before closing out her career later that year with a victory in the Alabama at Saratoga, which also crowned her as the year's champion 3-year-old filly.
Always haunted
The homebred filly won 11 of 16 starts with earnings of $902,972 and filled the Fullers with pride when she was voted into the Hall of Fame in 2007.
"He had an absolute love of the game," Abigail Fuller said about her father. "He was fascinated with breeding. He bred Dancer's Image and Mom's Command. He loved to figure out bloodlines. It meant so much to me to be able to be a part of giving him so much happiness through Mom's Command. He loved every minute of that experience, though it couldn't erase all the memories of Dancer's Image."
Allard agreed that what happened in 1968 never left Fuller's soul, even in the last days of his life.
"Peter was a good friend and a loyal owner," said Allard, who still trains a small string of horses at Parx Racing. "He passed away a few days after the Derby and, when I went to see him in the nursing home right before the Derby, he was in rough shape, but they had a Derby party in his room. Right there on top of the television they put a picture of Dancer's Image for him. That race haunted Peter his whole life. It's a shame we'll never know what really happened because whomever knows has or will take it to the grave."
Ussery's signature move
As for Ussery, he won 3,611 races in his riding career, though no other Triple Crown races, and was inducted into the Hall of Fame in 1980. Longtime fans of New York racing will remember him for his unique riding style. He would put a horse on the early lead on the outer portion of the track and then angle in on the turn. It was a move that became known as 'Ussery's Alley'.
Yet there's something else that will always be associated with Ussery, even if he sees it in a much different light.
"It still bothers me a bit and am I disappointed? Yes, but I am peace," he said. "I know and understand that, after I am dead, people will remember me as the jockey who got disqualified in the Derby. There's something to be said about that."
What it says, speaks volumes for the tangled tale of the 1968 Kentucky Derby and a jockey in Bobby Ussery whose trophies tell a different story from the history books.