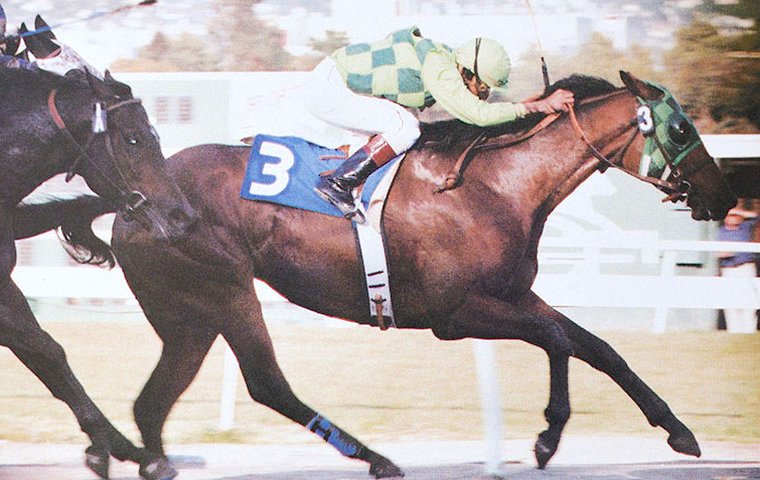 There are horses for courses, and on one special weekend at Aqueduct almost 38 years ago two offspring of Secretariat with an affinity for the New York track – and peaking at the same time – swept the stakes races. That kind of double for a sire is a rarity even today in the age of 100-plus mare books, and it was almost unheard of decades ago.

Striking first was Who's To Answer in the G3 Bed o'Roses Handicap on April 9, 1982. The bay filly was the only stakes winner by Secretariat bred by the Chenery family – the Estate of Christopher T. Chenery was her breeder of record. Chenery's The Meadow, of course, bred and raced the Triple Crown winner. The next day, Secretariat's son Globe won the G2 Excelsior Handicap, his second straight stakes win for owner/breeder Nelson Bunker Hunt.
They had come close to accomplishing the same feat about six weeks earlier, when the filly finished third in the G3 Next Move the day after Globe won the G3 Grey Lag. And, if it wasn't for some bad luck, Secretariat's twosome could have had a much bigger impact on the 1982 racing season.
But on that memorable April weekend neither would be denied. The Daily Racing Form's Herb Goldstein wrote in his post-race column that "Secretariat hasn't had such an enjoyable weekend in New York since he stopped running here."
Who's To Answer
It was only fitting that one of the two horses had deep Meadow Stud roots. Born in Virginia on May 2, 1978, Who's To Answer was out of the First Landing mare Orissa. First Landing was a champion 2-year-old for The Meadow and also sired champion Riva Ridge for the family.
A winner in 14 starts, Orissa's first foal in 1972 was Graded stakes winner Slip Screen, bred and raced by Meadow Stable. Barren the next two years, she then produced Graded stakes winner Bemis Heights, who was sold as a yearling to Ryehill Farm. Her next foal was the second-crop Secretariat colt Council Rock, an allowance winner for Meadow Stable. Winner Kryptonite came next, another one sold as a yearling.
Orissa's last foal for the Chenery estate was Who's To Answer, and she was sold as a yearling for $150,000. The mare was also sold and produced one more foal, the unraced Secorissa (by Secretariat), for new owner William Farish. Secorissa eventually produced French stakes winner Or Acier.
Purchasing the yearling Who's To Answer was Robert Fluor, and the filly raced in the name of Fluor and Shirley Taylor. She was trained by Mike Kay, who got his start in Thoroughbred racing breaking yearlings for Brookmeade Farm; he became a jockey in 1958. His claim to fame during three years in the saddle came aboard Sword Dancer when that colt – a future Hall of Famer – broke his maiden in October 1958.
After he hung up his tack, Kay became an assistant trainer for Elliott Burch, first with Brookmeade and then with Rokeby Stables. Kay went out on his own as a trainer in 1976, and the next year he developed champion turf horse Johnny D.
Who's To Answer didn't make her racing debut until she was three, at Aqueduct on April 9, 1981 – exactly one year before she won her one and only stakes race. She pressed the pace in that maiden race, but weakened to finish third under Angel Cordero. She made two starts in May at Belmont Park, finishing second both times, and was then sent to the sidelines until December.
Later in her career, Kay reflected on the filly's early development when talking about her to the media. "I've had her since she came up, and at first we thought we might never get to the races." He cited leg issues, including being "too straight" in front and a bit over at the knee.
Those issues aside, the time off was well spent, and Who's To Answer blossomed into a serious racehorse upon her return. That came on December 18 in a six-furlong maiden on Aqueduct's inner dirt track, which she won easily as the favorite. About three weeks later, she won again at six furlongs under new rider Eric Beitia.
Stretched out to a mile and 70 yards on January 27, 1982, she prompted the pace and drew off for the win by almost six lengths, equaling the Aqueduct inner dirt track record of 1:40⅖.
A month later, it was time for stakes company, and she was third in the nine-furlong Next Move on February 28, about four lengths back of odds-on favorite Andover Way. Who's To Answer had lagged behind early, then ran into traffic trouble and was steadied. While she rallied in the stretch, she was no match for the winner. Kay was convinced she should have won the race that day given the trouble she faced.
Preparing for her next race, the Bed o'Roses at one mile on April 9, Who's To Answer worked a bullet going five furlongs in :59⅗ at Belmont Park on April 5. She was clearly thriving, and perhaps she enjoyed the unseasonably chilly weather – Bed o'Roses day was cold with snow flurries.
Andover Way was absent this time, but the field included the talented 8/5 favorite Lady Dean, riding a six-racing winning streak. Second choice was Discorama, with Who's To Answer going off at about 5/1. According to the chart notes, Secretariat's daughter broke alertly and once again dropped far back. The early leader was Good Heaven's Girl, pressed by Lady Dean, but Who's To Answer roared up on the outside and had a comfortable lead into the stretch.
She needed every bit of that lead, as Real Prize was closing resolutely, but the filly held that one safe to win by a half-length in 1:36⅗ for the mile.
In the race coverage in The Blood-Horse, William Rudy wrote, "[Kay's] patience now has been rewarded, and Who's To Answer's breeding makes her, along with her newly won black type, an extremely valuable broodmare prospect once her track days are over."
Alas, that was not to be.
Kay continued on the path for fillies and mares in New York, readying her for the G1 Top Flight on April 24 with a slow six-furlong work (1:17) on April 20. The trainer told Goldstein that the work was "... all she needs. She is the kind of a filly who keeps herself in good condition. She doesn't need much in the way of work. Long gallops are usually enough."
The record books show that Who's To Answer finished last of nine in the Top Flight, facing a group of fillies and mares with whom she had proven she belonged. The chart simply said she tired; she was fifth early but dropped back. There was no indication of any problem, and she wasn't mentioned in the post-race coverage. Kay nominated her to the next stakes for fillies and mares in New York, the Shuvee on May 19.
She never made the starting gate. There were no media reports to be found of what happened to her, but a source who followed Kay's runners back then remembers that she was stricken with laminitis and died.
So the filly whose star shone briefly at Aqueduct in the winter of 1982, and who helped give Secretariat a rare double – almost twice – ended up with a record of four wins in nine starts, with two seconds and two thirds, for earnings of $81,688.
Globe
Fortunately, there was a much happier ending to Globe's story. Born March 27, 1977, the dark bay or brown horse – described later as a "smallish brown horse" by Rudy – was produced from the Hail To Reason mare Hippodamia, Hunt's 1973 champion 2-year-old filly in France.
The owner sent Globe to trainer Victor (Lefty) Nickerson, who was best known for conditioning the great John Henry for part of his racing career. He took his time with horses as necessary, and that patience paid off in spades with Globe.
The colt made his racing debut as a 3-year-old on April 14, 1980, favored in a one-mile maiden race at Aqueduct. He was last early, took the lead in the stretch but couldn't hold off winner Suzanne's Star and ended up second. Favored again in his next start three weeks later, he could do no better than sixth.
He was off for almost ten months after that dull effort, and much like Who's To Answer, he came back a different horse.
Globe broke his maiden in his third start, going a mile and 70 yards on Aqueduct's inner dirt track on February 25, 1981, with Cash Asmussen up. A month later, he missed an allowance win by a neck, but returned to the Aqueduct winner's circle on April 13 after taking a seven-furlong allowance race. He made it two in a row with another Aqueduct win on April 24, going nine furlongs in 1:51⅖ on a track rated good.
Next, two disastrous tries over the Belmont Park turf course proved that Globe didn't share his sire's affinity for the surface.
Switched to the Belmont dirt, the colt finished in a dead heat for fourth going 8½ furlongs on July 9, beaten only two lengths.
Globe would generally lag his fields early, closing late in his best efforts. That was the case in his first and only start at Saratoga, an allowance race on August 1. He won as the second choice, out-finishing favored Grand Courant for a ¾-length win, getting the nine furlongs in 1:49⅗.
That effort prompted a stakes start in the August 16 Rochester Cup at Finger Lakes. On a sloppy track, he again rallied well but settled for third, beaten less than two lengths in the 8½-furlong event.
After a second at Belmont on September 24, Nickerson sent the stretch-running colt into a series of longer races.
Globe showed little in the two-mile Kelso at Aqueduct on October 23, finishing sixth of eight. On November 15, a third-place finish in a 13-furlong handicap at Aqueduct was elevated to second after a disqualification. Sent to Ontario's old Greenwood Raceway, he just missed taking the December 3 Valedictory Stakes – at the end of that 1¾-mile route, he was only 1¼ lengths behind the winner in a game effort.
Back to comfortable territory – and shorter distances – at Aqueduct, Globe really started to hit his best stride at age five. He was third in the Assault H. over nine furlongs on January 3, 1982, "lacking room", according to the chart notes. A very close rallying third in an allowance race on January 21 set him up for his next two races, along with a bullet work going a mile on the Aqueduct inner track on February 11.
On February 27, the colt tackled the nine-furlong Grey Lag at Aqueduct. Favored in the race was Alla Breva, another Aqueduct specialist who was already a multiple stakes winner. But it was Globe who got his nose to the wire first in 1:50⅖. Last through the first half of the race, he uncorked his usual late run and just got up to edge Alla Breva by about two inches.
Nickerson told the media after the race, "I thought he'd run well in the Grey Lag. His last two races were good and he was in light, 109 pounds. He's the first Secretariat I've had. He's got a good disposition, good to have around. He's got a long stride."
It was another six weeks before his next start; Nickerson had learned that Globe wanted time between his races.
As reported in Goldstein's column in the Form before the April 10 Excelsior, the trainer said, "I can't explain why he doesn't like his races a bit closer. He is a big horse and he should thrive on racing. It is usually the fillies or the little geldings who like their races far apart. Globe has always been sound, but the races never seem to fall in the right spots for him. He is ready now."
Ready he was. The bettors agreed, making him the second choice in the ten-furlong Excelsior at 5/2; Bar Dexter was the favorite. Lagging well behind early, the colt saved ground on the rail in the early part of the race, and jockey Mike Venezia took him outside on the turn to start his rally. He drew even with the pacesetters at the top of the stretch and started pulling away. Globe hit the wire 2½ lengths in front of Accipiter's Hope, with Bar Dexter rallying for third. The time was 2:03⅖ on the fast track.
Next was a big step up in the G1 Metropolitan Mile at Belmont on May 31, seven weeks later. This time, his trademark late kick wasn't nearly enough in a race where the crack 3-year-old Conquistador Cielo (the eventual Horse of the Year) aired in the fastest mile ever raced in New York to that time, 1:33. Globe cruised along last of 14 runners for the first half of the race, and "passed tired horses" to finish fifth, according to the chart notes.
Nickerson targeted the G1 Suburban on July 4 for his next race, and felt the colt had a good excuse in the Met – it was simply too short for the long-striding Globe. He thought it was an excellent race considering the circumstances.
On July 1, the trainer announced that his charge had fractured a sesamoid and was retired. He closed his career with six wins (five at Aqueduct and one at Saratoga) in 20 starts, five seconds and three thirds, for earnings of $212,533.
Globe entered stud in 1983 at Hunt's Bluegrass Farm in Kentucky. It wasn't long before he was sent to Texas, and he maintained a ranking on the list of leading sires there for several years.
The stallion was represented by five stakes winners among his 165 foals, and his 115 runners earned a total of $2.3 million.
His leading earner was the stakes-winning filly Bestofbothworlds, a member of his first crop, who earned $274,748. Other stakes winners were Real Attraction, Global Diplomat, Matraco (a G3 winner in Spain) and One Night Love (a G3 winner in Mexico).
Globe died at Pembrooke Farm near Longview, Texas, on June 11, 2001, at the age of 24.