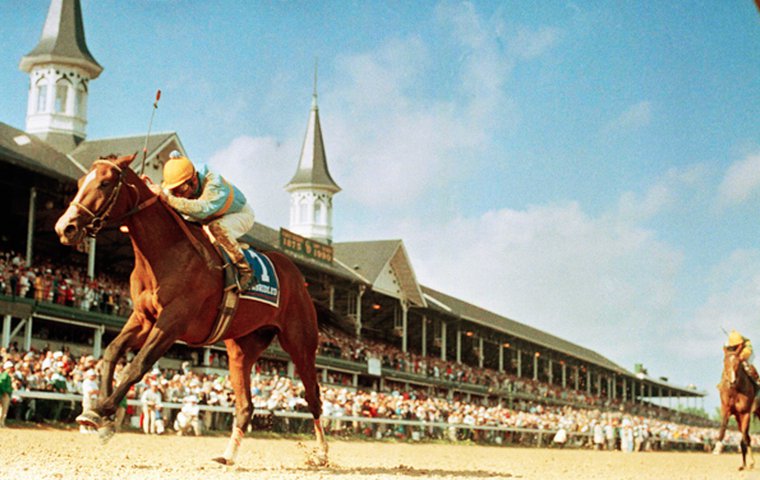 When Don McLean wrote the song "American Pie," his words mourned the tragic deaths of rock and roll musicians Buddy Holly, Richie Valens, and J. P. "The Big Bopper" Richardson in a plane crash. His lyrics, which also bemoaned a loss of national innocence in the 1960s, were capped by the unforgettable line "the day the music died."

If North American racing had its own balladeer, a dirge to the early loss of one of the most significant classic sires in recent decades likely would be penned in memory of Unbridled. The Kentucky Derby and Breeders' Cup Classic winner died on Oct. 18, 2001, after a severe case of colic; he was only 14.
Unfortunately for American breeders, that song would have a natural sequel lamenting the loss of Unbridled's best Classic son, Belmont Stakes winner Empire Maker, who was sold by his breeder, Juddmonte Farms, to the Japan Bloodhorse Breeders' Association (JBBA) in 2010 and exported.
While it is impossible to quantify the impact of these losses of classic sire power, they are magnified this season by the Kentucky Derby and Preakness Stakes triumphs of American Pharoah — a grandson of Empire Maker and thus a great-grandson of Unbridled — who will bid for Triple Crown glory at Belmont Park on June 6.
American Pharoah is just the latest in a series of classic descendants of Unbridled, whose first crop featured Kentucky Derby winner Grindstone, who in turn sired Belmont Stakes winner Birdstone, himself the sire of Kentucky Derby winner Mine That Bird and Belmont winner and champion Summer Bird.
"There's no doubt about it," said Bernie Sams, bloodstock manager at Claiborne Farm, when asked about the legacy of Unbridled, who spent his final years at stud standing under the Claiborne banner. "It is pretty impressive."
"It's one of the 'go to' sire lines when you're looking for a classic winner — he's obviously very influential indeed," added Darren Fox of WinStar Farm, which currently holds the two biggest aces of the line in the form of American Pharoah's sire Pioneerof the Nile and another G1-winning son of Empire Maker, Bodemeister. Both young stallions finished second in the Kentucky Derby, with Bodemeister adding a second in the Preakness to his resume.
In the modern world that has emphasized speed and sale ring appeal, Unbridled injected an extraordinary stamina influence into pedigrees, Sams noted, typically siring horses made in his own tall and scopey mold who found their best success around two turns. As a sire, he completed his own Triple Crown since his son Red Bullet won the Preakness in addition to Grindstone's Derby and Empire Maker's Belmont wins.
Further north, Unbridled also made a mark in Canada's venerable classic, the Queen's Plate Stakes, through his son, 2004 winner Niigon. Although the Chiefswood Stables homebred also passed away young, dying at 11 following a paddock accident, he did leave behind a classic filly in Woodbine Oaks winner Nipissing.
Unbridled also proved more than capable of getting precocious types, and American Pharoah has demonstrated that Unbridled's male descendants also can share that quality with their offspring. Pioneerof the Nile, a G1 winner at 2 and 3, sired American Pharoah in just his second crop, and the colt earned a pair of G1 victories last season along with champion juvenile male honors prior to his emergence as a classic superstar.
Perhaps the most memorable juvenile son of Unbridled was the freakish Unbridled's Song, who captured the 1995 Breeders' Cup Juvenile and sired another winner of that race, 2008 champion 2-year-old male Midshipman, during his prolific stud career at Taylor Made Farm.
Unbridled also sired champion juveniles Halfbridled, winner of the 2003 Breeders' Cup Juvenile Fillies, and Anees, victor in the 1999 Breeders' Cup Juvenile.
Clearly, Unbridled could do it all as a sire. Statistics show he sired 10 crops with a total of 582 foals, a low number in the current era. A robust 8 percent of his offspring won black-type races, with another 5 percent black-type placed, and he sired champion fillies Banshee Breeze and Smuggler in addition to the two juvenile champions. His Average Earnings Index of 2.65 was significantly higher than his Comparable Index of 2.44.
Thus, the evening of October 18, 2001, when Unbridled was euthanized at the Hagyard Equine Medical Institute in Lexington, was a dark one for American Thoroughbred breeding. The stallion had undergone two surgeries the previous month that had included removal of about three feet of his diseased colon and it was determined on the night he died that he was suffering from adhesions that limited his gut motility.
"That was a bad day for a lot people," Sams reflected. "It was extremely disappointing, and as we've gone along it's become more and more apparent how important [Unbridled] has been and will continue to be. If he had been around five or six more years, it would have been great."
If not for the determination of Claiborne's Seth Hancock and partners, Unbridled could have served American breeders even less than he did. By Fappiano (Mr. Prospector) out of Gana Facil, by Le Fabuleux, the champion 3-year-old of his generation began his stud career at Gainesway in 1992, the same year his breeder Frances Genter passed away at age 94.
Sams recalled that Genter's heirs began getting offers for the horse from other parts of the world, notably Japan, following Unbridled's immediate success with Grindstone and Unbridled's Song in 1995.
"I think Claiborne was approached about buying the horse and keeping him in the [United States] and that's what Seth did — he put together a syndicate to buy the horse and keep him here," Sams said. "At the time, he probably thought Unbridled was going to be a classic-type sire, a two-turn sire — that's the thought that went into it."
Unbridled was syndicated for $19 million, with 40 shares valued at $475,000 each. The year he died, no-guarantee seasons had been sold for $225,000, and Sams said shares at times had traded for more than $1 million.
While breeders sometimes fretted about Unbridled's offspring having a tendency to be less than perfectly conformed in front — their sire toed out, as Sams noted, and could pass that characteristic along — many were versatile and had good minds.
"Mentally, they were all very good, smart horses. You never saw them get too rattled. And they could do just about anything at the racetrack," Sams said. "Unbridled himself was always a good horse to be around — he was a kind horse."
Trainer Bob Baffert has described American Pharoah as so kind that he is "lovable." Empire Maker, conceived the year before Unbridled died and delivered by Juddmonte's 2002 Broodmare of the Year Toussaud, by El Gran Senor, also possesses a special personality and seems to have imbued many of his descendants with that characteristic.
When Bobby Frankel was training Empire Maker to win the Florida Derby, Wood Memorial, and Belmont Stakes and finish second in the Kentucky Derby while compromised with a bruised foot, he talked about Empire Maker's personality with an unusual affection. The notoriously nettlesome Frankel even said he would feed Empire Maker when the colt called out for something to eat, regardless of the barn schedule.
Considering that Empire Maker was Juddmonte's first and only American classic winner, it was shocking to many that Prince Khalid Abdullah's farm sold the horse to the JBBA, even though his sire successes had been primarily notched in the U.S. and not in sync with Juddmonte's more European focus.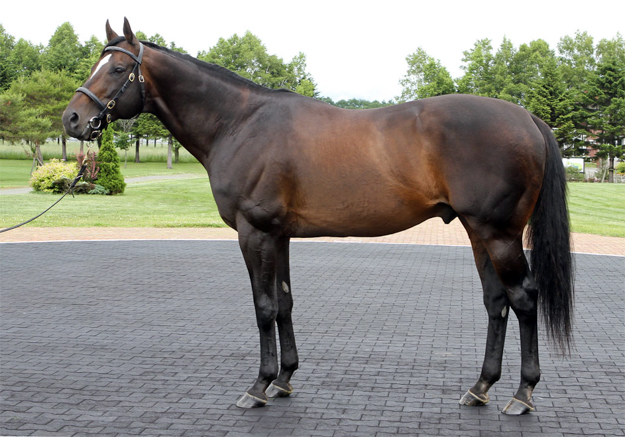 In a terse statement on the farm website, Juddmonte said only: "This is not a reflection of our belief that Empire Maker has not been a very successful sire, which he is. He has some promising 2-year-olds and a very profitable crop of yearlings to run for him in 2011, and his offspring are entitled to be sought after at the sales for some time to come."
Ironically, in 2012, Empire Maker stood above all North American stallions by progeny earnings with over $14 million as his twice champion daughter Royal Delta won the Breeders' Cup Ladies' Classic (Distaff) for the second consecutive year and his speedy son Bodemeister won the Arkansas Derby prior to his classic placings.
During that same year, American Pharoah's owner Ahmed Zayat — who raced both Pioneerof the Nile and Bodemeister — retired Bodemeister to WinStar Farm with a shoulder injury and later announced that Pioneerof the Nile would move to the same establishment. Pioneerof the Nile had begun his stud career at Vinery, which had been sold to the Chilean-based Don Alberto Corp., and was standing for only $15,000.
"We couldn't have imagined it would have worked out as well as it did but we're very thankful that it did," Fox said, noting that WinStar viewed proven sires More Than Ready and Congrats as its key acquisitions from Vinery but envisioned Pioneerof the Nile as "a very live prospect." The stallion covered 144 mares in his first season at WinStar in 2013.
Zayat maintains a significant financial interest in both Pioneerof the Nile, who stood this year for a fee of $60,000, and Bodemeister, who has stood for $30,000. Pioneerof the Nile was set to cover approximately 130 mares in his 2015 book that "was put to bed in the middle to the end of November," Fox said.
"Most people in the industry were aware his book was full and he was one of the most difficult horses to get to in Kentucky this year. He's bred nine Grade 1 winners [this season], the dams of 15 Grade 1 winners, the dams of 27 graded stakes winners, and 23 graded stakes producers," he said. "It's been a very strong book for him and is a function of his success and popularity."
Pioneerof the Nile has racked up some impressive sire statistics already, including the fact that he already has six graded stakes winners from his first two crops.
"Certainly when you look at horses that were in the same stage that he is and analyze the number of graded stakes winners that they had, Pioneerof the Nile and Tapit had six graded stakes winners and Distorted Humor had five. When you can say metrically he is showing such good comparison to such stallions as Tapit and Distorted Humor, you're sitting up and taking notice," Fox said. "To have a start like this is nothing short of phenomenal."
Even though his first crop won't race until 2016, Bodemeister also has been hugely popular with breeders; he covered 173 mares in his first season at stud and was the leading freshman sire by covering sire average price at the fall sales that year at $269,668. He covered 176 mares in 2014 and was set for a book in the same range this year.
"Bodemeister has been given every opportunity with the number and quality of mares he's been bred to over his first few years," Fox said.
With Unbridled's life cut short by colic and Empire Maker sent to Japan, as well as the sale and premature death in 2013 of Summer Bird, who also had been sent to Japan, the future as we can see it presently for this classic sire line seems to rest largely at WinStar.
Coolmore's Ashford Stud will harbor the tremendous potential sire power of American Pharoah when he begins stud duty, expected in 2016, with Zayat retaining a percentage of ownership. The value of the deal has not been announced, and incentive clauses increasing the bottom line will come into play if the colt sweeps the Triple Crown.
Possessing a blend of speed coupled with ability to stay at the American classic distances, as well as a typically athletic physical frame that Fox said is an "archetype for the Thoroughbred," Pioneerof the Nile, Bodemeister and, in the future, American Pharoah stand poised to carry on the male line of Unbridled in pedigrees for generations to come. Claiborne also maintains a link to Unbridled through 2103 Kentucky Derby winner Orb, a son of Malibu Moon produced by Unbridled's daughter Lady Liberty.
"Pioneer looks like he's certainly well established and here to stay. Bodemeister has been afforded as good a chance as any young, unproven horse could be given," Fox said. "They couldn't be in a better position to firmly develop the Empire Maker branch of the Unbridled line, and it certainly looks like one that is here to stay."