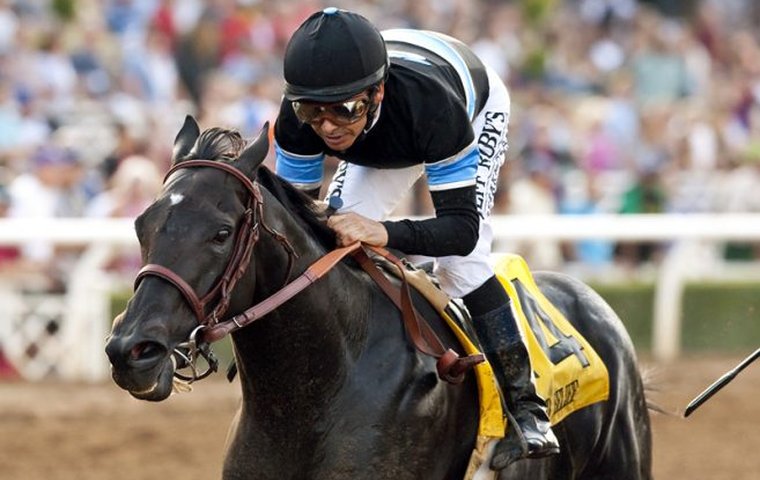 Beside a lonely palm tree in the Del Mar infield, the great Shared Belief rests.

His grave is marked by a pillar listing his accomplishments; a black fence keeps onlookers at bay. Yards away, the 29th running of the G1 TVG Pacific Classic will be held on Saturday (August 17), with top older horses competing over 1¼ miles for $1 million. Shared Belief won the race in 2014.
Just 16 months later he was gone, the victim of an aggressive colic that took the diminutive, nearly black gelding after ten wins in 12 starts. He earned $2,932,200 and won five G1s, with the Pacific Classic one of the most impressive on his resume.
The number of people Shared Belief touched extends beyond his immediate connections: trainer Jerry Hollendorfer, his assistant Dan Ward, jockey Mike Smith, and owners Jim Rome, Kevin and Kim Nish, Jason Litt, Alex Solis II, and Dr George Todaro. Everyone who saw him run knew he was special, including Del Mar's Director of Media, Mac McBride, and Senior Media Co-ordinator Dan Smith.
"We were lucky to have him as long as we did," McBride said. "There's a horse that could have run on and on."
"He was legitimate," Smith concurred. "He was a tremendous 2-year-old, a champion. And then he took on older horses at three and just dusted them, while running fast."
Shared Belief, by Candy Ride, broke his maiden first out for breeders Pam and Martin Wygod, thrashing a highly touted Hollendorfer runner named Time Jumper by seven lengths. "He beat a horse we really liked," Ward recalled.
Shared Belief was sold privately after the race to his new ownership group and turned over to new part-owner Hollendorfer. "[The Wygods] weren't real sure how sound he was," McBride recalled. "Sometimes you keep them, sometimes you cash in."
But Shared Belief immediately made the purchase worth it, winning the G3 Hollywood Prevue and the G1 CashCall Futurity en route to being named the Eclipse champion 2-year-old colt of 2013. Hoof issues kept him off the Triple Crown trail, but he reeled off victories in a Golden Gate allowance race, and then the G2 Los Alamitos Derby.
'We saw him flower right in front of us'
Next up was the TVG Pacific Classic, and Mike Smith had quite the choice to make. At the time, Shared Belief had won only one G1, and Smith was the regular pilot for popular star Game On Dude, who was the race's defending champion and had eight G wins to his credit. Smith chose Shared Belief.
"At the time, he was just better than everyone else," Smith said. "Look at some of the horses he beat, and he beat them like they were nothing."
In addition to Game On Dude, the Pacific Classic drew G1 winner Majestic Harbor, UAE Derby hero Toast Of New York, and multi-millionaire Imperative. "They knew he was the horse to beat," McBride recalled. "The jocks were playing little games out there with him. But we saw him flower right in front of us."
"I remember him breaking from the gate poorly, hitting [it] on the way out, and thinking Game On Dude was going to get away from the field," co-owner Alex Solis II said. "Shared Belief was farther back than we had planned and it was a torrid pace. At the top of the stretch, I realized he was something really, really special." Shared Belief strode away effortlessly at the quarter pole, cruising home still unbeaten. Then the connections had to sweat out an inquiry regarding the start of the race, but ultimately no change was issued.
Watch Shared Belief's Pacific Classic victory
"He beat a terrific field in the Pacific Classic," Smith said. "It shows you how good he was that he was the favorite over Game On Dude as just a 3-year-old."
A lot of mighty horses have run at Del Mar, from Seabiscuit and Native Diver to American Pharoah, California Chrome and Beholder. "He fits right with that crew," McBride said.
Shared Belief went on to win the G1 Awesome Again, the G1 Malibu, the G2 San Antonio Invitational (over California Chrome), and the G1 Santa Anita Handicap. The first loss of his career came in the 2014 Breeders' Cup Classic, where he was taken out at the start and bumped continually first time by before finishing fourth. Smith admits he doesn't consider the Breeders' Cup as a race Shared Belief lost. "He would have won, I truly believe that, so I don't count that one. I consider him unbeaten. He would have galloped; he was that good."
What made Shared Belief so special?
Ward called him simply, "A professional."
Smith was more effusive. "He's just an athlete. He could stop and start very quick. He wasn't a big horse, but had a big fluid stride. You felt like you were on a horse that was a gazelle. Everything came so easy to him, he had gears that were crazy."
'An orangutan around the barn'
Solis II said, "He was the first champion for Jason [Litt] and I. Shared Belief set the bar so high - for us to try and find more like him is quite a challenge. He was in rarified company. For a horse to win Grade 1s from seven furlongs to ten furlongs is pretty amazing."
The only place where the connections differ is on the horse's overarching personality. Smith remembered, "He was a tough little dude in the morning. He'd kick a lot. He used to jump real high, squealing, kicking, and having fun."
Solis called Shared Belief, "An orangutan," around the barn. "He was a little ball of energy and very territorial of his stall."
But unlike Hollendorfer trainee Unique Bella, who did much better in an outside pen while stabled at Del Mar, Shared Belief didn't need special treatment. "He was really good to work with," Ward said. "He was good in the stall, a cool horse."
The people that got as close as anyone were Kevin and Kim Nish, who live in Northern California near Golden Gate Fields, where Shared Belief trained most of the time. "We were the smallest and last owners involved, but we had an advantage in that we could go see him for every workout and during each weekend," Kevin Nish said.
"He was gelded because he was rogue," Kim explained. "They told us, 'Don't mess around with this horse, he's still a little wild.' He was acting wild in the barn. So, my first interaction with him was to walk up and let him smell my hand. He flipped his head and knocked my hand away. My interpretation was that he didn't want me messing with him, so I backed up. He was snorting and acting agitated, so I came back. Up goes the hand, up flips his head. He just wanted to play. And you'd better stay there as long as he wanted to play with you."
Shared Belief's antics became somewhat legendary: one time he pulled Hollendorfer's wife, Janet, off her pony when she tried to get him to backtrack the wrong way before a gallop. "It took some months to get to a level of familiarity with him," Kevin said. "He began to associate Kim with those Mrs Pastures horse cookies."
Shared Belief was injured in the 2015 G2 Charles Town Classic and was unable to finish the race, which became his second loss. He was vanned off but recovered to go back into training five months later. Shortly thereafter, colic claimed his life.
"It's a tragedy he couldn't go on, because he was a star," Dan Smith said. "The game lost a star."
Jockey Mike Smith has ridden so many great champions, among them Arrogate, Justify and Zenyatta. "He would rank right up there," the rider said. "If you really go back and consider the horses he beat, and the way he beat them. And we never got to see how good he really was."
Del Mar will run the Shared Belief Stakes on August 25 in honor of the beloved champion. Among those pointing for the one-mile race are Omaha Beach, the morning-line favorite for the Kentucky Derby, who was scratched before the race with an entrapped epiglottis. Previous winners include Accelerate, who ultimately won the Breeders' Cup Classic, and Battle Of Midway, who took the Breeders' Cup Dirt Mile.

Shared Belief was named joint third best horse in the world in the Longines World's Best Racehorse Rankings for 2015 (along with Treve and behind American Pharoah and Golden Horn). However, many felt his rating of 126 didn't do justice to his true ability. As Mike Smith says above, "We never got to see how good he really was."