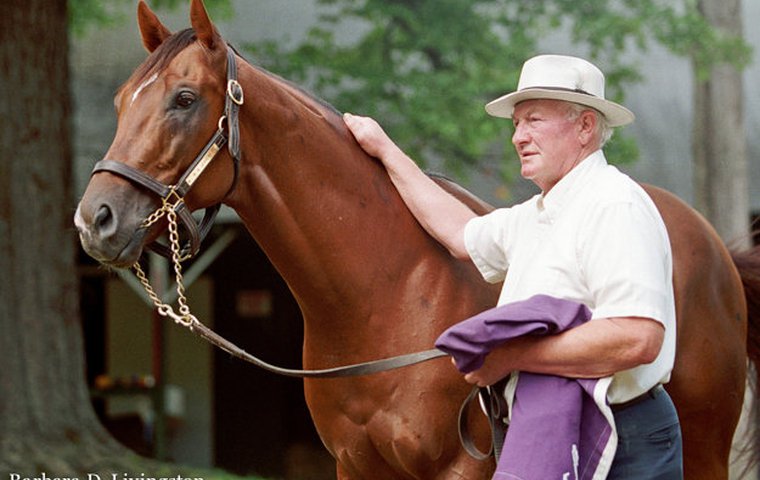 A collection of remembrances of Hall of Fame trainer H. Allen Jerkens, known as "The Chief," who died Wednesday at age 85. Jerkens won 3,859 races over a career that spanned seven decades and his roster of notable winners includes Champion filly Sky Beauty, Beau Purple (best remembered for a trio of upsets against Kelso), Caress, Classy Mirage, Devil His Due, Handsome Boy, Prove Out, Society Selection, and Wagon Limit. In 1973, Jerkens twice upset Secretariat - first in Saratoga's G1 Whitney Handicap with Onion, and later with Prove Out in the Woodward. Jerkens' sons, Jimmy and Steven, followed him into training, and he also served as a mentor to Tom Bush, Leah Gyarmati, and Mike Hushion. Jerkens cut a towering figure, and he is remembered as much for his horsemanship as for his humanity. Karen M. Johnson collected reflections from some of those who knew him.

Ron Anderson, jockey agent:
"He was an extremely kind and humble and passionate man. He probably never realized who he was and what he meant to us. He had time for everybody. He was just considerate to everybody -- whether it was a hotwalker, a fan, or the press, or a jock's agent. There is little chance there will be anybody else in racing that is revered as much as him. He was just a completely, completely, amazing man. There isn't anybody who can say one negative thing about Allen . . . and on the racetrack, that is just about impossible."
Caton Bredar, television racing commentator and handicapper:
"Allen always made others feel special. He either started or ended almost every interview or conversation I had enjoyed with him over the last four decades with a kind word, comment, or compliment about my grandfather, Ted Atkinson. He was quick to reminisce about Admiral Vee, quick to talk about how much he appreciated my grandfather's rides and feedback after the races -- quicker always to give more credit to the jockey and the horse than to himself.
"In an interview for HRTV after what had to be one of his final Saratoga wins two summers ago, after a few tears -- he was never embarrassed to be moved to tears -- and some words about what it meant to be winning at the Spa, he threw in a comment about how Ted Atkinson would have ridden the horse well. In a more recent pre-race interview—one that was preceded by, 'Why do you want to talk to me? Did you look at the toteboard? We're 15-to-1!' The Chief responded to the question of race tactics that it was hard to predict what a particular jockey would do on a given day. 'They're not all like Teddy Atkinson these days, you know.'"
Teresa Genaro, turf writer:
"This is the story that really comes to mind; it was the second time I met Allen. Some friends of mine had a one-eyed horse with him. The horse was making its debut at Belmont and I came out to see this one-eyed horse run. The horse ran third and everyone wanted to go back to the barn afterward. [Allen] was out sitting in the middle of the courtyard of the barn. I was so tongue-tied and shy and in awe of being in his presence. He kind of sat there, not really saying very much. I was sort of in agony that I was imposing upon him. So, I just looked at him, and said, 'I really loved Society Selection' and his whole face lit up. He smiled and just started telling stories about her, one after the other. And then he launched into stories from long ago, and he asked me if I read these particular books about racing, and that he would show them to me sometime.
"I don't even know how to describe what it felt like having this person, who to me was the pinnacle of what horse racing was about, being willing to talk to me and spend time with me. I felt like it was a sign of his generosity of spirit, and that he would have done that with so many other people. And he did do that with so many other people."
David Grening, Daily Racing Form correspondent:
"I remember when Society Selection was getting ready for the [2004] Alabama. He worked her a mile at Saratoga, and I had never seen anyone work a horse a mile before at Saratoga, although, I'm sure he had done it before. I asked him why he worked her a mile and he said, 'How are you going to go a mile and a quarter? I can't go like these other guys and work them five-eighths for these mile-and-a-quarter races . . . that never worked for me.' And then Society Selection goes and wins the Alabama."
Ashley Herriman, TRC editor:
In 2012, when I was working at NYRA, Emma's Encore won the Victory Ride. We were at Belmont, and after the race everyone was standing around the winner's circle waiting for Chief to arrive from wherever he'd been watching. He had slowed down by then, but it was a Grade 3 race and we knew he'd be there for the picture. Sure enough, he emerged from the building and made his way to the winner's circle.
Emma's Encore was 39-to-1 and she hadn't be visible on the television screen for a big chunk of the race with heavily favored Agave Kiss battling with Jamaican Smoke up front. Emma's Encore emerged in the stretch and ran them all down. A handful of us were talking to Chief after the race – our trio from the press office, and a couple of media members. He started off by explaining his whereabouts.
'I saw her break [on the television monitor], and then I couldn't find her because I didn't have the energy to walk out here. I finally made it. I thought I was going to pull a Walter Brennan. Remember that movie? He died when he got to the winner's circle.'
We all laughed, but none of us remembered the movie. Getting back to the office to transcribe the quotes, we Googled it – and laughed even harder when we realized he'd been referring to "Kentucky" – released in 1938!"
Barbara Livingston, Daily Racing Form photographer:
"I always had trouble speaking to him because I was in such awe of him. I revered him. [His wife] Elisabeth Jerkens knew how much I adored him, so we went to dinner a few times, and she made everybody move their places at the table, so I could be sitting next to Allen. And I still couldn't talk to him because I was too in awe of him. So Elisabeth would say, 'Allen, Barbara is interested in that time period when you trained Sensitive Prince.' And Allen would go on, telling his stories. I remember those dinners being the fondest of my lifetime.
"My favorite photo of him that I took is him with Wagon Limit. Allen was very shy about photos. It was just so cute because he would take the horse's shank and hold it for the pictures, but he also would have a rub rag, because it gave him something to do with his extra hand. He wore one of those wonderful hats he had that day with Wagon Limit, and was holding this wonderful purple saddle towel. It could have been a picture that was taken in the 1920s at Saratoga.
"Elisabeth knew how much I revered him and she actually gave me one of his favorite hats. Allen thought that was the funniest thing, and said to me, 'I have no idea why you want that.' I have it in my living room at Saratoga.
"He was my only idol and now I don't have an idol, and that's a sadder way to go through life."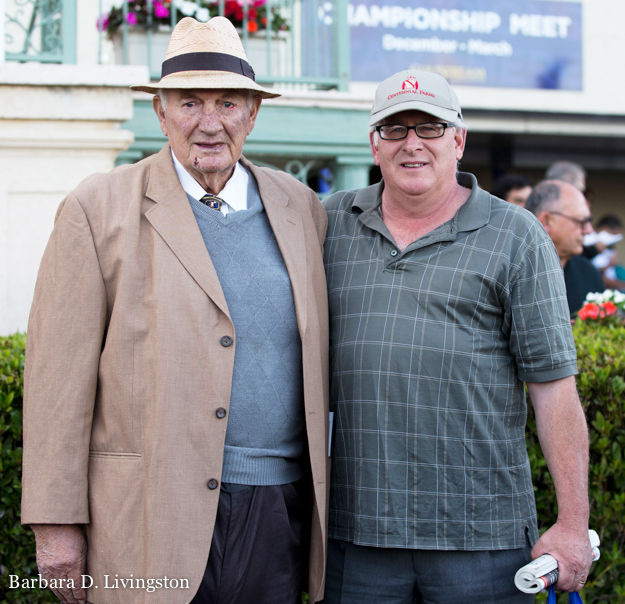 Richard Mandella, Hall of Fame trainer:
"I came to Belmont in 1998 to run in the Jockey Club Gold Cup with Gentlemen, and I had dinner with Allen at Stella's. I kept venting my frustrations to Allen about trying to beat Skip Away with Gentlemen. So, while I'm complaining and trying to figure out a way to beat Skip Away, I tipped my hand, and Allen figured out how to beat both of us with Wagon Limit.
"I enjoyed any visits I had with Allen. He was a great horsemen, and he knew so much about the game, and the industry. He was one of a kind, for sure."
Richard Migliore, former jockey:
"When I got hurt really badly in '99, and I was out several months, I asked Allen if I could ride a particular horse on the day of my return. I was named on Allen's horse that day, later on the card. I was also named on another horse, in the first race. I fell in the first race. I didn't get hurt, but I was kind of shook up, and I thought about taking off and going home, more from a mental standpoint than anything physical.
"I figured Allen would say something to me when I came to the paddock, but he didn't. The horse was a big, muscled-bound horse, kind of a rough [mover]. I won. I came back to the winner's circle and he was crying. I said, 'Allen, what's a matter? We won.' He said, 'I saw you fall in the first race. I thought you got really hurt. And you come out here, and I put you on this bad [moving] son of a gun. If I was you, I would have gone home.'
"That was Allen. He was so kind-hearted."
Todd Pletcher, trainer:
"The thing that always stood out to me was the incredible recollection he had of all the horses he had run. His recall of specific fractions and races, where horses ran and finished, was just unbelievable. His overall passion for the game -- he really, really loved horse racing -- always made it a lot of fun to talk to him and listen to him, and to try to learn something."
Jean-Luc Samyn, former rider:
"I remember one day in Florida, when he was mad at me after a race. It was pretty bad. He was yelling, 'Don't come back to my barn; I don't want to see you no more.'
"What do you think he did a couple hours after that? He called me up and said, 'Listen, do you want to come out to dinner tonight?' I said, 'What are you talking about? What about what you said to me earlier?' Allen said, 'Oh, that was before. That was this afternoon. Come to dinner with us.'
"And that was Allen Jerkens. Some people hold that stuff inside of them, others get it out. But beyond that, he was a man with a very good heart. He helped a lot of people."
Andy Serling, NYRA television analyst:
"The first time I was introduced to Allen Jerkens was in the early 2000s. At that time, I did a little TV handicapping, mostly the Siro's Seminars in Saratoga. Upon meeting me, he tells me how much he enjoys my handicapping, and is effusive in his praise of my 'work.' It was all sort of stunning to me. Here is a legend in the game that I love, someone I have admired since I first started following the game over 25 years earlier, and he's telling me how terrific I am? Frankly, I was amazed that he had any idea who I was. But that was the kind of person he was....thoughtful, considerate, and encouraging...to name a few in the long list of his great qualities. I can't even begin to express how much it meant to me (and still means to me).
A few years later, I ran into him by the paddock at Belmont, and he immediately asked me what I was doing with myself. I told him I was working on the TV show at NYRA. 'Really,' he asked me 'How long have you been doing that?' When I told him almost a year, he very quickly responded 'You know, I really have to start watching more TV.'
He touched so many lives, and each and every one of them is better off because of it."
Howard Tesher, trainer:
"As great as a horseman as he was, he was a better person. He was the most unique person I've met around the racetrack. He was never high on himself and he gave everyone else the credit.
When I first came to New York, all I heard is Jerkens, Jerkens, Jerkens… and when I finally met him at the track in the morning, I asked him some things about a couple of my horses and he went off on me. He said, 'What are you asking me for? I don't know these things, I don't have the answers!' Later on that morning, he'd show up at my barn, as nice as can be, and give me a couple of suggestions on things I should do with my horses.
Over the years, I was really friendly with him. During my first year in New York, he claimed two horses off of me, and then that same year, I claimed two off him. For the last 40 years, he kept telling me that he did better with the two horses he claimed off me than I did with the two horses I claimed off of him. The last couple of years we spent a lot of time together because we were spending all year in Florida. I miss him already."
Rick Violette, trainer:
"At Hialeah [in the 1970s], Jean Cruguet was riding Hechizado for Allen, who didn't want the horse on the lead. Sure enough, they broke and Cruguet went to the lead. The horse didn't win. After the race, Cruguet couldn't get the tack off fast enough to get away from Allen. Literally, it was Allen chasing Cruguet through the tunnel at Hialeah, all the way to the jocks' room, screaming at him.
"But you know, Allen probably had Cruguet come over the next morning and get an another stakes horse. That was Allen. He was incredibly emotional. He was very passionate in his losses and celebrations, and in his caring and his generosity. I don't think I've ever heard anyone say an unkind word about Allen. He was just a very, very unique individual -- in his talent around horses and the size of his heart."
From our friends at This is Horse Racing: A trainer unmatched, Jerkens dies at 85
---
Additional reporting by Erin Shea.