Remembrances of Atlantic City Race Course from Eclipse-award winner Don Clippinger, who covered the track in the '80s as racing writer for the Philadelphia Inquirer.

Atlantic City Race Course, we are told, is dead and gone. Or maybe it's not. The folks at Monmouth Park have expressed interest in a purchase or lease.
Even if Monmouth and owner Greenwood Racing reach a deal, the historic track now and most likely forever will be an aged irrelevance in New Jersey racing. It has been a mere speck on the racing industry's map for almost two decades, since the treasured jewels of the once-noble track were transplanted to Monmouth. Part of its sprawling property on Black Horse Pike was developed, and Atlantic City became a turf-only afterthought for a week or two each spring, a faded postcard of what it had once been.
Now or later, Atlantic City will end, not with a bang but a whimper, to paraphrase T. S. Eliot. Oh, but what a life it had had over those first five decades. It will live on in the memories of those who experienced it over those years and in the innovations that it offered the sport, especially those emerging from the fertile imagination of Robert P. Levy.
To say that Atlantic City Race Course was an Atlantic City attraction is mistaken. It was located 13 miles from Atlantic City's Boardwalk, a world away from all the action, although on sultry evenings a hint of saltwater suffused the air at the McKee City track. It was, in fact, a track with Philadelphia roots.
Two principal architects of Atlantic City were John B. Kelly, Sr. and Leon Levy. Kelly, an Olympic gold-medal rower who brought panache and glamour to bricklaying and brick-making, developed many friendships in the entertainment industry, and they were listed as investors in the track when it opened in July 1946. Those connections no doubt were partly due to his daughter, Grace Kelly, who went from Philadelphia to Hollywood to Monaco as one of the world's best-known actresses and later as the princess of a Riviera principality.
Leon Levy, a dentist by training, was an early investor in Philadelphia broadcasting, and his WCAU became a leading radio and television property in Philadelphia. He married Blanche Paley, the sister of William Paley, who developed CBS. Levy also was an investor in the national broadcaster.
The Atlantic City founders were racing fans, and track's long-time publicist, Lou Cunningham, told stories of annual trips to the Kentucky Derby in private rail cars. Cunningham, another Philadelphian by birth, had helped to popularize the Boardwalk as "America's Playground" before serving in World War II. He was at the racetrack from its opening and most definitely was a publicist of another era. Asked a question about an upcoming race in the early 1980s, his response was: "Why the hell do you want to know that?"
From its first seasons, Atlantic City was an innovator. It was one of the first Thoroughbred tracks with lights, in part because it also hosted a Standardbred meet for several years. Night racing, as despised as it is by horsemen, made sense. The track had a chance to grab the beach crowd after the sun went down, and bettors could make the trip from metropolitan Philadelphia after work or on the weekends.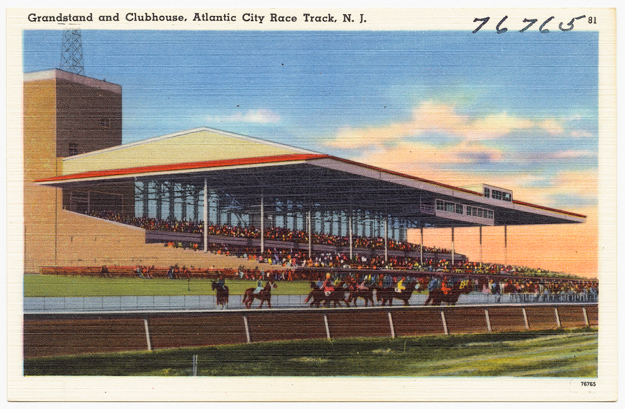 The racing also was innovative. Atlantic City's turf course is regarded as one America's best, and the track established itself as an early leader in East Coast grass racing. A year after the first Washington D.C. International in 1952, Atlantic City staged the inaugural United Nations Handicap.
After a few forgettable runnings, the U.N. began to pull in the nation's turf stars. The initial breakthrough came in 1957, when Round Table won under Bill Shoemaker, and they returned to win again in 1959. Mongo, a leading turf horse in that era, won back-to-back runnings in 1962 and 1963.
Dr. Fager proved his versatility by winning the U.N. as a 4-year-old in 1968, Fort Marcy won in 1972, Tentam took the 1973 running, the obstreperous Halo won in 1974, and male turf champion Manila doubled up in 1986 and 1987.
Along with the top horses came the top jockeys. I covered racing for the Philadelphia Inquirer for much of the 1980s, and I recall speaking with Angel Cordero, Jr. in the Atlantic City jocks' room after he rode Acaroid to victory in 1983. Cordero was wearing a towel and a precisely defined bruise of a hoofprint on one of his thighs, a reminder of the horse that had trampled him a few days before. That imprint was a testament to the Hall of Famer's competitiveness and the high level of physical fitness that is common to all jockeys.
Leon Levy passed the reins to his son, Bob Levy, who continued Atlantic City's innovations and added a few of his own. The Matchmaker was first run in 1967, and its roster of winners is a who's who of leading females, including Politely, winner of the first two runnings, as well as Gallant Bloom, Numbered Account, Susan's Girl, and Just a Game II. Mississippi Mud, the 1977 winner, was the dam of Dixieland Band, one of Northern Dancer's best sons at stud.
A feature of the Matchmaker was that the owners of the top finishers had their choice of stallion seasons in addition to purse money. During the breeding bubble in the 1980s, the task of finding affordable seasons was especially tricky, and Bob Levy adeptly obtained seasons to rising stars. He was an owner and breeder, most memorably as the owner of 1987 Belmont Stakes winner Bet Twice and two-time champion sprinter Housebuster.
Finding stallion seasons was a walk in the park compared to the challenge that Levy, Atlantic City, and all of New Jersey racing confronted after Garden State Park burned to the ground on April 14, 1977. Smoke from Eugene Mori's Cherry Hill tinderbox stained a cloudless sky that afternoon and served as a funeral pyre for the Jersey circuit.
To be sure, the imminent arrival of casino wagering on the Boardwalk would play a role in the circuit's demise, and so did year-round racing across the Delaware River in Philadelphia's near northern suburbs. Gone were the days when trains would arrive on a Cherry Hill siding to unload the horses from Florida for a circuit that extended until the rail cars were reloaded for the trip south in the fall. The circuit was dead, up in smoke.
Not even the arrival of the Meadowlands in the fall of 1977 could save the circuit. Within sight of the Empire State Building, the track quickly established itself as the world's premier harness track, and the Thoroughbred meet each fall did little to fill the gap created by Garden State's demise. A new Garden State opened in 1985, but by then the racing sport and the gambling market had changed dramatically, and its lavish features were a vainglorious monument to poor timing. The dust left after the Garden State fire has again returned to dust; the Phoenix rose from its ashes and then fell again.
Atlantic City took some of Garden State's dates after the fire, but it lacked easy access to large population centers. Levy's response was to bring racing in the large population centers to the middle of nowhere through telephone lines. Single-race simulcasts were common in the early 1980s, but Levy had this blockbuster idea.
He would import an entire betting program from the Meadowlands, and he would do so every day. In time, his races would be available to the bettors at the Meadowlands Sports Complex. On a pleasant evening in September 1983, Levy, media members, and a healthy crowd of bettors crossed their fingers and watched the first race at the Meadowlands come onto the Atlantic City monitors. Full-card simulcasting was born.
Of course, it also was unconstitutional. After the racetracks sustained a few drubbings in court, New Jersey voters approved the innovation that would reinvigorate horse racing a decade later when full-card simulcasting went national.
So, when you go into a track to bet races from across the country or around the world, remember that it all started at Atlantic City Race Course. Even when Atlantic City is gone, its tradition of creative innovation will live on.
---
Eclipse award-winning writer Don Clippinger currently serves as communications director of the National Steeplechase Association. He retired as editorial director of the Thoroughbred Times in 2009. Clippinger covered racing for the Philadelphia Inquirer from 1981-1987 and was was the editor of the Thoroughbred Record from 1988 until its closing in 1990.