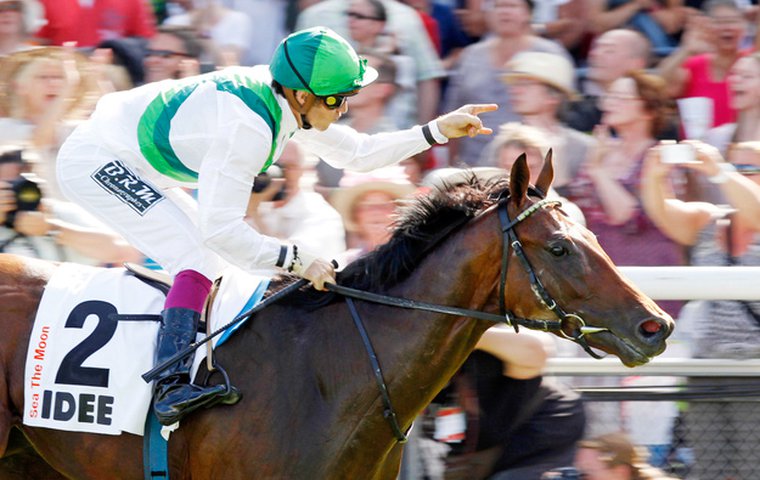 By the end of June, 2014, the top contenders seemed pretty well in place for the battle to see which horse would be Europe's middle distance champion for the season. Last year's Arc winner Treve was still around, and there was a special buzz around this year's Epsom classic winners Australia and Taghrooda. Nobody gave much thought to an inexperienced Sea The Stars colt quietly being prepared close to the Cologne Bonn Airport in western Germany.

Then, on the first Sunday in July, that colt produced a performance to take the breath away in the G1 Deutsches Derby – and everything changed. Sea The Moon's 11-length demolition of a quality field made the bookmakers rethink the Arc market and shot him straight to the top of many big operations' most-wanted lists.
Sea The Moon's first test since that stunning Hamburg triumph comes this Sunday in Germany's top all-aged race, the G1 Grosse Preis von Baden, for which he is odds-on favourite. A good performance there is likely to see his position harden at the head of the Arc market (he is currently a best-priced 4-to-1 for the key showdown at Longchamp next month) and is likely to bring in more multi-million-dollar offers.
Yet the message from the owners, Gestüt Görlsdorf, is loud and clear: Sea The Moon is not for sale.
Ironically, they tried to sell him two years ago at Tattersalls in Newmarket but failed to find a buyer.
Sea The Moon is the most notable success in the sudden emergence of Gestüt Görlsdorf this season as a major player in German racing and breeding. Yet the operation is no newcomer. Görlsdorf is one of the oldest studs in Germany and was founded in 1883 by Count von Redern.
After World War II, Görlsdorf, which is about 50 miles north of Berlin, close to the border with Poland, found itself behind the Iron Curtain with most of its bloodstock dispersed or dead. Together with all other property in the country, it was nationalized but continued to operate as a Thoroughbred stud, and with great success, sending out 47 East German classic winners, including seven of the local derby.
After the Berlin Wall came down and Germany was reunited, the stud was leased to Dr. Hinrich Bischoff, a Berlin lawyer who ran Germania Airlines, a charter airline that had been very successful running a service between Bonn and West Berlin, when the former city was the West German capital.
Efforts were made by the Treuhand, the government agency responsible for dealing with East German property, to sell the stud (the descendants of the von Redern family were among those sought out) but nobody was interested. Finally Dr. Bischoff bought it and its 124 hectares (approximately 300 acres) for DM 6 million (approximately $3 million) in 1995.
Dr. Bischoff died in 2005, and the stud was then taken over by his daughter, Heike, who was at that time practising as a dentist in Berlin. She now runs the stud with her husband, journalist Niko Lafrentz. They began by continuing with the old East German bloodstock and using the stallions standing at Görlsdorf, but soon realised fresh blood was needed to revitalize the old families and that the broodmare herd needed to be radically upgraded.
At the latest count, there are 35 mares at Görlsdorf and, while there is still a handful from the old East German families, some have top international pedigrees and are by sires such as Sadler's Wells, Montjeu, and Galileo.
The Sea The Moon story began in 2010, when Heike Bischoff and Niko Lafrentz travelled to Newmarket for the Tattersalls' December Mare Sale.
"We had several mares on our list, but the one we really wanted was Sanwa, a Monsun mare who was a full sister to three German classic winners," Lafrentz remembered.
"We were prepared to go to 200,000 guineas ($348,000) and saw off the other German breeder who was bidding, but the vendor kept going higher, so we dropped out at 205,000 ($357,000). After the sale, we met the vendor in the bar under the stairs, and he asked us, what price above 200,000 would we pay? I replied, 'Wrong question. How much below 200,000 will you accept?' We could not agree, but I gave them our telephone number and they called us the next day – we were actually in a taxi – and the deal was struck for 175,000 ($305,000)."
Sanwa was in foal to Sea The Stars and on April 29, 2011, the colt that would significantly change Görlsdorf's fortunes was born. Hoping to recoup the investment on the mare, Bischoff and Lafrentz entered the colt in the 2012 Tattersalls October Yearling Sale.
"We wanted 240,000 guineas ($418,000)," Lafrentz said. However, despite the high regard in which his sire was held (although there were no Sea The Stars runners until the summer of 2013), nobody was prepared to go that high. "So, we bought him back for 230,000 ($401,000) and took him home."
That turned out to be a gigantic slice of luck. It was soon clear that Sea The Moon would be an above-average performer. And Görlsdorf got their money back two years later, when they sold a full sister to Sunderland Holdings (the Tsui family, owners of Sea The Stars) for 320,000 guineas ($574,000).
Sea The Moon went into training with Markus Klug at Gestüt Röttgen near the Cologne Bonn Airport. Görlsdorf have used several trainers, but Klug currently gets the best horses.
The colt made his debut over a mile on Sept. 22, 2013 at Cologne-Weidenpesch Racecourse. Nobody who saw that race will forget it; he scored by four lengths from Ninfea, a half-sister to Novellist, who won the King George at Ascot two months earlier. It was not so much the winning distance but the style of his success that was so impressive, and he was immediately made the favourite for the 2014 Deutsches Derby.
Racing had to wait eight months for Sea The Moon's second appearance - a 10-furlong G3 at Frankfurt in May, which he won easily despite signs of greenness. A month later, he was back in action for Cologne's G2 Union-Rennen, traditionally the best German Derby trial. By now his reputation was growing and he started odds-on. He won by three lengths, despite hanging right across the track in the straight.
Then came the Deutsches Derby at Hamburg on July 6, for which the colt had a new jockey - Belgian Christophe Soumillon, who controversially replaced regular rider Andreas Helfenbein. Soumillon was brought in after Helfenbein was injured in a fall two weeks before the race. Even though he was riding again by the time of the Derby, the owners stuck with Soumillon.
Despite a bad draw on the outside, Sea The Moon took the lead early. As they came into the straight, Soumillon took him across to the stands rail and rode vigorously as he raced alone. When he looked around, Soumillon saw he was well clear and let the colt cruise home to an 11-length victory.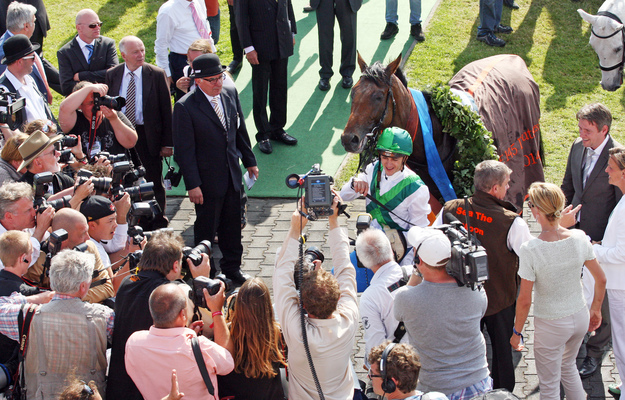 Lucky Lion, who had previously won the German 2,000 Guineas, finished second and subsequently won the G1 Dallmayr-Preis at Munich, while fourth-placed Eric also won a Pattern race his next time out, so the form certainly looks solid. Sea The Moon's current IFHA rating is 125 - the highest ever given to a Hamburg winner in the aftermath of the race.
After this Sunday's race at Baden-Baden (when the horse will be ridden by young Italian rising star Cristian Demuro as Soumillon is riding elsewhere for the Aga Khan), the Arc is next on the agenda, and that should be his last race of the year. The plan is to keep him in training as a 4-year-old.
"We are not even thinking yet about next year," Lafrentz said. "But one thing is certain: Sea The Moon is not for sale. We have received offers from all over, but the whole family is agreed on this point.
"As for a later career as a stallion, obviously that must be carefully planned, but we want to keep control. We would also like to make him available to European, and especially German, breeders, so he would stand somewhere suitable in Europe. We cannot stand him here at Görlsdorf. It is too far off the beaten track."
In fact, no stallion stands there now. The last was Sternkönig, a close relation to 1975 Arc winner Star Appeal and top jumps stallion Strong Gale. He had the bad luck to be born in 1990, the same year as Monsun and Lando, and was third to this pair in the 1993 German Derby, rated the best German race of the post-war era. He was also upstaged by those two as a sire but did well enough, and is the sire of Görlsdorf's first classic winner, Hey Little Görl, who won last year's Deutsches St. Leger.
That was the start of a golden run for Görlsdorf, which has continued almost without hiccup ever since. As well as Sea The Moon, their recent successes include:
Berlin Berlin (5-year-old mare) - runner-up in the G1 Grosser Preis von Berlin last month.
Wunder (3-year-old filly) – winner of her first three races before an unlucky defeat in the G1 German Oaks last month.
Meerjungfrau (3-year-old filly) - unbeaten after three starts in Germany and now with Graham Motion in the U.S.
Born To Run – winner of Germany's top juvenile race last year.
Is there any reason for this spectacular run after years of just average success? Clearly the investment in better grade mares has paid off, but Lafrentz puts it all down to his wife.
"Since she took more control of everything, it has all gone much better," he said.
Certainly she plays a hands-on role. Her racing manager, bloodstock agent Dirk Eisele, who lives in Cologne, visits the Markus Klug stable almost every day to check on the Görlsdorf runners. On the breeding side, too, she puts her own ideas into practice. One of them is to have her mares covered only every two years.
"This is not sentimentality," she said. "There are some exceptions, but on the whole, I feel that it can be very stressful for the mare, and especially her foals, if she has to drop a foal every year. As we have no stallions here now, they sometimes have to go on long journeys to be covered, and often come back quite distressed and need several months to recover fully."
Whatever the explanation, it is certainly working well. The result is that they have fewer foals and yearlings than might be expected. The stud's policy is to retain the fillies and sell the colts, usually at the BBAG (Baden-Baden Auction Company) yearling sale. Seven yearling colts, several of them closely related to some of the top performers mentioned in this article, are entered in this year's BBAG sale.
-----
July 8, 2020, update
Sea The Moon's retirement was announced by Gestüt Görlsdorf on September 16, 2014. He now stands at Lanwades Stud in Newmarket and is currently world-ranked 63 after siring his first G1 winner, Alpine Star in the Coronation Stakes at Royal Ascot last month. His son, the exciting, unbeaten colt Wonderful Moon, trained by Germany by Hank Grewe, is hot favourite for the Deutsches Derby at Hamburg on Sunday.