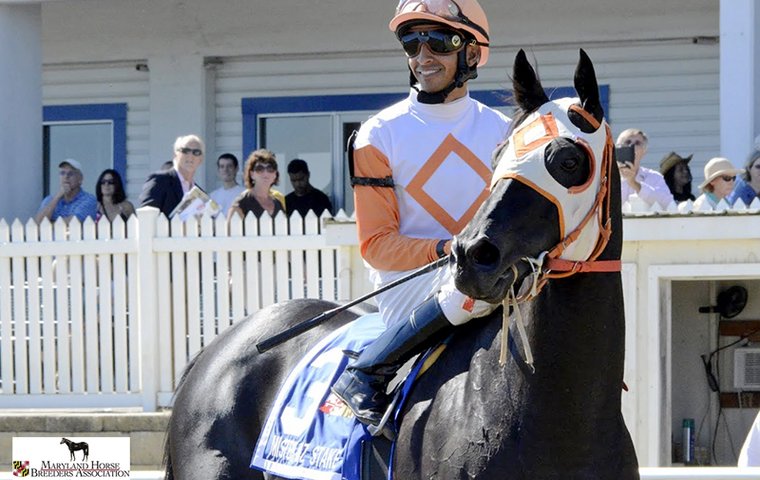 He's never raced in anything bigger than a Grade 2, and his most important wins have come in Grade 3s. His pedigree shows he's a Maryland homebred out of relatively unknown stallion named Parker's Storm Cat.

In his career, he's made only two starts outside the Mid-Atlantic region for breeder/owner/trainer King Leatherbury. He was fourth behind Undrafted in the G3 Jaipur Invitational Stakes at Belmont Park and second in the $60,000 Forty Niner Stakes at Aqueduct.
The rest of his starts have taken place at either Laurel, Pimlico, Penn National, Parx or Delaware Park.
Nothing special. Nothing special at all.
And yet this same horse rates as one of the nation's most popular and beloved horses.
Illogical?
Not in the least.
It makes all the sense in the world when you're talking about Ben's Cat.
At the tender age of 10, Ben's Cat has gone viral.
Living legend
He was once Maryland racing's best kept secret. Yet now his heart, durability and amazing consistency and longevity – not to mention 26 stakes wins – has built for him an army of fans with outposts in every corner of the country. Reflective of that, on Saturday, when he will race on Jim McKay Maryland Million Day at Laurel Race Course, "The Pride of Maryland" will undoubtedly trend on Twitter as if he was a Horse of the Year or a Kentucky Derby winner.
"Ben's Cat is definitely one of the most popular horses in the country. He's a living legend. He's a throwback to the days when horses would run for years and years, and people love him for that. That familiarity brings out a lot of love," said Penelope Miller, Senior Manager of Digital Media for The Jockey Club's America's Best Racing. "There's so much chatter about him on Twitter that he'll trend nationally whenever he races and that attracts more fans and helps build the horse's legend and his following. He brings a lot of national attention to Maryland racing that it doesn't normally see."
It's all so improbable, yet if the saga of Ben's Cat is anything at all, it's utterly heartwarming, proving that the deep bond between fans and their equine heroes can thrive outside the framework of Grade 1 races.
"It's a fairytale story. Everyone loves him so much," said Georganne Hale, Director of Racing at the Maryland Jockey Club. "People want to see Ben's Cat win every time."
Thunderous applause
That was never more evident than on May 20, Black-Eyed Susan Day at Pimlico.
Ben's Cat was entered in the $100,000 Jim McKay Turf Sprint, a stakes he won in the previous three years and four of the last five. But, on this occasion, while making just the second start of his 10-year-old campaign, Ben's Cat was the 2-1 second-choice behind 4-5 favorite Rocket Heat, winner of the G3 Twin Spires Turf Sprint two weeks earlier.
In the stretch, it didn't look good for the old timer as he appeared trapped on the rail. But, when jockey Trevor McCarthy moved Ben's Cat out a path inside the 16th pole, the clock was pushed back. The dark bay gelding surged between horses like a spry 3-year-old to stick his head in front at the wire and prevail by neck.
"On Black-Eyed Susan Day, everybody had a heart attack watching him. We all thought he has going to get beat and then his nose pops up and he wins," Hale said.
When Ben's Cat returned to the winner's circle after his 32nd career victory, a record crowd of 47,956 saluted him with a thunderous round of applause, triggering yet another in a long-running series of emotional celebrations for him in the winner's circle.
"In that winner's circle after the Jim McKay there were so many people cheering and applauding all around us. It was quite a scene. There were tears in my eyes. It's probably the moment with Ben's Cat I cherish the most after all these years together," Leatherbury said.
"People have told me that was the most exciting race they've ever seen. Nobody thought he could win. He had two horses in front of him near the end, but he split them and got through and won right at the wire. What a moment."
For the 22-year-old McCarthy, who had taken over the mount on Ben's Cat only one race earlier, the joyous scene in front of such a large crowd was something new for him to experience as part of the winning team, instead of the competition.
Ascent to prominence
"I didn't realize how popular he was until I won the Jim McKay with him," McCarthy said. "The whole way back, from the backstretch to the turn to when we reached the grandstand and then the winner's circle, everyone was rooting for him and taking pictures. It felt like I won the Kentucky Derby."
Take a step back, and the story of the gallant 10-year-old gelding and the 83-year-old man who bred him, owns him under the banner of The Jim Stable and has trained him and cared for him since 2008 are remarkably similar. Both have been successful for years but achieved their greatest fame at an advanced age.
If Leatherbury is indeed "The King" of Maryland racing, then Ben's Cat is surely it's Crown Prince.
In Ben's Cat, you have a hickory-tough sprinter who overcame a fractured pelvis at two. He made his first career start at four on May 8, 2010, in a $20,000 maiden claimer and went untouched at the claim box while winning by a length and three-quarters. Rival trainers had a second chance to scoop him up in a $25,000 claimer but he went untouched and, after a one-length triumph, he bid farewell to claimers and began his ascent to prominence.
So far, he has started 59 times in his stellar career and has won more times than not, posting 32 wins, nine seconds and seven thirds for career earnings of $2,640,282. Primarily those wins have come on turf, yet he also owns 11 victories out of 17 starts on dirt. From 2011 through 2014, he won at least four stakes in each of those years.
Breeders' Cup opportunity missed
"A key thing is that good horses come along all the time but they don't last long," Leatherbury said. "People will have a favorite horse and then, boom, he's gone. This horse has been around for eight years, running in top-notch races and that's what has made him so popular. It's his ability to last so long."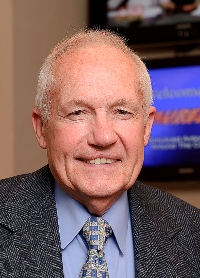 Aside from those 26 stakes wins, four of them Grade 3s, on Saturday, when he runs in the $100,000 Maryland Million Sprint Handicap at six furlongs on dirt, he will make his record-matching seventh appearance in a Jim McKay Maryland Million stakes while seeking a record-breaking fourth win in the series.
"When you get a horse that old and he keeps running the way he has and dances all the dances he has, he's truly a great horse," said Maryland-based trainer Bill Boniface, a longtime friend of Leatherbury, who, along with ABC sportscaster Jim McKay, is considered a founding father of the Maryland Million.
There might have been a Breeders' Cup appearance or two on Ben's Cat resume, but when opportunity knocked in 2011, no one answered.
"I kick myself about that," Leatherbury says about the Breeders' Cup. "He won the 2011 Turf Monster [at Parx] and the condition was that you were in the Breeders' Cup Turf Sprint by winning the race and they paid your expenses. But that was just the entry fee and, since he wasn't nominated, I would have had to pay $100,000 to nominate him. It was a tough decision. It was almost like putting a $100,000 bet on my horse. His numbers were good enough to win it, but I didn't want to risk $100,000."
Career rejuvenated
"I did have a deal with some people," he added, "though they were not the right people, I guess. We would have divided the cost of the nomination and shared the purse for that one race, but I was one person short of making it happen. He would have been nominated for the rest of his life and I could have come back in other years and he would have been right there in all those races.
"I looked at the (Ragozin) Sheets numbers in the Breeders' Cup races and they didn't run any faster than he did. I wasn't sorry, though, he wasn't nominated because I was breeding a lot of horses then and I didn't nominate any of them. My policy was to not nominate anyone. What was the chance any of them would make it to the Breeders' Cup?"
Ben's Cat was that 100-1 longshot who rejuvenated Leatherbury's career when the aging trainer was in his 70s. After winning at least 113 races a year in his glory days from 1972 to 1997 and earning a combined 52 training titles at Laurel and Pimlico, Leatherbury won just 19 races in 2011 – and Ben's Cat accounted for six of them.
"King was down on his luck," Boniface said, "and Ben's Cat kept him alive in the game."
The Maryland native currently has 6,477 career wins, putting him fourth on the sport's all-time list in the U.S., one victory ahead of Jack Van Berg through Oct. 18.
Hall of Famer at last
Yet the vast majority of those wins came in claiming or allowance races at Mid-Atlantic tracks. He has won only 23 graded stakes wins since 1976 and only two of them – the 1994 Iselin Handicap with Taking Risks and 1987 Hempstead with Catatonic – were Grade 1 victories. He has yet to start a horse in the Breeders' Cup. His lone Kentucky Derby starter was I Am The Game, who was 13th in 1985, and his lack of visibility at the sport's highest levels always came back to haunt him when Hall of Fame ballots were cast.
Then Ben's Cat came into Leatherbury's life.
As the legacy of Ben's Cat reached a national stage, it gained Leatherbury enough notoriety and fame outside the Maryland borders that, in 2015, the then-82-year-old trainer was finally rewarded with a plaque inside the National Museum of Racing and Hall of Fame in Saratoga Springs, New York.
"Without a doubt, Ben's Cat helped King get in the Hall of Fame," Boniface said. "King had a reputation that he was a claiming trainer. But that horse was his ticket to the Hall of Fame, no doubt about it."
Leatherbury couldn't agree more with that assessment.
"No question Ben's Cat got me into the Hall of Fame," Leatherbury said. "I had heard through the grapevine that I wasn't getting into the Hall of Fame because I had won a lot of races but I wasn't winning at the highest levels. So I could see the reluctance to put me in, but then Ben's Cat carried me into there."
Race with Father Time
And now both man and horse are approaching the finish line of their career.
While Ben's Cat will be a huge sentimental favorite in Saturday's Maryland Million, he's anything but a standout on current form.
The gelding has finished no better than third in his last four races since the Jim McKay. Most recently he was fifth in the Laurel Dash, a six-furlong turf stakes he has captured twice in his illustrious career.
As tenacious a competitor as Ben's Cat might be, he, like everyone else, appears to be losing his race with Father Time.
"Is the end in sight? It does look that way. It really does," Leatherbury said. "If it was someone else's horse I'd say he's not going to come back to his real good form. But horses fool you sometimes and we're hoping for an extra good effort [in the Maryland Million], but the reality of it is that he's going to have other horses in there that figure to beat him.
"We have him in as good a shape as we can, but he's yet to get back to any of his top [speed figures] from last year. That's the only thing that worries me. He's healthy. He feels good. He's sound. He looks good, but he's not quite as fast as he was last year."
Training report
"Right now, I doubt he'll run next year," he added. "I'd get great criticism if I drop him into a claimer. Everybody would call me a money-hungry S.O.B. for trying to squeeze every last dime out of the horse."
A strong effort on Saturday could change Leatherbury's mind, and McCarthy says Ben's Cat has been training forwardly for the 60th start of his storied career.
"He's doing real well," McCarthy said. "Last time he was a bit too sharp and was a little too close to the pace. If we get some rain, it will help because he really loves the slop. I think he loves it more than turf.
"But, if we are at the end, it's going to be sad. He's such an important horse to horse racing in Maryland. People will hate to see him go."
Leatherbury said that, depending on Saturday's outcome, he might run Ben's Cat in the $200,000 Fabulous Strike, a Nov. 23 dirt sprint at Penn National. He also said he might try to convince Maryland Jockey Club officials to card a special allowance race for him at Laurel that could possibly be the gelding's farewell appearance in front of the devoted Maryland fans who have enthusiastically followed him since his first stakes win in the 2010 Mister Diz, a six-furlong turf stakes he would win six times in a row.
"It's been such a great, amazing experience with him and I will truly miss him, but I take too much for granted that I don't appreciate the impact of what I'm doing," Leatherbury said. "That's my own fault. I don't realize how fortunate I am. I look back at days when I won six or five races in a day. I know I can't do that anymore, but I should have appreciated it more then."
Daily routine
Yet, regardless of when that final race takes place, Leatherbury takes comfort in knowing that, even though he no longer has a farm to house his racetrack warrior, he will have no problem finding a good home for him. He says three individuals have already contacted him about caring for Ben's Cat after his racing days end and the octogenarian trainer expects that figure to grow considerably once his gelding's retirement is made official.
As for Leatherbury himself, he too knows the day is approaching when the curtain will fall on a Hall of Fame career, but he's yet to put in an order for a rocking chair.
"I don't have any plans to retire," he said, "but I only have two owners and 13 horses left. I outlived all my owners. I understand that my inability to acquire horses will eventually knock me out of business."
Until that day comes for both horse and trainer, life will continue as it has for so many years on the Laurel backstretch. Each day Ben's Cat will leave his longtime home in Barn 1 and head to the track for some exercise, receiving greetings from passers-by every step along the way. Then, once he steps onto the track, he'll just stand and watch what's going around him, sometimes for as long 10 minutes, until he final decides to start galloping with a horde of eyes intently following him.
'Old rascal'
"He's the same old rascal," Leatherbury said. "He goes out to the track with the same exercise boy who has ridden him since he was two. Everyone admires him. I don't even need to watch him. Other trainers will come up to me and say, 'Man, old Ben went good today.' They're working for me and I don't have to pay them."
And on that sad day when morning training at Laurel will unfold without Ben's Cat in his familiar position on the track, there might not be a dry eye on the backstretch.
"Everyone in Maryland loves him," Boniface said. "It goes back to Maryland pride. We're long on tradition and a homebred out of Maryland like him, well, people are going to get behind him. We've had so many great horses come out of Maryland, but Ben's Cat will always be remembered."
Yes, Maryland has surely produced a galaxy of stars. Cigar was born there and Native Dancer was raised there. Its honor roll, to name a few, includes Boniface's Deputed Testamony, who in 1983 became the last Maryland-bred to win the Preakness, and Concern, winner of the 1994 Breeders' Cup Classic.
Then there's Ben Cat. He may not own a major victory along the lines of those other stars, but in terms of winning the hearts and minds of racing fans in the Old Line State and beyond, few can compare to him. He may not have a Grade 1 win but, when it comes to having adoring fans, he's surely up there with any Hall of Famer.