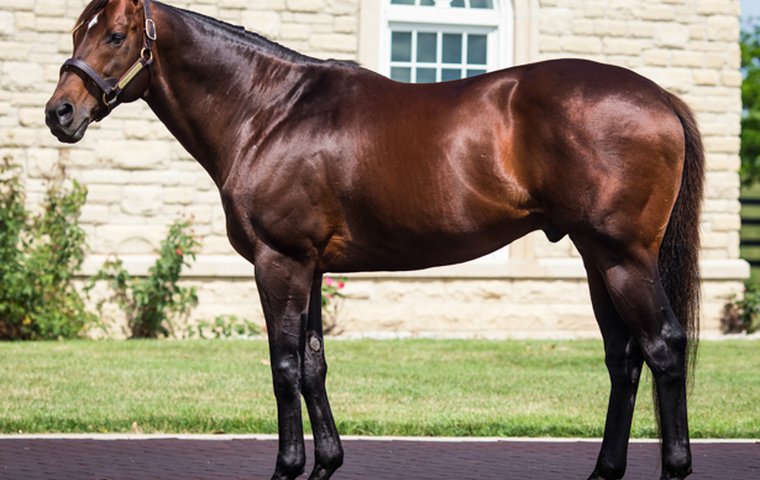 "Underrated" is a term that can mean different things, depending on whether you're a breeder looking to get the most value from a stud fee, or if you're a buyer at the sales, looking for a yearling that can run. There's usually a direct correlation between stud fee and yearling average, with the higher fee generally yielding a higher-priced yearling, but not always. Looking for those blips can be helpful for both breeder and buyer.

It's not hard to find examples of stallions who were very affordable early on and fought their way to the top. Dynaformer and Malibu Moon both started out in the bargain basement. Elusive Quality and Distorted Humor entered stud at $10,000 and $12,500 respectively. War Front was just $12,500 not so long ago, but horses like that bounce out of most breeders' reach pretty quickly after their secret is out.
Tapit's young son Trappe Shot was the bargain dream-come-true last year when his first yearlings averaged $115,712 off a $10,000 stud fee. Claiborne kept his fee at $10,000 for 2015, although he sold out quickly. If his juveniles run well this summer, he'll never be available at that low price again. Majesticperfection's first crop is running well, meaning that his $10,000 fee is also likely a thing of the past.
Ghostzapper is an example of an underrated, yet top class, sire. At a fee of $60,000, he's not exactly unappreciated, but he's earned it after many had written him off early in his stud career. Starting out at a $200,000 fee, after six years, he fell to $20,000 before his runner started pulling him back up. He sires 8 percent stakes winners to foals, which is huge (5 percent is the mark of a good sire), and has an Average Earnings Index of 2.32, which is also huge.
Given those numbers, Ghostzapper's 2014 yearling average was just $72,176, meaning that buyers were not as excited about his yearlings as they probably should be. We know that his runners get better with age, so the yearling average suggests that his yearlings may look a little immature. Impatient buyers will pass them by leaving bargains for those with a little more patience.
At $25,000, Mineshaft's 2014 yearlings averaged $93,655, nearly four times the fee, which makes him great for a commercial breeder. With 6 percent stakes winners to foals, and an AEI of 1.90, his progeny seem to make money for breeders and buyers alike.
An established, reliable stallion like Mineshaft is also a great way to start off an unproven broodmare. Too many breeders risk their young mares with popular young stallions who are also unknown quantities, but are still fresh in our memories from the track. Since the vast majority of stallions fail, this seems like an unnecessary risk with a mare whose value as a producer relies so heavily on the results of her first few foals.
Another solid sire at $25,000, Broken Vow also gets 6 percent stakes winners including 25 graded stakes winners, and is another good choice for an unproven mare. His 2014 yearling average was $53,338, just over double his fee, so he doesn't provide as big a return as Mineshaft, but his yearlings are excellent value for buyers.
The term "underrated sire" has much more meaning in the lower stud fee ranges. One of this year's Derby favorites, Dortmund, is a son of Big Brown, who opened the 2015 season for $8,500 as a Kentucky exile standing in New York. Big Brown looks like great value for a horse who might have a Kentucky Derby (G1) winner among his progeny soon.
Afleet Alex also has a Derby contender, the Florida Derby (G1) winner Materiality, on top of one of the winter book favorites, Texas Red, who won last year's Breeders' Cup Juvenile (G1). Afleet Alex sires 5 percent stakes winners to foals, which puts him into the upper echelons of the breed, and his progeny have earned an AEI of 1.53. Not bad for a $12,500 stud fee, is it? His yearling average in 2014 was a rather modest $37,538, but this is still almost three times his stud fee.
If you prefer lilies instead of roses, try Proud Citizen, who stands for just $10,000 but has sired a pair of Kentucky Oaks (G1) winners, champion Proud Spell and Believe You Can. His yearling average last year was $33,071, more than three times the stud fee.
Proud Citizen shares the stallion barn at Airdrie with another highly underrated horse, Include, who stands for $10,000, who generated yearlings that averaged $59,840 last year. That's almost six times his stud fee, and he sires 5 percent stakes winners to foals, which makes you wonder why he's standing for just $10,000.
Among the very best buys in the $10,000 stud fee bracket, Yes It's True sires 5 percent stakes winners, and his 2014 yearling average was a very strong $54,422. Bellamy Road is another good one running under the radar, with 5 percent stakes winners and a yearling average of $54,811.
In Kentucky, the "under $10,000" contingent includes some solid proven racehorse sires who may not provide the biggest punch at the yearling sales, but pop up with top runners every year. Discreet Cat, Fusaichi Pegasus, Langfuhr, Northern Afleet, Roman Ruler, Stephen Got Even, and Touch Gold are some of the most reliable sires in this category.
Using a little common sense, breeders can use these underrated sires to help their broodmares produce winners instead of chasing after the latest "hype horse" who could be gone after his first crop hits the races.