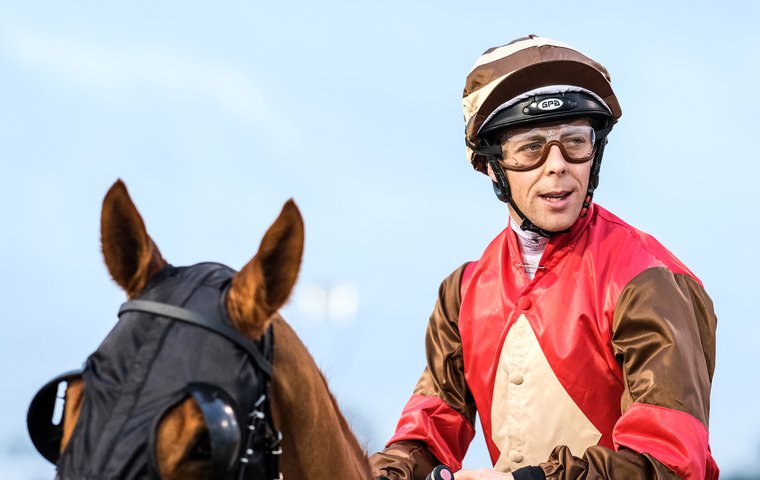 When (and if?) racing resumes in Britain in 2020, the established contenders for the jockeys' title - riders such as reigning champion Oisin Murphy and three-time number one Silvestre De Sousa - will be looking apprehensively over their shoulders at rising star Ben Curtis.

The 30-year-old Irishman has been setting a record-breaking pace on British racing's all-weather circuit over the winter. He was on 101 winners, 34 clear of second-placed Luke Morris, with the title in the bag, and Morris's all-time all-weather record of 102 a formality until coronavirus intervened.
So now, as much as any of us can in the current crisis, the relentlessly determined 30-year-old will be left to set targets for the remainder of 2020.
Curtis has improved his seasonal numbers every year since he moved permanently from his native Ireland in 2014 – to the extent that last year's 137 was enough for third place on the jockeys' list. As more than 50 of those winners came outside the arbitrary parameters of Britain's official championship (usually May to October), he was sixth there, a position he intends to improve this time around after his prolific winter.
And yes, while the usually loquacious Curtis says he isn't overly keen to talk about his ambitions for fear of heaping the pressure on himself, the jockeys' title 'proper' is certainly in his thoughts, he said in a recent interview on horseracingplanet.com.
"Of course it is," says Curtis who is based in Thirsk, North Yorkshire. "Everyone wants to win a jockeys' title. It's on everyone's to-do list in this sport and a lot of the lads will have it in their minds.
"It is in my mind," he goes on. "But whether it's something that's achievable this year, I don't know. It will be very, very competitive – Oisin Murphy is riding at the top of his game and has lots of support, and I think Silvestre de Sousa will be hungrier and Danny Tudhope up the north had a taste of it last year so he'll be giving it a kick."
Doubtless that final remark also applies to Curtis and his agent, Simon Dodds, whom the jockey credits for much of his success. "My agent and I always try to set goals," he explains. "I think you have to in this game, even if you don't succeed, or you've nothing to aim for.
"He set the goals for me and we've put the foot down and gone through them," he adds. "We were aiming for 100 by the end of March and obviously we got there a bit before that. They are goals, but I like to keep them in my head. When I start talking about them to other people, they might start weighing on my mind.
Workaholic trait
"But first and foremost we want to build up a trainer base with better-quality horses with the aim of potentially going for it, and, if we're in a position to go for it, I can tell you one thing: we won't be taking a day off. Every meeting that's on, we'll be there. If I was ever in a position to go for it, I'd be giving it 110 percent all the way to the finish line, win, lose or draw."
Not that such words will be any sort of surprise to those who have followed Curtis's career from his younger days in Ireland. Hailing from the seaside town of Kinsale, near Cork, with no obvious horsey background, Curtis became well known for his sheer volume of rides.
That workaholic trait has served him well during his head-on assault on the all-weather title as he has travelled the length and breadth of the country; his dad, Dane, also gets kudos for doing a lot of the driving ("and motivating me – or bollocking me when I do things wrong!" says the jockey).
"It's been pretty non-stop and it's been fantastic from start to finish," Curtis adds. "It is probably the hardest time to be going racing as you leave in the dark and get back in the dark but, when you're riding winners, you don't mind doing it."
Curtis seems to count the quickfire trips he has made to Dubai as a bit of a vacation, albeit very much of the 'busman's holiday' variety. Quite how he finds the time is anybody's guess, but, even at Meydan, Curtis made it count, riding the Mick Channon-trained Certain Lad to a 33/1 success in a valuable carnival handicap in January. "It's nice to get a bit of sun," he says, "even if it's just for 12 hours. It freshens you up a bit."
Call from Charlie Appleby
Officially a freelance, Curtis's main regular employers during the summer months are trainers Karl Burke and Roger Fell. On the all-weather, however, Mick Appleby and Tony Carroll have supplied the bulk of his ammunition – though it is noticeable how other higher-profile yards have also been calling him up. He is three-out-of-four this year for world 1 trainer, Godolphin's Charlie Appleby, for example.
"I've been lucky enough to get on some nice horses and I've been riding for a lot of good trainers," he says. "I've made a lot of new contacts down south as well."
Curtis has yet to make a mark on the TRC Global Rankings - he has had plenty of success, just not in the Group races that count towards the standings. He aims to put that right. "When I came over to England, we set a goal to improve our numbers every year but then it's been about quality as well for the last couple of seasons," he goes on.
"My prize money nearly doubled last year, which shows the quality had improved. I've had a few Group winners but that elusive Group 1 is out there somewhere. That's what we're aiming for and I'm hoping trainers will have the confidence to put me up in those sort of races."
More on horseracingplanet.com