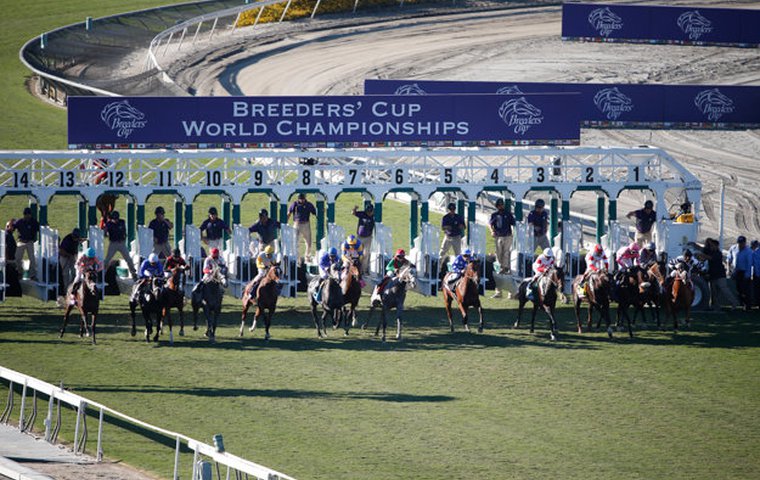 Earlier this year, Breeders' Cup Director of Racing & Nominations Josh Christian was assigned to an extended stay in Europe to help boost the event's international profile. Based in London since April, we caught up with Christian as the Breeders' Cup Challenge series kicks into high gear during the final month ahead of the World Championships with "Win and You're In" contests scheduled for this weekend at Belmont Park, Santa Anita Park, and Newmarket Racecourse, and key events in the United States and France on the docket in October.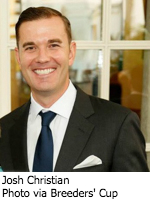 How did this assignment first come about?
"I used to come over maybe two or three times a summer. I absolutely jumped at the chance [to extend my stay when we first talked about this last year]. When you're over for two weeks out of the year, or you're at Royal Ascot, or the July Meeting at Newmarket, there are only so many relationships you can build. I had a great inner circle, but we needed to broaden that in order to have more of an impact. At the end of the day, to get people over [to the U.S.] it's very important to have those relationships, and it's hard to build them during busy times on big race days. I've found that having full-time access to British and European racing enables me to build relationships and get to know people in a way I wouldn't be able to otherwise."
How did you come to be based in London rather than Newmarket, Britain's racing center?
"I'm in London purely because it gives me easier access to everywhere I need to go, and that means airports, too. I've spent most of my time in England, but I've been all over. I've been to every race course, just about, that would have major race days. I was just in Ireland for a week for the Irish Champion Stakes and visiting trainers and farms. I'll be in France next week and it will be, I think, my fourth time to France. I was in Germany for a week, and Japan for a couple of days. We focus mostly on the main centers of racing throughout Europe – England, Ireland, and France. It's a big weekend in the U.S. this weekend, but it's a good weekend at Newmarket, too. We have two Challenge races – the [G2] Royal Lodge and the [G2] Rockfel at Newmarket – and hopefully we'll get several horses coming out of the races this weekend in England."
What are the main goals you're here to accomplish?
"At the end of the day, I have two main objectives: First, to get to know and to communicate with owners, trainers, and breeders. Second, to improve the progress of Breeders' Cup stallion nominations. Getting stallions nominated is very important to the Breeders' Cup, and it makes a big difference when you're there on the spot and talking face-to-face."
Why are stallion nominations so important, and have you seen an increase as a result of your work so far?
"In the past, that was one of the big hurdles…expecting people to come over, travel their horses from abroad, and then pay huge sums of money to run in the Championships. Financially, it just didn't make sense. So, we had to change the way that whole thing was done.
"In 2011, we changed the way horses from outside of North America are nominated. In the past, we had an agreement with the EBF (European Breeders' Fund) where stallions were nominated to the EBF, then foals would have to independently nominate on top of that. But in 2011, we changed that to a program that starts purely from the stallion standpoint. Now, in the Northern Hemisphere outside of North America, stallions pay half a stud fee, and it automatically nominates every one of their resulting foals. In the Southern Hemisphere, they pay a quarter of a stud fee and it automatically nominates all of their resulting foals. In the past, on average, we had about 1,200 foals outside of North America nominated, and by the time those horses got to be four- and five-year-olds, there's really not that many left [still running who have reached the top level of competition]. Now we have a little over 20,000 per year nominated, so we've increased the horses that are nominated by around 19,000 per year, which is massive.
"That first crop [since the change] is just now three this year, and I think some people will be a little reluctant to send three-year-olds abroad, so I don't see the huge adjustment in this for the next couple of years until horses become a little older. When they're four and five, I think that's when we'll see the real benefits from it."
Since stallion nominations don't bear immediate fruit in terms of horses in the starting gate, are there new incentives in place to encourage overseas participation?
"Every horse challenging from outside North America now gets $40,000 to ship, no matter where that horse finishes in the race. This is the second year of this initiative. A lot of people weren't aware of this, but it's already shown benefit. Also, entry fees have been reduced from 3 percent of the purse to 2 percent. And no, there's no danger of this encouraging frivolous entries. That's why we have the Breeders' Cup panel - to assess potential runners' ability and make sure they're up to standard.
"There are other issues being considered as well, one of which is the calendar. I doubt any horse will do Arc Day, British Champions Day, and Breeders' Cup. In a perfect world, horses should be able run on Irish Champions Day, Arc Day, British Champions Day; as well as Breeders' Cup. It's just a puzzle that we will have to work on with our international friends."
You've also expanded the Challenge series, adding more races outside of the U.S. How does that fit into the overall picture?
"It has a lot to do with the stallion nomination program. Breeders in South Africa, South America, Australia, and Germany were supporting us [by nominating stallions], so we had to give our support back to them, and add Challenge races [in those regions]. We'll have several horses [at the Breeders' Cup] from South America this year that won Challenge races. If they're going to support us, we absolutely need to support them in putting Challenge races there to try to get horses from Peru or Brazil or South Africa to the Breeders' Cup so they can show the world what they can do."
The International Racing Bureau (IRB) has long been a recruiting partner for the Breeders' Cup. How do you coordinate with them?
"I'm working separately from the IRB and parallel with them. They promote the Breeders' Cup very well to owners and trainers, and they do the recruiting in Europe. They provide direct liaison with horses' connections, and their work in the U.S. to help arrange shipping and making sure everything is done by U.S. rules is invaluable. But we work together. Their help is really important to me here, too. I don't think I would have been able to do what I have done, or form the relationships I have here, without the help of the IRB, and of Adrian Beaumont [IRB Racecourse Services Director] in particular."
Medication is the big issue in the U.S. at the moment. Is it a topic you've encountered in many of your conversations in Britain or elsewhere?
"Yes, it is a big issue, but I believe it can be overstated. I've been working to convince people that it's not the Wild West. Yes, we do allow one medication and that's Lasix, but we're working towards rule uniformity. We're pulling for uniformity. Owners and trainers do know that if they come to the Breeders' Cup they're going to get Lasix if they want it. But they're also going to benefit from strict rule enforcement and some of the best security in the world.
"I don't see the Lasix issue as a major hurdle at the moment. Incoming owners and trainers might not like it, and they might not like having to compete against horses using it. But it's not an insurmountable problem. Plenty of horses have come to the Breeders' Cup and won without it. And, of course, there's a commercial aspect to everything. Last year we put up $26 million in prize money and international runners won $6 million of it. That was an average of around $150,000 per runner."
How about the dirt versus synthetic argument, which now seems to have been settled, in the U.S. at least, in favor of dirt?
"Not a major problem. Last year was on dirt and we had overseas runners. Whichever main track surface overseas connections prefer, we still have turf races worth $10 million for them to aim at."
Japanese horses have been rare Breeders' Cup participants over the years, are efforts being made to change that?
"The participation of Japanese horses obviously has plenty to do with their program at home, but it also comes back to the question of nomination. We want to increase the number of Japanese stallions who are Breeders' Cup nominated, and I am hoping that we may get Japanese runners this year.
Of course, we're also competing against the Japanese fascination with the Arc. However, if the ground comes up bottomless at Longchamp, there has to be a chance that Just A Way or Gold Ship might be diverted to the Breeders' Cup, where they can be almost certain of finding good, fast ground - even though their sires weren't nominated at the time they were foaled."
Can you point to one thing you've learned over the course of this assignment that's been especially beneficial or helps you do your job better?
"I've learned even more that this business – and I've always felt this idea – is done face-to-face. It's over a pint or dinner and getting to know people and what their thoughts are on bringing their horses to the Breeders' Cup. Everyone has a different opinion. Some people have never been, so it's getting them over that fear of shipping their horse that far and coming to a city where they've never been. Emails and mailings don't get it done anymore to get people to come to you. These people deserve to be treated like royalty when they come [to the Breeders' Cup], as does everyone who brings a horse. That's what's important about being there, so you can make that introduction and get to know people."
Which Breeders' Cup race are you most looking forward to this year?
"To me, the Mile will be the most international race. Half the field could be international horses, which would be huge if we could do that, and some will be trainers who have never had horses in the Breeders' Cup."
---
Additional reporting by Ashley Herriman