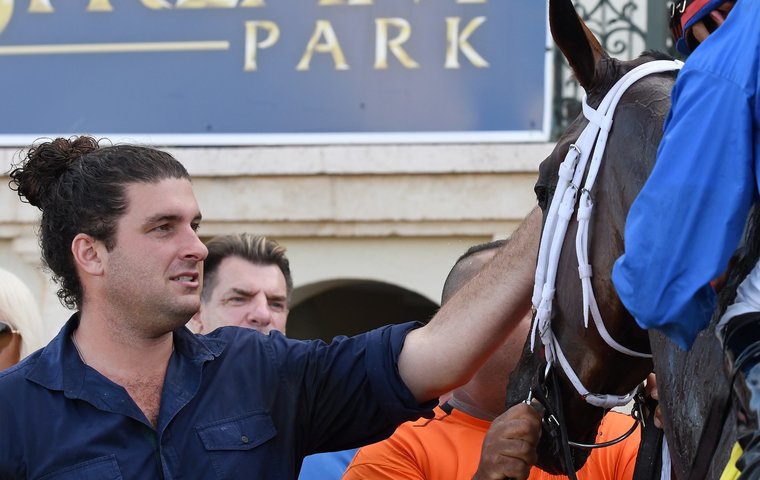 Trainer Saffie Joseph Jr views his hot streak at the current Championship Meet at Gulfstream Park as a harbinger of things to come for his burgeoning stable in 2020.

Since the meet opened on November 30, Joseph has won five stakes, tops all trainers in purse money, and is among the leaders in races won.
"We have momentum and we just want to keep building," said Joseph, who has 65 horses in his care. "Once you're making forward progress, that's the important thing. I just want to keep doing right by the horses and the owners, and winning all the races I can, no matter what kind of races they are. I love to win. Even winning the lowest [claiming race], brings as much joy to me as winning a stakes."
Yes, a win is a win, but even Joseph would agree a victory with his one-time claimer, Math Wizard, in the inaugural running of the world's richest race, the $20 million Saudi Cup at King Abdulaziz Racecourse in Riyadh on February 29, would carry more gravitas than winning a claiming event with a $19,000 purse on a weekday card at Gulfstream Park.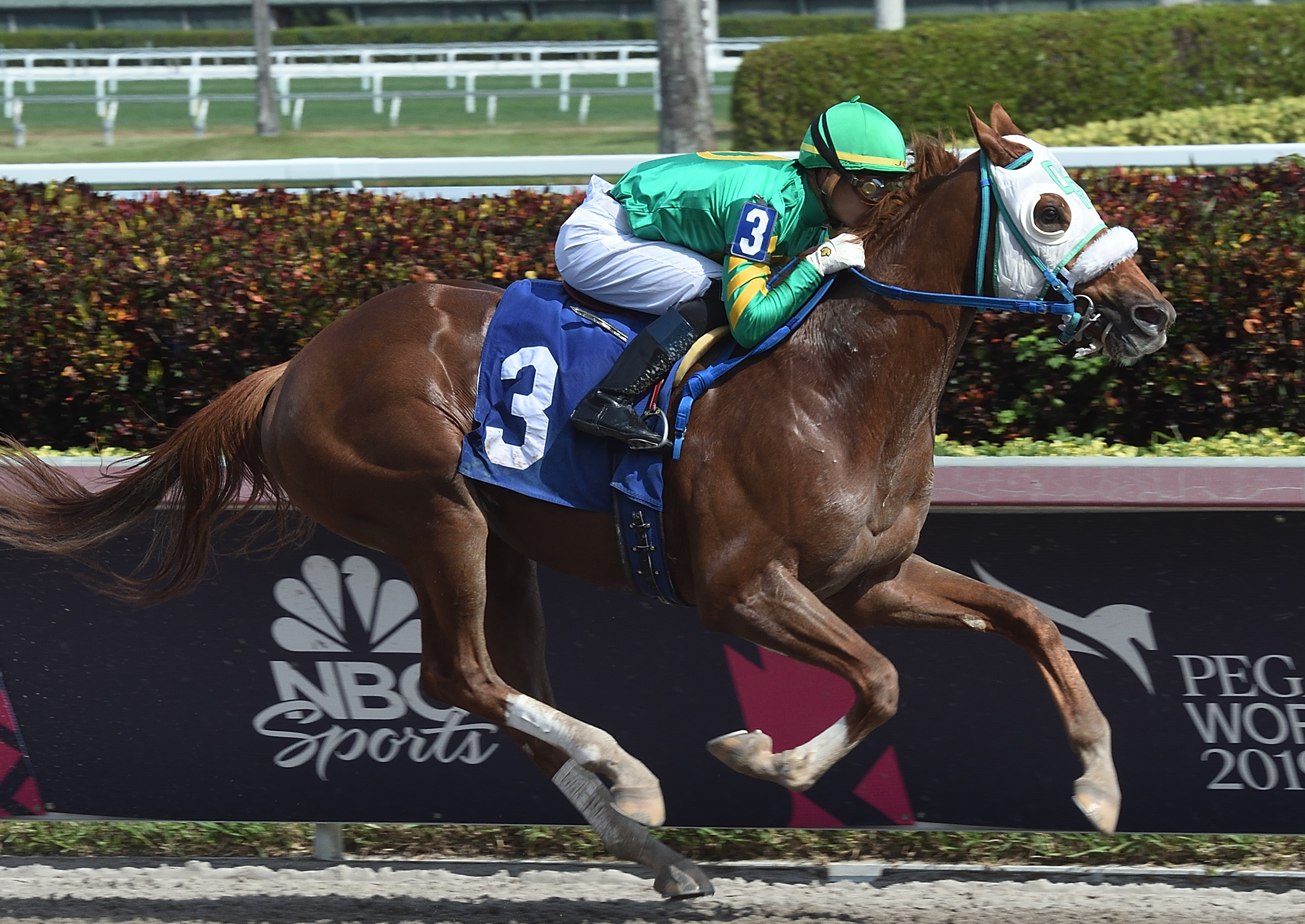 (It should be noted that Math Wizard, who is among 143 horses nominated to the nine-furlong dirt race, as of yet has not been extended an invitation to run in the Saudi Cup. When entries were released on January 14, it was written that those entries would be "whittled down to final fields, based on ratings allocated by former [British Horseracing Authority] senior handicapper, Phil Smith." No date for the release of the final fields was given, although final declarations and the post-position draw will be known on February 25. A maximum field of 14 will be permitted to run.)
"To think we claimed this horse for $25,000 and that here we are about a year later in this [possible] position to run in the Saudi Cup is unreal," Joseph said.
Before then, on Saturday at Gulfstream Park, Joseph has Tusk - another claimer he turned into a Graded stakes winner - in the $1 million Pegasus Turf Invitational. But Tusk, who won the G3 Tropical Turf Stakes on January 11, is the lone also-eligible in the field and will require a scratch to gain entry into the race.
Since his arrival in South Florida from his native Barbados in 2011, Joseph has largely been known as a trainer with an astuteness for plucking useful runners out of claiming races and running them in the right spots to maximize their potential to win.
National recognition
But it was his work with Math Wizard, who is now four, that gained Joseph national recognition in 2019. The colt, whom he claimed for $25,000 on January 31, 2019, on behalf of owner John Fanelli, became Joseph's first G1 starter and winner in the $1 million Pennsylvania Derby last September.
"My first seven years in America were slow and steady. We were doing well, just not getting national attention," said Joseph, who began his training career in Barbados as a third-generation horsemen and became the youngest trainer to win the Triple Crown there when he was 22.
"Last year there was a steady increase. Obviously, Math Wizard winning the Pennsylvania Derby put us on the map as far as the national stage goes. But we had already built the foundation for that. I came here to be one of the best in the world. You can't do that in Barbados. You have more opportunity to [achieve] that in America because you're competing against some of the best trainers in the world."
Math Wizard's claim by Joseph and Fanelli represented the third time in six weeks at the 2018-19 Championship Meet at Gulfstream Park that the son of Algorithms changed hands. On December 20, 2018, he was claimed by trainer Antonio Sano for $16,000 out of a maiden race that later became auspicious, thanks to its winner, Maximum Security, who is also being pointed to the Saudi Cup. Seventeen days later, Math Wizard won a maiden claimer by 6¾ lengths for Sano and was claimed for $16,000 by trainer Paul Kopaj.
When the entries came out for a mile race for $25,000 claimers to be run on the final day of January, Fanelli, a former professional poker player and now a general manager of a car dealership in New Jersey, reached out to Joseph, his trainer of three years, and asked him what he thought about Math Wizard as a potential claim.
"Math Wizard ran a really good [speed figure] as a 2-year-old and he was a late foal, a May foal, and he was by Algorithms, a sire I like," said Fanelli, who noted he won a six-way shake to acquire Math Wizard. "Saffie liked him, too, so I figured if he likes to run long, he's going to be something good. Of course, I never expected something like this."
The day Math Wizard was claimed by Fanelli, he won in a rout, crossing the finish line 18½ lengths in front of his nearest rival.
Shortly after the claim, Fanelli sold a small interest in the colt to several of Joseph's owners — Collarmele Vitelli Stables, Bassett Stables, Ioannis Zoumas, and Wynwood Thoroughbreds. Although the Pennsylvania Derby marked the first and only time to date that Math Wizard has won for his connections since the claim, he had been steadily picking up checks in Graded races leading up to that victory. His highlight reel included a runner-up finish in the G3 Ohio Derby, a third in the G3 Indiana Derby, and a fourth-place finish in the G2 Wood Memorial.
His current earnings are $1,040,623 from a record of 3-2-3 from 14 starts.
Kentucky Derby hope
After springing the 31/1 upset in the Pennsylvania Derby over a field that included Preakness Stakes winner War Of Will, Fanelli sold further interest in Math Wizard, and welcomed Khalid Mishref, Cash Is King, and LC Racing to the team. The 30 percent interest purchased by Mishref, a Saudi native, came with the agreement that Math Wizard would be pointed to the Saudi Cup.
Unraced since finishing fifth in the G1 Breeders' Cup Classic — the best finish from a 3-year-old in the 11-horse field — Math Wizard was under consideration for the $3 million Pegasus World Cup. He missed a workout, however, due to a minor illness, and Joseph didn't want to press on to make the race since the main goal is the Saudi Cup.
On the same day the Saudi Cup will be run, Joseph is expected to start Mucho Macho Man Stakes winner Chance It, a 3-year-old with a record of four wins from six starts, in the G2 Fountain of Youth Stakes, one of Gulfstream Park's premier Kentucky Derby preps.
"I'm definitely Derby dreaming with Chance It at this point," Joseph said of the colt he trains for Shooting Star Thoroughbreds. "He's the best horse I've ever had since I've been in America, without a doubt. We've had nothing close to him in our stable. He just keeps wowing me. He has so much talent; it's unbelievable."
If Joseph has his way, he will not only have his first Kentucky Derby starter this year, but also his first contender for the Kentucky Oaks, the undefeated Tonalist's Shape. Owned by Slam Dunk Racing, Doug Branham and Legacy Ranch, Tonalist's Shape, a stakes winner, is being pointed to the G3 Forward Gal Stakes at Gulfstream Park on February 1.
And, if further proof was needed that Joseph is thinking big this year, the conditioner will expand his operation to include divisions of runners at Churchill Downs and Keeneland and Saratoga.
Joseph, who is married with two young children, credits his unwavering belief in himself, as well as patience — even though at times it was difficult to practice — as factors in bringing him to this juncture in his career.
"I think of [my career] kind of like a house. Once you get that foundation strong, the roof is going to go on easy," he said. "It looks like we're rolling now, but it has taken a while to get here. It has taken many years. It has taken [getting through] doubt in my mind. Asking myself, 'Will this opportunity ever come? Will we get there?' I don't think there has ever been doubt about my ability, but there has been doubt in my mind if it's going to happen.
"There are times you cry and think it's not going to happen. I think you've just got to stay on the path, on the journey, and stay true to yourself and your owners. One opportunity has led to another. We've been given a lot of opportunities and we've made the most of them. One owner has recommended me to the next owner. It's been a process like that for my stable. Slow and steady and now it's taking off."