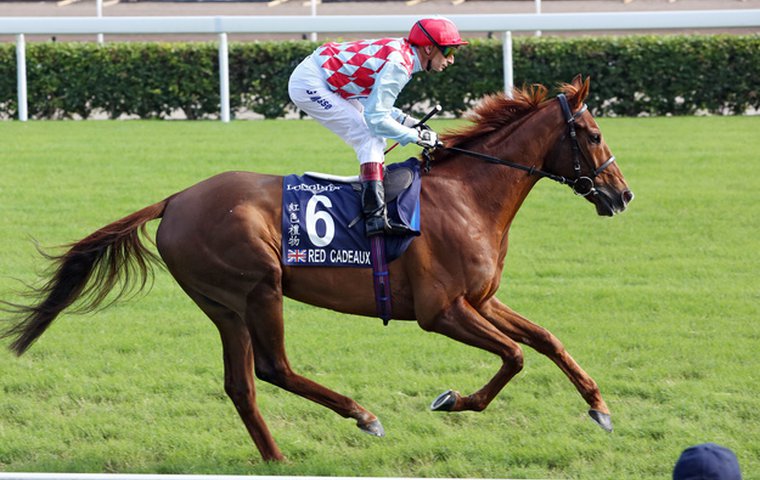 He's won $6.44 million in prize money in eight different countries – but what is it that makes British Melbourne Cup hopeful Red Cadeaux thrive on such a demanding schedule?

Deep in the bowels of the quarantine station at Werribee Racecourse, in the Melbourne suburbs, an equine gladiator has been girding his loins one more time.
Red Cadeaux is under tack for his fourth consecutive tilt at the AUD$6.2 million ($5.46 million) Emirates Melbourne Cup on Nov. 4. He has twice finished runner-up in the "race that stops a nation," as the locals dub it. Trained in England by Ed Dunlop, he epitomises a 21st-century racing phenomenon. He is a truly international campaigner with earnings in excess of £4 million ($6.45 million) to date.
Tuesday's race will be Red Cadeaux's 20th start beyond Britain's shores. Ask Dunlop why the horse thrives on his travels and the trainer breaks into a self-effacing smile. "He likes to be as far away from me as he can possibly get," Dunlop said. "That's why he loves it at Werribee."
Dunlop developed a taste for campaigning horses internationally from the exploits of Ouija Board, whose glittering career embraced victories in the 2004 and 2006 renewals of the Breeders' Cup Filly & Mare Turf. Another globe-trotting mare, Snow Fairy, won G1 races for Dunlop in Japan and Hong Kong – although she never ran at the Breeders' Cup because she wasn't nominated to the program as a foal.
However, Red Cadeaux has surpassed that pair in terms of pure adventurism. He has competed in Australia, Dubai, Hong Kong, Japan, and Singapore in addition to Ireland and France – and Britain. It has been an odyssey every bit as epic as those of Greek mythology.
"He is an amazing horse to whom I have become hugely attached," Dunlop said. "He is now eight years old, and I have to admit it is not so pleasurable watching him run these days. You always want him to come back okay; to finish his races sound."
Dunlop got an inkling of Red Cadeaux's appetite for travel when he sent him to Ireland for the Curragh Cup in June 2011. It was the horse's first start in a Group race and he hosed up by nine lengths, showing significantly improved form in the process.
From there, broader horizons were encouraged by his owner, Ron Arculli, whose tenure as chairman of the Hong Kong Jockey Club dovetailed with the territory's expansion of its international racing program.
"Ronnie has always had an infatuation with the Melbourne Cup," Dunlop said. "He had a runner in 1994, when [Hong Kong champion] River Verdon finished unplaced, and he kept on at me to take Red Cadeaux out there."
Plans were duly hatched to dispatch Red Cadeaux to Melbourne for the first time in 2011. "We'd never taken a horse to Australia and when I learnt how expensive it would be, I swallowed hard," Dunlop recalled. "It's an awfully long way to go should you end up running badly, but the horse came out of it with the shortest losing margin in the race's history."
Indeed, Red Cadeaux looked the likely winner when he swooped to lead approaching the final furlong. Even when Dunaden overhauled him he rallied so purposefully he would have been back in front – rather than a nose in arrears – in another stride.
The upside was that Dunlop learnt he had a horse he could travel the world with. "You don't know how any horse will cope with a long journey until you try," he said. "There is mental wear and tear involved. A lot of horses can't handle it, but Red Cadeaux doesn't bat an eyelid.
"When he starts the quarantine process in our yard at home, he instinctively knows he is about to travel," Dunlop continued. "His entire demeanour changes; he actually looks like a different horse. We have various tricks of the trade we use to help him, to keep him healthy, but none of it would work if he was a nervy, fretful horse, or one with soundness issues."
Another great asset to equine long-distance travellers is an ability to retain fitness without much hard exercise. "It makes it much easier if you can get them fit before you go and keep them ticking over when they arrive," Dunlop said. "The less fast work you need when you get there, the better. Red Cadeaux has always been relatively lazy horse at exercise."
So much so that when he joined the trainer as a yearling, Dunlop thought he had a dud. "He was so backward that he couldn't even haul himself up Warren Hill [an inclined gallop at Newmarket, where Dunlop trains]," he said.
"It was terrible, but then we discovered he had a trapped testicle and so we had him gelded. He started moving a lot better after that, although it would be a complete lie to say we thought he would be as good as he has turned out."
Although there have been other near-misses to set alongside that initial Melbourne Cup tilt, Red Cadeaux has only actually won one race away from Britain and Ireland. "He is the biggest bridesmaid in training, but we'll settle for that as long as he keeps running so well," Dunlop said.
"The one big race he did win was the [2012 G1] Hong Kong Vase," he continued. "That was a huge thrill for all of us, what with Ronnie [Arculli] being on home soil. And the next time he ran he finished second in the Dubai World Cup, when people thought we were mad to run him. He won £1.2 million [$1.94 million] that night."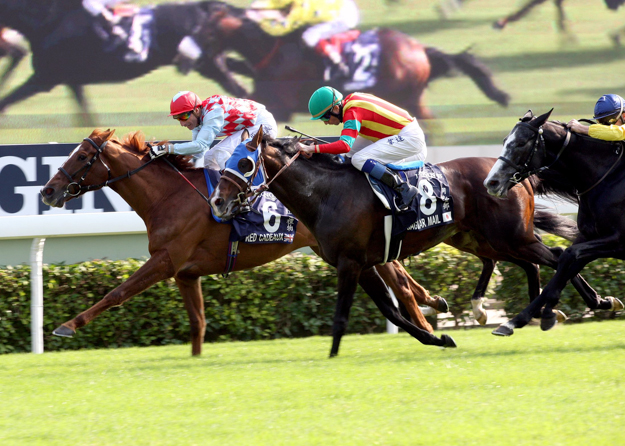 The autumnal prizes in the east are so numerous and lucrative that Red Cadeaux is unlikely to ever run in the U.S. The Breeders' Cup Turf's 12-furlong journey is as short a trip as he is competitive over, yet the Melbourne Cup is run three days later over the more apposite journey of 16 furlongs.
It is also a handicap. That is important in Red Cadeaux's case, since he is insufficiently talented to contest G1 races in Europe. Conversely, Europe's great champions are likely to wilt if confronted by the travelling schedule Red Cadeaux thrives on. This time last year, he was on the road for 10 weeks with his constant travelling companion - Dunlop's assistant trainer Robin Trevor-Jones.
As for his latest escapade, Dunlop reported the horse in mint condition ahead of the Melbourne Cup. "Robin says he is in the form of his life," he said. "I keep trying to dampen his enthusiasm, but he won't have it.
"This will be his fourth run in the race. He has been second twice and was unlucky not to win one of them. I don't think any international horse will ever run in four Melbourne Cups again, and because I've been lucky enough to win these big races in the past, I know the journey could end at any time. When that time comes, the privilege will have been all mine."