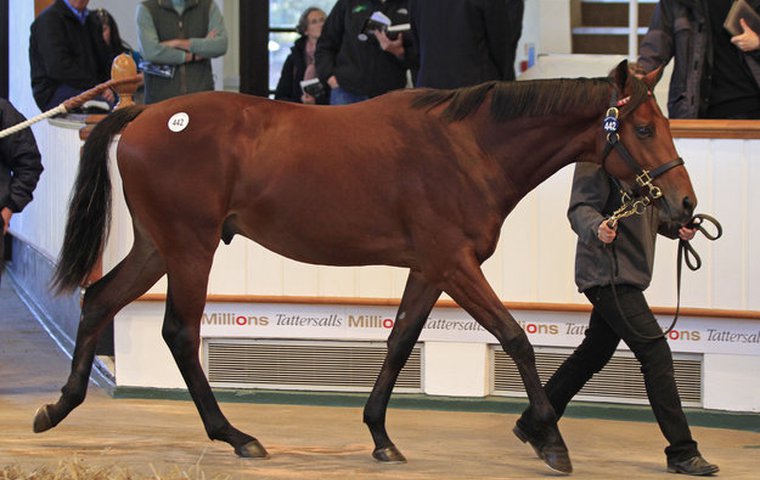 Record-breaking auctions, clashes between established buyers and emerging forces in the sale ring, and the ongoing dominance of Galileo, Tapit, and Deep Impact in their respective domains ensured that 2014 was a memorable year in the bloodstock world.

Galileo ended the year having sired eight G1 winners, ranging from classic winners Australia and Marvellous to the 2-year-olds Found, Gleneagles, and Together Forever. A total of 35 European stakes winners contributed to an European prize-money haul of close to £8.6 million, more than £3.6 million ahead of his closest pursuer, Invincible Spirit, whose own excellent year was headlined by Kingman and Charm Spirit.
Nearly £7.2 million of Galileo's European total was won by his British and Irish progeny, thereby handing him a sixth - and fifth consecutive - British and Irish champion sires' championship. The figure also eclipses the previous British and Irish record of £5,774,558 set by Galileo during the Frankel era in 2012. Another record has been set by the mighty stallion.
However, such dominance isn't just the domain of Galileo. In November, Tapit smashed the single-year earnings record for a North American-based sire when Untapable won the Breeders' Cup Distaff at Santa Anita Park. Gainesway Farm's flagship stallion, who once stood for $12,500, ended the year with the winners of nearly $16.45 million in North American earnings to his credit, more than $2 million greater than the previous record of $14,358,570, set by Smart Strike in 2007.
Multiple G1 winner Untapable, Belmont Stakes winner Tonalist, and Florida Derby winner Constitution, were the headline acts of Tapit's 15 stakes winners. Unsurprisingly, the son of Pulpit will officially be America's most expensive stallion of 2015 at $300,000.
In what was an excellent year for Pulpit's sire line, it was a previously unheralded son of the stallion, the California-based Lucky Pulpit, who sired the Kentucky Derby and Preakness Stakes hero California Chrome.
In Japan, Deep Impact maintained his dominance by landing a third leading sires' championship. The son of Sunday Silence was represented by 10 G1 winners, led by the mighty mare Gentildonna, who signed off her career with a victory in Sunday's Arima Kinen at Nakayama.
Yearling Sales
Demand for the progeny of Galileo and Tapit, as well as the likes of Dubawi and War Front, fuelled the top end of the yearling sales in Europe and North America.
War Front was responsible for the Fasig-Tipton Saratoga sale-topper, a filly out of Charming that sold for $1.25 million. She was bought by Willis B. Horton, in whose colours the filly's half-sister, Take Charge Brandi, subsequently won the Breeders' Cup Juvenile Fillies.
Completing the trio of million-dollar yearlings were a pair of Tapit fillies that sold for $1.15 million and $1 million to agents Solis/Litt and Regis Farms.
Although the average and median dropped minimally, the buyback rate fell to 19 percent and the aggregate rose 4 percent to $33,284,000. And that trend of market consolidation from 2013 continued into the Keeneland September Sale, where Tapit and War Front again assumed centre stage as the sires of colts that shared top billing of $2.2 million when selling to Shadwell Estates and MV Magnier.
Magnier signed for $3.99 million worth of War Front yearlings that week, support that contributed to a sale average of $491,375 for the stallion. Even so, demand for War Front could not match that shown for Tapit, who sired four $1 million yearlings and recorded an average of $603,472.
However, it was at Book 1 of the Tattersalls October Sale in Newmarket that the most expensive yearling of 2014 was sold. The youngster in question, a Galileo half-brother to Harbinger, was knocked down to MV Magnier for 2.6 million guineas ($4.25 million) - even though it took a minimum bid of 5,000 guineas to kick off proceedings.
The Galileo colt was one of six million-guinea lots to change hands during Book 1 but, although Galileo returned an average of 577,727 guineas for 21 sold, it was Dubawi who led the way with a remarkable average of 664,500 guineas. Six were bought by the sale's leading buyer, John Ferguson, including a pair of colts who were snapped up for 1.6 million guineas and 1.4 million guineas.
Nearly 130 million guineas was traded during the course of the October Sale, 79.27 million guineas of which changed hands during Book 1, a record turnover for any European auction.
The October Sale was not only the highlight of the year for Tattersalls, which once again celebrated a record annual turnover, but that of a European yearling sales season that saw all bar one select sale post increases from 2013.
A record average of €147,462 was recorded at a strong edition of the Arqana August Sale, which was topped by a filly from the final crop of Monsun that sold for €1.2 million to Tony Nerses on behalf of Saleh Al Homaizi and Imad Al Sagar.
That momentum carried through into the Goffs Orby Sale. As at Tattersalls, it was a Galileo colt knocked down to MV Magnier that led the way. Magnier had to go to €1.5 million to secure the colt, a brother to Albany Stakes winner Cuis Ghaire bred by Jim Bolger. Galileo's half-brother, Sea The Stars, meanwhile, accounted for the dearest filly of the sale, a half-sister to Lord Shanakill who sold to Amanda Skiffington for €1.1 million. Less than a month later, her three-parts sister, Together Forever, won the G1 Fillies' Mile at Newmarket.
As in 2013, the Al Thani family were consistently big players, particularly in Europe. At Book 1 of the Tattersalls October Sale, Al Shaqab Racing signed for three yearlings worth 1.405 million guineas, but with Sheikh Joaan al Thani also employing the services of various other agents, his expenditure was without doubt actually far greater.
The China Horse Club signalled their intent to become a major player on the world stage by paying €1.13 million through Michael Wallace for three lots during their inaugural visit to Goffs. They went on to make their presence felt at the Tattersalls October Sale by purchasing 1.375 million guineas worth of horses.
At Deauville, meanwhile, a new visitor entered the fray in the shape of Mayfair Speculators, a group of South African investors headed by Markus Jooste. They bought five lots through Peter and Ross Doyle and Anthony Stroud including a €1.1-million Invincible Spirit half-brother to Chicquita and a €1-million Galileo filly out of the G3-placed Dance Secretary.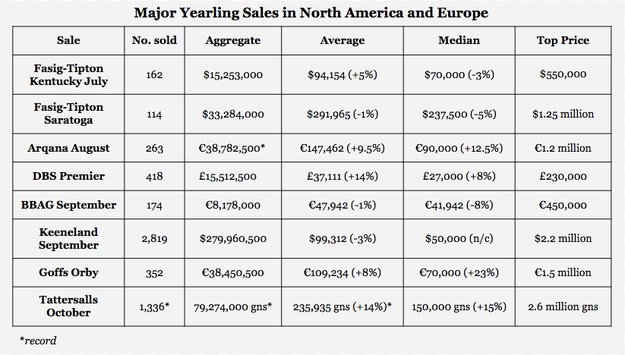 European Foal Sales
2014 will go down as an important year for Goffs. In June, the auction house broke new ground by staging the inaugural Goffs London Sale in association with QIPCO at The Orangery in Kensington Palace and followed up in September with the Goffs Champion Sale at Leopardstown.
The London Sale, an invitation-only event, was topped by Capella Sansevero, who sold for £1.3 million to Sheikh Fahad al Thani and would run second in the Coventry Stakes at Royal Ascot the following afternoon. Goffs also presented the first Frankel foal to be offered at auction, a colt who sold alongside his dam Crystal Gaze for £1.15 million to MV Magnier.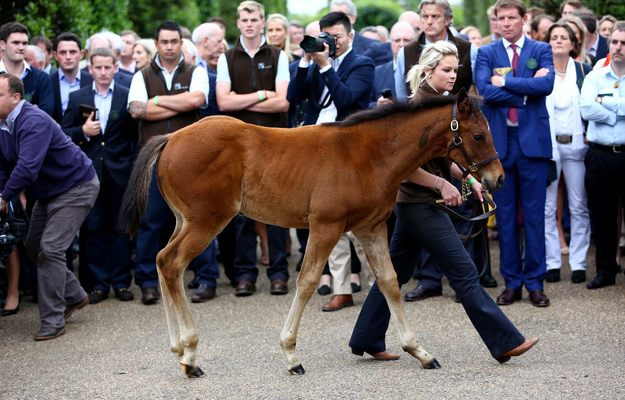 However, the highlight of Goffs' year arguably came in November courtesy of another of Frankel's first crop, a filly out of champion Finsceal Beo who was sold by her breeder, Michael Ryan, of Al-Eile Stud, to Dermot Farrington on behalf of an undisclosed bidder for €1.8 million.
Interest in the filly was intense - she attracted an opening bid of €1.5 million from Philip Stauffenberg - and her sale, which made her the most expensive foal to sell in Europe in 12 years, went some way to satisfying the developing Frankel frenzy. Another filly out of Discreet Brief was the subject of a disputed bid at €550,000 and later sold privately to British-based syndicate RBL for €460,000 while, at Tattersalls, a filly out of Kirinda sold privately to Farrington for 150,000 guineas. However, of the seven Frankel foals to go through the ring, only that trio changed hands.
Overall, trade for foals in Europe was again fierce. The progeny of first-crop sires were back in vogue, while those by stallions who had made bright starts at stud, such as leading first-crop sires Lope De Vega and Showcasing, were hot property.
Sustained competition between pinhookers saw the Goffs November Sale realize a record turnover, average and median. Tattersalls also celebrated a record turnover and median while 64 foals made 100,000 guineas or more. They were headed by a Sea The Stars colt out of Chiosina who sold for 450,000 guineas to Shadwell Estates.

Breeding Stock Sales
The Tattersalls Mares Sale was the only Tattersalls auction of 2014 that failed to keep pace with last year, a reflection of the catalogue rather than trade. But it did produce the most expensive Thoroughbred sold at auction in 2014 in Just The Judge, who realized 4.5 million guineas.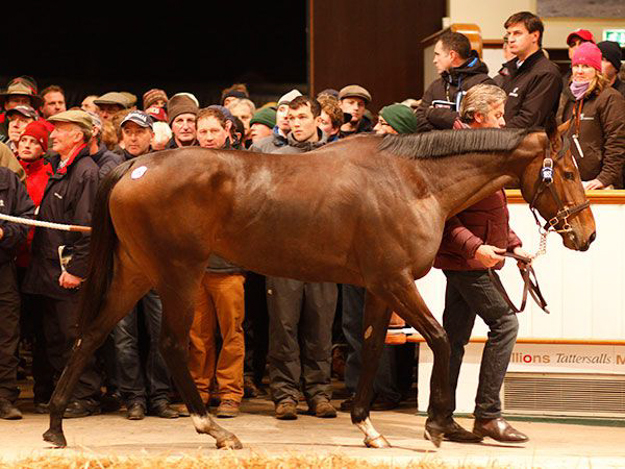 The Irish 1,000 Guineas winner was sold to dissolve a partnership between the Sangster family and Qatar Racing. She was knocked down to Sheikh Fahad al Thani and will return to Charlie Hills to race on for a new partnership between Qatar Racing and the China Horse Club.
Agent Hugo Lascelles went to 1.8 million guineas for G3 winner Ladys First, the only mare catalogued in foal to Galileo, and also signed at 1.1 million guineas on behalf of Claiborne Farm for Long View, a Galileo half-sister to Golan and Tartan Bearer.
Tattersalls was its usual hub of international activity during the Mares Sale, but particularly noticeable was the increase in the number of American buyers. Asides from Claiborne Farm, agent Justin Casse and Greg Goodman, owner of Mt. Brilliant Farm, were also active at the top end. Others to make purchases included Glennwood Farm, Brookdale Farm, Man O'War Farm, and Woodford Thoroughbreds.
The market for breeding stock was similarly robust in the U.S. The North American record for a weanling at auction was broken by a Tapit filly out of Serena's Cat who sold for $3 million to John Malone's Bridlewood Farm. Her sale was one of the highlights of the Keeneland November Sale, which was topped by the $3.9 million sale of Aloof, a G3-winning Galileo mare in foal to War Front, to Mandy Pope's Whisper Hill Farm.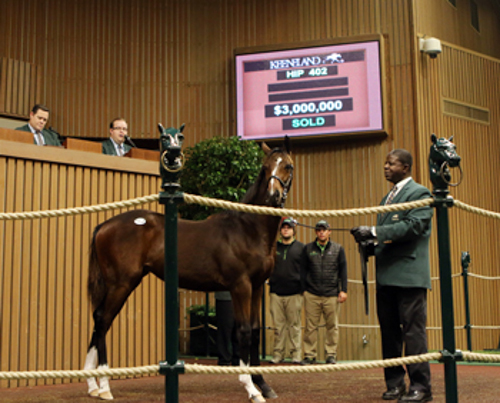 For the second year running, the leading buyer was the Don Alberto Corporation, which secured $8.575 million worth of stock. However, a new and welcome presence at the top end of the market was the China Horse Club, which paid $2.8 million and $1.5 million for G1 winners Iotapa and Last Full Measure.
Fasig-Tipton compiled an outstanding catalogue of 21 G1 winners and 14 dams of G1 winners for their November Sale. Multiple G1 winner Princess Of Sylmar topped the evening when selling to Shadai Farm for $3.1 million. In all, 23 million-dollar lots changed hands, but there were several notable buybacks, including Believe You Can ($4.9 million) and Stephanie's Kitten ($3.95 million).
Japanese buyers came away with five million-dollar lots and again made their presence felt at the Arqana December Sale, with Narvick International going to €1.1 million on behalf of Northern Farm for G1 winner Alterite. Overall, it was a third consecutive record renewal of the sale, which ended with increases in each key area.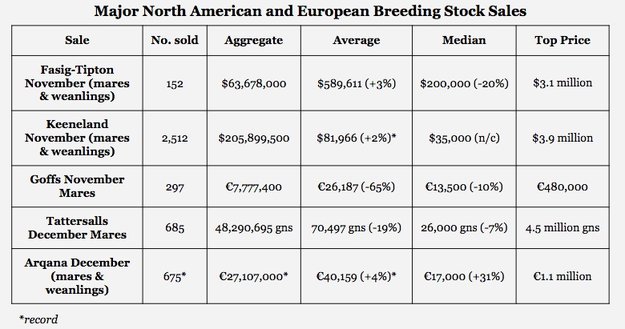 2-Year-Olds in Training Sales
The European breeze-up auction record was smashed not once but twice at the Tattersalls Craven Sale in April. A High Chaparral colt initially held sway when sold for 800,000 guineas to Peter and Ross Doyle on behalf of Al Shaqab Racing. His price, however, was later surpassed by a War Front colt that sold for 1.15 million guineas to Jamie McCalmont.
The War Front colt, General Marshall, has yet to win for the Coolmore team, but the High Chaparral youngster, later named Moheet, looked potentially exciting when winning his debut by seven lengths at Salisbury in October.
The record top price at the Arqana Saint-Cloud Breeze-Up in May fell for the third consecutive year when Mandore International paid €750,000 for an Invincible Spirit colt. DBS also celebrated a record top price at their Breeze-up Sale in April courtesy of an Exceed And Excel filly who sold to David Redvers for £340,000.
In the U.S., the disappointment of a sticky renewal of the Fasig-Tipton Florida Sale, at which only 47 horses sold, was later offset by the emergence of several talented graduates, notably Competitive Edge and I Spent It, who ran one-two in the Hopeful Stakes at Saratoga.
It was a memorable spring for the Ocala Breeders' Sales Company, whose March Selected Sale returned a record turnover, average, and median. OBS repeated the trick a month later with the company's larger April Sale, and such results saw OBS gain 67 percent of the 2-year-old auction market share in North America.
Colts by Tapit and Giant's Causeway headed the March Sale when selling for $1.6 million apiece to Al Shaqab Racing and Stonestreet Stables. Despite his hefty price tag, the Giant's Causeway colt Carpe Diem later looked value when running out the wide-margin winner of the Breeders' Futurity at Keeneland. He had been a bold $550,000 yearling pinhook by Northwest Stud, which returned to well at the Fasig-Tipton Kentucky July Sale when paying a sale-topping $550,000 for a Cowboy Cal half-brother to Executiveprivilege.