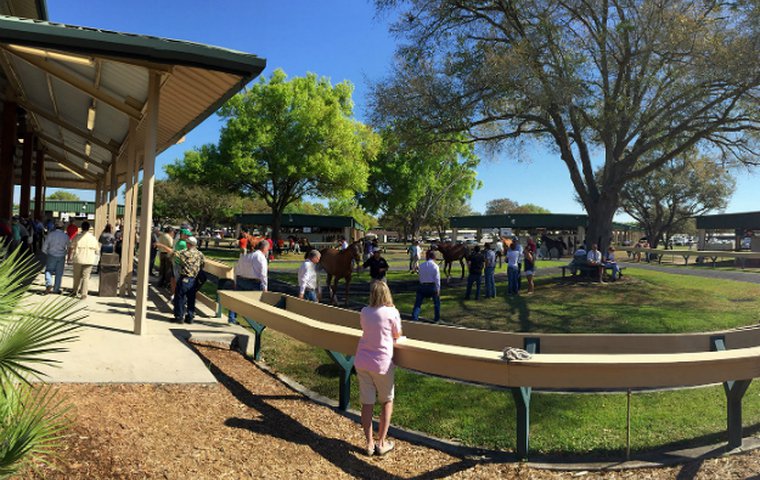 The Ocala Breeders' Sales Company (OBS) took a risk by expanding their flagship 2-year-olds in training auction, the March Sale, by almost 200 hips to cover two days. However, it was clear from the moment that bidding got underway for the 610-horse sale in Ocala, Florida, on Tuesday that the decision would reap rewards.

Hip 1, a Bellamy Road filly bought for $17,000 by Sunshine Equine as a yearling, set the tone when selling for $190,000 to John McCormack. From then on, OBS played host to a number of high-profile transactions that helped achieve record total sales of $55,682,000 for 326 horses sold. While the rise in aggregate was to be expected given that 161 more horses went under the hammer than last year, the average of $170,804 was just 8.8 percent off last year's record figure of $187,201.
The clearance rate remained on a par with 2014 at 77.3 percent while 181 (53 percent) of those that sold turned a profit on their previous purchase price.
"Obviously, we are extremely pleased with the results of the sale," said Tom Ventura, president of OBS. "It was a difficult decision to tweak the format after consecutive record years. The feedback received from the consignors and buyers while we were contemplating the change led to expanding the catalog. The buyers preferred a larger group of horses in a variety of price ranges and the consignors wanted to attract an even broader buyer base.
"The consignors assured us that they would continue to sell the top-end horses with us. As we wanted to limit the expansion of the catalog with the 'right' horses, we worked closely with the consignors to choose the next tier of horses that were solid physicals and advanced in their training.
"Ultimately, the consignors gave us the opportunity to catalog well bred quality individuals that were complemented by athletic horses with lesser pedigree. The buyers responded and the results speak for themselves. It was gratifying to see such broad buyer participation from all corners of the world. The top 10 horses were bought by nine different buyers.
"While year-to-year sale statistics are not comparable due to the format change, it was impressive that the average price was less than 9 percent off of last year's record average and the RNA rate was virtually unchanged with a 50 percent larger catalog for this year's sale."
While there was only one million dollar horse compared to three last year, the number to command $500,000 or more leapt from 10 to 25 and were spread over 18 different buyers. In fact, it only took until hip 162, a Malibu Moon colt who sold for $675,000 to Mark Casse, for the 2014 tally to be surpassed.
The Malibu Moon colt, a $185,000 pinhook, was one of the highlights for consignors Becky Thomas and Justin Casse, who joined forces earlier this year to sell as Thomas and Casse.
"This sale for Thomas and Casse was fantastic," Justin Casse said. "We had interest in nearly every horse we consigned.
"I thought it was a smaller version of the OBS April Sale, which is wonderful -- it's what they aimed for. Ocala is the place to sell 2-year-olds."
Emmanuel de Serroux of Narvick International was also quick to highlight the strong trade.
"OBS had a very nice group of horses," said de Serroux, who signed for $1.87 million worth of horses. "The market was strong and showed there is live demand for quality horses. There were quality horses with good conformation throughout the catalog. It was a very good and competitive sale."
Fittingly, it was the sale's dearest pinhook, a Bernardini colt bought at Keeneland last September by Nick Sallusto and Hanzly Albina for $650,000 on behalf of Black Rock Thoroughbreds, who stole the show. Sold by Steve Venosa's SGV Thoroughbreds, he became the sale's sole million-dollar horse when knocked down to Charlotte Weber's Live Oak Plantation for $1.4 million near the end of the first session.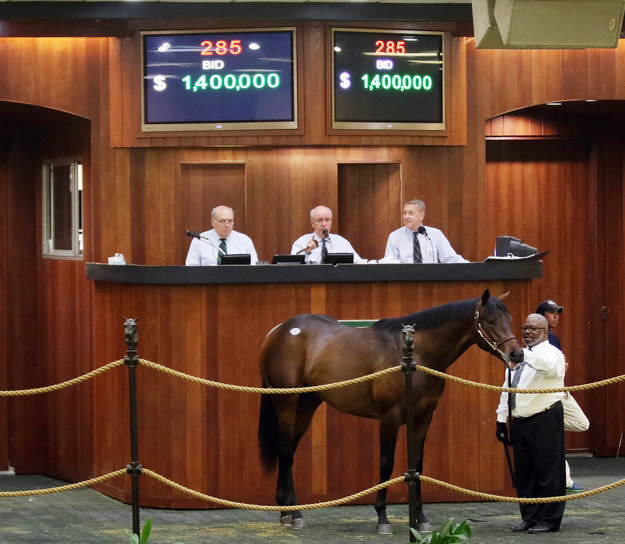 Already named Zero Hour, he is out of Canadian stakes winner Misty Hour, by Miswaki, and a half-brother to G2 winner India. More importantly, Misty Hour is also the dam of Listed winner Pilfer, who clicked so well with Bernardini herself to produce dual G1 winner To Honor And Serve.
Bernardini was also responsible for the dearest filly of the sale, a daughter of G1 winner Pure Clan bought by Roy and Gretchen Jackson's Lael Stable for $850,000. Bred by Borges Torrealba Holdings, it was the first public auction appearance for the filly, whose dam joined the Borges Torrealba broodmare band when selling for $4.5 million for at the 2012 Keeneland November Sale.
A Broken Vow colt out of the stakes-placed Tale Of The South, by Tale Of The Cat, came close to hitting the million-dollar mark when topping the second session at $950,000 to trainer Linda Rice. He was an inexpensive pinhook, having cost his vendor Eisaman Equine $80,000 at the Keeneland September Sale.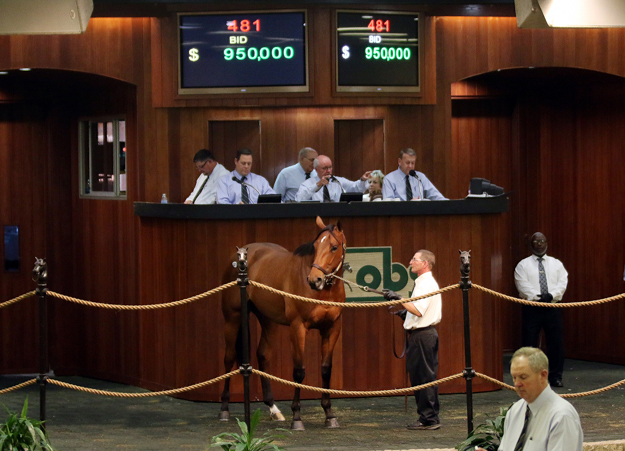 Other inexpensive yearlings to flourish under tack included a Flatter colt bought for $85,000 by Hubert Guy who blossomed into a $550,000 2-year-old, a Discreetly Mine colt bought for $45,000 by Win Some Racing who resold for $460,000, an Arch colt who was unsold at $35,000 last year yet realized $580,000 this time around, and an Uncle Mo colt whose value leapt from $90,000 to $725,000 for Halcyon Hammock Farm.
Agent Donato Lanni, meanwhile, went to $900,000 for a son of Midnight Lute sold by Eddie Woods. Lanni was acting on behalf of Bob Baffert, who trained Midnight Lute to win back-to-back renewals of the Breeders' Cup Sprint and has already enjoyed notable success with the stallion's progeny, among them G1 winners Midnight Lucky and Shakin It Up.
Coolmore also made its presence felt during the first session by securing three juveniles led by an $800,000 son of Smart Strike out of G3 winner Carolyn's Cat who was knocked down to MV Magnier and Barbara Banke's Stonestreet Stables. The Magnier - Stonestreet partnership struck earlier this month at the Fasig-Tipton Florida Sale when paying $900,000 for a Bernardini colt. They also teamed up at last year's Barretts March Sale to buy the Malibu Moon colt Stanford, now a highly regarded 3-year-old, for $550,000.
Magnier also signed at $750,000 for a daughter of Coolmore stallion Scat Daddy and at $440,000 with agent Ben McElroy for a Super Saver colt.
It was during last year's round of juvenile sales that the first Super Saver 2-year-olds created a buzz to highlight the stallion as a potential leader among his generation. This year, the undoubted talking horse is Lane's End Farm's Twirling Candy. The son of Candy Ride, who stands for $10,000, was represented by 2-year-olds that sold for $630,000 and $500,000, which contributed to a whopping sale average of $435,000 for four sold.
Buyers also seemed to be taken with the first crop of G2 winner Adios Charlie. The son of Indian Charlie stands for just $3,000 at the O'Farrell family's Ocala Stud, who advertised their stallion to good effect by selling a pair of 2-year-olds for $675,000 and $600,000.
An international flavour was added through the presence of a filly by leading French sire Kendargent. Justin Casse bought the sister to French G3 winner Goken for €200,000 at last year's Arqana August Sale and was rewarded when reselling her for $310,000 to Blackthorn Racing.
"The Kendargent was a unique buying opportunity and apparently is going to either Chad Brown or Christophe Clement," Casse said. "She wasn't purchased with the intent to breeze at a 2-year-old sale but still breezed reputably and confirmed my thoughts that American interest in European pedigrees is quite high."
As at the Fasig-Tipton Florida Sale, Japanese buyers made their trip to Florida worthwhile with Haruya Yoshida and JS Company each making high-profile acquisitions alongside Narvick International. Yoshida was particularly active, signing for $1.55 million worth of stock.
However, Al Shaqab Racing, which paid a co-topping $1.6 million for a Tapit colt at last year's sale, were absent, just as they were at Fasig-Tipton.
The record-breaking 2014 sale was a hard act to follow but this year's renewal lived up to expectations with a strength of trade that again confirmed the March Sale as a leader of its genre. Now it's up to the graduates to maintain the sale's strong run on the track. The 2014 sale has already yielded performers of the quality of G1 winner Carpe Diem as well as Ekati's Phaeton and Ocean Knight, respective recent winners of the G2 Davona Dale Stakes and G3 Sam F. Davis Stakes, and those who bought this week will be hoping that the 2015 renewal contains more of the same.