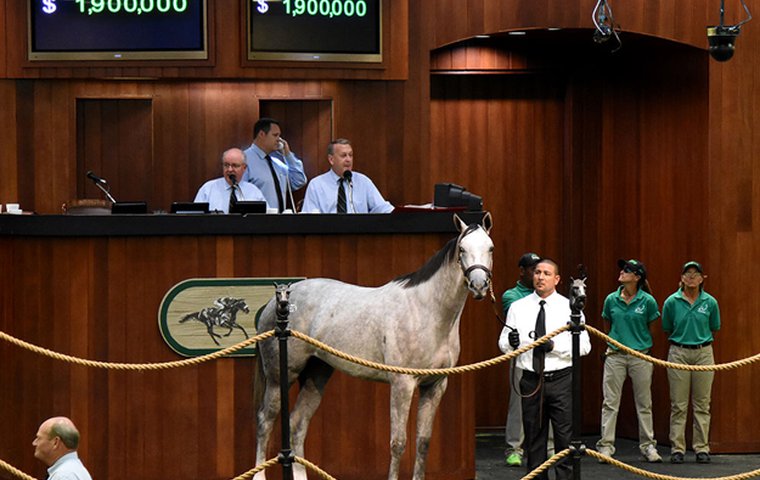 The Ocala Breeders' Sales Company's Spring Sale of Two-Year-Olds in Training continued its upward progression in 2015, featuring a record price for the auction house and an increase in average for the third straight year. Hip 439, a daughter of leading sire Tapit, became the first horse to reach seven figures at the Spring Sale when she was knocked down at $1.9 million to Solis/Litt Bloodstock on behalf of LNJ Foxwoods. That figure also surpassed the previous OBS mark of $1.8 million that had been achieved at the select March Sale in 2013 and 2006.

From a catalogue numbering 1,203, a total of 867 juveniles went through the ring over the course of the four-day auction, with 676 changing hands successfully. The number of RNAs was 191 (22.03 percent). The 2015 renewal grossed $53,711,400, down 5.7 percent from 2014, when 770 youngsters sold for an aggregate $56,965,000. This year's average rose 7.4 percent to $79,455, compared to the $73,981 achieved 12 months ago. The median remained steady at $45,000.
The Tapit filly was purchased as a yearling for $335,000 at Keeneland September by Dennis Farkas, who originally intended to race the attractive gray. She was bred by Stonestreet from the unraced Silver Deputy mare Silver Wolf, a half-sister to G1 winner Corinthian and G2 winner Desert Hero, and descends from the famed Special family. Farkas turned her over to Woodford Thoroughbreds for her initial training, then opted to test the juvenile sales scene.
"Obviously she's a high-level pinhook and there's a lot of risk involved," said Matt Lyons, Woodford's general manager. "A horse like her, you pay $300,000 and she gets hurt, you're in trouble. But there's also a lot of reward if they can come through it and jump through all of the hoops. She was the one that did. It was a shrewd decision by Mr. Farkas to see the way the market was going, with Tapit going up to $300,000 in stud fee and having such a big year, not just here, but internationally, so that's what helped his decision to try to make a bit of money."
Buoyed by the $1.9-million ticket on hip 439, Alex Solis II and Jason Litt were the sale's leading buyers by gross. They also purchased a $240,000 Tiz Wonderful filly and a $40,000 filly from the first crop of champion Big Drama.
"We knew we were going to have to pay a lot of money," Litt said. "She's an exceptional filly. It wasn't just that she was a Tapit, it wasn't just that she had pedigree -- it was the way she did everything."
The announcement in January that Keeneland would suspend its April auction may have diverted some youngsters to this OBS sale, particularly at the higher end. In all, 60 youngsters sold for $200,000 or more, up from 52 at the 2014 sale. While the catalogue page may determine the final price bracket for racing prospects, the importance of breeze times, gallop-out assessments and subsequent vetting continue to stratify the training-sale marketplace, according to professionals on both sides of the transaction.
"The beauty of a 2-year-old sale is that it is a performance sale," Litt added. "It used to be that everyone would sit in the stand, clock, look at the time, and that was it. Now you have people standing down past the wire to the turn, listening to see how they breathe, clocking and watching them gallop out, and of course watching their prep breezes. So I think now you have a much more sophisticated buyer. There is a lot of money there for the right product."
Friday's final session of the Spring Sale featured the highest-priced colts. Trainer Linda Rice, acting as agent for Kaitar Racing, purchased a son of Bernardini for $900,000. Consigned by Niall Brennan, hip 1100 is out of graded winner Graeme Six. He was bred by Besilu Stables and Three Chimneys Farm. That partnership offered the May foal for sale as a yearling, but bought him back for $290,000.
Trainer Mark Casse secured Friday's second-highest lot when he went to $750,000 for hip 1073, a son of Street Cry. The gray colt breezed an eighth in :9 4/5 for consignor Nick de Meric, who sold him on behalf of Golden Legacy Stables. Bred in Kentucky by Darley, the colt is out of the Bernardini mare Gharbiah, who is a half-sister to multi-millionaire Honey Ryder, as well as stakes winners Cuando Puede and Cuando. Golden Legacy, a Venezuelan partnership group, purchased the colt privately after he RNA'd for $45,000 as a yearling.
De Meric was the leading consignor by gross over the course of the four days, selling 46 head for a total of $4,410,000 and an average of $95,869. In addition to the aforementioned Street Cry colt, he also consigned a $500,000 filly by Harlan's Holiday on Friday. Hip 1032, who like her Street Cry stablemate worked in :9 4/5, was purchased by J.W.S. and will head to the California barn of John Sadler. A daughter of the Tiznow mare Favoritism, the bay filly made a significant return on her $95,000 yearling price tag.
Mark Casse also purchased five yearlings on behalf of Conquest Stables for a total of $2,140,000 at an average price of $428,000. That quintet was headed by a $700,000 filly from the first crop of Tizway, hip 856, a half-sister to multiple stakes winner Populist Politics. The other Conquest acquisitions were hip 692, a $650,000 Lemon Drop Kid filly out of Yonagucci; hip 750, a colt by freshman sire Drosselmeyer out of Apple Strudel for $425,000; hip 693, a Quality Road--Yoursmineours filly for $280,000; and an $85,000 filly by Super Saver from Opera.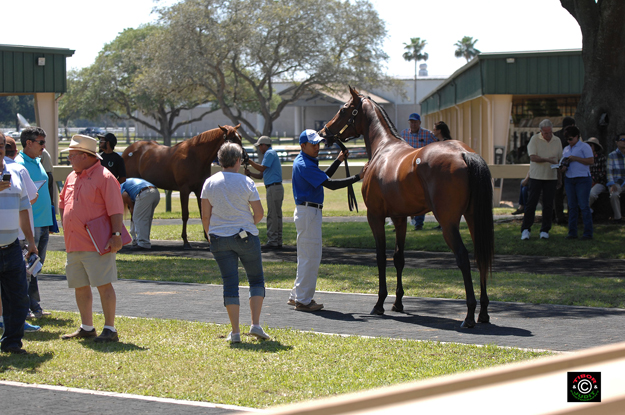 Overall, the offspring of first-crop sires were well received. Tizway, Spendthrift Farm's son of Tiznow who posted victories in the G1 Met Mile and G1 Whitney Handicap as a 6-year-old in 2011, also had a filly from Spanish Empiress sell to Linda Rice for $420,000 on Tuesday. Agent Stan Hough signed a $320,000 ticket on a Tizway colt out of Gin Running during Friday's session. Champion Uncle Mo had youngsters sell for $325,000 and $300,000, and Florida freshmen Adios Charlie and Big Drama were represented by juveniles at $420,000 and $410,000, respectively.
The Spring Sale had long been regarded as a horsemen's auction, cataloguing approximately 1,200 head annually. Many of the juveniles catalogued had workmanlike pedigree pages and were not as forward as those destined for the more prestigious March Sale and the now-defunct February Sale. However, with five-figure graduates such as I'll Have Another in 2011, the auction has steadily gained widespread attention. The 2011 edition saw 830 head sell for $25.9 million, and 12 months later OBS had 771 two-year-olds sell for $33.5 million.
"Since 2011, the gross has doubled, the average has gone up 2 1/2 times, and the median has gone up two times," said Tod Wojciechowski, director of sales at OBS. "I think April has earned its reputation over the last three years, and I think it just solidifies its position as the preeminent 2-year-old sale in the world. You're always wanting to attract the quality horses, the quality buyers, and those two create an upward spiraling effect. But it's all about the success of the horses on the track -- if these horses don't run or aren't successful at the track, then we don't have much of a sale."