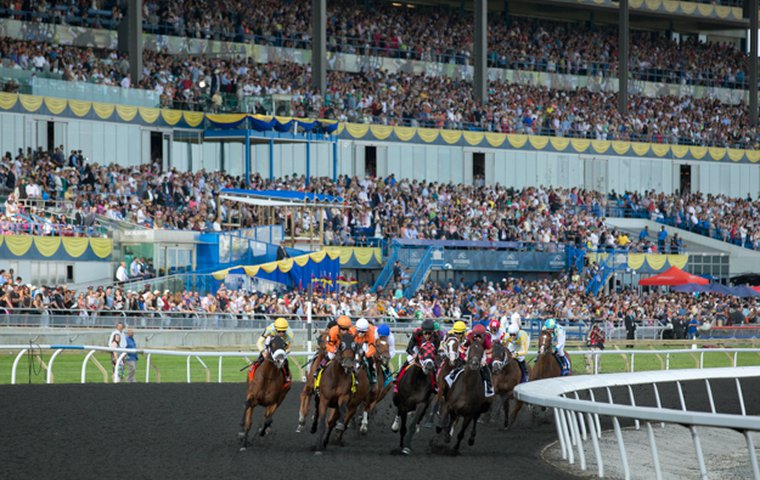 When the recent decision was made by Woodbine Entertainment Group (WEG) to replace its Polytrack racing surface with Tapeta, it was hardly an attempt to draw a line in the dirt against an industry shift away from synthetics.

Call it the "big reveal," dub it a surprise, term it a long shot selection – however it might be viewed, Woodbine's call on switching to Tapeta (pronounced Ta-PETE-a) for the 2016 Thoroughbred meet was a measured, meticulous process, and one the racetrack stands firmly, and proudly, behind.
WEG began investigating options to replace the main track in mid-2014, engaging in widespread dialogue with industry stakeholders, eliciting opinions and commentary on the direction, dirt or synthetic, for the racetrack that has featured Polytrack since August of 2006.
The other Tapeta surfaces in North America are found at Golden Gate Fields and Presque Isle Downs. Arlington Park and Turfway Park are the only remaining venues with Polytrack after the surface was removed at Keeneland and Del Mar last year.
"The death of synthetic racing in North America has been a much-exaggerated concept," said Steve Koch, WEG's former vice-president of racing, who now holds the title of executive director, Safety & Integrity Alliance, with the NTRA. "Synthetics have been foregone where dirt might be the favorable commercial option. What persists then are the locales where all-weather performance is critical and strong local horse populations can be maximized on the synthetic. There's clearly space and demand in the market for synthetic racing. Woodbine anticipates the current synthetic circuit in North America sustains itself with horse supply and that this circuit will actually grow in the future.
"Synthetic racing seems to have a strong future in North America," he continued. "Tapeta clearly is the best option for Woodbine where racing is run through all weather conditions and horsemen rely on the surface to minimize lost training and racing dates. As well, Woodbine emphasizes turf racing opportunities that complements a Tapeta main track quite nicely."
Irwin Driedger, a former champion jockey and current director of Thoroughbred surfaces with WEG, liked what he saw, and heard, when he travelled to England to get a first-hand look at a Tapeta track.
"The new Tapeta 10 as it is called is currently installed in Wolverhampton," he noted. "I saw it there in February and the track looked very good. Speaking with jockeys, trainers, and veterinarians, everybody seemed happy with it. The new Tapeta seemed very fair and kind and that is what I liked about it. I'm not a big fan of biases that sometimes play a big part in races.
"We race in the most extreme conditions at Woodbine, quite hot and sometimes very cold, and the weather seems more erratic than ever," he continued. "Over the past eight years, we have only missed one day in regard to the track. On average, we used to miss two a year with a dirt track. Betting has increased, along with bigger fields, which in turn increases the total handle."
While horse safety remains a top priority for Woodbine, it was far from the only factor in the ultimate decision to opt for Tapeta.
"Woodbine has enjoyed substantial wagering growth since year 2008," Koch said. "To that end, customers have demonstrated a willingness to participate in synthetic racing. And, over time, they have come to learn the predictable behaviors of the synthetic surface across changing weather conditions and related maintenance patterns. Woodbine sees these advantages continuing with the Tapeta and sees it as an asset for the wagering product."
That's not to say there haven't been detractors once the announcement was made, traditionalists who had hoped for a return to dirt.
"Woodbine engaged with the HBPA [Horsemen's Benevolent and Protective Association] very early in the process," Koch acknowledged. "The HBPA consulted extensively with their constituents and returned with a position that called for a new surface, but not with clear indications on which surface the horsemen collectively preferred. It seems that very strong opinions prevail on both sides of the debate. The belief is Tapeta will be a welcome advancement that will quickly earn favour with even the more hesitant stakeholders."
Driedger remains optimistic as well, yet realistic not all will embrace the change.
"I am hoping some will and also know that some won't," he said. "No matter what kind of track you have, there will always be some horses that don't like it – too hard, too deep, too cuppy, too slow, too fast, too slippery, etc."
Transparency was also a key part of the process.
Racing fans, horse people, handicappers, and other interested observers can review WEG's detailed dirt versus synthetic decision analysis by having access to the exact Powerpoint deck that was presented to the WEG Board of Directors.
"It's in our mandate to act in the best interests of horse racing and a regular, thorough examination of our track surfaces is paramount in that pursuit," said Jim Lawson, chairman of the board, WEG, in a press release. "We went through an exhaustive consultation exercise in our search for the new main track. It's clear that Tapeta is the next generation of horse racing surfaces that we'll be proud to unveil in April of 2016.
"A surface that will endure racing and training through hot and cold climate extremes for more than eight months a year is critical for our horse people," Lawson continued. "We also considered racing fans and horseplayers through this process. Field size, the number of quality races, and wagering on Woodbine's Thoroughbred racing product has grown appreciably in the synthetic track era. We see those metrics continuing to improve with the installation of Tapeta."
Kicking dirt in the face of conventionality? Not by a longshot.
---
Construction on the Tapeta track will commence Dec. 1. The four dates scheduled for the first week of December will be moved to Thursdays in November, pending Ontario Racing Commission approval. Closing day of the 2015 133-day meet is slated for Nov. 29.