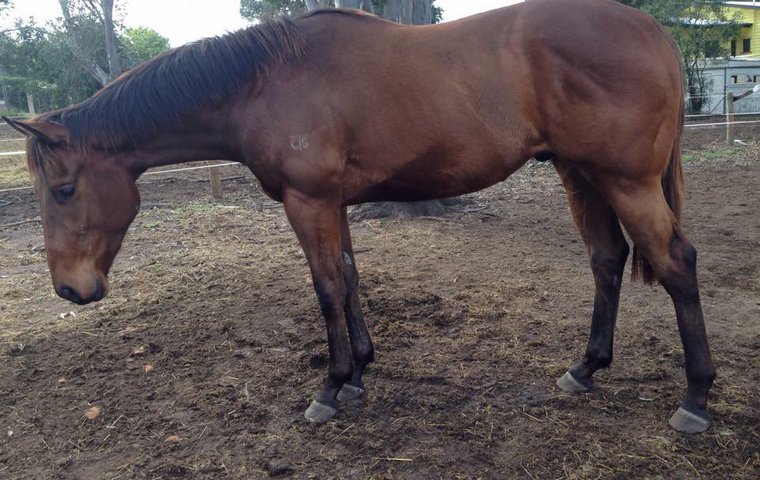 This is a story of two horses born in the spring of 2012 and their journey from unwanted to cherished.

As unbroken 2-year-olds, sons of Excellent Art and Artie Schiller, made their way to the Echuca Horse Sales in Victoria, Australia, November 2014. They had not yet even been given a chance to prove their worth, but the bidding was far from spirited.
In fact one was purchased by a knackery and the other may also have headed that way if not for Queenslander Melissa Hughes coming across a photo on Facebook.
There are various Facebook pages run by a variety of people on constant look-out for horses viable for a second chance. The Artie Schiller youngster was one such horse, and, when Melissa Hughes came across his photo online, her heart went out to him.
Also spying him online was Kilmore, Victoria, trainer Jody Thompson, a fan of the Artie Schiller breed - "they are great bread-and-butter horses", she said. She dispatched her son, the jockey Ash, to Echuca.
'My heart broke immediately'
But he didn't make it there quite on time and, for just A$270, Hughes secured the bay with the hope of racing him and keeping him for her daughter once he'd retired.
It was not long afterwards that Ash got to Echuca and made an offer to Hughes - $600 for the horse, who had been identified as Imperial King, to again change hands. It was a quick profit for Hughes, but she did not have her own finances in mind.
For she had also seen online a photo of Imperial King's 'cellmate' - the Excellent Art youngster. Nobody knew exactly who he was, his microchip had proven difficult to read. But there was something about him.
"I saw his photo and he looked so forlorn and unloved my heart broke immediately," Hughes recalled.
By the time she had on-sold Imperial King, this other horse had already been sold for just $255 to a knackery. He was already on the truck to face his doom. But Hughes was able to get a hold on him and for $700 the bay, who she would christen Jimmy, became hers.
Gelded and placed on a truck, Jimmy arrived at her home at Laravale in the Scenic Rim region of south-east Queensland on November 23, 2014. It seemed a fairytale was in place. But a good story quickly turned sour for, within days, Jimmy became seriously ill with an infection arising from the gelding operation.
Close to death
Jimmy was close to death, but the skilled vets at Scenic Rim managed to save him.
While all this was going on, Hughes was undergoing the difficult task of figuring out just who this horse was. Two attempts had been made to scan his microchip to no avail. His brand didn't tie in with stud book records.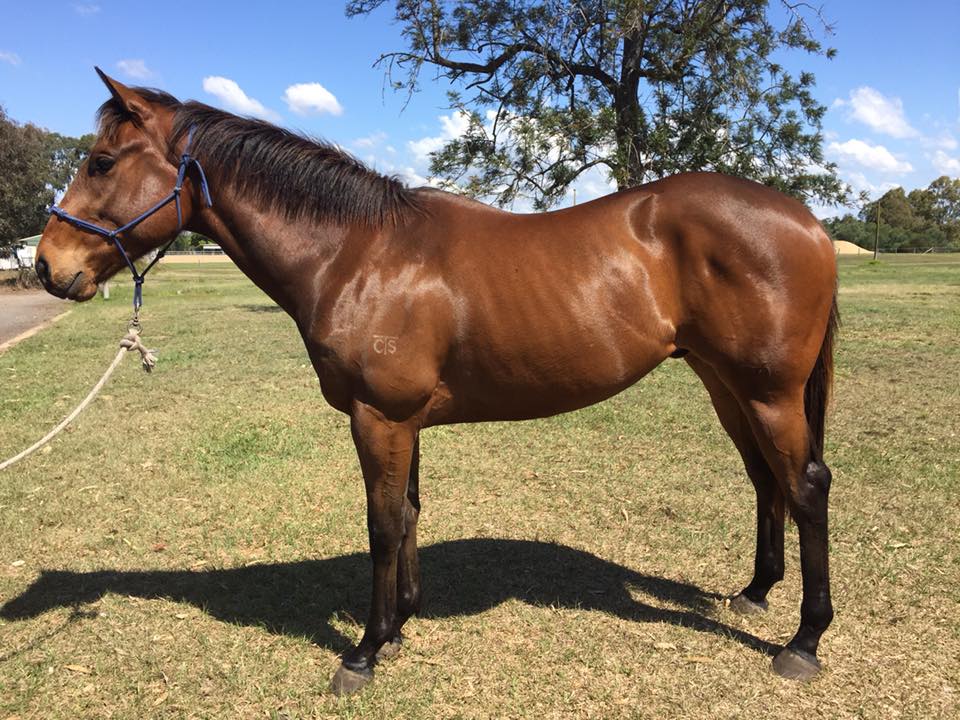 But eventually a vet was able to decipher the microchip and it was discovered that the young horse's brand had been incorrectly recorded in the stud book. With this error rectified, the next step for Hughes was to have the horse - whose name was discovered to be Imperial Dragon - transferred to her.
After having his DNA tested in order for the stud book to recognise him, Hughes had Imperial Dragon broken in before a lengthy break. By this stage, she had spent over A$7,000 ... without any guarantees that she would be able to race him.
Enlisting the help of Racing Queensland, Imperial Dragon's previous owners were contacted. A battle ensued, those owners insisting that he was not to race, that the intention was that he was to be sold as a riding horse only.
Time to mature
Hughes kept at it, and eventually Racing Queensland agreed to make the transfer. Then there was another wait for a new identification card/ "It was a long process with lots of letters from me and solicitors," said Hughes. "In the end, I think they gave it to me just to get rid of me! It was such an exciting day when it arrived in the mail."
But sadly by this stage, Hughes could not afford to give Imperial Dragon the opportunity she strongly felt he deserved. And so she asked friend Stephanie Forster to help find him a home - which she did, and Jimmy headed to the stables of Barry Baldwin at Eagle Farm, Brisbane.
At first not an easy horse to manage, Imperial Dragon made a second trip to the breakers with the report being that "he knows every trick in the book".
Inclined to buck, Imperial Dragon took a bit of time to mature, suffering from a few muscle problems along the way. But, under patient care, he thrived with the Baldwin stable's Kristelle Ellice reporting that he is now "the nicest horse in the stable to ride".
On September 14, Imperial Dragon made his racetrack debut at Doomben. He was slowly away but he caught the eye running on well late to finish sixth. A couple of weeks later he headed to Sunshine Coast. Again he was tardy out of the gates but he was going well only to cop a decent bump with 200m to go.
Refused to concede
The blinkers went on for his next start at Doomben in mid-October, but barrier one did not really suit and he ended up in an awkward position.
But, on November 3, stepping up to 2150m at Ipswich, Imperial Dragon was able to get to the lead. From the 500m, he increased the tempo and when the favourite loomed up to challenge he refused to concede.
On the line he had a length on his rivals.
"I was stunned that a horse with such a rough background, who nearly died, could recover well enough to win a race," said a delighted Hughes.
The stable were happy too, Kristelle noting: "He is a lovely horse and [jockey] Larry Cassidy has always had a good opinion of him. He thinks he is a very nice stayer in the making."
And hopefully the story continued today with Imperial Dragon due to race at Lismore.
But don't forget Imperial King!
Seventeen days after Imperial Dragon's maiden victory, Imperial King was also at the races. His journey there was another complicated one.
Arriving at Jody Thompson's Kilmore property in November 2014, the Artie Schiller colt did not immediately impress. "He had a big box head on him and he looked like a trotter," Thompson laughed.
But it was soon apparent that there was ability there. "He just needed to thicken up," she said.
Which he did, though it was not smooth sailing. A kick from another horse resulted in a stress fracture to the shoulder - extra time needed.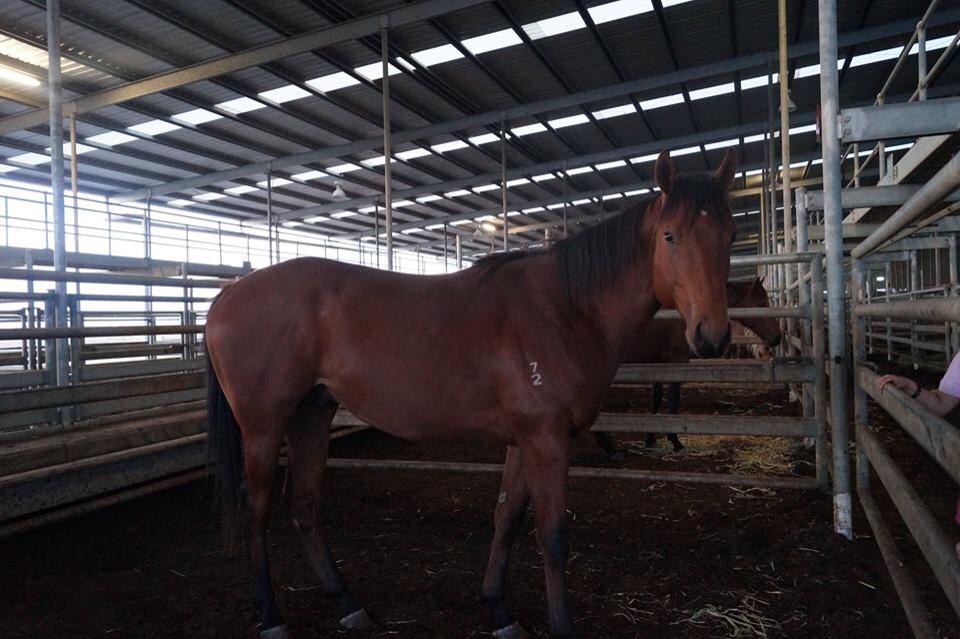 Meanwhile, approaching the horse's previous connections in order to arrange an ownership transfer, Thompson did not have much luck. From there it was backwards and forwards with Racing Australia's registrar and Racing Victoria's stewards.
The issue remained unresolved as Imperial King progressed in his work. A race was selected, an 1100m maiden at Kilmore on Sunday November 20. But, on the Friday, a call from the stewards alerted Thompson to an embargo placed on the horse by his previous owners. He was not allowed to race.
More phone calls - and, Thompson admits, "a bit of yelling and swearing" - ensued. And then the call she was waiting for - the previous owners had agreed to relinquish their hold on the horse and sign the transfer papers.
Right at the very last minute.
Emotional day
And so Thompson had a special runner at a particularly special home track meeting - the final race on the card, the Ricky Thompson Memorial, being named in honour of her late brother.
The Thompson family were out in force with their own marquee. Around 150 people were there for what Jody Thompson describes as "a very emotional but very good day".
It kicked off with Imperial King's debut in the opening event. As the gates opened the 4-year-old dwelt slightly, enough for him to end up towards the rear of the field.
And so, as the leader kicked clear into the straight, Imperial King looked to have a tough job ahead. He had swung four wide into the straight and had lengths to make up.
But he began to knuckle down. And, as the finishing line got closer, his stride lengthened. And then he was away - hitting the lead inside the final 100m and drawing clear to salute by a soft 1 3/4 lengths.
Thompson was so overcome that it was difficult to put her thoughts into words. "I don't really know what to say," she said to racing.com's interviewer. "I am a bit emotional."
"He has always shown ability. He did a super job," she said once composing herself. "An $800 horse from Echuca, this is absolutely brilliant."
Jockey Jordan Childs was impressed by Imperial King's winning debut. "He let down and hit the line really well," he said. "He is a nice horse who has a bit of upside."
Imperial King pulled up well from his debut win and Thompson is looking forward to start number two.
As are the many people behind the scenes who have been delighted by the success of the two Imperials. There are those who, dismayed by the fate of unwanted horses, strive to help anyway they can, like these organisations:
https://www.facebook.com/HorseAtAuction