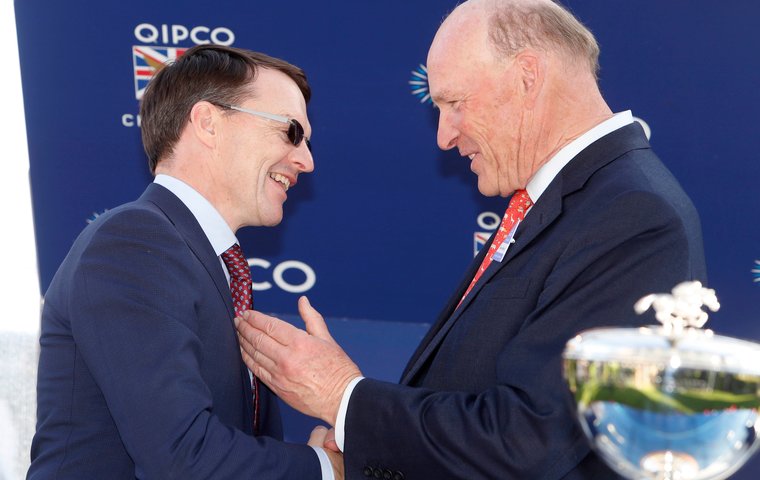 The return of the great Enable – and the return to top form of last year's champion European 2-year-old Too Darn Hot – certainly had an impact at the weekend, not only on prospects for later in the season but also on the standings in the upper echelons of the world trainers' rankings.

TRC TRAINER OF THE WEEK
For the first time in almost exactly three years, JOHN GOSDEN (+7pts, #3 from #4) has earned a ranking above Irish legend Aidan O'Brien (-2pts, #4 from #3).
In the rankings of June 12, 2016, Gosden reached world #2 with 1047pts while O'Brien stood at #4 with 1041pts. Gosden had led by as many as 9pts the previous month, but his lead was short-lived. By August 20, 2017, O'Brien had stretched his lead over Gosden to 57pts.
Since then, Gosden has continued to send out a steady stream of top horses. This week, the Newmarket trainer earns TRC Trainer of the Week honours by producing dual Arc heroine Enable to win the G1 Eclipse Stakes at Sandown, conjuring brilliant juvenile Too Darn Hot back to form in the G1 Prix Jean Prat at Deauville, and for good measure winning the G2 Lancashire Oaks at Haydock Park with the capacious Enbihaar.
As a result, Gosden sits in eighth place in the world's top 15 trainers by aggregate Group wins for 2019: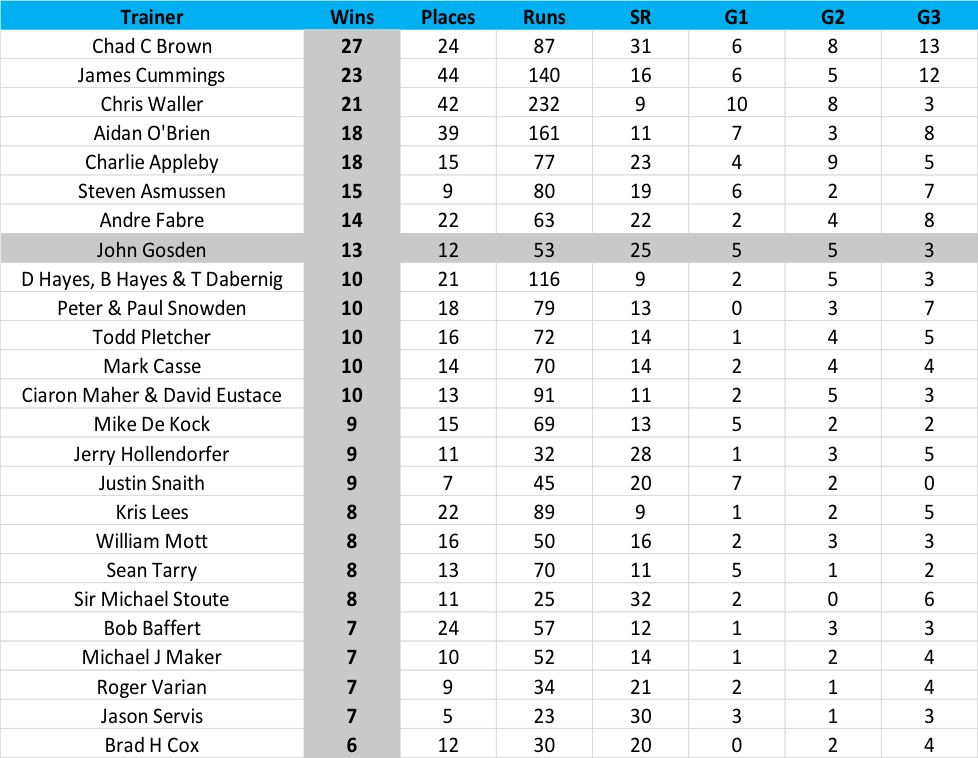 Gosden is now just 12pts behind current world #1 Charlie Appleby (-3pts, stays #1). Some readers may wonder why he is not ranked above the Godolphin trainer, given the latter's relatively quiet spell; a glance at the table above helps to explain - Appleby has five more winners on the year than Gosden at roughly the same strike rate.
However, 12pts is a relatively narrow margin – certainly at the rate Gosden is going. Much like his rider, Frankie Dettori, Gosden has never reached #1 since our rankings began at the start of 2014. He has ranked #2 four times, #3 12 times, #4 69 times and #5 93 times; that last position is his modal – or most common – ranking.
Since the start of 2018, Appleby has a narrow 27-26 in head-to-heads with Gosden, but Appleby leads O'Brien 126-74 (63%) in the same period, whereas Gosden has earned a lesser 140-104 (57%) mark against the Irishman. When our algorithm calculates every one of the tens of thousands of head-to-heads described by our data set of Group and Graded races, and weights each according to its predictive power, we still want to be with Appleby in future clashes.
We will see how that calculation works out in the next few weeks!