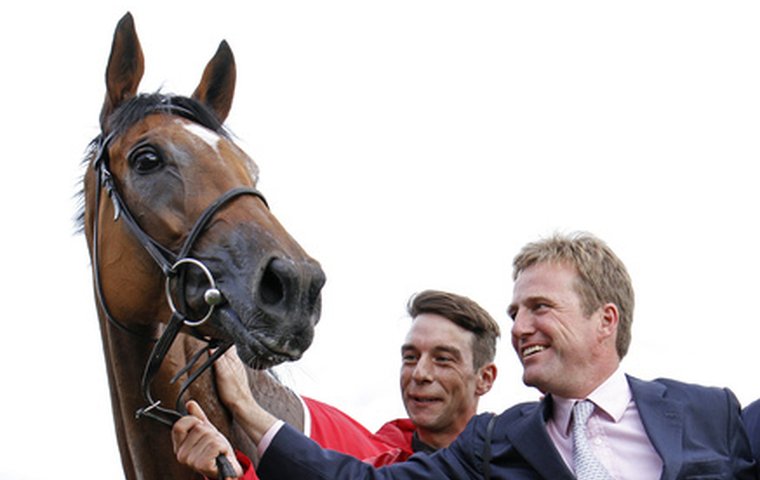 You could call Ralph Beckett the hottest trainer in Britain just at the moment after a day to remember on Saturday, when he saddled no less than five winners, including a four-timer at Newmarket, featuring two Group 3s, and another scorer at York.

With three Classic victories to his name, Beckett has been among Britain's leading trainers for some time. Known primarily for his success with fillies, the 48-year-old won the Oaks with Look Here in 2008; five years later he outdid himself with a one-two in the same race via Talent and Secret Gesture. He has also won the St Leger with Simple Verse (in 2015) and the Breeders' Cup Marathon at Santa Anita with Muhannak in 2008.

Actively involved in racing politics, he is due to take over the reins as president of the National Trainers Federation in 2020.

Who do you believe is the most important figure in the history of racing around the world?
In our lifetime, I think John Magnier's influence on the industry surpasses all others. Everything trickles down from the stallions, and he is the most important stallion master in the world, probably ever. It is generally accepted the standard of racing is stronger here than anywhere else and above all it's because of that. His tentacles stretch everywhere when you consider his influence on the breed.
His father-in-law, Vincent O'Brien, greatly influenced both codes, and the other person who changed everything when it comes to the training of a racehorse was the greatest jumps trainer of all time, Martin Pipe. He changed the parameters in a way nobody else did.
Which is your favourite venue and race (anywhere in the world)?
I'm a traditionalist and hence I'm biased, but I have to say Epsom and the Derby, which remains the most important race in the world. I hope that doesn't change but I do worry about both. Epsom is unique – climbing for half a mile before you go downhill around a bend; it's a test of stamina, balance, temperament as well as ability, and precocity because of its place in the calendar.
The Derby is the pre-eminent race and wouldn't be the same race anywhere else – it would only be the English equivalent of the Irish Derby, which is run four weeks later on a more conventional track but doesn't produce champions in anything like the same quantity.
What is your fondest memory in racing?
I suppose Look Here's Oaks because it changed our lives, our biggest winners to that point were Group 3s. I was quoted at the time that, if we go skint now, it doesn't matter - and I stand by that. It meant everything to us at the time – only a few people get to train Classic winners and, if you're a traditionalist, the Classics are the most important races. I was fortunate enough to win the St Leger with Simple Verse (see video below), which also meant an awful lot, but I suspect that the only thing that could beat it would be to win the Derby.
What do you see as the biggest challenge racing faces today?
Waning popularity is the biggest challenge, although there are green shoots there. I think a significant chunk of the younger generation of 18-25-year-olds seem to be keen on racing in a way the previous generation weren't, so I'm optimistic in that sense. But what concerns me is that previous generations had an affinity with the horse and therefore horse racing but, as we've become more and more an urban society, horses are driven further from the nation's psyche.
Horses have slipped from our collective consciousness, and I worry racing will go the same way as it has in France and Germany; we are already second-division sport. It is very hard to arrest that decline, though I hope it is possible. We have great festivals like Royal Ascot, Cheltenham, Goodwood and York that other places don't have in the same way.
If you could change one thing in racing, what would it be?
In this country, our regulator is failing, and that's probably because those in charge are executives and they move on after a few years. Whatever we felt about the Jockey Club as a regulator, they had the best interests of the sport at heart because they all owned or bred horses, and we need people in charge again who have vested interests who will ensure the sport thrives. The racecourses are run by executives; the sport doesn't exist because of the racecourses and they need to recognise that.
If I could change something on an international scale, I would bring all the various jurisdictions under one banner with uniform medication regulations. The United States have got a problem with Lasix and Bute and it's not doing the breed any good. In 1990, about 40 percent of maiden winners in Britain were U.S.-bred; in 2012 it was eight per cent and it's probably lower than that now. That is directly related to raceday medication.
Their second-biggest jurisdiction is in crisis and you can argue that a great deal of that it is to do with medication. Imagine if racing was banned in California? It would be catastrophic internationally.