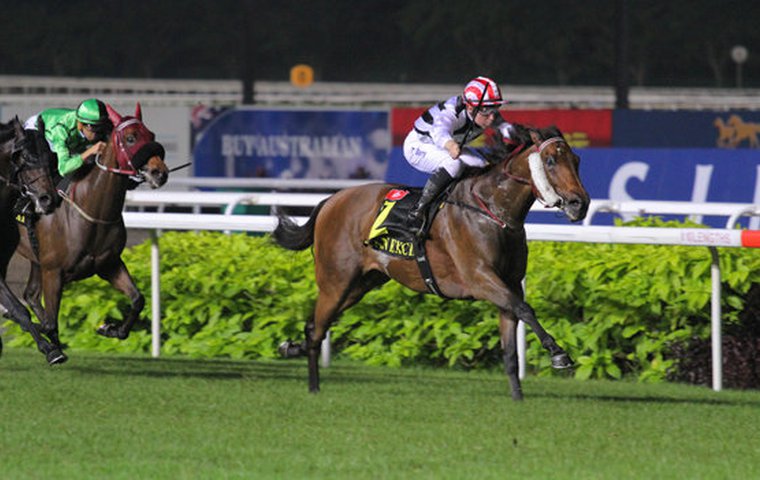 Paul Haigh reflects on this past weekend's 2014 Singapore International Racing Festival, including the G1 Singapore Airlines International Cup and the G1 KrisFlyer Sprint.

It started to rain at about 4 a.m. on Sunday without stopping until about 4 p.m. It wasn't, for the most part at least, true Singapore-style tropical torrential, although it did have its moments, but steady stuff: The kind that would be familiar to Brits (only warmer); the kind that would have all American tracks switching their turf events, however important, to the main track; the kind that would have most European racecourses declaring the ground "heavy" or even pondering the possibility of abandonment.
Less than four hours later, the field came out for the SGD$3 million (US$2.4 million) Singapore International Airlines Cup. And the winner, Hong Kong's Dan Excel, broke the track record with a time of 1:59.07 for the 10 furlongs (2,000 metres). The next three horses home also dipped under the two- minute barrier: These were the French challenger Smoking Sun who looked a little unlucky as he came from far back to finish best of all; the favourite Military Attack who was beaten for finishing speed by the second; and the Japanese Tokei Halo who had set the fierce pace that Dan Excel followed from his perfect draw.
To visitors, the most remarkable thing about the 2014 Singapore International Racing Festival was not that Hong Kong won both the main events. That was a repeat of last year – and people get used to things quickly. Nor was it that João Moreira rode the favourites in both, but could only manage a fifth and a third. So, he's human after all. We'd been given a hint of what was to come by Lucky Nine's time in his comprehensive repeat triumph in the KrisFlyer Sprint.
Surely that time wasn't 1:08 flat for the six furlongs. Yes, it was.
The most remarkable thing on display at Kranji Racecourse wasn't even the presence of President of the Republic Tony Tan Keng Yam, who was there to present the SIA Cup and trophies to the winning connections. (No, I suppose it's not quite the same. But can you imagine the validation it would have given racing if President Barack Obama had done the same after the Preakness? Maybe he'll think about it when California Chrome heads to the Belmont).
The fact that Dan Excel was ridden by Hong Kong-based Australian Tommy Berry only a few weeks after his twin brother Nathan had been struck down on the same track by a form of epilepsy, which eventually took his life, was both astonishing and moving. But, it falls into a category of coincidence that's beyond the scope of this article.
The most remarkable thing at Kranji that had nothing to do with the great mysteries of life and death was Kranji's astonishing StrathAyr turf track. Without going into too much detail, this involves layers of earth covered with growing grass all supported on a netting base. And it works so brilliantly that recovery time after a downpour is negligible.
"So you mean it can be possible to run fast times within four hours of the end of a period of sustained rain?" I asked Singapore Turf Club President and CEO Yu Pang Fey.
"Not that long," he replied, clearly bemused by my amazement. "Just one hour is enough."
There were one or two other surprises, such as the dancers representing the three main ethnic groups in this extraordinarily successful little nation: Chinese, Malay, and Indian. There were the Turf Belles, a group of mainly university students chosen annually (and without regard to matters of political correctness for their sheer ability to decorate any event) by popular vote, as well as by Senior Vice President (corporate services) Simon Leong - whose job everyone wants. Then, there was the fact that in the Sprint, local horses filled second, third, and fourth places, relegating Hong Kong's Dubai Golden Shaheen winner Sterling City to fifth place, and thereby suggesting that the recently world-class Singaporean champion Rocket Man was not just a flash in the pan.
But, the one who deserves the greatest praise is definitely the man who invented StrathAyr, Bill Cassimaty. I met him in a bar a few years ago. He told us how it worked, but maybe this already elderly Australian, in spite of being a very good bloke, didn't quite hold our attention - and to tell the truth, we probably thought he was exaggerating. Well, every racing fan in Singapore knows he wasn't exaggerating, and has known so for years. They don't have abandonments for rain in often-rainy Singapore. In fact, they hardly ever have going that's any softer than "yielding."