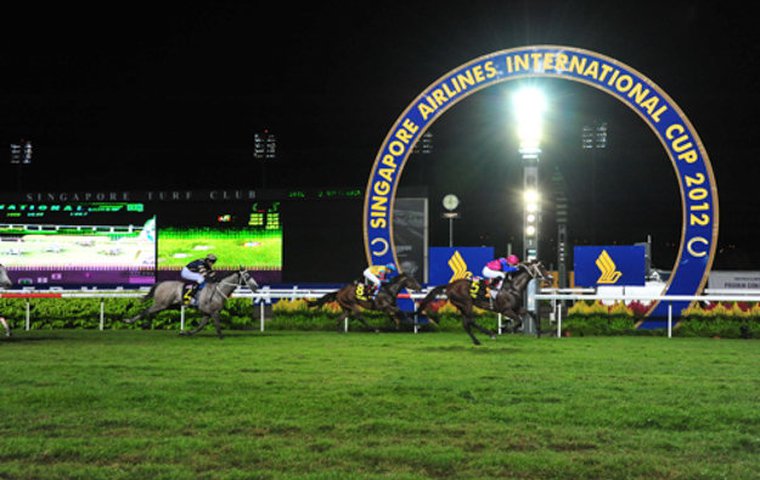 Imagine running a leisure business that cannot directly advertise one of its biggest attractions to customers. This is the reality of the straitjacket imposed on the Singapore Turf Club (STC) as it makes every effort to maintain Kranji Racecourse as one of the world's finest horseracing venues.

As Paul Haigh pointed out in his examination of the STC's battle to retain popularity against the growth of the country's casinos: "Singaporean law prevents the STC from advertising the relative merits of a visit to Kranji Racecourse over the dubious pleasures of the casinos. The club isn't even allowed to put an ad in the paper inviting people to come to the races."
The man leading racing's defense is STC President and CEO Yu Pang Fey.
"I don't think there is any other racing operation in the world that has the amount of constraints that we face," Yu said. "The government is very concerned about the possible social ills that could be caused by problem gambling, and because of this, it has actually put in place quite strict regulations governing any form of promotion or publicity by gambling organisations like us and Singapore Pools.
"Put simply, the government doesn't want us to promote gambling, and the way the legislation is worded ties our hands very tightly. For instance, I can't put an advert on the television saying 'Come to the races, we are having the Singapore International Airlines Cup on Sunday.'
"But it's a situation where we know what government thinking is, so we try to find a balance between doing what is good for racing and keeping in mind what is acceptable for government."
Tasked with this tough situation, creativity and word of mouth – especially for the season's major events – are key elements in promoting the sport, and indirectly its related betting activity, in Singapore.

Support for community projects, which provides an opportunity for the right messages to be relayed below the radar, are crucial. Elsewhere, promotional activities that many other countries take for granted are more difficult.
Roadside banners near Kranji are discreet; advertorial in the country's national newspaper, TheStraits Times, has to be paid for, while news stories take their chance behind the staple diet of football, although the latest tabloid, The New Paper, takes a more open view and prints racecards and news largely provided through STC press releases.
Two satellite horseracing TV channels have been created, transmitting live racing and magazine programmes for an average of 12 hours a day, but subscribers must be STC Telebet account holders.
Working around legislation that prevents the STC from advertising to an eligible existing audience is one thing; the club is also hamstrung in directly attracting the next generation of racing fans by the law that says under-18s are not allowed to go racing.
Yu finds this situation puzzling, but points out that there are parallels.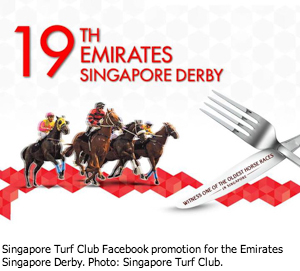 "The same situation applies in Malaysia and Hong Kong, both former British colonies, as we are, which is a bit strange because it doesn't apply in the U.K. itself," he said.
So it seems the idea that racing equals gambling, no more and no less, stretches back to the days of British colonial rule, after horseracing had been officially introduced to Singapore in 1843.
"This very common perception goes back into history, to the days when the Singapore Turf Club only consisted of the British and hoi-polloi," Yu explained. "The locals were allowed into the racecourse, but only to bet; they could not be members of the club. So the perception that if you go to the Turf Club for horseracing, you go to gamble has been around since the 1800s.
"That still persists, even though Singapore has been independent for 50 years, and is one of the reasons why the government is as strict as it is, insofar as its view that advertising racing is the equivalent of advertising gambling."
Still, Yu pointed out that the situation is marginally better than across the Straits of Johor.
"The constraints are probably worse in Malaysia because they are not allowed to open off-course betting centres, so illegal betting is huge," he said. "At least we are allowed off-course outlets, although you won't find big signs and flashing lights telling you where they are!"
Interestingly enough, the STC is wholly owned by the government under the Singapore Totalisator Board, a statutory organisation overseen by the Ministry of Finance, which also owns Singapore Pools, a private limited company. The STC conducts horseracing, while Singapore Pools operates lottery and sports betting.
Profits made by the STC and Singapore Pools are retained by the Totalisator Board, which has a mandate to invest any spare funds in good causes.
"Good causes cover the whole gamut of charities, arts, culture, education, healthcare, and anything else the Totalisator Board deems fit to support," Yu explains. "They give away in the order of SGD$500 million [US$400 million] a year from the profits of the STC and Singapore Pools and also make investments because some of the projects they support stretch over many years.
"We can make recommendations where the money is spent, but at the end of the day, it is up to the Totalisator Board, which is relatively strict in saying that it has control and it's not our job to give the money away."
The outflow of STC profits is not entirely a one-way flood into the Totalisator Board coffers, and the board and executive are conscious of other national causes, which Simon Leong, vice president of corporate services, outlined to delegates at the recent Asian Racing Conference in a presentation that highlighted charitable connections associated with the Singapore Gold Cup day fixture.
The feature race itself, which will be 85 years old in November, has been made a closed event, much to the delight of local owners, but more than that, Leong said, "We theme the day around a charity, which lets the general public know about the good work the club is doing. It's our way of serving society and supporting the community."
Yu explained the STC's charity involvement further.
"We do have some leeway as far as our corporate social responsibility is concerned, and we give away relatively small amounts to various charities," Yu said.
"We also adopt a charity each year, which this year is dedicated to helping children with chronic health problems, including hole in the heart and muscular disabilities.
"We bring them to the racecourse on our open house days and entertain them, and they love it. And our staff also go out and volunteer to help the charity's various events. A lot of people think our money goes into the government coffers, but we want them to know that our profits end up with various good causes."
Deciding how much goes into racing and how much remains as profit is largely decided by the STC.
"The Totalisator Board doesn't want to get involved in our business, Yu continued. "We are the ones who know best, although we always have to keep in mind that every dollar we spend is a dollar less for a charity or some other good cause.
"We have to find a balance. Of course, our owners and trainers want the sky, but we have to draw a line somewhere. We need to take care of racing and put in what is necessary, but at the same time we have to make sure that a certain amount of profit goes to the Totalisator Board for good causes.
"We work out the balance on a needs basis. You can't reduce it to a formula. Things are changing all the time.
"We love racing and are passionate about it, but if we were to put all our money into the sport, I think the government would definitely ask questions. I don't think we'll ever get to that stage, because we know what is expected of us."
While the STC stages events that fulfill its corporate social responsibility remit virtually every month, it also has a year-round community commitment through a Totalisator Board project by operating a neighbouring riding school.
"The board was approached on the grounds that it would be good if children could come into contact with horses because the only animals they were familiar with were cats and dogs," Yu said. "Unlike in other countries, they couldn't get close to bigger animals, and horse riding is also a great form of sport and exercise.
"It's run as a separate division of the club, but there are a lot of synergies, through vets, the horse feed, knowledge of horses and so on, and it's very popular, with around 1,000 students riding, some more regularly than others.
"I must emphasise that it wasn't the intention to make the children aware of horseracing so that they may become fans later on, but there could be a spin-off. If people become passionate about horses and riding, they may well become interested in the horseracing. Who knows?"