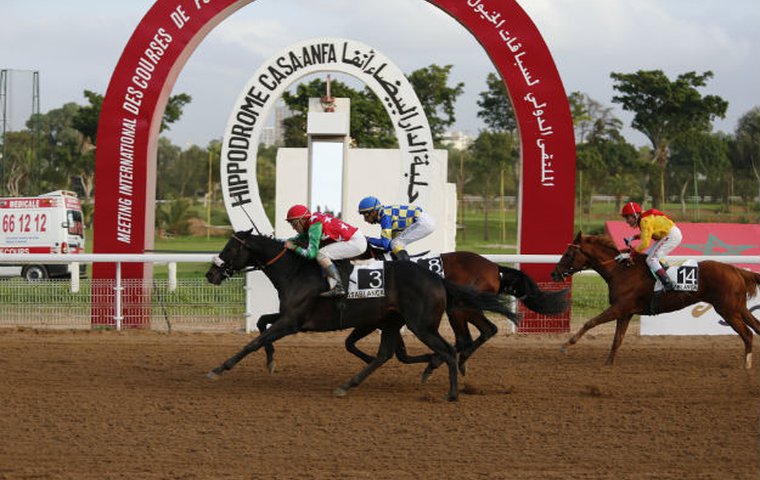 Down the ages many horses have carried a nation's hopes on their backs, in war and sport alike. Billabong is the latest. Maybe not so famous as most, he still epitomises the ambitions of his native country, Morocco, and the next stage of his mission comes on the outskirts of Doha on Saturday 27 February.

In terms of his training base, the 7-year-old entire Billabong will represent France in the million-dollar Emir's Trophy over a mile and a half, the feature race for Thoroughbreds at Qatar's most important race meeting of the year, the three-day Emir's Sword Festival. But le tricolor, under which he will fly, is merely a flag of convenience, for although Billabong has been resident with Pascal Bary in Chantilly since the summer of 2014, he remains Moroccan through and through.
He runs in the colours of Abdelhouaded El Alami, one of Morocco's most successful businessmen, who heads an industrial conglomerate that ranges from aluminium and steel production to hotels and commercial property, and was bred 20 miles from the Moroccan capital Rabat at Jalobey Stud, which was founded by El Alami's son, Sharif, in 2006.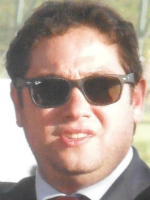 Sharif (pictured), a 33-year-old graduate of the University of Dayton in Ohio, whose love for the sport was nurtured on visits to Turfway Park, is the driving force behind the stud and its offshoot, Jalobey Racing, which together occupy 160 acres of a former fruit farm, where he likens the climate and land to the Hunter Valley in Australia.
Jalobey was in only its third year of operation when Billabong, a son of the Irish-bred, French-trained, Italian Derby winner Gentlewave, was born.
Billabong's big breakthrough
He galloped through his first two years on the dirt tracks of Casablanca and Rabat with nine wins from 11 starts, including in Morocco's most prestigious race for Thoroughbreds, the Grand Prix Sa Majeste Le Roi Mohammed, and with little left to achieve in his home country was sent to France on a mission to prove himself overseas.
Placed at the end of 2014 on synthetic tracks at Chantilly and Kempton – the first Moroccan-bred to gain black-type status in an English stakes race – he reappeared last year to win a small stakes event at Chantilly, before being switched to turf.
Billabong's big breakthrough came at Longchamp in mid-April last year, when under his now-regular rider Cristian Demuro he won the Listed Prix Lord Seymour by a short head, becoming only the second Moroccan-bred – after Premier Mister in 1984 - to win a stakes race in Europe. He subsequently earned a Racing Post Rating of 107 with placings in the Gran Premio di Milano and a G3 race at Deauville, before twice running below par on much softer ground.
Back on much faster ground in Qatar, tackling horses who are rated around his own level, Billabong will provide a good measuring stick for where Morocco stands on the international ladder, Sharif El Alami reckons.
"Very good racehorses were bred in Morocco in the past by the Royal studs, and the level was pretty high, but then there was a decrease in the level," he says. "Since we invested in the sector, it's pushed a lot of people to improve.
The Arc hero on one Moroccan team
"The strategy for Jalobey is clear – we're a boutique farm. We don't want to do quantity over quality, so we try to use Morocco as a training ground, to breed horses and send the best ones overseas to see what their level is. That's the only way of upgrading and putting some performance and value on Moroccan breeding."
Jalobey is home to around 40 mares, with another group boarded in France, and nine stallions, including the 1998 Arc winner Sagamix and 2016 newcomer Naaqoos, the one-time smart French-trained 2-year-old for Sheikh Hamdan Al Maktoum who has so far been based in France.
El Alami explains: "We're always renewing our stock. We buy a couple of yearlings every year in Europe to compare with the job we do here in Morocco. We always invest in a couple of mares, so we have a selection process and a certain amount of turnover, and each year we have our own private sale, to keep our numbers down."
Racing administration for Thoroughbreds and Arabians in Morocco comes under the governing body SOREC, which translates as the Royal Society for the Encouragement of the Horse. SOREC was created in 2003 under the supervision of the Ministry of Agriculture and Fisheries and manages racing at six tracks, the National Stud and the pari-mutuel betting operation, having also established partnerships with the French PMU, to which it exports 23 races a year, and the equestrian TV channel Equidia.
El Alami sheds light on SOREC's performance over the past decade, saying: "Things have improved very quickly and there have been serious changes. Change is never fast enough for any investor, but they are doing things correctly, and there's a team working closely with the owners, breeders and major investors. It's not always easy to make changes to things that are traditionally grounded, but we're pushing on and working hand-in-hand with the committee.
The key to bringing in new investors
"The prize-money, the willing, the administrative infrastructure and the opening of races to the international media have all evolved.
"Generally speaking, the big lack is in the knowledge of breeding and the training of people. That's where the biggest challenges lie. There's a willingness, but the knowledge of horsemanship needs to be improved.
"There is also a lack of general infrastructure, but that will be filled up quickly because they are developing training grounds. That's the key to bringing in new investors to own horses.
"As far as Jalobey is concerned, no business can benefit from being in a monopoly situation. Competition brings in people who are constantly upgrading, and that is healthy. You always have a couple of leading farms and yards, but we need a stronger operation to try and leverage people to invest.
"That will bring us proper ratings for the Thoroughbreds and lead to international racing. We've done it with the Arabian horses, now we must do it with Thoroughbreds. I don't know how long it will take to get Pattern races in Morocco, but we're on track."
Tony Ford is another prominent owner with enthusiasm for the way Morocco is moving forward. Grandson of a former British consul to the country, he is in the fisheries business, with a base in Spain, and races in France before bringing horses who have perhaps reached their peak there for a second career with his Atlantic Racing operation.
Prize money 'better than England'
"They are doing a good job of promoting racing in Morocco," he says. "Standards are improving. Prize money is getting better – much better than in England! – and slowly, slowly the quality of horses will improve even more.
"New young guys are coming in, trying to do something better. Rather than buying horses for £1,000 and thinking they can win races, they are spending £15,000, £20,000. It's still not big money, but it's improving and people from Morocco are buying at all the European sales."
The prime mover behind Morocco's progress has been Omar Skalli, who left a career in the financial services industry, having worked for Arthur Andersen and Salafin, a subsidiary of BMCE Bank, to become director general of SOREC in 2009.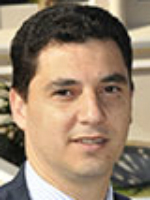 Last year Skalli (pictured) completed his first five-year plan; now he has begun another, with the aim of having an extra 1,000 boxes in new training centres with superior gallops by 2020.
The first project, at Bouznika, between Casablanca and Rabat, where the National Stud is situated, will be opened shortly, with a 1,800-metre track and 260 boxes. The next, in Bouskoura, close to Casablanca airport and near the breeding centre of El Jadida, is planned for 2018.
"We will bring in people from outside the industry, to allow them to invest as owners in one or more horses, and also to encourage new trainers to establish themselves," Skalli explains. "Many of our owners want to have more horses, and we also think we can bring in new owners. Between 2009 and 2014 we doubled the number of owners, and we have a lot of new ones.
A good climate for breeding Thoroughbreds
"For example, the owners of the three major Arabian races at our international meeting last November were not owners in 2009. The winner of the biggest Arabian race was particularly interesting. It was the owner's first big win and he was so happy. He told me a year ago that he would win the next Grand Prix, and now he has said he will win the Thoroughbred Grand Prix this year.
"It's easier to start with Arabians in Morocco, because it's easier to breed them. Maybe it's also a matter of mentality, because more people think of a good Arabian before they think of a good Thoroughbred. But for me that's not 100 per cent true. We have good climate conditions for breeding Thoroughbreds, and our horses, like Billabong for example, are getting better.
"To help our owners we will also try to have some new gallops in the forests. We have one close to Rabat, but there are no boxes, and we are trying to have a second one close to El Jadida.
"One of the biggest difficulties is in getting the concept across to the people who manage the forests for the government in Morocco. They cannot imagine the advantages; they see only people using their forests. We will keep trying to explain that the forests always have a fire line built in for safety, which we want to use for our gallops. They have to maintain this line anyway. I think we will persuade them."
Skalli is also working on a five-year programme to encourage Morocco's breeding industry by introducing greater commercialism.
"Almost all our owners at the moment are also breeders," he explains. "I'd like it to be the reverse, so that 80 per cent of horses are bred for sale and 20 per cent are raced by their breeders. That will encourage owners, and also encourage breeders to improve their stock by selling and re-investing in good horses.
The importance of racing abroad
"We doubled the budget for prize-money from 2009 to 2014 and increased the number of races. Our goal was to double the number of races, and we are halfway there. In 2009 we had 1,000 races; last year it was 1,500, and we want to have around 2,000 by 2020. Also the breeding premium has been increased from 40 per cent to 50 per cent, and we will keep this until 2020 at least.
"A home breeding programme is very important. If you only have foreign horses, you may have good races but it's not good for your own breeding industry, which stagnates."
Skalli has taken his message on to the world stage, demonstrating Morocco's ideas for expansion to a wider audience. Staging a meeting of international races in November, which began with Arabians in 2002 and was extended to Thoroughbreds 10 years later, has attracted interest mainly from France and Spain. A greater reach is planned.
"Opening races to foreign horses is very important for our public and punters, and the media," Skalli says, "but also because we want to have some of our races recognised with Pattern status, which we can only achieve with proper ratings.
"At the moment we don't run handicaps, so another goal is to have our own handicappers. Two of my colleagues are training with an official from France-Galop so that we can have all our horses rated in accordance with the European system.
"It's important to have foreign runners in order to assess the level of our own horses. One day, maybe in two or three years' time, we would like the Grand Prix Sa Majeste to become a Listed race, but it will depend on the level of the runners."
Meantime, it will be down to Billabong and his immediate successors to spread the word for Morocco.