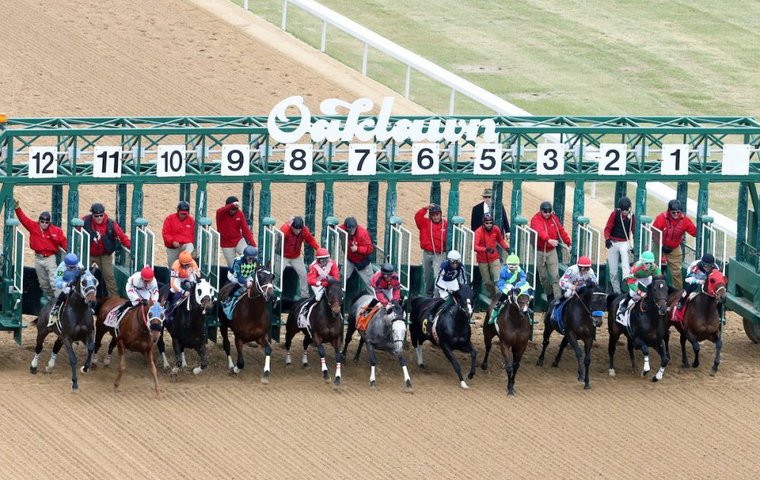 When the calendar page turned to April 2020, the prospects for Thoroughbred racing looked bleak. A majority of the biggest tracks that contributed to the business in April were dark.

Aqueduct was closed on March 25 and would not reopen before late fall. Keeneland had cancelled its spring meet. Churchill Downs had earlier postponed its April opening and had already moved the Kentucky Derby to September 5. The Stronach Group California tracks Santa Anita and Golden Gate Fields were also closed in late March.
This left just five Thoroughbred tracks racing in April.
Gulfstream Park had enjoyed a successful winter stakes program, culminating in a strong Florida Derby in late March, but had no Graded stakes scheduled until September 5.
Oaklawn Park had a reasonably successful spring meet but, with the postponement of the Kentucky Derby, it was decided to move the Arkansas Derby to its closing day, May 2, which had been the original Kentucky Derby date.
Tampa Bay Downs, similar to Gulfstream, had run through its major stakes program and was scheduled to close on May 3.
Two smaller tracks, Fonner Park in Grand Isle, Nebraska, and Will Rogers Downs, just outside Tulsa, Oklahoma, both ran a three-day race week, Monday-Wednesday, and both had an average daily betting handle of $600,000 in prior years. While I take great pride in the fact that I have been to most racetracks in the U.S., I had never been to either, and neither watched nor bet on a race at either.
The racing industry appeared to be staring disaster in the face.
Remarkable performance
Look at the basic industry financial numbers for April 2020 compared to April, 2019. The 2020 numbers are brutal: Total purses, racedays, number of races and total starts all down between 65 percent and 79 percent, unprecedented declines.
So it is truly remarkable that average wagering activity was down only 24.4 percent.
Looked at from another perspective, wagering activity from April 2019 was 9.9 times greater than the total purses paid for the month. However, the April 2020 wagering activity was 36.5 times the 2020 total purses. Looked at yet another way, this meant that every purse dollar paid in 2020 generated four times greater wagering dollars than the purse dollar in 2019 generated. This is a truly remarkable performance.
How did this happen?
April 2020 vs April 2019
For starters, both Fonner Park and Will Rogers Downs had daily handle averages of over $2 million in April, which was almost a fourfold increase for each track over the prior year. On two of their race-days, Monday and Tuesday, they were the only two Thoroughbred tracks racing. Their cards were featured in the Daily Racing Form, and on a number of the ADW sites, and they were featured in the online edition of the Racing Post in the UK.
Tampa Bay Downs' biggest raceday is Tampa Derby Day in early March, when well in excess of $10 million is handled. During April, Tampa Bay handled more than double their prior year weekend handle numbers and, on occasion, approached Tampa Derby performance. Tampa had been scheduled to close its meeting on May 3, but it extended its closing through the end of May.
Oaklawn had a very strong handle throughout April, but on its closing day, Arkansas Derby day (May 2), was spectacular.
There was a magnificent card with 14 races. The Arkansas Derby was split into two divisions, with nine runners in each, there was a brilliant field for the Oaklawn Handicap, and a large number of Hall of Fame trainers shipped in from both coasts and places in between. The handle for the day was a stunning record-breaking $41+ million.
'A true increase in our off-track signal'
This topped the previous track record of $19 million, set only two weeks earlier on the Apple Blossom card. To put this in a relative context, the $41 million in handle would have compared favorably with Travers day handles at Saratoga when I was working at NYRA from 2004-2011.
Oaklawn President Louis Cella told Mary Rampellini of Daily Racing Form, "But while we're allowed to operate, the reality is so many other sports are not and we - meaning the handful of tracks that are operating - really are the only sports that are out there. And we never could have imagined, or budgeted, or forecasted how play would be off-track. It just shows you how many folks are out there - and we don't know - are either new to the sport or they followed other tracks and not ours. But we have seen a true increase on our off-track signal, which means that they like our product."
The Cella family have been regarded as brilliant racing operators for multiple generations. Louis Cella clearly understood Oaklawn enjoyed a strategic edge that it could not fully anticipate or comprehend. I hope the industry over the next few months can learn from this experience.
Regarding the fifth track that was racing in April, Gulfstream Park does not publish its handle numbers, so I could not include them in this analysis. However, Gulfstream had a very successful winter meet and clearly must have posted positive and significant handle increases in April as well.
It is important that the industry understands it has the only major sport performing live today and, most importantly, racing now has very substantial live television networks that consistently broadcast it nationally.
The most recent national television deal is an arrangement between the NBC Sports Network (NBCSN) and Television Games Network (TVG). Starting this past March 21-22, NBCSN broadcasts a simulcast of the two-hour TVG feature program, Trackside Live, which TVG produces for major stakes on weekends around the country. On the announcement of the deal, Kip Levin, TVG CEO, said, "On behalf of our track and horsemen partners, we are excited to join forces with our friends from NBC Sports to bring horse racing to a broader audience." NBCSN is available in 80 million households. A very relevant example is that NBCSN/TVG did a live two-hour broadcast from the Arkansas Derby at Oaklawn.
It is important to note that NBC has had a long and significant relationship with Thoroughbred racing with its long-time coverage of the three Triple Crown events, as well as broadcasting the Breeders' Cup two-day meet, plus a number of races in the 'Win and You're In' Challenge series.
However, the most significant television deal in the history of Thoroughbred racing was done in November 2018 between the New York Racing Association (NYRA) and Fox Sports. NYRA had a previous deal with Fox that resulted in more than 100 hours of NYRA coverage in 2018. The new deal resulted in 500 hours of coverage for NYRA in 2019 and over 600 hours of NYRA coverage in 2020 on Fox Sports.
On the announcement of the deal, Michael Mulvihill, Executive V.P. of league operations, research and strategy for Fox Sports said, "NYRA has been a terrific partner and we are looking forward to presenting more horse racing on a national stage than ever before."
Virtually no competition
An essential partner in this Fox-NYRA relationship is the Jockey Club, whose multimedia fan development and awareness-building platform, America's Best Racing (ABR), was created in 2012 to develop new fans by increasing the profile and visibility of North America's top Thoroughbred events. ABR is a major content sponsor of this series.
The Thoroughbred racing industry has an unprecedented opportunity that it must act on. It has a minimum three-month competitive position in professional sports with virtually no national broadcast competition. No other professional sport during this period will be performing with the best television broadcast partners in the sports industry.
Please consider what was accomplished by Oaklawn, Tampa Bay Downs, Fonner Park and Will Rogers Downs. Here are the list of racing assets that I believe will be coming online by July 4. Some tracks are still awaiting approval to race from their state regulatory bodies. It should be noted that all these listed tracks will be opening for racing without customers in the stands.
This is the best information that is currently available. There are a number of tracks that will be coming online, but there is no information currently available as to their status.
Projected opening dates
Charles Town - May 14
Golden Gate - May 14
Santa Anita - May 15
Churchill Downs - May 16
Belmont Park - May?? (NYRA is trying to open by month end)
Laurel Park - June 5 (Laurel has issued a condition book). This is the original scheduled date)
Louisiana Downs - June 6
Indiana Grand - June 15
Emerald Downs - June 22
Ellis Park - June 28
Woodbine - statement that it is targeting mid-June
Keeneland - management is seeking summer dates to replace some of the cancelled spring dates
Monmouth Park - July 3
The only professional sport (other than UFC fighting) that will be on network television will be golf - the PGA tour returns on June 11. Major League Baseball is trying to launch its season in early July but has a lot of bridges to cross. Neither of these sports are significant competitors for Thoroughbred racing.
Clearly the current pandemic will affect our lives for years to come, but the racing industry has an opportunity TODAY that it must embrace.
Finally, I have not included any analysis or contribution from a very important component of the industry's wagering activity, the Advanced Deposit Wagering (ADW) companies. There have been recent concerns expressed in the media regarding the economics and practices of ADWs and their financial contributions to the racetracks and purses.
I do share some of those concerns. The fact that a number of the racetracks control some of the major ADWs with very limited disclosure regarding their customers and business practices is a significant issue.
Broadly stated, the same state regulatory agencies that do such a poor job in overseeing the fragmented ineffectual drug testing and penalties for racing participants are the same entities that oversee the regulation of ADWs.