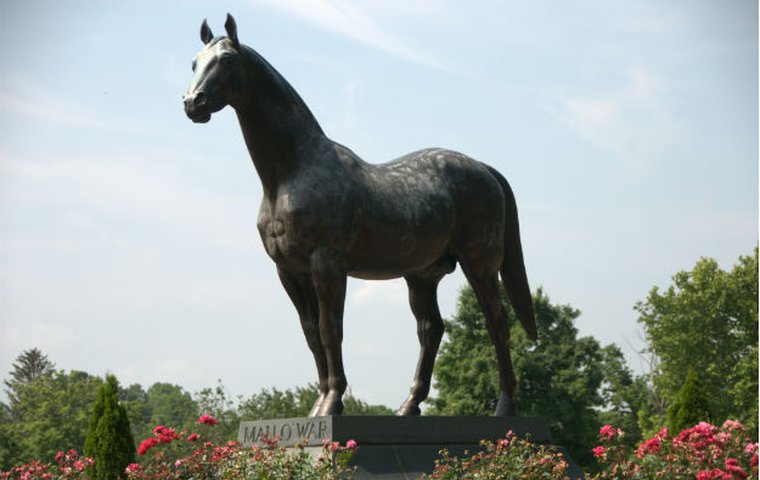 Travel some nine miles north of downtown Lexington in Kentucky, and there you will find a horse lover's dream. Part museum, part racehorse retirement home, part events venue, the Kentucky Horse Park is a unique celebration of the horse. Since its opening in 1978, its mission has been to educate and engage the hundreds of thousands of visitors it draws annually in all things equine, from its museums, to its walking tours to the international competitions held in its arenas.

Perhaps one of its most poignant attractions, though, is its collection of statues which memorialise the greats of the Thoroughbred world, for many of which the Park became their last home and resting place. In this article, we take a brief tour of some of the Park's sculptural tributes to racing's iconic champions.
Man O'War
Big Red is among the first sights that greet visitors to the Kentucky Horse Park. Sitting just inside its entrance, Herbert Haseltine's bold, vigorous statue is a fitting testimonial to one of the 20th century's most courageous racehorses. Man O'War's career may have lasted only two years (1919-20), but during that brief time he attained 20 wins out of 21 starts, set three world records, and became the first Thoroughbred in North American history to exceed $200,000 in earnings.
Following his easy victory over Triple Crown winner Sir Barton in a match at Kenilworth Park in October 1920 – dubbed by contemporaries the "race of the century" – Man O' War was retired to stud in Lexington. At owner Sam Riddle's Faraway Farm, he became a top stallion. Legend has it that as many as three million fans visited him there until his death in 1947.
Man O'War was buried at Faraway Farm, where his grave was marked by Haseltine's bronze memorial, which had been commissioned by Riddle seven years earlier. "There was something that emanated from that noble animal that took my breath away," Haseltine recalled. In part due to wartime restrictions, the 20-hands-tall, 3,000-pound sculpture was not completed until 1948. With his head high and muscles taut, the rendering is less a lifelike portrait than a symbol of the power and awe that he embodied in life.
In 1977, both his remains and his statue were removed to their final resting place at the Kentucky Horse Park.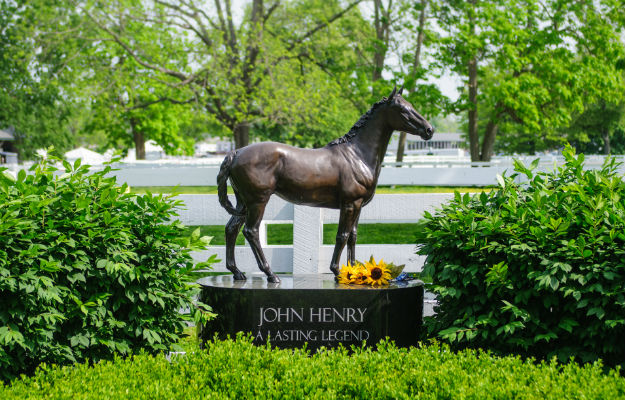 John Henry
At the entrance to the Hall of Champions – where reside the Park's living legends – two handsome bronzes stand sentinel. They depict two racing greats and erstwhile residents of the Park, John Henry and Alysheba.
Few horses have won the racing community's hearts like the rags-to-riches star John Henry. The son of an obscure sire, few would have gambled on him becoming two-time Horse of the Year when he stepped into the Keeneland sales ring in 1976 as an undersized yearling with blood dripping down his forehead following a stable accident.
His early career was mixed – at best – but in 1978 the tide turned for the cantankerous gelding. In May that year, after being passed from owner to owner, he was sold, unseen, to Sam Rubin and entrusted to trainer Robert Donato. Donato saw promise in John Henry and soon made a prescient decision that would transform his fortunes. John Henry was entered in a $35,000 claimer on grass at Belmont Park. His 14-length victory marked the beginning of a champion.
His legend was sealed in 1981 with the inaugural running of the Arlington Million. His hair's-breath victory over The Bart captured the headlines, and he was rewarded with the title of Horse of the Year. Triumphs followed in the Jockey Club Gold Cup, Oak Tree Invitational, Hollywood Turf Cup, American Handicap, even a second Arlington Million, until he was retired aged 10 to the Kentucky Horse Park. For the next 22 years, John Henry resided at the Park, feted as racing royalty by legions of visitors.
In 2008, a year after his death, a lasting testament to the Hall of Famer was erected to mark his gravesite. Thirty-one inches tall, the bronze John Henry stands erect upon a black granite plinth, his tail blowing in the gentle breeze. Its sculptor, Kentucky-based Shelley Hunter, was also responsible for the sculpture that stands opposite, depicting another of the sport's hardest-working athletes, Alysheba.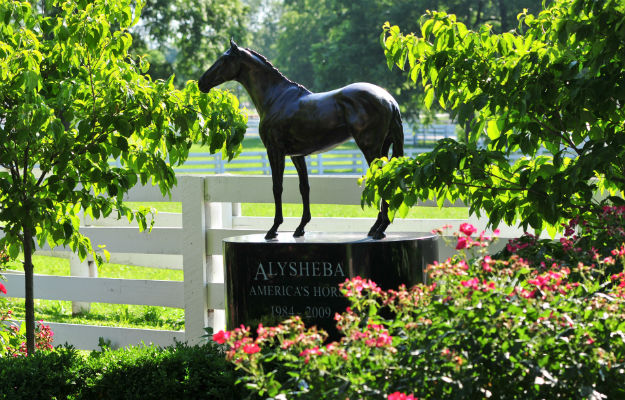 Alysheba
The bronze Alysheba was unveiled in 2010 at his gravesite a year after his death. The handsome bay, known as America's horse, arrived at the Kentucky Horse Park in 2008 as a gift of King Abdullah of Saudi Arabia. For Alysheba, it was a homecoming. Although he had spent the previous eight years at the Janadriyah Stud Farm on the outskirts of Riyadh, he was foaled only 10 or so miles distance from the Park at Hamburg Place in 1984.
Bought as a yearling by the Scharbauer family, Alysheba shot to prominence as a 3-year-old. His narrow triumph over Bet Twice in the 1987 Kentucky Derby was the beginning of a rivalry between the pair. After defeating Bet Twice again in the Preakness by an even smaller margin, Alysheba's hopes of becoming the 12th horse to take the Triple Crown were quashed by Bet Twice's comfortable win.
Nonetheless, Alysheba was recognised with an Eclipse Award as champion 3-year-old colt and, as a 4-year-old, he went on to garner further victories, including the Santa Anita Handicap, Woodward Stakes and the Breeders' Cup Classic. Upon his retirement in 1989, he ranked as the world's richest racehorse.
Alysheba's statue at the Park was commissioned by former owner Clarence Scharbauer III. The regal bearing for which he was celebrated in life has been immortalised in bronze upon a solid granite plinth. Its design and location as a companion piece to John Henry is only fitting: it was John Henry's stall that Alysheba occupied during his residency at the Park.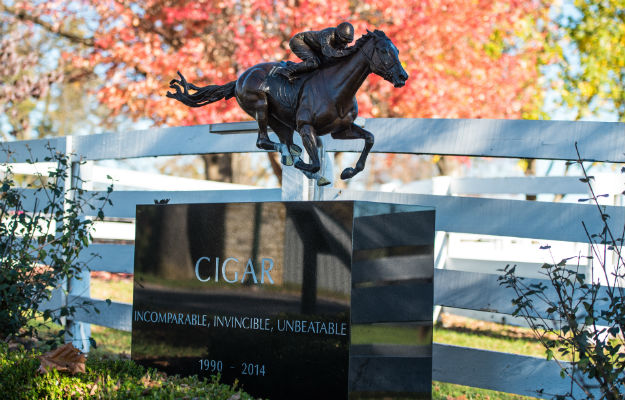 Cigar
The Park's most recent sculpture was unveiled only months ago, in October 2015. Unlike the depictions of Man O'War, John Henry and Alysheba, this bronze captures a moment in racing history – Cigar galloping to victory in the 12th running of the Breeders' Cup Classic at Belmont Park on 28 October 1995. Sculptor Douwe Blumberg – a former horse trainer – set out to capture the exhilaration of the moment. Jockey Jerry Bailey is poised in an elastic connection with his mount; each of the horse's muscles is taut and his tail flies behind him.
Cigar was always odds-on favourite to win the Cup. He was on a winning streak of 11 unbeaten starts. However, in the run-up to the race itself, events looked like they were conspiring against him. Six days before, Cigar came down with acute hives, his body erupting in welts. While the reaction soon subsided, heavy downpours were reducing the Belmont track to mud, a surface on which he was untried. To make matters worse, he had drawn a position far outside in post 10.
Once in action, though, Cigar quelled all concerns. As he thundered down the final furlong, caller Tom Durkin uttered the words that ever since have been his byname: "Here he is! The incomparable, invincible, unbeatable Cigar!"
Although his unbeaten record came to an end in the 1996 Pacific Classic at Del Mar, Cigar's status as a Thoroughbred superstar was secure. He was twice voted Horse of the Year, named Racehorse of the Decade of the 1990s and inducted into the National Museum of Racing and Hall of Fame in 2002.
In 1999, Cigar retired to the Kentucky Horse Park, where he lived in the Hall of Champions for 15 years. Blumberg's statue marks his gravesite, adjacent to the paddock in which he spent his later years. The bronze is imbued with the explosive power, the fluidity and determination for which Cigar was known on the track and, fittingly, is carried upon a base bearing those unforgettable words, "Incomparable, invincible, unbeatable".
Sources
K. Baker, Thoroughbred Racing, Philadephia: Chelsea House Publishers, 2002
T. Basset and B. Mooney, Keeneland's Ted Basset: My Life in Racing, Lexington: University Press of Kentucky, 2009
E. Bowen, Man O'War, Lexington: Eclipse Press, 2000
J. Hovdey,"Cigar'sClassicetchedinmemory,nowcastinbronze".Online: http://www.drf.com/news/hovdey-cigar's-classic-etched-memory-now-cast-bronze
Thoroughbred Champions: Top 100 Racehorses of the 20th Century, Lexington: Blood-Horse Inc, 1999
www.britannica.com
www.kyhorsepark.com