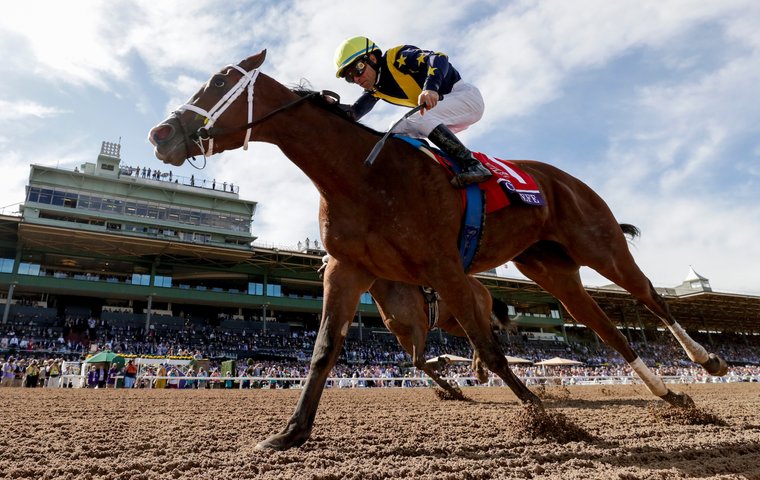 It wouldn't be hard to compile a list of 2019 racing regrets and recriminations. It wouldn't be hard to catalogue criticisms of the industry, not after a year in which Thoroughbred racing in the U.S. found itself in the public eye for all the wrong reasons: equine fatalities, trainers paying millions in restitution for financial impropriety for underpaying their stable staff,

It wouldn't be hard to just keep an eye on the calendar and count the days until 2019 is over, bidding this year a not-so-fond farewell and hoping that 2020 will bring something better.

But even in the midst of an annus horribilis, we can take a few minutes, especially this week, to give thanks for what is good in this corner of the world, to spotlight some of the people who don't often get the spotlight, and to find out what they'll be giving thanks for when they sit down on Thursday for a Thanksgiving meal.

Joe Appelbaum, owner, breeder, gambler, president of the New York Thoroughbred Horsemen's Association
In racing, you get to be outside most of the time. For so many of us, our jobs are inside, in front of a screen; it's soul-killing. My favorite times are when I'm outside watching workouts, or watching a race, or walking around a racetrack. At the track, I can use my brain and be in a beautiful physical environment. That's very appealing.
From a business standpoint, I'm grateful that we've been able to reduce workers' compensation costs in New York by 36 percent over the last two years. Two years, this was viewed as a crisis, and while we want to reduce it even more, that's a big savings for our trainers. Hopefully, it helps them to do business in New York.
Don Chatlos, trainer and former assistant to Jerry Hollendorfer
The year's been bittersweet, that's for sure. I'm definitely grateful for [owner] Larry Best — he took a shot on a guy that hadn't run a horse in 11 years. He's new to the business and he's spending money, when there are a lot of people leaving the business. I'm so thankful for my crew. With the name on the shingle from Hollendorfer, a Hall of Famer, they could easily have bailed, and they all stuck with me. I couldn't do this without them.
My family has always been behind me. I was at Belmont in June when we learned that Jerry couldn't bring horses to New York, and it was a punch in the gut. My girlfriend was back home in Long Beach, and I ended up being gone for six months. She understood and she stood with me, even though that's a long time to be gone.
Janet Kelly, who works for Larry Best — what a godsend she is. She held all this together: it's not easy doing business in New York, and she made sure we had insurance and that all the forms were filled out. She held it together at a stressful time.
Kelsey Danner, trainer
Every year, I'm grateful for the same thing: the horses. The horses are why I got into this, and it's because of the horses that I stay in. This year we ran a lot of different horses at a lot of different tracks, and my whole team has worked pretty hard.
My clients have been very supportive, and it was great to go to Saratoga and win two races with Call Me Harry. I knew I was going to have to run some horses there. It was great to win with him as a first-time starter, and I didn't expect him to come back and win his allowance condition.
Patricia Hogan, DVM, founder of Hogan Equine at Fair Winds Farm in Cream Ridge, New Jersey
The first thing that comes to my mind when I think about what I'm thankful for is the aftercare issue. After working on it for 25 years, I'm so grateful that it's become mainstream and recognized for both standardbreds and Thoroughbreds. It's a very, very important part of the industries' business plans.
The Take the Lead program in New York is working beautifully. I do surgeries for them for no charge so that they don't have to worry about fundraising to cover those costs. I also do that for ReRun, MidAtlantic Horse Rescue and New Vocations. I've been blessed in my career, and I want to give something back to the horses.
Recently, the New York Racing Association put in a rule that anyone who claims a horse has to pay a 1.5 percent aftercare charge in addition to the claiming price. If the new owner doesn't pay the charge, the claim will be void. I'm so happy to see that they did that. We've gone from having bake sales to raise money for horses to having a viable, continuous flow of funds.
Barbara Luna, founder, War Horses at Rose Bower, Appomattox, Virginia
Since I purchased this farm and founded this facility, I've worked full-time at the Appomattox Court House National Park down the road. I worked as the bookstore manager for five years, and I learned a lot about Civil War history, but we've got 12 retirees on the farm, and I wanted the retirement program to keep progressing and not stagnate. So I bit the bullet, and I quit my full-time job, hoping to be able to take a salary from our foundation so that I can be at the farm all day.
I'm thankful that I had the bravery to do that. It's not easy, but it's working out. Our program is growing, and, after this year's Retired Racehorse Project, everyone was looking for horses. Now, I've got time to work on our website and on a program that we're starting with local military veterans.
I also have time to get back to writing; before I moved to Virginia, I wrote for Mid-Atlantic Thoroughbred and the Pennsylvania horsemen's group, and right after I quit the bookstore, I started writing for Past The Wire.
I'm grateful that we continue to be accredited by the Thoroughbred Aftercare Alliance. Everyone at the TAA is so nice; we're grateful for the grants we get from them, and they express gratitude for the work we do. To be approved by the industry in which I've been working my rear end off all my life, to have people recognize the work we're doing — I've felt that more this year than any other year.
Sabrina Moore, breeder of G1 winner Knicks Go, board member of the Maryland Horse Breeders Association
I am so lucky I get to do what I do every day, and I'm so thankful for everyone who helped me get into this line of work, and for the people I've met and relationships I've built because of horses. It's such a competitive business, but there's also so much camaraderie, and I've met so many people who are passionate as I am. You share the highs and lows with them, and they understand in a way that "normal people" — people who don't work with horses — don't get.
I've always looked up to trainer Tim Keefe; he's the most professional guy ever, and I can go to him with any question I have. That's true with Cricket Goodall [executive director of the MHBA] and [consignor] Bill Reightler. I'm so fortunate that they welcomed me with open arms and encouraged me. This industry can be intimidating, and I'm really, really lucky to have found great people to guide me in the right way.
I am in debt to Kosmo's Buddy, the dam of Knicks Go. I don't have her anymore, and I could cry every time I think of her. I went through so much with her, from running her as a racehorse to breeding her as a maiden mare to selling her, and it was such a journey. I hated that I sold her, and that's another life lesson to learn the hard way. I've learned so much in the last ten years, and I've been lucky to have had those opportunities.
Ron Nicoletti, handicapper and race analyst at Gulfstream Park
I've been in this game for so long, and I really appreciate the friendships I've made. Trainers, owners, fans, the people I work with. There are bad people in every game, doctors, lawyers, the stock market, and in racing 99 percent of the people are just nice people, especially the people on the backstretch taking care of their horses. I'm thankful to have been a part of this for the last 30-something years, to come out here and enjoy what I do every day.
I give out a longshot play every day at Gulfstream, and when one of those wins, you walk through the stands and people are yelling, "You did great!" Then when you don't win, they call you a bum. That's the beauty of racing.
Jaime Roth, owner and breeder with LNJ Foxwoods
My stable had a very successful year. All my horses are happy and sound and safe.
Almost everything went as we had planned, especially with Covfefe [winner of the Breeders' Cup Filly and Mare Sprint]. Winning a Breeders' Cup race is unreal; it's a dream. It's everything we aim for, and it's so hard to just get a horse in the gate. I can't explain the exhilaration and how proud I am.
Earlier this year we were involved with the National Museum of Racing's Foal Patrol with our mare With Honors. She was at Claiborne and she had the baby a month early. She had begun to show signs of delivering way too soon, and Claiborne made sure that the cameras were off in case anything went wrong, and they took such good care of her.
The filly is totally normal; she was a 118-pound foal, and she's just an amazing weanling. I'm biased, but I think she's a star. She's named Honor It and she's by Tapit, and I'm so thankful for how Claiborne handled it.
Kelley Stobie, founder, Caribbean Thoroughbred Aftercare, Puerto Rico
I'm thankful that we've had so much support from the United States. There's one woman who won't let us acknowledge her publicly, and she donates so much to us. Whenever we're trying to get back a horse back to the U.S., she always pitches in.
I've been retiring horses here in Puerto Rico for 22 years, and I've accomplished more in the last three years, when I started working with Shelley [Gagnon-Blodgett, co-founder and director], than in all those other years combined. Aftercare re-training and off-track Thoroughbreds are becoming better known now; people understand now that they're not just crazy racehorses.
There's so much poverty here and the government is in shambles, so I'm grateful for the grant money we get from various entities.
Earlier this year, a horse named Tony Tomato went from us to Aiken Horse Rescue. He didn't sweat and he had a hard time with the heat, so I really wanted to get him out of here. They took him and found him a wonderful home with a young lady in Georgia. He is such an amazing horse, the sweetest thing; he'll do anything you ask him, and now he's got this home with her, and she adores him.
I'm thankful that I'm in a position to help these horses. If we didn't have this property, which is my husband's, I don't know what I'd do.