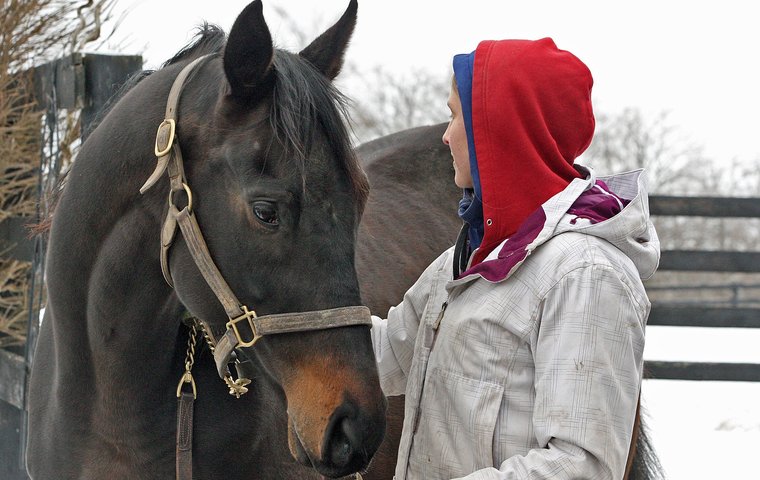 When it comes to racehorse retirement options, LongRun Thoroughbred Retirement Society is a one-stop shop. It is unique among Thoroughbred aftercare facilities in that it offers all facets of retirement: rehabilitation for the injured, retraining for those viable for second careers, and permanent homes for those that are best suited to living out their days on pasture, including millionaires and a Queen's Plate winner.

Best of all, you can now visit LongRun's resident stars and adopt a new equine friend at one beautiful facility.
In 1999, founding member Vicki Pappas – who has been working in the industry for over 40 years and is the co-breeder of 2006 Queen's Plate winner Edenwold – gathered fellow horsemen and women to discuss a growing issue: what to do to help Canadian racehorses no longer able to compete.
"She said something was needed to help these horses find homes when they finished racing," said Wendy Muir, LongRun's executive administrator.
LongRun was created and obtained charitable status in 2000. "There were a few very lean years where it was a struggle to keep going," Muir admitted. That's when they introduced the Gala.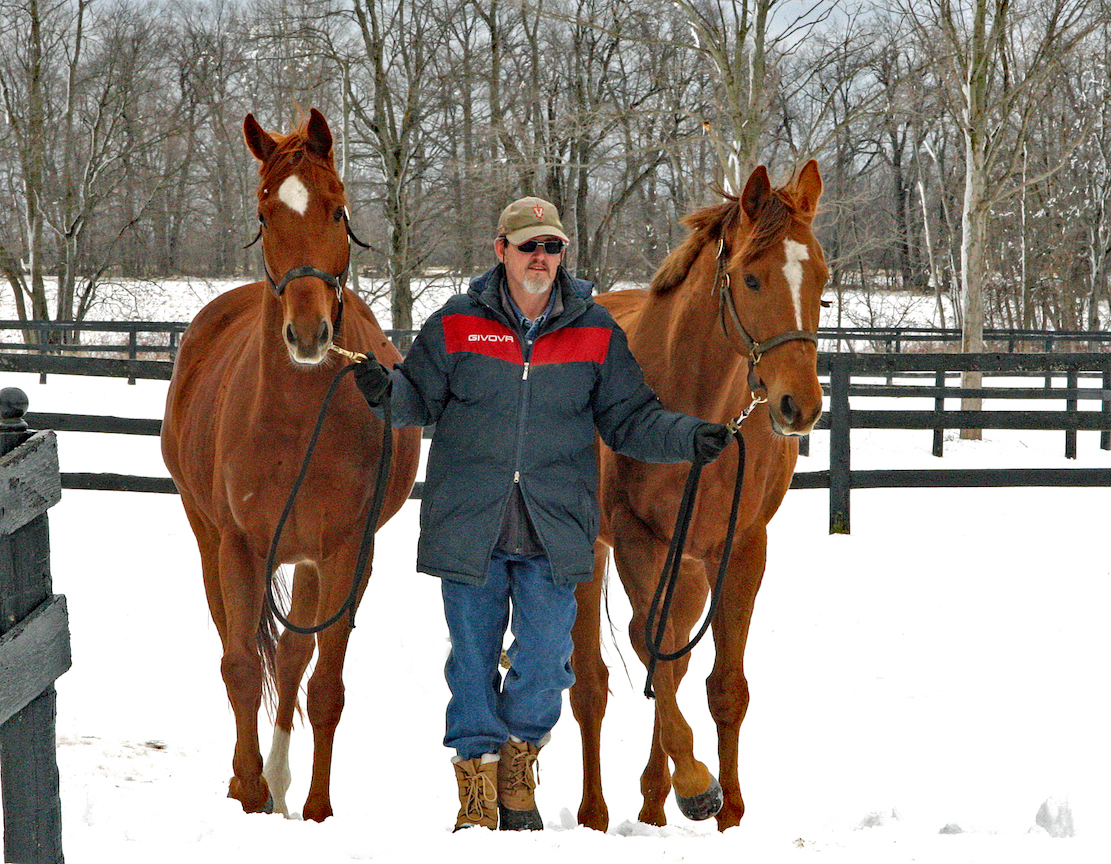 The annual fundraising Gala draws attention from fans and horsemen alike, with many of Canadian racing's big names attending each year. "That got everybody interested in us," Muir said. "It really got our name out there and raised the money we needed." They have since hosted a Gala almost every fall, typically in conjunction with a silent auction.
The next hurdle that presented itself was the far-flung nature of trying to place former racehorses in foster homes all around the greater Toronto area. With no singular farm to keep all the horses, LongRun relied on open stalls at various facilities that could be hours apart. "It was a pain in the neck, both for control and also for someone wanting to adopt," Muir said. "You could go visit the horses, but there was one over here and one over there. That planted the seed for getting our own facility, and we started to save money for that."
It would have taken LongRun's board of directors years to save all the money on their own but for a sizeable bequest from Lana Hershelle Sniderman, the niece of Sam Sniderman, of Sam the Record Man – an iconic music chain – fame. The younger Sniderman, who died in 2012, was a keen racing fan and her donation, combined with LongRun's own finances and the support of area horsemen, led to the purchase of a 100-acre farm in Hillsburgh, Ontario. It came in excellent condition, complete with two barns, 46 stalls, and 16 paddocks.
"Through that generosity we managed to scrape the money together and buy it outright," Muir said. The majority of the horses moved there in September 2016. The farm now plays host to a small army of volunteers and visitors.
Once the former racehorses are rehabilitated and retrained, most are available for adoption, but Muir estimates that nearly half are, "sanctuary horses". "They came to us and were given time to heal their wounds, but either due to physical or mental issues they couldn't go on. We aren't about to just toss them away," she said.
Some permanent residents aren't meant for second careers simply because they gave so much in their first ones. The farm was the longtime home of Queen's Plate winner Big Red Mike, and still plays host to millionaire Something Extra and multiple Graded stakes winning sprinter Stacked Deck. Other stakes winning residents have included Sovereign Award winner Fifty Proof and Main Executive. All of them were based at nearby Woodbine Racetrack.
Big Red Mike was probably LongRun's best-known resident, at least locally. He earned over $850,000 on the track, winning the Plate Trial before the Queen's Plate in 2010. Muir and Pappas searched for the perfect home for the popular red gelding and finally placed him in the spring of 2019.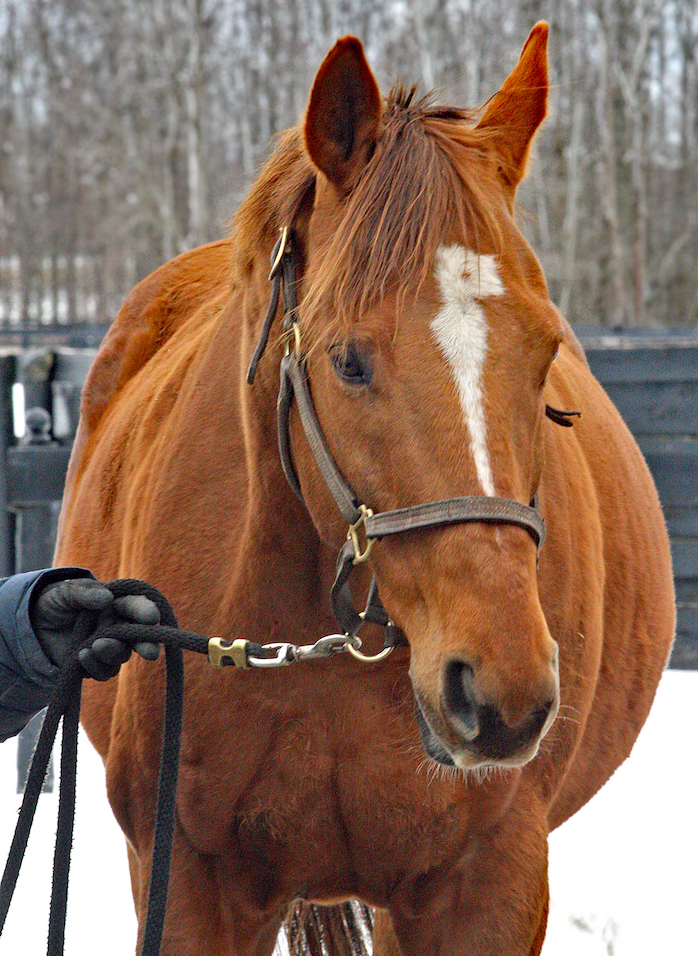 "We waited until we found someone who would not only be good for him but knew how special he was," Muir said. Big Red Mike went home to Emma Pote, who wants to do dressage with him. "He had to go to someone who would appreciate him and wanted to keep him for the rest of his life. But if anything happens, he will come back to us. He has a lifetime home with us."
Something Extra was a multiple Graded stakes winner of over $1 million, winning at Woodbine and Keeneland and placing at Belmont Park and Gulfstream. He ran in the Breeders' Cup Turf Sprint at Santa Anita in 2014. Stacked Deck was wickedly quick on the track and the Sovereign Award Champion Sprinter of 2015.
"The horses absolutely love the attention of people fawning over them," Muir said.
Although the farm isn't currently equipped to handle a mass of tourists, it is looking that way for the future. "We don't have the staff to handle it right now, but we're thinking down the line," Muir said. "We are happy to show the horses off by appointment, and we have a few open houses over the course of the year."
A newer fundraiser is the Ladies Lunch, which takes place at Woodbine in June. Not only are refreshments provided, but there are mini manicure stations and fashion shows. "It's a smaller fundraiser but still a fun afternoon," Muir said.
Despite the fundraisers, expenditures stack up rapidly. "Feed is our number one expense," Muir said. "Our vet bills actually aren't outrageous, because we have a vet who donates time to do our vaccinations, and a pharmaceutical company provides the medications we use. It's the feed, the hay, and the bedding. But there are very generous people out there who want to help out."
Recently, those generous people included the University of Guelph veterinary students and eight voluntary veterinarians, who came together to provide dental work for the farm. "They were working on Something Extra, and I warned them to be careful. That's a million-dollar mouth," Muir joked. "It helped us out immensely."
Potential adopters can fill out an application online and an adoption manager will contact them about horses that could fit. "If we have something that might work, we invite them to the farm," Muir said. "They have to sign a waiver, but they can walk, trot and canter the horse to get a feel." Few aftercare agencies actually allow adopters to ride the horses on their premises, which is another reason LongRun stands out.
"We do check references and inspect the farm where the horse will be living," Muir added. "It doesn't have to be fancy, just a safe, healthy place for the horse. And we have something for everyone; some people want a quiet horse to hack around on, some are looking for next Olympic eventer. With 51 on the property and another eight still on foster farms, we usually have the right fit."
If adoption is too big an ask, LongRun always accepts sponsorships. "People can sponsor a horse for a day, month or year," Muir said. "It's best to sponsor a sanctuary horse because the others are always coming and going. Every penny helps out."
Sponsors of $2,500 or more get a special plaque placed over the horse's stall. "We send our sponsors photos and updates," Muir said. "And they can always come visit the horse."