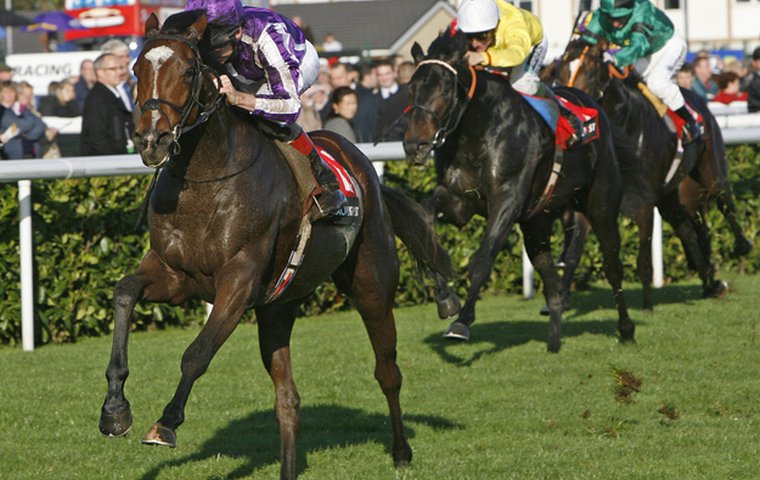 It's probably as good as it's going to get now - barring one possible enhancement (more of which later). Indeed, you could even make a case that QIPCO British Champions Day last Saturday was the best edition yet in its brief five-year history.

It's taken three years, but the showcase afternoon designed to bring the British flat season to a glorious climax has at last learned to live without Frankel.
The Great One gave the event a level of high-octane fanfare when it was launched in 2011 that wouldn't have been on the radar in the British Horseracing Authority offices at drawing-board stage. And he was back at Ascot again - bigger, better and the subject of considerably more public adulation - for an emotional farewell performance in Year 2.
The chief worry about the concept of Champions Day was the timing. Being squashed between Arc Weekend and the Breeders' Cup is part of the issue, but the darkest cloud, possibly ultimately the deal-breaker, was always going to be the state of the ground year-in, year-out in Berkshire in the second half of October. A decent, quickish surface is invariably a non-negotiable starting point if you want the important horses to turn up.
Without Frankel to act as a distraction, would the event stand up to close scrutiny in Year 3 and beyond?
That third renewal (2013), menaced by soft going, was a close call, but - thanks largely to a battle royal in the the biggest race, the Champion Stakes, between top-flighters Farhh, Cirrus Des Aigles and Ruler Of The World - the aura just about held.
The big operations want Champions Day to succeed
The ground was even worse 12 months later, but the raw, tear-streaked emotion of Noble Mission's barely credible refusal to yield in the face of the remorseless challenge of Al Kazeem brought a fresh entry to the pages of racing legend. It was race-of-the-century stuff in its own right, even without the implausible, lump-in-the-throat coincidences towering over the result: Noble Mission was Frankel's full brother; he was trained by the widow of Frankel's much-loved trainer, Sir Henry Cecil; he had been striving seemingly in vain for four seasons for recognition as a true star in his own right; he finally achieved it in his final outing - bowing out in the same race that had provided his brother's victorious sign-off two years earlier.
It didn't matter what else happened that afternoon - and, in truth, a lot of the best horses (Australia, for instance) didn't show because of the semi-bog underfoot - Champions Day 2014 had delivered an occasion no-one in British racing would forget. And a mighty PR triumph.
Champions Day has one huge factor working its favour: the big operations are right behind it. The Coolmores, the Godolphins, the Shadwells, the Juddmontes, the Qataris - they want it to succeed.
No finer illustration of that has there been than the appearance on Saturday of Gleneagles. Aidan O'Brien has been meticulous in avoiding less than ideal going for Europe's outstanding 3-year-old miler - so much so that the horse hasn't been seen since Royal Ascot in June - and he admitted afterwards that he made a mistake in letting the dual Guineas winner take his chance on the slow ground in the Queen Elizabeth II Stakes (he finished an uninspired sixth, about two and a half lengths behind winner Solow).
The Galileo colt ran because Coolmore/Ballydoyle wanted to support Champions Day. And, let's face it, the run will have done him no harm whatsoever as O'Brien prepares him for a likely shot at his ultimate target, the race his uncle (Giant's Causeway) so nearly captured 15 years ago - the Breeders' Cup Classic.
Treat disappointing TV figures as a one-off
Gleneagles may have disappointed, but the dangled bait of his head-to-head with French superstar Solow helped pull in an impressive 30,967 crowd (the best since Frankel's farewell).
The TV viewing figures were down, but you can treat that as a one-off. Really it was an inevitable consequence of starting the card an hour earlier to avoid clashing with the Rugby World Cup semi-finals later in the afternoon. British viewers are creatures of habit. They don't expect a big meeting like Champions Day to be halfway over before they've had their lunch.
Of course, the authorities were on a hiding to nothing on this - if they'd left the start time alone, they would surely have lost even more viewers once the rugby kicked off.
Where this year's Champions Day really came of age was in the consistent, superior quality right across the card. All four Group 1s had that little bit extra, that slight edge that made you think you were seeing something significant rather than an end-of-season get-together where it didn't really matter long term which runner finished where.
The British Champions Fillies and Mares Stakes properly announced St Leger heroine Simple Verse as a major force, and certainly as the outstanding staying 3-year-old filly in Europe; Solow confirmed himself as the champion miler (and possibly Europe's Wise Dan - get ready to see this peerless, uncomplicated gelding stretching his nine-race unbeaten sequence far into the future); the Champion Stakes produced another thriller, and another Dermot Weld conjuring trick as Fascinating Rock, a horse he has been quietly nurturing all year while all the focus has been on stablemate Free Eagle, suddenly appeared from up his trainer's sleeve to whisk away the day's most important prize from under the noses of Aidan O'Brien and John Gosden.
The horse who stole the show
But the star of the show, Saturday's Mr Spectacular, was Muhaarar. And you don't often have reason to heap that kind of praise on a sprinter in Britain.
The British Champions Sprint Stakes was his fourth G1 on the bounce, and he retires now to owner Hamdan Al Maktoum's Nunnery Stud near Newmarket as the best European sprinter for years. The way his career has evolved is also stunning and immediate justification for the revamp that took place this season to the British sprinting program for 3-year-olds, centred around the new Commonwealth Cup at Royal Ascot in June. The son of Oasis Dream took that Group 1 on his return to six furlongs after failing to cut the mustard as a miler in the French Guineas a month earlier.
So that's that then? Britain has crowned its champion jockey (Silvestre de Sousa), its champion owner (Godolphin) and the last of its significant races has been run. Right?
Well not quite.
There's the not-so-small matter of the G1 Racing Post Trophy at Doncaster this Saturday (Oct. 24). We may have wrapped up the flat turf season and celebrated the best of the best via Champions Day and its little brother, Future Champions Day, at Newmarket a week earlier, but it's not actually all over. The Racing Post Trophy, won in the past by future champions of the stature of Noblesse, Vaguely Noble, Reference Point, Celtic Swing, High Chaparral, Motivator, St Nicholas Abbey and Camelot, has been left out in the cold.
The one-mile test for 2-year-olds, the final Group 1 of the year in Britain and Ireland, normally identifies the winter favourite for the Epsom Derby. Indeed, its record as a nursery for future classic winners is at least as impressive as that of the Dewhurst Stakes, centrepiece of Future Champions Day and the race traditionally heralded as Europe's most significant juvenile contest.
In fact, as illustrated by the tables below of the records of recent winners of the two races, the Racing Post Trophy has produced eight classic winners since 2000, against seven for the Dewhurst. Evidence surely of the incongruity of not inviting it to the party.
DEWHURST STAKES
| | | |
| --- | --- | --- |
| Year | Winner | Most notable subsequent performances |
| 2014 | Belardo | 2nd Queen Elizabeth II Stakes (G1) |
| 2013 | War Command | 4th St James's Palace Stakes (G1) |
| 2012 | Dawn Approach | won 2,000 Guineas (G1), won St James's Palace Stakes |
| 2011 | Parish Hall | won G3s at Dundalk and the Curragh |
| 2010 | Frankel | won 9 G1s, including 2,000 Guineas, St James's Palace, Sussex (twice), Queen Elizabeth II, Lockinge, Queen Anne, Juddmonte International and Champion Stakes |
| 2009 | Beethoven | won Leopardstown G3 |
| 2008 | Intense Focus | 2nd Leopardstown G3 |
| 2007 | New Approach | won Epsom Derby, Irish Champion Stakes, Champion Stakes |
| 2006 | Teofilo | did not run again |
| 2005 | Sir Percy | won Epsom Derby |
| 2004 | Shamardal | won French 2,000 Guineas, French Derby, St James's Palace Stakes |
| 2003 | Milk It Mick | won Frank E Kilroe Mile Handicap (G1, Santa Anita) |
| 2002 | Tout Seul | 3rd Irish 2,000 Guineas |
| 2001 | Rock Of Gibraltar | won 5 G1s, including 2,000 Guineas, Irish 2,000 Guineas, St James's Palace, Sussex, Prix du Moulin |
| 2000 | Tobougg | 3rd Epsom Derby, 2nd Champion Stakes |
RACING POST TROPHY
| | | |
| --- | --- | --- |
| Year | Winner | Most notable subsequent performances |
| 2014 | Elm Park | 3rd Dante (G2), won Sandown Listed race |
| 2013 | Kingston Hill | 2nd Epsom Derby (G1), won St Leger (G1), 4th Arc (G1) |
| 2012 | Kingsbarns | 3rd Queen Elizabeth II Stakes (G1) |
| 2011 | Camelot | won 2,000 Guineas, Epsom Derby, Irish Derby (all G1) |
| 2010 | Casamento | won Longchamp G3 |
| 2009 | St Nicholas Abbey | won Breeders' Cup Turf (G1), Dubai Sheema Classic (G1), Coronation Cup (G1) 3 times |
| 2008 | Crowded House | 6th Epsom Derby, 2nd Pacific Classic (G1) |
| 2007 | Ibn Khaldun | 10th 2,000 Guineas |
| 2006 | Authorized | won Epsom Derby, won Juddmonte International (G1) |
| 2005 | Palace Episode | won Saratoga allowance race |
| 2004 | Motivator | won Epsom Derby |
| 2003 | American Post | won French 2,000 Guineas (G1) |
| 2002 | Brian Boru | won St Leger |
| 2001 | High Chaparral | won Epsom Derby, Irish Derby, Breeders' Cup Turf (twice), Irish Champion Stakes (G1) |
| 2000 | Dilshaan | won Dante |
The Racing Post Trophy would fit quite snugly into one or other of the two big days, and the race planners have shown plenty of flexibility and appetite for experimentation over the past five years.
Of course the move might have happened already but for the slight inconvenience of Doncaster being run by ARC (Arena Racing Company) and the Racing Post Trophy being one of only two Group 1s at any of the company's 15 racecourses (the other is the St Leger, also at Doncaster). Clearly ARC would need a fair bit of persuading to let go of such a prize, and that is probably unlikely to happen anytime soon.
Until then, British racing is left with a packaging issue - and an untidy back-end. And that isn't helped by the trainers declaring their champion, not on Champions Day like the jockeys and the owners, but on November 7 (it will be John Gosden, by the way).
That sort of makes sense (November 7 is actually the final day of the flat turf season). Sort of.