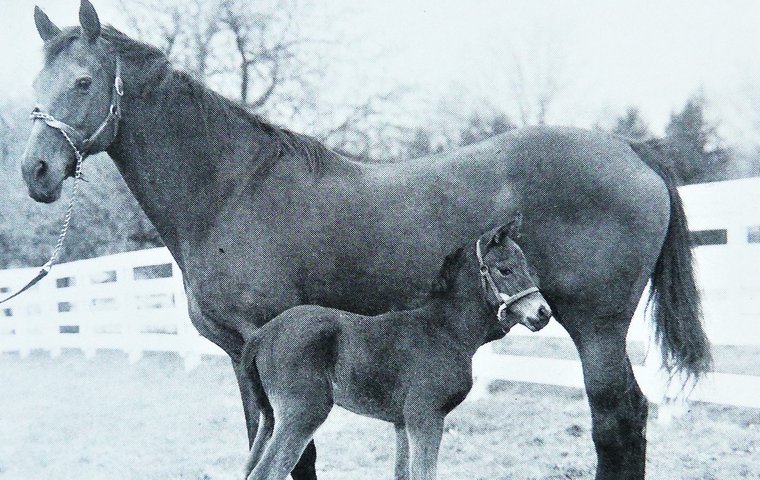 "She could be 'nowhere' leaving the backstretch and win with her long ears flopping." This was how esteemed turf writer Charles Hatton described Bowl Of Flowers, a dual champion daughter of a noteworthy producer whose name is still prominent in pedigrees today - as well as a Grade 1 race at Belmont Park this weekend.

Flower Bowl was that grand mare, and she is celebrated every year when the G1 Flower Bowl Invitational for fillies and mares is run over a mile and a quarter on the turf. This Sunday's renewal is a 'Win and You're In' qualifier for the Breeders' Cup Maker's Mark Filly & Mare Turf at Churchill Downs on November 3.
Flower Bowl was by Alibhai, sire of 54 stakes winners, including 1954 Kentucky Derby winner Determine (himself the sire of 1962 Derby winner Decidedly), and Your Host, sire of the great Kelso. Alibhai's sire was 1933 Epsom Derby winner Hyperion.
Flower Bowl's dam was Flower Bed, a winner of four of her nine starts. In a strange familial twist, Flower Bed's dam, Boudoir II, was the dam of Your Host. Flower Bed was also the dam of Multiflora, who produced two-time champion and Hall of Fame filly Gallant Bloom.
'Exceptional stamina'
In August of 1949, 3-year-old Flower Bed was sold at Saratoga to Isabel Dodge Sloane's Brookmeade Stable for $15,500. Mrs Dodge Sloane's father was a co-founder of the Dodge Brothers Motor Company. She won the Kentucky Derby with Cavalcade and the Preakness with High Quest in 1934, the year she became the first woman to lead the U.S. owners list. She repeated as leading owner in 1950.
The bay Flower Bowl, a foal of 1952, was Flower Bed's best offspring, but she was, to mine the floral reference, a late bloomer. Described as having 'exceptional stamina', she proved it by winning a pair of important distaff distance handicaps at four.
She raced only once at two, finishing unplaced at Belmont in October of 1954 for trainer Preston Burch. The son of Hall of Fame trainer William Burch, Preston would follow his father into the Hall of Fame, as later his son, Elliott, would follow him. William Preston Burch was elected in its inaugural year, 1955. Preston, who took over as head trainer for Brookmeade in 1943 and trained 1951 Preakness winner Bold, assumed his place in 1963.
Elliott Burch took over at Brookmeade when his father retired from training in 1957. He trained six champions and four members of the Hall of Fame, including Horses of the Year Sword Dancer (who won the 1959 Belmont for Brookmeade), Arts And Letters and Fort Marcy. After Mrs. Sloane's death in 1962 and the resulting dispersal of the Brookmeade stock, he went to train for Paul Mellon's Rokeby Stable and later for C.V. Whitney. He was inducted in 1980, two years after his death at age 93.
On her 3-year-old debut, Flower Bowl got up in the last stride to beat another good one in Rare Treat at Hialeah over six furlongs on January 17. She was given time off from April 27 to July 14 so missed the Coaching Club American Oaks. She was unplaced in both the Monmouth Oaks and the Alabama. Perhaps Burch intentionally raced her over her head at three, as her less than stellar efforts kept the weight off her as a 4-year-old.
She started that year running fourth at Hialeah over six furlongs in February, then was third against males over nine furlongs, beaten only a length. She was fourth again in the Black Helen Handicap on March 2, beaten less than a half-length, then second in the Suwanee River Handicap at Gulfstream over 8½ furlongs.
Record prize
She then ran in four overnight races at Jamaica, all over 8½ furlongs, winning the first and last of these against her own sex, and losing the middle two against males. After a second at Belmont over a mile, she ran unplaced in the Top Flight Handicap.
On June 30, she went to post against 13 others in the Delaware Handicap over a mile and a quarter. She passed the tiring leaders to win by two lengths, securing the first prize of $104,875, then a record for a distaff race.
She was fourth in the nine-furlong Diana (then run on the dirt) at Saratoga, third in an overnight handicap at Belmont over 8½ furlongs and unplaced in the Beldame over nine furlongs.
She then captured the mile-and-a-half Ladies Handicap at Belmont on October 12 by a length, with Bill Shoemaker in the saddle. With few distance races for fillies, she reverted back to nine furlongs and was unplaced in the Firenze at Jamaica and the Vineland at Garden State. She retired with seven wins from 30 starts and earnings of $174,625.
Star offspring
Flower Bowl was a decent enough racehorse, but she became a more notable producer. In 1963, she foaled a chestnut colt by the unbeaten Ribot. Named Graustark, he won a pair of stakes races – the Arch Ward at two and the Bahamas at three - before being injured in the Blue Grass and retired.
Graustark went on to sire multiple stakes winner Glowing Tribute, the dam of 1993 Kentucky Derby winner Sea Hero; Key To The Mint, champion 3-year-old colt of 1972; Proud Truth, winner of the 1985 Breeders' Cup Classic; Prove Out, who defeated Secretariat in the Woodward and Riva Ridge in the Jockey Club Gold Cup; and Tempest Queen, champion 3-year-old filly of 1978.
In 1968, Flower Bowl produced a full brother to Graustark named His Majesty. His five wins from 22 starts included the Everglades Stakes. His Majesty sired Pleasant Colony, 1981 Kentucky Derby winner and champion 3-year-old colt; multiple stakes winner Majesty's Prince; and stakes winner Andover Way, the dam of sire Dynaformer. His Majesty is also the broodmare sire of Preakness and Belmont winner Risen Star, by Secretariat.
Through His Majesty, Flower Bowl can be found in the pedigrees of top sires Danehill and his son Dansili.
Flower Bowl unfortunately died of foaling complications while giving birth to His Majesty.
The career of Bowl Of Flowers
Where her mother shone in the breeding shed, Bowl Of Flowers excelled on the racetrack. Her mother's highest earning offspring, Bowl Of Flowers was a product of Brookmeade on both sides of her pedigree.
She was from the first crop of her sire, Sailor, and was the first foal from her dam, both of whom were from the same Brookmeade crop. Sailor captured the Pimlico Special and the Roamer, Toboggan and Fall Highweight Handicaps at three, and the Gulfstream Park and John B. Campbell Handicaps at four.
A golden chestnut, like her sire, Bowl Of Flowers made her debut on May 13, 1960, in a five-furlong maiden at Aqueduct, finishing second to Shuette, a filly from Nashua's first crop. She broke her maiden over the same course and distance by three lengths on May 26. Coming from last place, she got up to beat Shuette by a nose in the filly division of the National Stallion Stakes at Belmont in a new track record of 1:04⅕ for 5½ furlongs on June 20, bettering by ⅕ the previous record, set in 1923.
She was off until running second in a six-furlong Belmont allowance on September 29, then followed that with a five-length win on October 7 going seven furlongs at Belmont. She went to New Jersey and prepped for the Gardenia by winning wire to wire by 3½ lengths over a mile at Garden State on October 15. A week later, she took the Gardenia by a length and a half after having been checked shortly after the start in front of a crowd of 35,391. Bill Shoemaker was aboard, though her rider for most of her races was Hall of Famer Eddie Arcaro.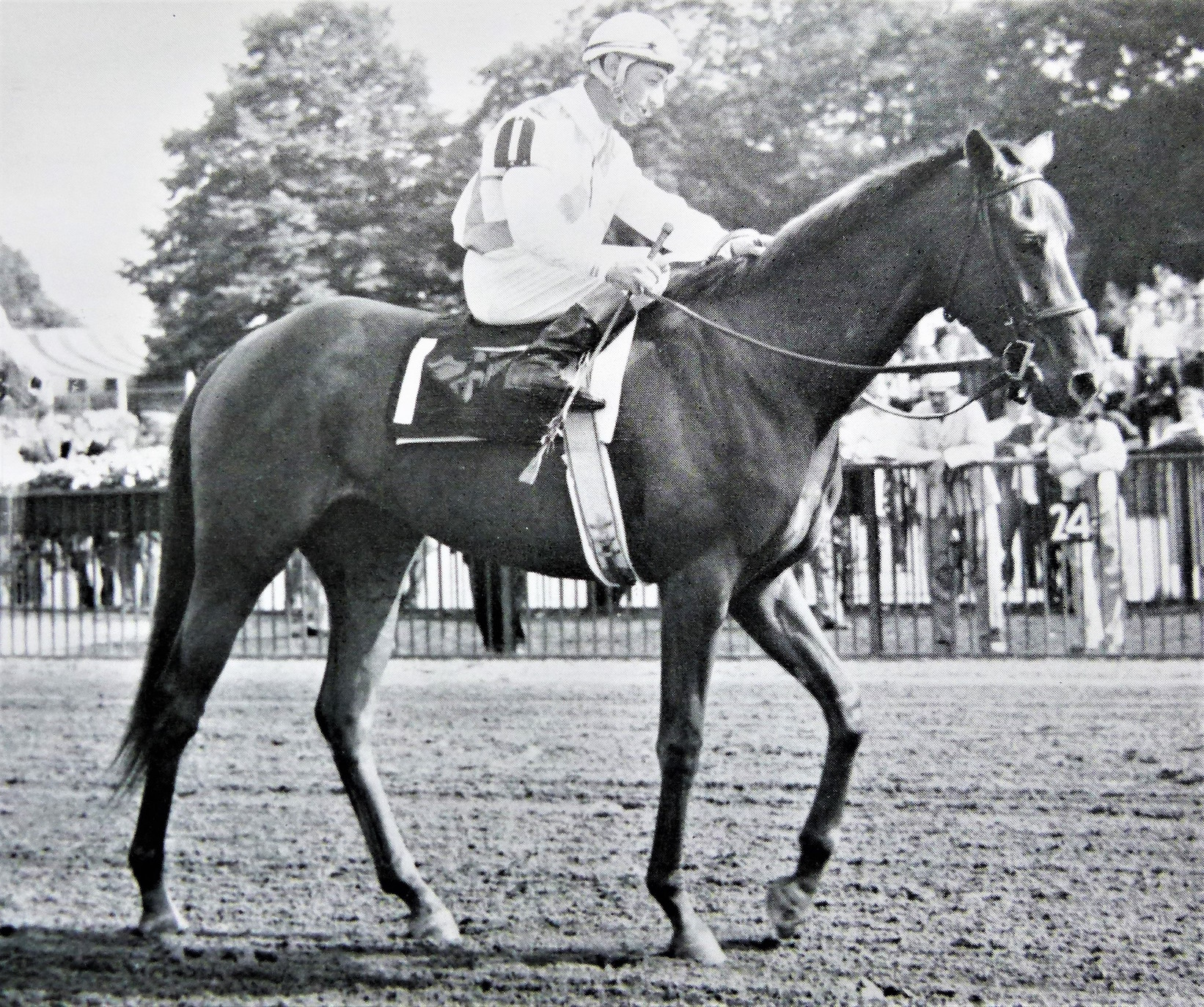 A three-length win in the November 12 Frizette at Aqueduct over a mile secured for her the champion juvenile filly title. Burch had intended to run her in the Pimlico Futurity against colts but she developed an ankle issue and was finished for the season.
In her 1961 debut, she was 'easily best', as described in the Daily Racing Form chart, in a seven-furlong handicap against males at Aqueduct, winning by two. It was her first of two starts against the boys.
Next up was the one-mile Acorn, the first race in the newly created Filly Triple Crown, at Aqueduct on May 20. She won by three-quarters of a length. She was a fast closing second, beaten only a head by Funloving, in the middle leg, the Mother Goose over nine furlongs at Belmont on June 10. In the June 24 Coaching Club American Oaks, she showed some of the same liking for an extended trip as her mother had done, scoring by 5½ over the mile and a quarter. Had she swept the series, she would have earned a $25,000 bonus.
Given a break, she was back for the Alabama at Saratoga on August 5, where she was third to Primonetta. A daughter of Swaps, Primonetta was a full sister to 1963 Kentucky Derby and Belmont winner and champion 3-year-old Chateaugay. Primonetta would be named champion older female in 1962 and Broodmare of the Year in 1978.
Observers noted that Bowl Of Flowers didn't look herself after her exertions in the Alabama, and she wasn't seen out again until September 26, when she was third in 8½-furlong allowance in her first start against her elders.
A sloppy track at Keeneland was no hindrance to her annexing the Spinster over nine furlongs by three-quarters of a length over Primonetta. Her trainer, Elliott Burch, was quoted as saying, "It was her best race. She just would not be beaten that day."
His father, Preston, was there for the race. Elliott said: "It was only the second time my father has seen Bowl Of Flowers run. The first was in the Alabama, when she was third to Primonetta, and I was afraid he was a jinx, but Mrs Sloane insisted that he come up" - from her Upperville, Virginia farm, where he was manager.
Preston was quick to give credit to his son, while adding: "I bought her granddam, Flower Bed, for Mrs. Sloane, and it makes me happy to see the good ones breed on." He noted that there was another mare he had wanted at that Saratoga sale, "but I didn't get her. That was Miss Disco." She would become the dam of Bold Ruler, sire of Secretariat.
Mrs. Sloane sold Flower Bed privately to King Ranch in 1953, a year after Flower Bowl was foaled. Flower Bowl was sold privately to Darby Dan Farm in 1959.
Retirement after injury
Bowl Of Flowers' final career start, her second against males, was the November 11 Roamer Handicap at Aqueduct over 9½ furlongs. She was third. Two noses separated the first three. The winner was Sherluck, that year's Belmont winner, and second was Hitting Away, with wins in such stakes as the Dwyer and Withers on his resume. She garnered champion 3-year-old filly honors.
She was retired due to a fractured sesamoid incurred on January 5, 1962, during a workout at Hialeah, where she was being trained for a 4-year-old campaign, intended to commence with the $100,000 Widener Handicap at Hialeah against colts. She notched ten wins from 16 starts and earnings of $398,504.
Bowl Of Flowers produced stakes winners Spruce Bouquet and Whiskey Road. The latter, by Nijinsky, was in turn the sire of Strawberry Road, a multiple stakes winner in Australia and the sire of back-to-back champion fillies Ajina and Escena, along with 1992 Breeders' Cup Turf winner Fraise.
The inaugural running of the G1 Flower Bowl Invitational in 1978 was won by Waya. Subsequent winners include Just A Game in 1980 and Soaring Softly in 1999, both en route to champion turf female honors. Kazzia won in 2002 after taking the 1000 and Oaks in England for Godolphin, Riskaverse won twice, in 2004 and 05, and Lady Eli won in 2016, following up as champion turf female in 2017.
Bowl Of Flowers had to wait to take her place in the Hall of Fame, being inducted in 2004.
Sources
American Race Horses, 1956, Joe A. Estes, American Thoroughbred Breeders Association, 1957
American Race Horses, 1960, Ibid., 1961
American Race Horses, 1961, Thoroughbred Owners and Breeders Association, 1962
American Racing Manual, 1961, 1962, 1993
Belmont Park, A Century of Champions, Edward L. Bowen, Blood-Horse Publications, 2005
Champions, The Lives, Times and Past Performances of America's Greatest Thoroughbreds, DRF Press, 2005
Masters of the Turf, Ten Trainers Who Dominated Horse Racing's Golden Age, Edward L. Bowen, Blood-Horse Publications, 2007
Matriarchs, Great Mares of the 20th Century, Edward L. Bowen, Blood-Horse Publications, 1999
National Museum of Racing and Hall of Fame website: racingmuseum.org
The Blood-Horse: July 2, 1960, October 28, 1961 & November 18, 1961
The Sporting Life, Joe Hirsch columns, May 27, 1961 & January 16, 1962