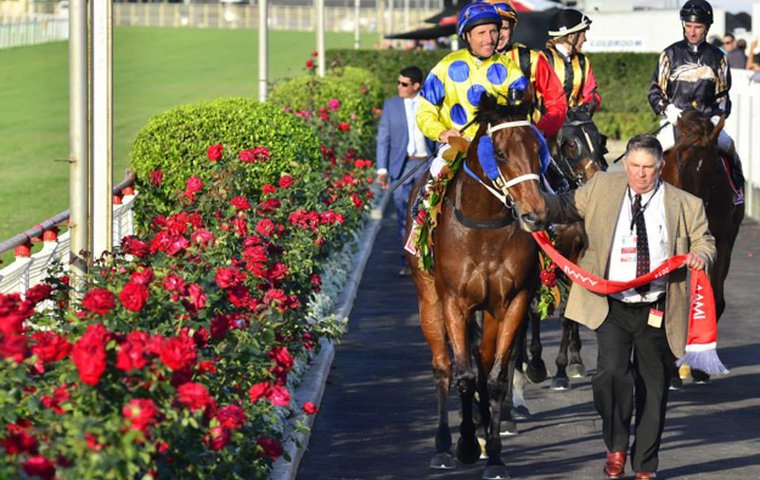 After years of dying on the vine, Queensland racing is catching up to its southern cousins in Australia with a AUD$4.5 billion injection. Nathan Exelby looks at the politics that brought the state's industry to a virtual halt, and the new arrangements put in place to move Queensland racing along again.

When it comes to Australian racing, Queensland has always been the poorer cousin to Victoria and New South Wales. At a little over 60 percent of the New South Wales population, and lacking an international showpiece like Victoria's Melbourne Cup, it has been a natural pecking order for the "sunshine state." With prize money remaining static for the best part of a decade, a growing number of owners had been spending their dollars south of the border, and local trainers and breeders had for years found it difficult to survive. A perfect illustration of Queensland's woes could be found by taking an historical glance at some of the state's biggest races.
The Stradbroke Handicap climbed to AUD$1 million in prize money in 1996. It stayed static at that point for the next 16 years. Worse still, the G1 Doomben Cup, which had superstars such as Rough Habit, Danewin, Juggler, and the great Might And Power win during the 1990s, had stayed on the same mark for the best part of 20 years. Over the past decade, the honour roll for that race has reflected the price-freeze.
However, in June 2014, a deal was struck after years of Queensland racing dying on the vine.
A $4.5 billion wagering agreement was struck between governing body Racing Queensland and wagering giant Tatts Group. It promised to deliver an extra AUD$850 million to the sport over 30 years. Metropolitan prize money was suddenly within the ballpark of Sydney and Melbourne, while feature prize money also received a long-overdue shot in the arm. The minor codes also profited handsomely. Greyhound owners were suddenly competing for 50 percent more money than before.
But what spurred such a radical injection into Queensland's racing industry?
Before 2012, the state of Queensland had been governed by the Labor Party and its Premiers Peter Beattie and Anna Bligh. A revolving door of racing ministers had come and gone, but all had had the same mantra of staying at arm's length from the state's racing authority. It had given Racing Queensland's long-time Chairman Bob Bentley absolute control over the sport in the state, and Bentley had ruled with an iron fist.
"I don't need two hands to count my friends," he said in 2010. "If you are popular, are you actually doing the job properly?"
Bentley was awarded a place in the Queensland Racing Hall of Fame by his own board in 2010, and he was a divisive figure, fiercely defensive of the way he governed racing. However, in 2012, after 14 years in opposition, the Liberal Party under Campbell Newman ousted the Labor Party from Queensland government, and it put a broom through the state's racing authority. Bentley and his entire board were shown the door as a new over-arching board was instated, along with three smaller boards for each of racing's codes – Thoroughbreds, trotters, and Greyhounds.
Bentley and his ousted board became the subject of the AUD$3 million Queensland Racing Commission of Inquiry in 2013. The commission investigated many things, but in particular the perceived conflict of interest held by Bentley, a Racing Queensland chairman who was also a director of Tatts Group at the time. (Tatts Group was the official wagering provider in Queensland racing). A large component of the inquiry focused on the failure of Bentley's board to follow up on the legal advice that Racing Queensland had a claim to AUD$91 million of deductions made to Tatts Group as part of the Race Fields Information Legislation that had been introduced in 2008.
Bentley claimed the Commission was a politically motivated witch-hunt. Nevertheless, it found that Bentley, as a shareholder and director of Tatts Group, was probably influenced by his conflict of interest, to the detriment of Racing Queensland. It referred him, and nine others, to Australia's corporate watchdog for not acting in the best interests of the Queensland racing industry. They may yet be prosecuted.
With Bentley gone, the state's racing future settled on new negotiations. As it stood, an arrangement between Racing Queensland and Tatts Group saw the industry receive AUD$120 million a year from wagering. Other betting corporations were courted in Queensland, but an exclusive retail arrangement with Tatts Group was seen as the only realistic chance of getting more money for the industry.
Queensland Racing and Tatts Group negotiated for more than 12 months. The state government provided a sweetener to Tatts with a drop in wagering taxes of between 6 and 10 percent on different bet types. In this environment, Tatts adopted a more hospitable approach to the racing industry. It also settled on a lawsuit that had been launched by Racing Queensland for the AUD$91 million in deductions. The final result, in June 2014, was the 30-year deal worth a staggering AUD$4.5 billion.
The new arrangement replicated a previous agreement of 39 percent of wagering revenue going to racing, but it had a number of additional bonuses that benefited the sport. They included a AUD$150-million license fee, with the racing industry receiving roughly $AUD97 million of that, the remainder going to government. Additionally, Tatts was to pay an annual AUD$15 million fee, while joint ventures between Tatts and Racing Queensland would start rolling out from late 2015. These were tipped to bring substantial eight-figure annual returns to Queensland racing.
Tatts Group's new chief executive, Robbie Cooke, has vowed to grow wagering by 7 percent annually. The company has committed to AUD$75 million in new marketing strategies, and will re-launch as UBET in 2015.
"There is some valid criticism [that we've neglected racing]," Cooke said. "We've been in a boxing ring with a hand tied behind our back, and now the shackles are off and we can come out swinging, and that's what this new deal facilitates."
Immediately, Saturday metropolitan prize money in Queensland lifted from AUD$45,000 to AUD$65,000, and most feature races were given much needed injections. The Stradbroke Handicap, Queensland's flagship race, went from AUD$1.35 million to AUD$2 million. In December 2014, Racing Queensland announced a seven-year joint venture with auction house Magic Millions to host Australia's first-ever AUD$10 million race day. Kicking off in January 2016, it will be the fifth-richest racing day in the world, with no fewer than seven individual races each worth AUD$1 million or more.
The success of the long-term deal will hinge on Tatts Group's ability to live up to its promise of an annual 7 percent growth, and to joint ventures promising multi million-dollar returns. For trainers and breeders, the industry is finally moving forward. For the first time in a long time, there is optimism among all Queensland's racing participants.