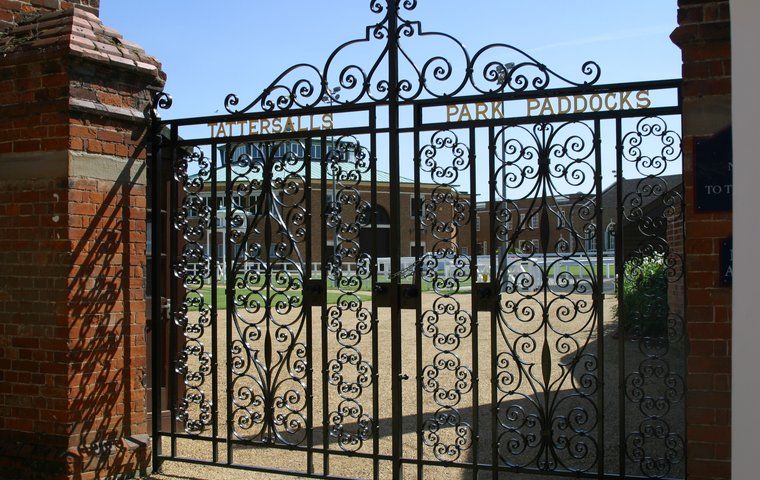 American buyers have been an increasingly welcome feature at recent European auctions, with a wide range of owners and buyers apparently keen to tap into outside bloodlines.

Take the past three renewals of the Tattersalls October Sale as an example; in 2014, celebrity chef Bobby Flay went to 1.125 million guineas for a Galileo half-sister to Pour Moi, while agents Alex Solis and Jason Litt of Solis/Litt made their first trip to the October Sale worthwhile by paying 700,000gns for a Dansili sister to Zoffany on behalf of LNJ Foxwoods. Justin Casse, Richard Santulli, Andrew Rosen, Marc Keller, Jon and Sarah Kelly and Shawn Dugan are other American-based buyers that have made their presence felt at Tattersalls in recent years.
This year, however, it's likely not to be just the power-packed catalogue that holds appeal for overseas buyers. Since Brexit took place in late June, there has been an unprecedented weakness of sterling, particularly against the U.S. dollar, to extent that £100,000 now equates to $130,000. This time last year, it would have taken a budget of $152,000 to buy that £100,000 yearling.
Brexit repercussions were indeed felt at the Tattersalls July Sale through strong last-minute interest from American buyers.
Americans planning to stick around
That week, the dollar was trading at $1.55 to the £1, and various Americans took advantage; Taylor Made Sales Agency paid 95,000gns for Brabble, a Bernardini half-sister to G1 winner Telling, and Justin Casse paid 90,000gns for the multiple-winning 3-year-old Blackout, to name just a few.
By its nature, Book 1 of the Tattersalls October Sale represents a whole different level of trade. But there is optimism that the exchange rate still has a valuable role to play in enhancing the appeal of the sale to overseas buyers. Book 1 will start its three-day run on October 4 and several American agents are also planning this year to stick around for Book 2, which runs from 10 - 12 October.
"Anybody buying in dollars has a significant discount to this time last year, so for American buyers with a global outlook the exchange rate has to be viewed as a positive," says Jimmy George, marketing director of Tattersalls.
"The same can be said for any American owner-breeders - there are some fillies catalogued from some of the best families in the book."
Unsurprisingly, Tattersalls have been working to highlight the potential value available to American buyers while on their recent travels.
Strength of the catalogue
"We're obviously very aware and are keen to advocate it," adds George. "It is hard to gauge, but the indications are that people are aware of the strength of dollar against the pound. Certainly some of the American buyers have spoken of it. There's also the strength of the catalogue to consider."
One American agent already booked to come over is Justin Casse. Casse has been a regular at all major European auctions in recent years, whether it be purchasing breeding stock, horses in training or yearlings to either race or resell in the U.S., and he is looking at working a catalogue that offers the promise of extra value.
"I'm not sure that the exchange rate would be the deciding factor into whether there is American participation at those sales, but it would definitely be the cherry on top so to speak," says Casse, who also plans to attend the Goffs Orby Sale (September 27-28).
However, he adds: "The global Thoroughbred market seems to be much smaller than ever before for reasons both good (global media) and bad (decrease in consumers). Because of that, people are witnessing success by racehorses outside of the countries that they are bred in and that in itself creates an interest abroad."
'The real value could come in Book 2'
Agents Alex Solis and Jason Litt are also set to make a return trip and have plans to work both Books 1 and 2. The pair bought one colt last year, having made their inaugural trip to Tattersalls in 2014 a noteworthy one through the 700,000gns purchase of the Dansili - Tyranny filly.
"The current exchange rate is an interesting point and might lure some people over," says Solis. "The real value could come in Book 2 - I can see it making a real difference to that market."
Of course, anyone looking to travel across the Atlantic in search of value needs an appealing catalogue to work with and, once again, Tattersalls have compiled a powerful group on paper.
Of the 551 yearlings catalogued over the three days of Book 1, 50 are the own- or half-siblings to many classic and/or G1 winners, among them Galileo Gold, Order Of St George, Alice Springs, Highland Reel, Jack Hobbs, Just The Judge and Lethal Force.
Perennial champion sire Galileo has 21 yearlings catalogued, as has Dubawi, the sire of last year's 2.1 million gns sale-topping filly. Frankel, who has made such a promising start with his first 2yos, has 17 representatives.
The catalogue also features a healthy smattering of American bloodlines with G1-producing sires such as Bernardini, Curlin, Giant's Causeway, Kitten's Joy, Medaglia d'Oro, Scat Daddy, Speightstown, Tapit and War Front among the American sires represented.
As in 2015, each lot is eligible for the Tattersalls October Book 1 bonus, in which sale graduates win an additional £25,000 should they win a class 2, 3, or 4 2yo maiden/novice race during the 2017 flat turf season.