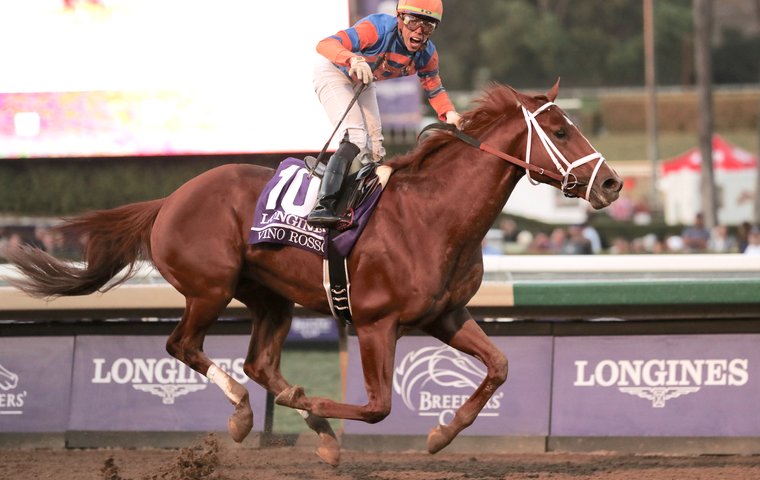 Spendthrift Farm is adding five stallions to its roster for 2020, and in doing so it is adhering to its game plan of introducing quality for breeders at all levels. It is a method that has served them well, as farm stallion Into Mischief is on the cusp of being named the leading general sire in North America for 2019.

"I love the fact that we have a variety of price points represented in the incoming class," said Ned Toffey, Spendthrift's general manager. "That's something that is important to us. We are trying to offer quality to breeders at all levels. Just because a horse's stud fee may not be as high as another horse's fee doesn't mean that he's not quality."
The proof is in the numbers for the historic farm, which B Wayne Hughes bought about 15 years ago. Although the year isn't complete, Into Mischief is the leading general sire by more than $2.5 million. He is also the world's fourth-highest-ranked dirt sire in the TRC Global Rankings. He was one of the first horses originally offered as part of Spendthrift's Share The Upside for breeders, and now he is one of the hottest sires around.
"He is a remarkable horse," Toffey said. "What he has done is a credit to our breeders and the support he has gotten. Without the support of the breeders, none of this happens. It's worked out well for them, it's worked out well for us, and it's worked well for just about everybody who supported him.
"One thing that we always try to keep in mind is that our two best stallions here, Into Mischief and Malibu Moon, made their own way. Into Mischief at one point stood for as low as $6,500, and Malibu Moon started his career at about $3,000. These are horses who embody the idea that inexpensive doesn't mean lack of quality. That quality was always there, it just took all of us a little time to figure it out."
Plenty of Upside
Several of the Spendthrift new stallions come in with resumes that breeders are already keen to reward. While Into Mischief will command $175,000 in 2020 and Malibu Moon will stand for $60,000, the farm's third-highest priced stallion will be multiple G1 winner Omaha Beach, who is scheduled to retire in January after several more starts. He is currently set to stand for $40,000.
By internationally renowned sire War Front, Omaha Beach is also from one of the most dominant female families in recent years. His granddam is Broodmare of the Year Take Charge Lady, meaning he is closely related to champions Take Charge Brandi and Will Take Charge, as well as G1 winner and successful stallion Take Charge Indy.
"This horse is such a complete package," said Toffey. "His pedigree is second to none, his looks are outstanding, he's got a great temperament, and he is just a class horse. It is so cliché and I hate to say it, but he really does tick all the boxes."
His victory in the G1 Arkansas Derby made Omaha Beach the favorite for the G1 Kentucky Derby before he was scratched due to an entrapped epiglottis. He returned in October to win the G1 Santa Anita Sprint Championship Stakes before running second in the G1 Breeders' Cup Dirt Mile.
"To win Grade 1s at six furlongs and nine furlongs in the same year shows how versatile and innately talented this horse is," said Toffey. "On Breeders' Cup day, he got a little farther off the pace than any of us would have liked to see. It wasn't really his style, but on the day he made up about as much ground as any horse did. Even with the hiccup in the Breeders' Cup, the demand for this horse has been overwhelming. The quality is evident. He is one who has really just sold himself."
Two other new stallions for Spendthrift ended their careers on high notes in the Breeders' Cup and also find themselves in demand. Breeders' Cup Classic winner Vino Rosso and Breeders' Cup Sprint winner Mitole will stand for $30,000 and $25,000, respectively.
As a 3-year-old, Vino Rosso won last year's G2 Wood Memorial. Then, he returned this year to finish first in three G1s - the Gold Cup at Santa Anita, the Jockey Club Gold Cup and the Breeders' Cup. By Curlin, he is out of the Street Cry mare Mythical Bride, who is a half-sister G1 Belmont Stakes runner-up Commissioner as well Breeders' Cup Sprint runner-up Laugh Track.
"I think every major stud farm would love to have a son of Curlin [who is #1 in the TRC dirt rankings] on the roster, and we did not have one," said Toffey. "This is a horse who is a beautiful animal. He obviously had a very strong year, and then to finish the way he did, to retire sound after clearly the best performance of his career in the Breeders' Cup Classic, we couldn't be more excited. He brings his pedigree, his looks, his race record, and his soundness, so breeders have responded very well."
Mitole also drew praise on Breeders' Cup day, adding the Sprint to his list of accomplishments and becoming the only male horse in America to win four G1s on dirt in 2019. His other G1 victories came in the Churchill Downs Stakes, Metropolitan Handicap, and Forego Stakes.
"With Mitole, the two words that jump to mind are brilliance and consistency," said Toffey. "To see a sprinter go out there time after time and outrun the fastest horses in the country, and then to stretch out in the Met Mile in what was arguably the toughest field assembled in 2019 and win, it couldn't really be more impressive. To beat McKinzie and Thunder Snow the way he did, I think that really gives him an added dimension.
"He is very correct and very athletic. I love the fact this horse was able to not just sprint but to win the best mile race in America. It says so much about him. It really has become one of our most important races in America from the stallion-making end of things. That's an awfully big feather in your cap."
Share the Upside
For the breeders looking for more budget-friendly freshman stallions, Spendthrift is also standing newcomers Maximus Mischief for $7,500 and Coal Front for $5,000 in 2020.
Both were included in the Share The Upside program — which results in a lifetime breeding right — that Spendthrift has made popular among breeders. That offer for Maximus Mischief, who arrived at the farm in September, has already sold out. Coal Front retired in November and is part of the program for $7,500.
"The breeders are ultimately what drives this, and we try to make things work for them," said Toffey. "We have tried very hard to offer our breeders value, whether it is simply in the pricing or in the form of a program like Share The Upside."
Maximus Mischief is Into Mischief's fastest 2-year-old ever, and he notched the biggest victory of his career in the 2018 G2 Remsen Stakes.
"Into Mischief is already starting to look like a sire of sires based on the early returns of Goldencents," said Toffey. "Maximus Mischief is a big, impressive son of Into Mischief, who was precocious and is a physically imposing, classy looking animal. There is so much inherent ability there that breeders were very quickly lining up on this horse. We are excited to see what he can do."
Coal Front, a five-time Graded stakes winner, had his biggest day in this year's G2 Godolphin Mile on the Dubai World Cup undercard. By Stay Thirsty, he is out of the out of the multiple stakes-producing Mineshaft mare Miner's Secret. Coal Front cost $575,000 as a 2-year-old and earned more than $1.8 million.
"He is just about as good a looking horse as they make," said Toffey. "He had all the ability in the world and circumstances just kept his resume from being quite what you would expect to see in a higher-priced horse, hence his price point. When you look at him, it's easy to envision taking a yearling that looks like him to market and being in a pretty good position.
"I think breeders love the value that Share The Upside represents, and that was an important factor for people with both of these horses. We've tried to offer people value at all levels. Even with Into Mischief, who is the leading sire in North America, we still believe he is priced in a way that offers people value. We have tried to do that across the board, top to bottom."