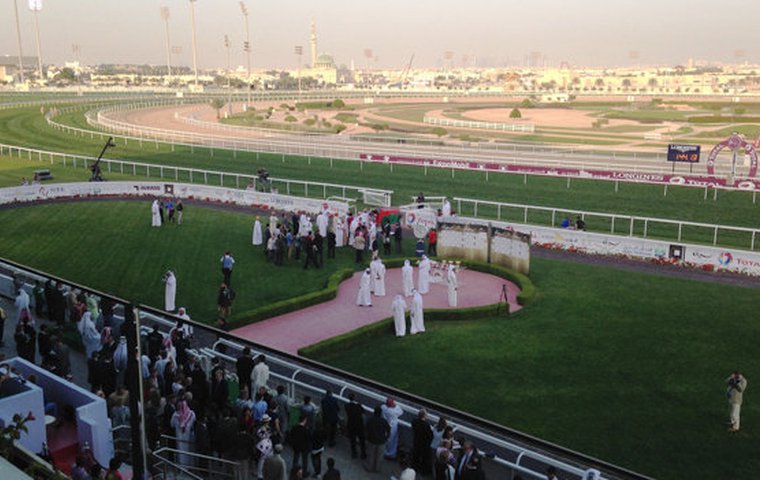 On the occasion of the 23rd annual International Equestrian Sword Festival in Qatar, Jen Roytz reviews Qatar's emerging prominence on the international racing stage.

With an economy bolstered by the world's third largest fossil fuel reserves and a square mileage that is less than half the size of Vermont, the Arab emirate of Qatar is the world's wealthiest country per capita. It is also a country with a passion for the horse, and for horse racing, and it is swiftly gaining a foothold in the global Thoroughbred arena.
Located in the capital city of Doha, the Qatar Racing and Equestrian Club (QREC) recently hosted their 23rd annual International Equestrian Sword Festival from Feb. 20-27. It was a celebration of the country's passion for the horse, with racing for both Arabians and Thoroughbreds at the facility's Al Rayyan racecourse amounting in 25 million Qatari Riyals ($6,828,250) in prize money, and an array of international pedigrees and personalities in attendance.
"The 23rd International Equestrian Sword Festival is a fabulous showcase for equestrianism in the Gulf region," said QREC Chairman HE Sheikh Mohammed Bin Faleh Al Thani at a press conference. "The festival provides us with the opportunity to welcome people from all over the world who share our passion for the equestrian sport, and we look forward to forging new relationships and renewing many friendships at what promises to be our most exciting event to date."
Qatar has been keen on strengthening its international reach while rapidly expanding the city of Doha in preparation for their accepted bid to host the FIFA World Cup in 2022. With their sponsorship of the Prix de l'Arc de Triomphe extending through 2022, and luxury sponsors such as Longines and Mercedes-Benz having a strong presence at the Qatar Racing and Equestrian Club and related festivities, the Arab emirate is definitely putting itself on racing's world stage.
That increase in relevance has been felt both on the global Thoroughbred racing scene and at public auction sites around the country. Just this past fall, Qatar's Sheikh Joaan al Thani's Treve won the Prix de l'Arc de Triomphe, and Olympic Glory took the Group 1 Queen Elizabeth II Stakes. At Fasig-Tipton and Keeneland's November sales, Sheikh Joaan's Al Shaqab Racing made a number of high-dollar auction purchases, including buying two-time Breeders' Cup Turf Sprint-winner Mizdirection for $2.7 million to build the foundation for a Thoroughbred broodmare band. Al Shaqab Racing also announced the appointment of Highclere Thoroughbred Racing Limited founder Harry Herbert as global racing advisor in November, and indicated that the operation would place several horses stateside with Todd Pletcher this year.
Herbert and the team behind Al Shaqab Racing reveled in taking top Thoroughbred honors on the final day of the festival when their newly-acquired colt Dubday extended his winning streak to three in taking the 1.14 million riyal ($313,192) H. H. the Emir's International Trophy. Piloted by Al Shaqab Racing's first-call rider Frankie Dettori, the four-year-old son of Dubawi scored a three-quarter length victory over his fourteen rivals in the mile-and-a-half turf test for leading Qatar-based trainer Jassim Ghazali. Out of the winning Daylami mare Dayrose, who is a half sister to the dam of multiple Group 1 winner and sire Notnowcato, Dubday now has a record of 8-4-1-1.
While Arabian racing is still of primary focus in Qatar and many of the other Arab states, with Qatar's notable push onto the premier Thoroughbred racing scene, there is no telling what the future will bring.