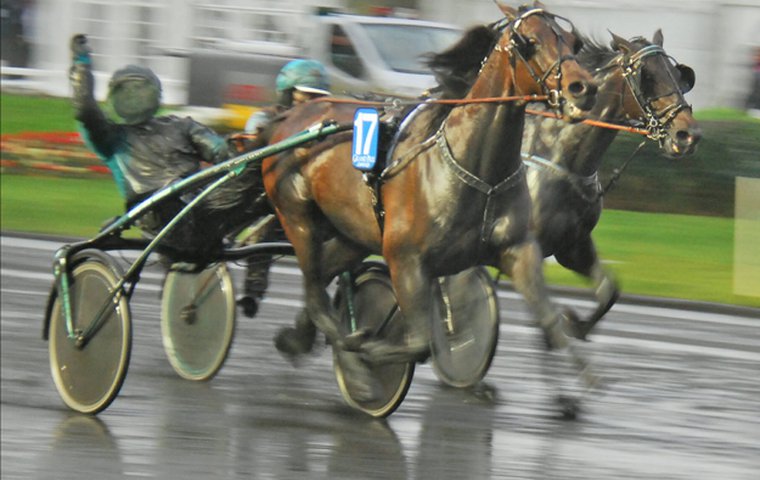 The numbers are quite staggering - €2 million ($2.7 million) race days, 30,000-plus crowds and a big race that brings thousands on an annual pilgrimage across Europe. Yes, trotting is big business in France, and several other European countries. John Gilmore, fresh from a day at the sport's equivalent of the Prix de l'Arc de Triomphe, explains what all the fuss is about.

While most racing fans around the world concentrate on the sleek, aristocratic Thoroughbred, the ordinary punter on much of mainland Europe prefers to wager on a different type of horse altogether - the high-stepping trotter, who pulls a driver in a lightweight two-wheeled single-seat sulky round the racetrack.
Betting revenue is the key to the prosperity of all horse racing, and trotting on mainland Europe is the most popular equine sport - accounting for 55 percent of total horse race betting turnover. From its humble beginnings, when Normandy stallions were crossbred with hunting stock, trotting has become an occasion that can attract 30,000 to an evening floodlit meeting.
The secret is its accessibility. Trotters, strengthened by judicious introduction of American bloodstock, can run to a greater age and more often than the fragile Thoroughbred. First running in two- or three-year-old races, their careers can last until they are 10. Thus the best become heroes to the betting public, who have more chance to get to know them. Races often take place on tight, all-weather round tracks - where those placing bets can see all the action all the time - and generally vary between 1,600 and 2,750 metres, although there are a few longer races.
From the latest European figures available, for 2012, France is far and away the leading trotting nation, with €239.2 million ($327.7 million) in prize-money (it was €118.3 million or $162 million on the flat) and 11,088 races run (against 4,878), at an average of €21,572 ($29,560) a race (against €24,253 or $33,233 for flat races).
Sweden is next with €83.24 million ($114 million) in prize-money (its flat horse racing total was €7.9m or $10.8 million) and 8,112 races (against just 668 flat races). France and Sweden have one thing in common - they both operate a successful lottery-type pool bet for a small stake. Even so, Sweden, with a population of approximately 9.6 million, has a remarkable return for racehorse funding.
France has 95 courses designated to trotting and 135 for flat racing. The top trotting venue is the 2,000-metre oval cinder track at Vincennes to the east of Paris. It holds 155 meetings every year and is the scene of Europe's most prestigious trotting race, the Prix d'Amerique, the Prix de l'Arc de Triomphe of trotting.
Run over 2,700 metres on the last Sunday in January, the Prix d'Amerique features the 18 leading European trotters. First run in 1920 and named as a tribute to American involvement in the First World War, it is watched by millions of TV viewers in Europe, North America, Asia, and Australasia.
The 2014 Group 1 Prix d'Amerique on Jan. 26 offered €1 million ($1.4 million) total prize-money, with €500,000 ($685,150) to the winner. The quality card also featured two Group 3 races and three at Group 2 level - for an overall prize-money allocation of €2.76 million ($3.78 million).
The race is a bit like the Grand National in England, with plenty of French people who don't normally bet placing a wager - usually in one of the café bars that litter the towns and cities. Total turnover on Prix d'Amerique day in 2014 was €38.6 million ($52.8 million). But not everyone coming to the Prix d'Amerique is interested in having a bet, even if they travel a long way - as teacher Morton Bjornestad does every year from Stavaneer in Norway.
"The Prix d'Amerique is the best trotting race in the world," he said. "The day's racing offers a great international atmosphere, everyone cheering on their favourites, with entertainment supplied before and between races from dancers and acts on the track. What more could you want?
"The four-day trip, including the flight and a hotel in Paris, cost me around €1,000 ($1,370), but it is well worth it. I first became interested in the game through a relation who had some trotters when I was ten years old."
It is estimated that 1,500 trotting fans made the trip from Norway and a further 5,000 from Sweden, with plenty of others from all round Europe, swelling the attendance to 33,508 despite rain throughout the afternoon.
The atmosphere was electric in the build-up to the big race itself, which featured nine-year-old Ready Cash and his driver Franck Nivard bidding for a hat-trick after winning in 2011 and 2012 and finishing a close second to another of the runners – nine-year-old Royal Dream, last year. The new kid on the block was six-year-old Up and Quick, who shared favouritism at 2.5-to-1 with Ready Cash. The great Swedish hope, Maharajah at odds of 8.7-to-1, was making his fourth attempt to win the race. He was a disappointing 12th last year. His best effort was second to Ready Cash in 2012.
In the race, Up And Quick and driver Jean-Michel Bazire led into the final straight, with Maharajah ominously tucked in behind. Driver Orian Kilhstrom asked Maharajah to quicken and the response was immediate, and he eased past Up And Quick to win a shade comfortably.
Mats Fransson, public relations manager of Svensk Travsport (the Swedish trotting association) said after the race, "Trotting is one of the biggest sports in Sweden and we have 33 tracks spread all over the country holding 900 race days a year. The tracks are not owned by private companies but by non–profit organisations, whose purpose is to organise races and promote interest in trotting and breeding in their regions." (Sweden stages flat racing at just four tracks).
Maharajah was stabled at the main French trotting training centre of Grosbois during the week prior to the Prix d'Amerique. The centre can house 1,500 trotters in 470 hectares (1,116 acres) of land, situated 20km (12.5 miles) south of Paris.
The main trotting breeding takes place in Normandy. In 2012, 11,536 trotting foals were born from 505 stallions throughout France. (On the flat, 4,823 foals were born from 374 stallions that year).
The Prix d'Amerique has seen some legendary performances: notably Ourasi and trainer-driver Jean René Gougon, who captured the race three years running (1986-88) but could only finish third the following year. The old warrior then came back to create history in 1990 – at the ripe old age of 10 – when he became the only trotter to ever win the race four times.
And then there was Varenne, winner in 2001-2 for a truly international team - Finnish trainer, Swiss lad, French breeder, and Italian driver and owners. Varenne amassed more than €6 million ($8.2 million) in his career and has since proved a top-class stallion. Not many flat racers could beat that.

The 2019 running of the Prix d'Amerique takes place at Vincennes on Sunday week (January 27).