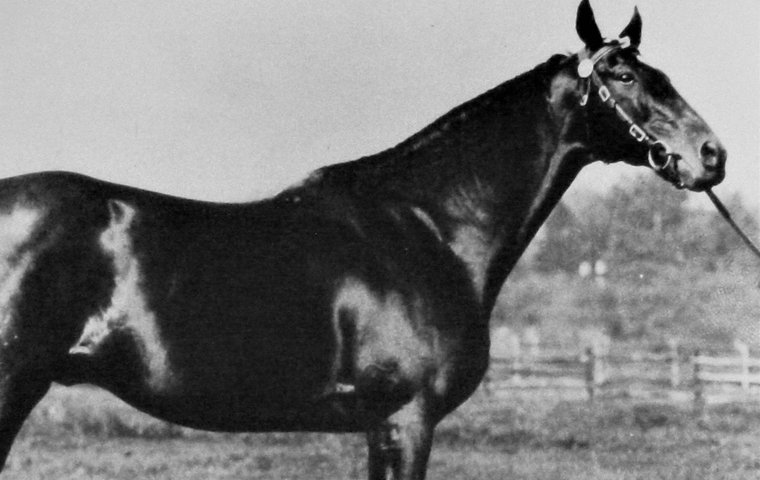 What connects America's newest Triple Crown winner with the New England state of Massachusetts?

The answer is the stallion Meddler, who crossed the Atlantic twice and outlived three of his four owners.
Meddler was bred in England in 1890 by George Alexander Baird, who rates an entire volume on his own. To say he was quite a character is stretching the limits of understatement.
Born on September 30, 1861, the son of a Scottish industrialist, his father died in 1870 leaving his only child his substantial inheritance. During his childhood, spent with an overly indulgent mother, this money was governed by trustees. In spite of attending Eton and Cambridge, he was ill-educated and impressionable and soon fell in with the wrong crowd.
One talent he did have was for race riding. He rode as an amateur under the assumed name of Mr Abington - because his trustees disapproved of his involvement with racing. He was warned off for two years after an incident at Four Oaks Park in Birmingham in 1882 for threatening to put another rider over the rail, without actually having done the deed. Word had it that the stewards likely had "grudges against him arising from his dalliance with their womenfolk".
Six months after he was warned off, he came of age for his inheritance – nearly £4 million – which he proceeded to spend, as one Scottish newspaper indelicately declared, "on horse racing, prize-fighting and harlotry".
Baird had been tutored in the art of jockeyship by the celebrated champion Fred Archer. He learned well, riding 61 winners in 1889, far more than all the other amateur riders combined. He won the Derby as an owner with Merry Hampton in 1887. Showing little regard for racing's authority figures, he caused a stir when he declined to lead his horse back into the winner's enclosure.
It was said that parties given by Baird at Bedford Lodge in Newmarket "bore more resemblance to a localized riot than any known form of social gathering".
Though prone to hard drinking and debauchery, he was generous to a fault and was attended by a retinue of unsavoury characters all too willing to take advantage of his largesse.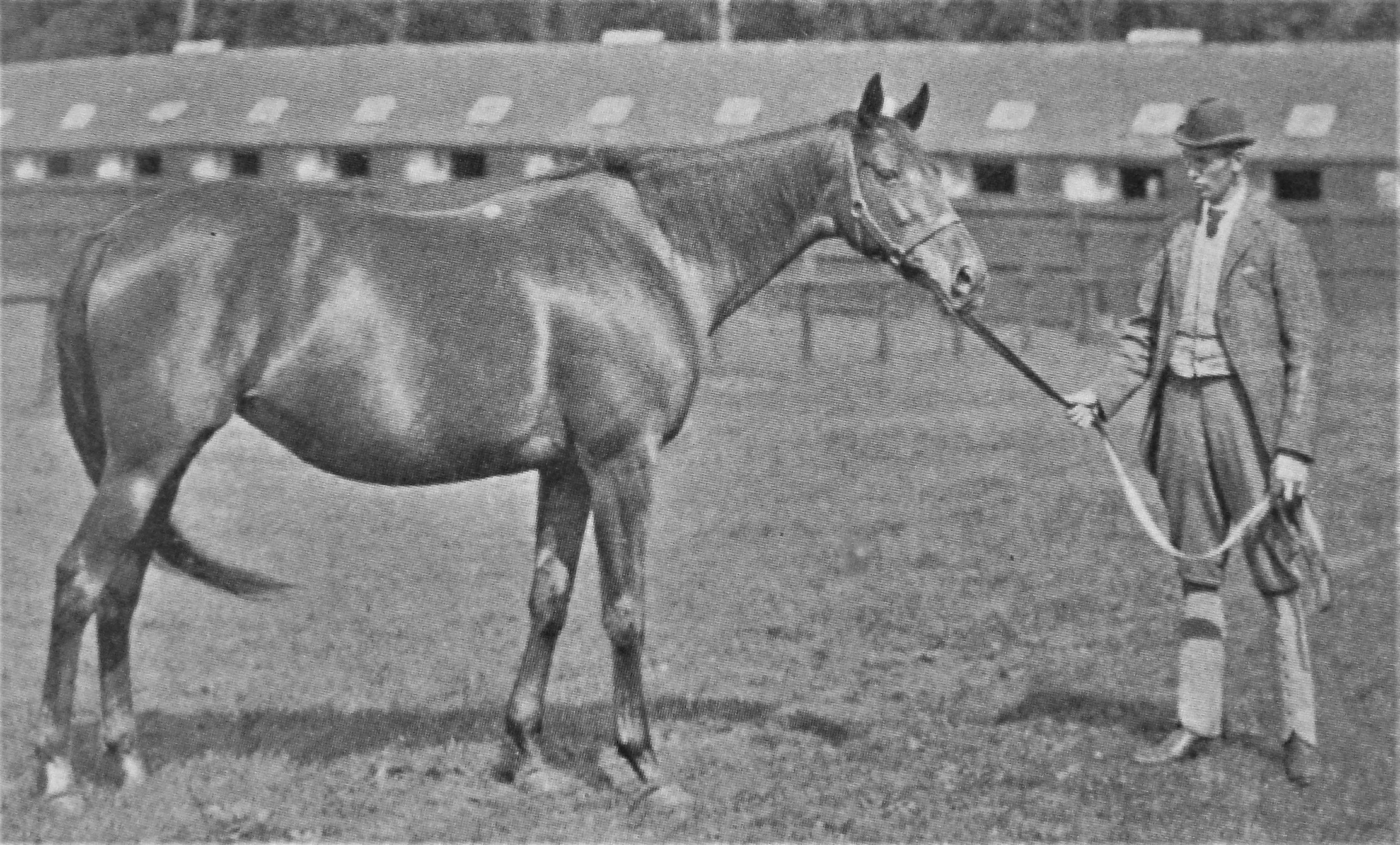 He had a dalliance with the actress Lillie Langtry, who had once been the mistress of the Prince of Wales. They met at Newmarket in 1891. He treated her abysmally, but she stayed with him, reportedly solely for his money and the gifts he would lavish on her.
On April 28, 1884, Baird bought a 3-year-old filly named Busybody for a sale-topping 8,800 guineas at the dispersal sale of the late Lord Falmouth's stock. Busybody was by Petrarch, winner of the 2000 Guineas and St Leger in 1876. Busybody's dam, Spinaway, won that year's 1000 Guineas and Oaks.
Busybody provided a quick return on Baird's investment. She was purchased on a Monday and that Friday won the 1000 Guineas. She went on to win the Oaks but broke down while being prepared for Royal Ascot and didn't race again.
Busybody's third foal, and first colt, was Meddler, sired by St Gatien, who dead-heated with Harvester in the Derby two days before Busybody won the Oaks.
The cleverly named Meddler made his debut on June 22, 1892, in the British Dominion Plate, restricted to horses bred and trained within the dominions of the crown, at five furlongs at Sandown. He won by three lengths, with jockey George Barrett riding.
In his next start on July 14 he took the Chesterfield Stakes at Newmarket by three lengths, with jockey Mornington 'Morny' Cannon on board.
Dewhurst his last run
On September 27, he won the seven-furlong Dewhurst by three-quarters of a length, with Cannon again in the irons.
It would be his last ever appearance on a racecourse. Baird had briefly made an attempt to mend his ways, but found himself lured into the world of prize-fighting. It was on a boxing-related trip to America that he became ill. Years of continued heavy drinking finally caught up with him and he died from pneumonia and malarial fever at age 31 at the St Charles Hotel in New Orleans on March 18, 1893.
Dashing his friends' hopes, in his will he left all of his money to his mother.
Under the rules in place at the time, the death of his owner meant that Meddler's entries in that year's classics were declared void. With Meddler ineligible to run, Isinglass, who had won all three of his starts as a 2-year-old, captured the Derby and went on to complete the Triple Crown.
Baird's entire stable, the star attraction of which was Meddler, was put up for sale at Tattersalls on June 26, 1893. A group of English owners and breeders had assembled a syndicate to raise the funds to keep Meddler from being sold abroad, but it wasn't enough. Meddler was sold for $76,000 to William Hathaway Forbes and was on his way across the Atlantic.
Forbes was a colourful character in his own right, but in an entirely different vein from Baird.
Expelled from Harvard
William H. Forbes was born on October 31, 1840. His father, John Murray Forbes, was a French-born railroad magnate. (The Forbes of magazine fame belong to another branch of the family.) He entered Harvard in 1857, was expelled in 1860 then was employed by the Chicago, Burlington and Quincy Railroad from 1860 to 1861.
After the outbreak of the Civil War, he served in the First Regiment of the Massachusetts Volunteer Cavalry as second lieutenant and then first lieutenant from December 1861 to January 1863, then in the Second Regiment of the Massachusetts Volunteer Cavalry as captain, major and lieutenant colonel from January 1863 to May 1865. He was captured by the Confederate Army on July 6, 1864 and was held as a Union prisoner of war in Charleston and Columbia, South Carolina, until December of that year and was honourably discharged from the Second Regiment of the Massachusetts Volunteer Cavalry on May 15, 1865.
He entered his father's Boston investment firm, J.M. Forbes & Co., in July of 1865. That October he married Edith Emerson, daughter of the poet Ralph Waldo Emerson. In 1871 he received an A.B. degree from Harvard by vote of the college's corporation and built a summer home on Naushon Island, off Cape Cod. In March of 1879, he was named president of American Bell Telephone Co., a position he held until 1887, after which he remained a director.
Forbes decided not to race Meddler and instead retired him to his Neponset Stud, in Readville, Massachusetts, a section of Boston. Readville was also home to the Readville Trotting Park, a well-known harness racing facility, from 1896 until the late 1920s.
After Forbes died on October 11, 1897, Meddler was again put up for sale at the dispersal of Neponset Stud and was purchased by William Collins Whitney for $49,000, a relative bargain. He went to stand at Whitney's La Belle Stud near Lexington, Kentucky.
In what seemed to be becoming a pattern, Whitney died in 1904. His stock were dispersed at a sale at Madison Square Garden in New York in October of that year. This time, Meddler went to Clarence Mackay for $51,000.
He stood first at Mackay's Silverbrook Farm in New Jersey, then at Kingston Stud in Kentucky. However, this time Meddler had found an owner who would outlive him. Mackay moved all his stock to France in 1909, in the wake of the enactment of the Hart-Agnew bill prohibiting betting, which would lead to the closure of the New York tracks for three years.
Meddler died at Haras de Fresnay in Normandy on April 17, 1916, at the height of the First World War. Meddler didn't sire many foals in France, and the war meant that these would have little opportunity to show themselves on the racetrack.
Meddler was leading sire in America twice, in 1904 and 1906. His influence in pedigrees continues mainly through his daughters.
Filly who won the Belmont
Of these, the most notable was the filly Tanya. Foaled in 1902, Tanya was bred by Whitney, but he didn't live to see her race. She was leased by Herman Duryea and raced in his colors until the autumn of her 2-year-old season, when she was purchased by Whitney's son, Harry Payne Whitney, for $7,000.
She won six times from 12 starts, including the Spinaway, a race named for her granddam (a different Spinaway from Busybody's dam), Hopeful and National Stallion Stakes at two. At three she became the second filly to win the Belmont Stakes, after Ruthless, winner of the first running in 1867, and the first to win the race at the new Belmont Park. She was sent to France in 1912 and returned to the U.S. in 1918.
Meddler also sired the stakes winning fillies Morningside (Alabama) and Trigger (Gazelle), and the colt Previous, sire of 1909 Preakness winner Effendi.
Grey Lag, a chestnut with a patch of gray on his back, was named by his breeder, John E. Madden, for a type of goose. Foaled in 1918, he was produced from the Meddler mare Miss Minnie. He raced 47 times for his owner, Harry F. Sinclair, winning 25, including the Belmont Stakes, the Dwyer (in a new American record for nine furlongs), the Knickerbocker Handicap under 135 pounds, and the Brooklyn Handicap over Exterminator and the 1920 Kentucky Derby winner Paul Jones. He was retired in 1924 to Sinclair's Rancocas Farm in New Jersey but sired only 19 foals so was returned to racing at age nine.
In the pedigrees of Justify, Affirmed and Cigar
He was retired again in 1928, given away as a riding horse, then Sinclair lost track of him, but he later discovered him competing at small Canadian tracks at age 13 and brought him back to his farm to retire permanently. He was inducted into the American Racing Hall of Fame in 1957.
Meddler was also the broodmare sire of Boniface (foaled in 1915) winner of the Clark and Excelsior Handicaps, the latter in a new track record time; Naturalist (1914) who set a seven-furlong track record of 1:23 in the Carter Handicap under 132 pounds; Haste, winner of the Saratoga Special at two and the Withers at three: and Durbar, winner of the 1914 Derby.
Meddler can be found in the pedigree of Justify, the latest Triple Crown champion. He was the sire of a mare called Nature, the ninth dam of Justify's broodmare sire, Ghostzapper. Nature is also the seventh dam of another Triple Crown hero, Affirmed.
The aforementioned Miss Minnie was also the seventh dam of Palace Music, the sire of champion Cigar.
There's more: Meddler is the sire of Seabiscuit's third dam, Balancoire, who is also the second dam – or granddam – of Hall of Famer Equipoise.
From Meddler's first crop bred by Forbes came his breeder's namesake, Squire Abington (sometimes spelled Abingdon) who, with a twist of irony, was a gelding.
Sources
Boston Journal, October 13, 1897
Daily Racing Form, September 29, 1898; October 20, 1898; January 10, 1907
Names In Pedigrees, Joe H. Palmer, The Blood-Horse. 1939
Racing Through the Century, The Story of Thoroughbred Racing in America, Mary Simon, Bow Tie Press, 2002
The Squire, A Life of George Alexander Baird, Gentleman Rider 1861-1893, Richard Onslow, George G. Harrop & Co. Ltd., 1980
The Whitney Stud, Press of Styles & Cash, 1902
Thoroughbred Heritage website: thoroughbredheritage.com