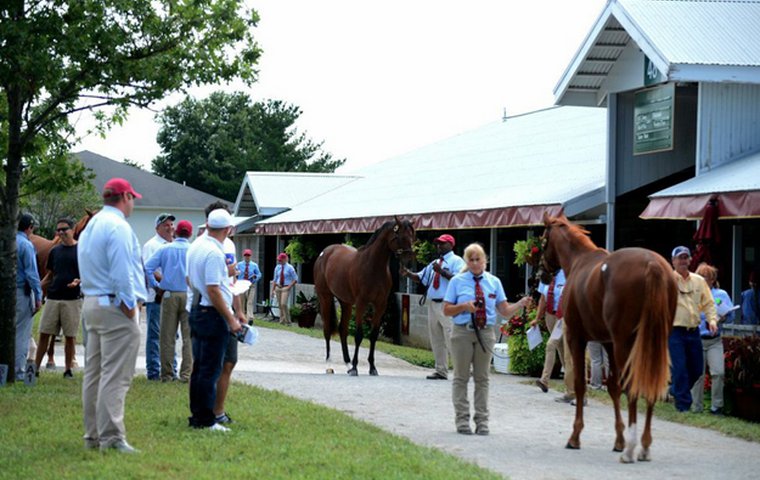 In Joe Taylor's Complete Guide to Breeding and Raising Racehorses, the late, great horseman laid out several core principles that would one day become foundation of his sons' powerhouse breeding and sales operation Taylor Made.

As a testament to its solid beginnings, the farm has experienced numerous victories during the last three decades, including being the second leading consignor at this year's Keeneland September yearling sale with 276 yearlings selling for $26,947,900. Taylor Made had several notable offerings at Monday's Fasig-Tipton November Sale, including multiple G1 winner Princess of Sylmar, who sold for $3.1 million to Japan's Shadai Farm, and is also well represented at the Keeneland November Sale beginning Tuesday Nov. 4.
"Our basic principle hasn't changed…it's always been to please the customer and do what the customer wants," said Duncan Taylor, who with his brothers Mark, Ben, and Frank grew Taylor Made from a modest operation into a thriving, multi-million-dollar business under their father's guidance. "We look to [the customer] as our 'boss.' Most of them are going to listen to us and look to us for the knowledge and experience we have. But there are certain customers that want things done a different way and we learn from that. We take what they share with us and try to move our company to the next level. We are always watching what others are doing and asking people how we can improve."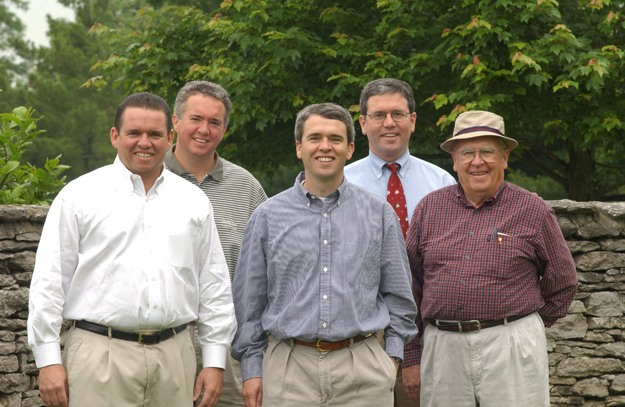 Taylor Made, which continually strives to be a worldwide leader in Thoroughbred sales and marketing, is currently divided into two separate companies: Taylor Made Stallions Inc. and Taylor Made Sales Agency. While the sales agency is made up of both public and private sales as well as a boarding facility, the stallion side offers ample pedigree advice for its clients. Like a stockbroker or financial advisor, Taylor Made's goal is to manage its clients' complete horse portfolios, from breeding recommendations to sales placement.
Joe Taylor, who was heralded for his quick wit and his steadfast dedication to the industry, managed Clarence Gaines' Gainesway Farm for four decades after growing up on his father's Standardbred farm in Lawrenceburg, Kentucky. In the late 1960s and early 1970s, Joe was the driving force behind Gainesway's decision to make the switch from Standardbreds to Thoroughbreds.
When teaching his sons the ways of the industry, he warned them against taking short cuts to get rich quick, and they listened.
"He always told us there's a lot of temptation out there where people in this business can make a lot of money really fast if they're willing to compromise their principles," Mark Taylor said. "He was very big on teaching us to go slow. So that's been our key to success.
"Also, working hard and trying to always have an open mind about getting better. When my dad was 79, just a few months before he passed away, he was saying, 'We've got to find a better way to do x, y, z. So he was always an innovator in whatever he was trying to do."
Joe Taylor died in 2003, but his spirit is still alive and well at Taylor Made. A foundation of integrity has been built upon his principles, which have now been firmly instilled in the next generations of Taylors.
"We're four brothers, we had the same parents, and from the beginning it was drilled into us that you can do more together than you can do apart," Mark said.
Taylor Made Farm was first established in 1976, on a portion of the Gainesway property that Duncan Taylor and business partner Mike Shannon leased from Gaines. As one of the largest stallion operations in the country at the time, Gainesway was in need of a place to board clients' mares that traveled from outside states to Kentucky to be bred. The Taylor brothers were eager to take on the responsibility.
"My dad never owned part of Taylor Made, but he was really the founder as far as teaching us all what to do and encouraging us to work together," Mark said.
The Taylor brothers soon decided to expand their business to include sales and launched their first Keeneland consignment in 1978. As their reputation grew, so did the number of horses in their barns, and they began renting several other farms to accommodate their clientele. They ultimately consolidated their stock on some farmland owned by Joe Taylor on Union Mill Road in Nicholasville, Kentucky, and have since grown that operation from 120 acres to more than 1,600 acres.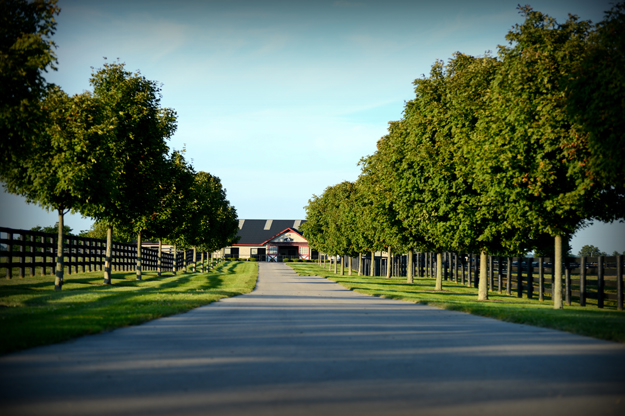 "When we started selling horses in the early 1980s, we had a lot of people that wanted to help us," Mark Taylor said. "People knew who our dad was, but we didn't really have a name in the industry at the time. We were just working hard and a lot of people wanted to give us an opportunity. So those customers are really responsible for our success—they helped us get off the ground."
One of those veteran customers was Sam Pollock. Originally from Alabama, Pollock and his wife started buying racehorses in the 1970s. Each Keeneland September sale, they would haul their cattle trailer to Kentucky and fill it with inexpensive yearlings, hoping to turn a profit by reselling them as 2-year-olds.
About 25 years ago, the Pollocks met Frank Taylor, who convinced them to let him sell some horses on their behalf. Their relationship with the Taylor family grew from there, and now the Pollocks own a farm adjacent to the Taylor Made property and have several mares in partnership together.
"They've always done such a wonderful job and have been good to us," said Pollock of the Taylors. Their most profitable ventures together include purchasing the mare Michele Royale for $140,000 and selling her Unbridled's Song colt for $1.4 million in 2000; and buying the mare Contrive for $140,000 in 2004, and then selling her the following year for $3 million after her daughter Folklore's victory in the G1 Breeders' Cup Juvenile Fillies.
"[The Taylors] have got to be great at what they do, or they wouldn't be the biggest in the business year after year," Pollock said.
One of the biggest early success stories from the Taylor's fledgling sales operation came during the 1980s, when they sold three mares – Pass a Glance, Exit Smiling, and Pearl Necklace – for more than $1 million each. Their good fortunes continued when they raised and sold eventual G1 Matron Stakes winner Fiesta Lady, who proved the brothers' ability to produce quality yearlings that could also perform well on the racetrack.
Among the Taylors' many other triumphs throughout the years were the three horses they had raised and/or sold that won Breeders' Cup World Championship events in 1999: Cash Run (Juvenile Fillies), Anees (Juvenile), and Artax (Sprint).
Additional Taylor Made sale graduates who paid big dividends on the racetrack and in the sale ring were 2001 Breeders' Cup Sprint winner Cajun Beat, 2004 Breeders' Cup Sprint winner Speightstown, and 2005 Breeders' Cup Juvenile Fillies winner Folklore.
The horse who really became the cornerstone of the farm, however, is Ashado. Raised by Taylor Made, Ashado, reeled off seven GI victories during her career, including the 2004 Breeders' Cup Distaff and Kentucky Oaks. A two-time Eclipse Award winner on the racetrack, she was consigned by Taylor Made to the 2005 Keeneland November Breeding Stock Sale, where she sold for a world record $9 million to John Ferguson. As a tribute to her accomplishments, Ashado was inducted into the National Museum of Racing's Hall of Fame this year.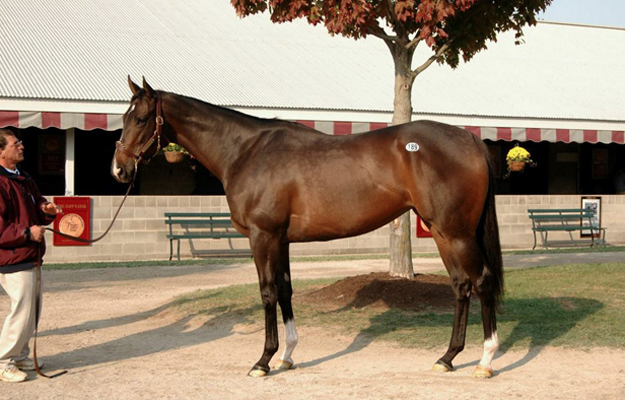 "Ashado wraps up the whole Taylor Made story in one horse," Mark said. "She was really special...seeing her get in the Hall of Fame was really rewarding. I don't think I appreciated her enough when she was running; I got used to her winning all those Grade Is. But now that I've gotten older, looking at all our stallions' offspring I realize how hard that is to do."
By Saint Ballado, Taylor Made's marquee stallion at the time, Ashado was bred by some of the farm's first big supporters, Aaron and Marie Jones.
"My brothers, Duncan and Frank, helped pick out Goulash, Ashado's mother, for the Joneses," Mark said. "These genetic matches don't always work, but Duncan really advocated the Joneses buying her because he loved the way she was bred and thought she would match well with Saint Ballado. It was unbelievable she ended up having a mare like Ashado."
When Gaines retired and sold his farm in 1997, the Taylor brothers decided it was the right time to add a new dimension to their operation by entering the stallion business. Under further mentoring from their father, they learned how to recruit and manage such top sires as the aforementioned Saint Ballado and Unbridled's Song.
Taylor Made Stallions' current roster, most of which are owned privately and by syndicates, is as follows: Astrology, Graydar, Old Fashioned, Eskendereya, Northern Afleet, and Forestry.
"In the stallion business, there's nothing that doesn't matter," Duncan Taylor said. "From the minute you get the stallion to what kinds of mares they breed, how they sell in the ring, who buys them, and what trainers get them…those are all things that can increase the stallion's chance of being successful. A lot of people think there's only good stallions and bad stallions and its only what the genetics produce. But you can also measure a stallion's success by doing everything just a little bit better than other people. One or two big horses can make all the difference between a stallion being successful or not successful."
One of Taylor Made's most influential stallions was the late Unbridled's Song, who made headlines on the racetrack, the sales ring and as a notable sire. Upon his death, from 14 crops to race, Unbridled's Song had sired more than 730 winners from just more than 1,000 lifetime starters, with $90 million in career progeny earnings.
His aforementioned son, Graydar, won the 2013 G1 Donn Handicap at Gulfstream Park race to become Unbridled's Song's 100th stakes winner. That milestone was reached by only 26 other North American-based stallions.
"Graydar is probably more like his father than any other son of Unbridled's Song with his brilliance," Duncan Taylor said. "He was only beaten one time and had some really freakish performances. When you get a horse like that, obtaining the best book of mares, and then raising the babies right and making sure they're at the right sales is key. We also have some good partners in him that are giving (his offspring) to the right trainers."
In the early days, Taylor Made didn't have a lot of capital behind them; it was simply a service-based business. Luckily, each of the brothers inherited different skills from their father that helped take their operation to the next level.
"Our future goal is to be the best sales agency and horse care provider out there," Duncan said. "My dad was all about having the horse looking good and well raised. But we've taken it to the next level with some of our marketing and promotions…when my dad was here, I don't think they were really mailing things to customers and putting out promotional pieces to build up the horses that way."
Duncan possessed his father's keen business sense and recognized the opportunity for Taylor Made to market their horses differently from other operations.
"I think he's changed the industry," Mark said. "When you look at a lot of things other consignors are doing now in the way their horses are presented...Duncan was the first one to come up with those ideas. So that's how we carved our niche. There were a lot of good horsemen around, but there weren't a lot of horsemen that could also apply sound marketing principles to the horse business."
Needless to say, those marketing tactics have led to stellar results. The leading consignor of the Keeneland and Fasig-Tipton sales on numerous occasions, Taylor Made is represented by 79 stakes-winning graduates, 23 of which were graded including G1 winners Commentator, Good Ba Ba, Intangaroo, Thorn Song, and Zaftig.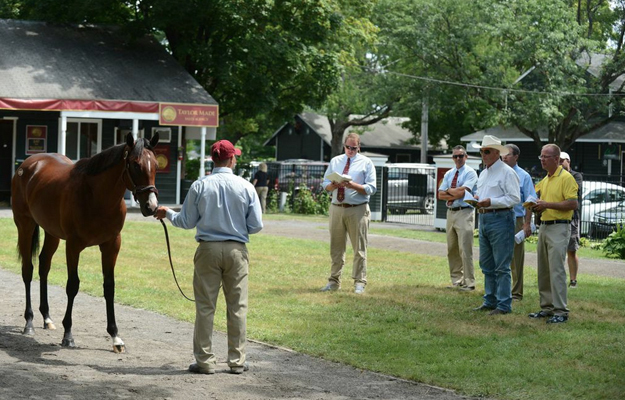 In just three decades, Taylor Made Sales Agency has registered more than $1.6 billion in sales, which is a testament to the quality of its horsemanship and reputation among clients. Looking toward the future, the company has no plans to slow down. The challenge going forward will be to maintain the same level of excellence they've had in the past. Luckily, there's a solid team of next-generation Taylors to take on the task.
"Several of my brothers' kids are now in the business, and we're just trying to bring them along and instill in them the same principles that our dad gave us," Mark said of the Taylor Made "nexters." They include Frank Taylor's daughter Katie and son Joe; Duncan's sons Marshall and Danny; and Ben's son Brooks. "Their challenge is to keep us innovative and on the cutting edge and always pushing the envelope of how to do things a better way."
"The big thing we want to do is continue to put the customer first—whether it's in the stallion area, sales, or boarding," Mark added. "That's our recipe: focus on your customers, horses, and employees. If you take care of all three of those things, the owners are going to be doing just fine."