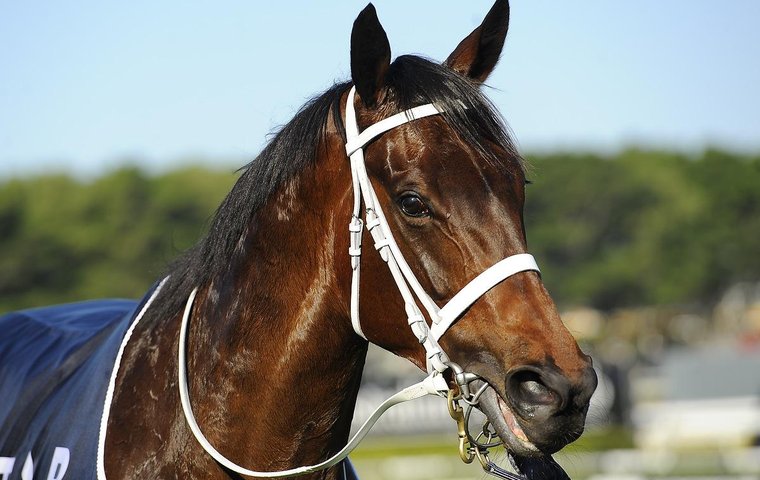 Ben Cadden stood just behind Umut Odemislioglu as 10 of Australia's best weight-for-age horses loaded into the gates for the running of the 2016 W.S Cox Plate. There were of course, nerves. But not of the hopeful nature. More of the confident. For the horse they were there to see, their horse, was the mighty Winx.

As favourite 12 months previously, the daughter of Street Cry had put a comfortable 4 3/4 lengths on her rivals in the same race. Come 2016, her lead-up form was strong, so much so that this time she was odds-on.
And, from the time she jumped from barrier three, there was never any doubt.
Record winning margin
Under the guidance of regular partner Hugh Bowman (the second-highest ranked jockey in the world on TRC Global Rankings), the 5-year-old looked good sitting midfield. At the 800m, she was travelling sweetly, cruising in fact. Another 200m and she was making her run, one so swift that, if you'd blinked, you would've missed it.
At that stage, Cadden gave Umut a pat on the back. "This is over," he yelled.
Coming to the turn, Winx was off and away. Soft to the line, she won by a remarkable eight lengths, one length more than the record winning margin held since way back in 1979 by Dulcify. Two more than Sunline's demolition job in 2000.
What were Cadden and Umut Odemislioglu, Winx's trackrider and strapper, doing during those historic seconds? Just enjoying the show.
"All we had left to do," Cadden says, "was cheer home a champion."
That second Cox Plate victory elevated Winx's rating in the World's Best Racehorse Rankings to 130, which puts her as the third best horse in the world (joint second with California Chrome if you factor in the mares' allowance, and only a pound behind Arrogate).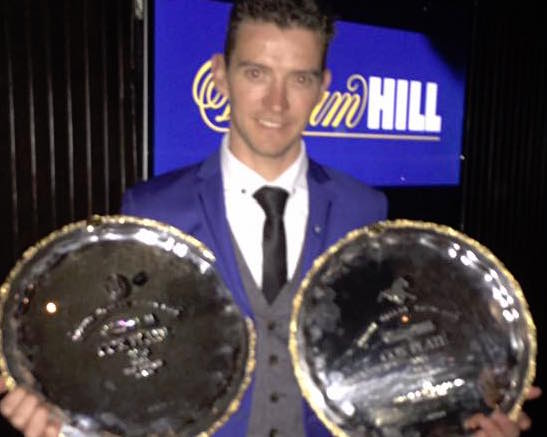 Cadden (pictured left with Winx's two Cox Plates) remembers the first time he saw Winx. There was nothing particularly special about her, though she was undoubtedly a nice type.
"She was just a light athletic filly who needed time to furnish into her frame'" he says.
Foreman of barn six at the stables of Sydney trainer Chris Waller (who is world #3 in the TRC Global Rankings), Umut - who had been a fan of another famous daughter of Street Cry, Zenyatta, and subsequently the Street Cry breed - put his name down to look after the filly, who was housed in box 101.
Small and immature
"She was small and immature," he says, "but she got my attention."
And there was, from the first piece of work, something there. "From day one, she showed something, she showed that she could gallop," says Cadden.
Making her debut as a late 2-year-old in June 2014, Winx got off to a tardy start but was strong to the line at Warwick Farm. "She was still immature and she got caught up in traffic at the back of the field," Umut recalls, "but she still managed to get up and win."
"It was that first win that gave me the feeling that she was special," he continues, though he admits to having a soft spot for every horse he straps. "I always have faith in the horses I take to the races, even if I know that they are not group class, though I always dream about them winning a group race.
"It is like they are our children. We always see our children as the best and believe they are better than the others."
A couple of weeks later Winx again gave her rivals a start, and again she was too good.
Signs of the remarkable
Freshened for the spring, Winx won the G2 Furious Stakes first up, then was beaten but hardly disgraced when second in another two feature races.
Another break and third up next time in she won the G2 Phar Lap Stakes enroute to a G1 AJC Oaks second. This filly was good, very good in fact, but not unbeatable.
Not yet.
It was in Queensland in May last year that Winx, as favourite in the G3 Sunshine Coast Guineas, first showed signs of the remarkable.
Spotting the leaders some 13 lengths in the 1600m contest, she was still last turning. But, within a stride or two, she was able to round up her rivals. And put lengths on them. "It was that day that I said to Chris Waller that horses just don't win like that," Cadden recalls.
Winx has had 12 starts since that day, nine of those at G1 level. She has won them all.
"I have been lucky enough to have worked all around the world and been associated with some great horses," Cadden says. "Juggler and Exceed And Excel will always be special horses to me; Juggler because he was the first G1 winner I strapped, and Exceed And Excel because, through him, I met my wife.
"I have been associated with horses who have won hundreds of Group 1 races between them."
It is normally a difficult task to compare great horses. But not in the case of Winx. "She is the best I will ever sit on," he says. "Horses like her just don't come into your life very often.
"Up until she won her first Cox Plate, I said to Chris that Reliable Man was the best horse to walk into our stables. But she has surpassed him tenfold." And she is still going.
Rhythmic breathing
So what makes Winx the very special horse she is?
"She has got the lovely rhythmic breathing that increases with her speed; I have said to Hugh Bowman that it's her finest attribute," Cadden says.
"Of the Group 1 horses I've ridden, she is the hardest of them all to slow down, though really she is not a hard ride. She's a lovely ride. Her stride length is so long and so efficient. She's like a Rolls-Royce. You can think she is doing evens but really she is running 12s and doing that on her ear."
And she has fun doing it. "When you are riding her, she will have a little play or a pig-root," says Cadden. "She knows when to push the button. Close to race day, all she wants to do is run, and she builds up that energy accordingly."
A professional on the track, Winx is, says Cadden, "an absolute pleasure" at home. "She just loves everything about her day-to-day routine, well except being brushed. She he is easy to deal with. She has a lovely temperament."
That's a characteristic, says Cadden, that the majority of high-class horses have. "I have not worked with many Group 1 horses who have not had a lovely nature."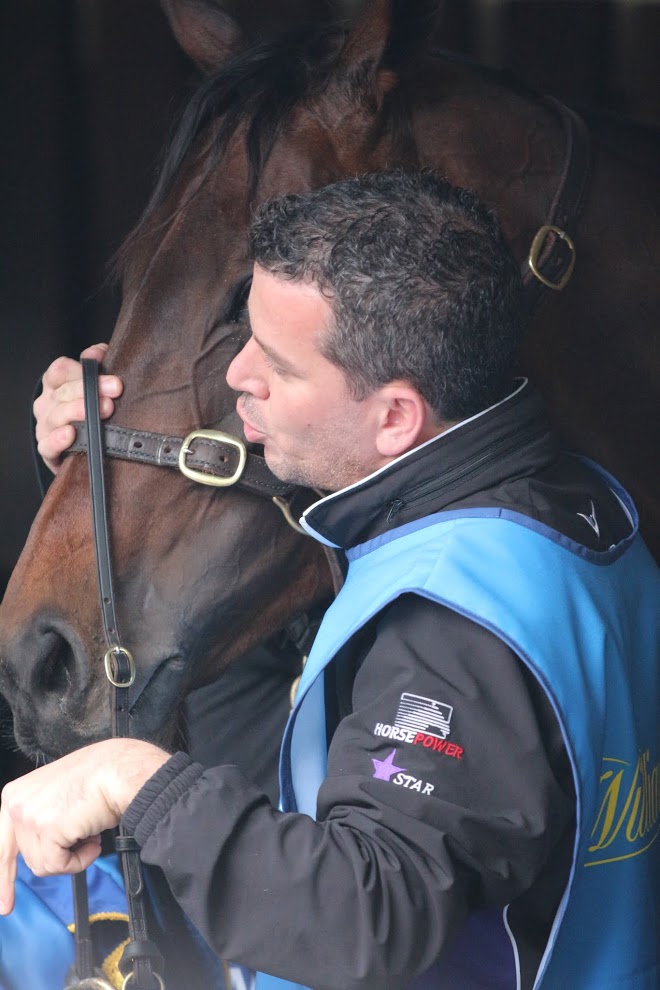 Umut (pictured right with Winx) agrees. "She is a professional athlete and she is a pleasure to handle." And intelligent enough to let her people know when she wants a bit of downtime. "She will let you know when she has had enough and wants her space," says Cadden.
"She enjoys her rest time," agrees Umut. "And a biscuit of hay - she loves her food. Her favourite treat is a green apple. She cannot say no to green apples!"
Both Cadden and Umut know just how fortunate they are to have Winx in their lives, and they do not for a second take her or her races for granted. "This year's Cox Plate was such a memorable and historic win," Cadden enthuses. "It is something I will be telling the grandchildren about for sure."
"She was my first Group 1 winner as a strapper," says Umut, "and she will always be my career highlight. She is fantastic to watch. She runs a race, wins and we think that's her best performance. But then she comes out and wins her next race in a different fashion. She continues to improve and it's mind-blowing.
Posing for the cameras
"This year's Cox Plate for example. We knew she was a good horse, we thought she could win. But to do what she did ... it was just incredible. She continues to blow us all away with her efforts."
Everyone wanted a piece of Winx after her win, and she was happy to oblige. "She knows she is good." Umut smiles. "And, after a win, she just loves to pose for the cameras."
"I don't know of a good horse who doesn't know he or she is special," says Cadden, "and she certainly does. Though she doesn't really want to be fussed over, she would rather have her own space. But she does take everything into her stride and she handles the attention on race day without any fuss. As far as she's concerned, she's just there to win."
And when she does, Cadden and Umut are happy - and relieved.
"It is stressful for all of us," Umut admits. "Her trainer, the owners, the staff, even the farriers, we take a deep breath after each race and look at each other and say 'thank God it's done for now'.
"But, wow, what an experience this is for us!"
Umut Odemislioglu
Hailing from Turkey where, as grandson of a breeder, he grew up around horses, Umut Odemislioglu has been in Australia for 11 years and was just recently granted residency. He has worked for Attunga Stud and trainer Tim Martin. He joined the Chris Waller stable five years ago.
Ben Cadden
The head trackwork rider for Waller, Cadden won the inaugural Godolphin Horsemanship Award at last year's Stud And Stable Staff Awards. He worked for Gai Waterhouse while still at school. He gained experience in England and Ireland, and he thanks Exceed And Excel for changing his life - it was while strapping him in the UK that he met his wife, the strapper of Frizzante, trained by James Fanshawe at Newmarket, who won the 2004 July Cup, in which Exceed And Excel was a disappointing favourite.