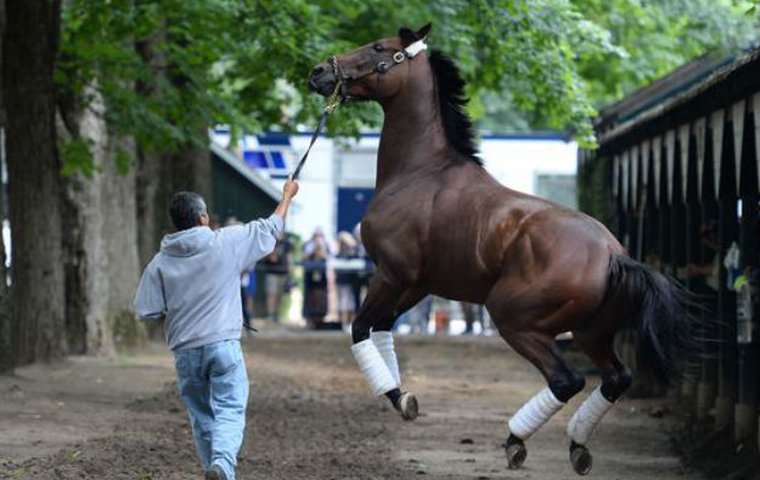 Shortly after the Belmont Stakes, Nick Zito spoke to Bob Baffert.

During the conversation between the two Hall of Fame trainers, Zito praised the historic Triple Crown sweep by Baffert's American Pharoah by offering a lofty comparison. "I told Bob that he had caught up with Seattle Slew," Zito said, referencing the famed 1977 Triple Crown winner.
Some two months later, after American Pharoah made his first start after the Belmont and breezed to victory in the William Hill Haskell Invitational at Monmouth Park, the pair spoke again.
"After the last race, I told Bob, 'Now you're approaching the dirty word, Secretariat,'" Zito said. "It's a dirty word to say Secretariat in front of another horse. They can't compare to him, but American Pharoah is different. He's a spectacular horse."
A day after Zito spoke, on Aug. 29 at Saratoga Race Course, the comparisons between Zayat Stables' rock star of a horse that ended a 37-year Triple Crown drought and the legendary champion who became the first Triple Crown champion in 25 years grew even more fitting – though not in the manner most expected.
A little more than 42 years after Secretariat went down to a stunning defeat at the hands of the unheralded Onion the 1973 Whitney Stakes at Saratoga, the track known as "The Graveyard of Favorites" produced an upset that will serve as this generation's example of how nothing should ever be taken granted on a racetrack.
American Pharoah, a huge $0.35-to-1 favorite, was hard-pressed by Belmont Stakes runner-up Frosted in the early stages and could not resist a late charge by Donegal Racing's Keen Ice. As a festive, sold-out crowd of 50,000 at the Spa turned silent and numb, the newest Triple Crown champion finished second by three-quarters of a length in the $1.6 million Travers Stakes.
"I feel bad for the horse, getting beat like that. I could tell he wasn't on his 'A' game today but he tried hard," Baffert said after American Pharoah's first loss after eight straight victories at seven different racetracks. "He looked like he was done way early and he just kept fighting on."
'More people wanted to see American Pharoah than Secretariat'
Yet, in spite of a result that disappointed so many of the fans eager to see another majestic performance by a regal champion, memories of the week American Pharoah spent in the upstate New York haven for racing served as a prime example of the electricity a glorious Thoroughbred can generate.
From the moment on Aug. 23 when New York Racing Association President and CEO Chris Kay's winner's circle announcement that American Pharoah was coming to Saratoga was greeted with loud cheering, the historic venue belonged solely to the Zayat Stables star. A police escort brought him to town on Wednesday of Travers week and, until his departure two days after the race, American Pharoah was a center of attention, the likes of which even Saratoga had never seen.
A long list of champions have raced at the beloved 147-year-old race track, such as Secretariat and Triple Crown champion Affirmed, who was disqualified there and placed second behind his arch rival Alydar in the 1978 Travers. Yet none of them took ownership of the town in as mind-boggling a fashion as owner Ahmed Zayat's 3-year-old colt.
"I think more people wanted to see American Pharoah than Secretariat," said Angel Cordero Jr., whose Hall of Fame riding career spanned the 1960's through 1992. "After 37 years, they wanted to see what a Triple Crown winner looks like."
Leading up to the Travers, throughout the day visitors lined the barricades surrounding the barn stabling American Pharoah, hoping to catch even a glimpse of the charismatic champion.
Then on Aug. 28, the eve of the race, American Pharoah entered into racing lore when a crowd estimated at 15,000 in the grandstand alone turned out to simply watch him jog around Saratoga's main track.
"There were more people here on Friday morning to see American Pharoah than you'll see on any day at Aqueduct or Belmont Park," Cordero said.
'Just having the horse here is a huge boost to racing in general'
For some observers, scenes like the jammed racetrack for a morning gallop turned the 2015 Travers into an event that encapsulated all the excitement the sport has to offer.
"Anyone who was here Saturday (for the Travers) will remember it for the rest of their lives," said Martin Panza, NYRA's Senior Vice President for Racing Operations. "The whole week was special. What happened Friday was something I had never seen in my 30 years in racing. That in and of itself is amazing. Just having the horse here and having an event like that is a huge boost to racing in general.
"At the end of the day, the Zayats, Bob Baffert, they didn't win the race but they're huge winners for what they gave racing this weekend. To me this horse is so much bigger than any words. I think at this stage with him, win or lose, everyone wins. I understand the financial side of it, but everybody wins because he's larger than life and racing needed someone like him."
In the days after American Pharoah's 2 ¼-length victory in the Haskell on Aug. 2, there seemed to be a tug of a war over where the homebred son of Pioneerof the Nile would race next to better position him for a career-ending start in the Breeders' Cup Classic on Oct. 31 at Keeneland. Baffert, with a 1-for-5 record in the Travers, seemed more interested in the $1 million Pennsylvania Derby at Parx Racing on Sept. 19. Zayat, pointing to the prestige of the Travers and the challenge worthy of an illustrious champion, wanted to race at Saratoga.
'They did the right thing bringing him. He didn't need any more walkovers'
After a sparkling workout of seven furlongs in 1:23 2/5 on Aug. 23, the plane tickets for New York were bought, and the respect for American Pharoah grew even larger in some quarters because of the decision to steer clear of the path of least resistance.
"They did the right thing by bringing him. He didn't need any more walkovers," said Hall of Fame trainer and 2013 Kentucky Derby winner Shug McGaughey. "I think Saratoga deserved what we saw this week, and I don't think that he loses anyone's respect because of the effort he turned in (in the Travers).
"I thought he ran a tremendous race over a track that was probably a little more tiring than he was used to. He shipped back and forth across the country, ran on 27 days rest. He was hooked the whole way, which was the right thing to do because you can't let him loose. He shook off (Frosted) twice and they finally got to him the last part of it."
Despite his misgivings and initially saying "I was thinking Parx" when asked about the final furlong of the Travers, Baffert reflected kindly on the entire experience once emotions cooled.
Meeting the media the morning after the race, he arrived leading with him American Pharoah, who looked surprisingly bright and alert after his grueling effort in the mile and a quarter Travers. The photogenic Triple Crown winner leaned his head into the crowd, looking for treats, and was fed some carrots by a young woman as a wall of sound from clicking cameras filled the air.
"If I had to do it again," Baffert said after leading his colt back to its stall, "I would have brought him here. I'm glad I brought him here. I think racing needed something like this."
Shortly after race, when he said his "gut feeling" was to retire American Pharoah, Zayat also said that running in the Travers involved more than a winning a race for him.
"We came here because of what we saw Friday; 15,000 people," Zayat said. "This is what it is all about, this game. (The owners can't say) don't risk it.
"I'm very proud of American Pharoah. I'm disappointed for the fans. I'm heartbroken, but I would not trade a minute for the pleasure he gave me, my family and the sport. Not a second. We had to do (this) because I believe this is the best thing for our game."
'When you walked through the town you felt the energy'
Even Dale Romans, trainer of the victorious Keen Ice, said there was different feel about the race because of the 12th Triple Crown winner's presence in it.
"It was the most excitement I've ever seen and I'm a fan first," Romans said. "When you walked through town you felt the energy. The walkover through the crowd from the paddock to the track for the race is something that I'll never see again. There were so many respectful Pharoah fans and so many people with cameras you could tell the love for the sport was there. The electricity at Belmont Park after he won the Belmont was incredible, but you felt that here all week."
Chris Scherf, Executive Vice President of the Thoroughbred Racing Associations, was NYRA's director of media relations in 1978 and felt there was a different atmosphere at the Spa 37 years after the last appearance by a Triple Crown winner.
"The excitement for Affirmed and Alydar centered on a race," Scherf said. "People wanted to see the Belmont Stakes all over again and it was the most dissatisfied feeling I've ever experienced when that didn't materialize and the stewards had to decide the race.
"But with American Pharoah, this Travers was an event. He created a buzz that's great for the sport. We don't have a lot of heroes in this sport and we need to celebrate our heroes like him when they come around. His popularity has reached mythical proportions."
Memories of 'Giant Killer' Allen Jerkens
So much so that both winning and losing comes with perks, so long as you wear ear plugs.
"We won the Pacific Classic with Dulahan as a 3-year-old, and I thought that was pretty good," said Jerry Crawford, President of Donegal Racing. "But I couldn't believe that, because of the American Pharoah, (Keen Ice's) third place in the Belmont and second place in the Haskell garnered us far more public interest than any of our Grade 1 wins, and we've had quite a few of them. So I'm not even ready to think about what (winning the Travers) means. I'm just so grateful to the Zayats for bringing American Pharoah here. They have stamped themselves forever as true sportsmen by being willing to do that.
"American Pharoah has captured the nation's and maybe the world's attention, and because of what he accomplished that spotlight radiates on us – to the extent you call 50,000 people booing me radiation."
If there were boos, Romans didn't hear them. He was too busy savoring the moment, cherishing a race that put him in the same esteemed company as his dear friend, the late Allen Jerkens, the famed "Giant Killer," who engineered Onion's upset of Secretariat.
"Allen was a very good friend and a mentor of mine for a long time," Romans said about the legendary trainer who passed away on March 18 at the age of 85. "The last conversation we had this winter was about beating Secretariat. He never apologized for beating Secretariat and no one ever asked him to. He said the great ones have to be tested and that a loss did not tarnish them and I think that will happen with Pharoah. I was thinking about Allen before the race and I went by his old barn and tried to channel some energy from it. He would have been happy to see this."
'Everybody gets beat at Saratoga - that's the problem'
The sight of an upset at Saratoga is hardly rare and, for all of the grand moments jammed into one week at the Spa, there was, in the end, the reminder of how demanding a proving ground it can be for equine heroes.
"Everybody gets beat here at Saratoga - that's the problem," said Cordero, who now works as the agent for Hall of Fame rider John Velazquez. "If the big horse gets beat, it's going to happen here."
Not even American Pharoah was immune, in what could prove to be the final start of his career, unless Zayat has a change of heart. And if he doesn't, for anyone who was there to experience it, Travers Week 2015 will most likely be about much more than a loss by an odds-on favorite.
"I was overwhelmed by (the crowd at Friday's gallop)," said Baffert, who pointed out that he received a standing ovation from fellow diners when he joined his family and friends for a post-race meal at The Wishing Well, a restaurant not far from the racetrack. "It was pretty cool to see. It's amazing what he's done for racing. I know my son Bode will remember that. It was something special. Everybody in town afterward when they saw me said, "We're sorry. We feel so bad for you, Bob, but thanks for bringing that horse.'
"It almost ended well. Almost. We almost pulled it off."