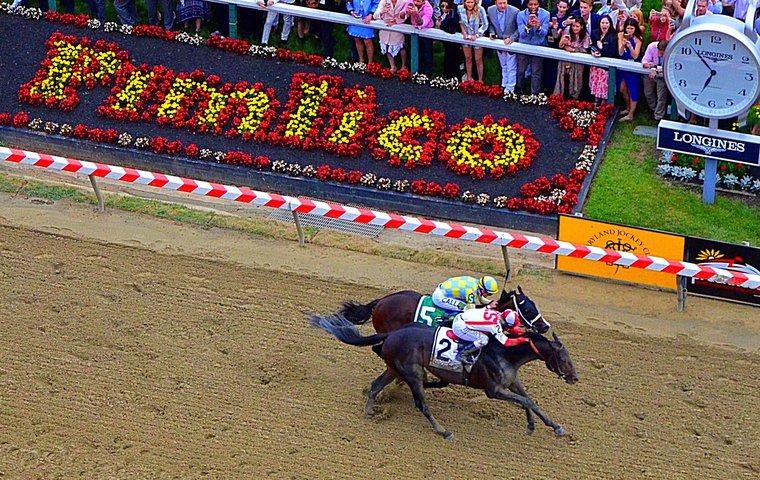 There's no doubt that trainer Chad Brown will continue to win major grass stakes as 2017 continues to roll on. Yet never, not ever again, will anyone have a reason to refer to the 38-year-old Brown as simply a 'turf trainer'.

That moniker faded into oblivion yesterday at the Preakness at the same time as Kentucky Derby winner Always Dreaming's Triple Crown hopes turned into a nightmare worthy of Stephen King novel.
With Always Dreaming fading to eighth as the 6-5 favorite, a perfect storm of events fell into place as jockey Javier Castellano guided a rallying Cloud Computing to a victory by a head in the 142nd edition of the middle jewel of the Triple Crown before a record crowd of 140,327 at Pimlico Race Course.
"It all came together," Brown said. "I feel like it's been a lifetime for me."
Breakthrough victory
In the end, it took a wise and patient decision to skip the Kentucky Derby with a colt who was eligible run in the American classic coupled with the sudden availability of a four-time Eclipse Award-winning jockey to set everything in motion at Pimlico.
Yet a rather meaningful side to all of it is that a young trainer, nearly 10 years into running his own operation, notched the breakthrough victory that had eluded him.
A year ago, Brown (currently ranked #4 among all trainers in the world in the TRC global standings) led all trainers in U.S. racing with earnings of $23.1 million and won his first Eclipse Award. In 2015, he was second in earnings with $20.2 million.
He owns eight Breeders' Cup wins, but the telling statistic is that seven came in turf races. He has trained six horses who have earned more than $2 million and all have them have been turf stars. His five champions have been turfers.
Misleading tag
The nation's leader in turf wins the last five years, Brown won 182 races in 2016, with 128 of them coming in turf races.
All that spells 'Turf Trainer' with a couple of capital letters, a tag that was indeed misleading and one that Brown joked about when he sent out Connect to win last year's Pennsylvania Derby on Parx's main track. "Who sprinkled grass seed on that course?" he joked minutes after his horse crossed the finish line first in the $1 million dirt race.
After the Preakness, even William Lawrence, co-owner of Cloud Computing, couldn't help but kid Brown about his reputation. "I whispered to Chad in the winner's circle, 'best dirt trainer in America,' which is a little joke," Lawrence said. "People think he can only train turf horses."
The joke was surely on anyone who fell into that trap at the Preakness as Brown collected his first Triple Crown win in his initial trip to the Preakness and put an item on his resume rare for any trainer, regardless of their proficiency on dirt or sod. The Preakness was just the fourth career start for the lightly raced Cloud Computing ($28.80), an upstart 13-1 shot on Saturday who made his first start on Feb. 11 over Aqueduct's inner track and was third previously in the Wood Memorial.
'It wasn't like I didn't watch Bobby Frankel'
"Chad has proved he can win on any surface," said Castellano, who himself is world #4 in the TRC jockeys' standings). "Every time I ride for him I'm confident because he puts horses where they belong. He's such a great horseman. The surface doesn't matter."
It didn't matter in the Preakness, and going forward Brown knows the notion that he might be a one-dimensional talent has been exposed as a fraud.
"The media has always been kind to me," he said. "If they mention I win a lot of turf races, that's fair. So I never took it personally. It was only when I was recruiting horses. I wasn't given an opportunity with certain clients and then I'd hear that he only sent me grass horses and that bothered me.
"It has nothing to do with my ego. I want my staff to get the right recognition for the work we do. I know I was trained by great trainers, especially Bobby Frankel, who won with plenty of dirt horses. It wasn't like I didn't watch when his dirt horses trained. We had a lot of blue-breds.
"But, if you're the owner and you're paying money for these horses, and paying a lot of bills, you have to go with what you're confident in. In fairness, until you win [a Triple Crown race], it goes both ways. If I was paying the bills and owned a lot of dirt horses, I'd want to see a little more from a trainer in dirt races. We've won so many big dirt races before today, but the classics are unique. People want to see success there."
Reward for patience
Brown's success in the Preakness might have come as a surprise to some, but it was actually a reward for being patient.
After finishing second in the Gotham and third in the Wood, Cloud Computing had enough points (40) in the Road to the Kentucky Derby series to start in the Run for the Roses. Brown, though, did not believe the 3-year-old had enough seasoning and instead pointed him for the Preakness while sending out the same owners' dual Grade 1 winner Practical Joke to finish fifth in the Derby.
"I sometimes ask myself what Bobby [Frankel] would do in a certain situation, and I know with a lightly raced horse like Cloud Computing, it would be to give him time. There's other big races down the road. Don't get caught up in trying to get that first Derby win. I felt it wasn't the right thing in terms of management of the horse," said Brown, who was 0-for-5 in the Triple Crown races before Saturday with four losses in the Derby.
"It was easy to not go to the Derby. We paused for a bit. We thought about it. [Because of] Practical Joke I made a decision sooner than I would have, but the decision always would have been the same."
Castellano: the final piece of the puzzle
Knowing what the Derby took out of the more seasoned Practical Joke, co-owner and Baltimore native Seth Klarman said Brown's discretion in passing up the Derby was a key element in Saturday's euphoric victory.
"I have no regrets about missing the Derby," said Klarman, who races under the banner of Klaravich Stable (currently world #27 in the TRC owners' rankings). "I think possibly some of the reason that we won today was because we were patient and didn't throw an inexperienced horse against a 20-horse field in the Derby on a very difficult track."
The final piece to the puzzle was bringing in Castellano to pilot Cloud Computing, who had been ridden by Manny Franco in his first two starts and Irad Ortiz, Jr., in the Wood.
Castellano had been Gunnevera's regular rider, winning the Fountain of Youth with him and finishing third behind Always Dreaming in the Florida Derby. After Gunnevera wound up seventh in the Kentucky Derby, Castellano exited the race believing trainer Antonio Sano should give the horse a rest and return in the Belmont Stakes. Sano and Gunnevera's owners, Venezuelan natives like Castellano, ignored that advice and decided to run in the Preakness, setting in motion Castellano's jump to Cloud Computing and Mike Smith riding Gunnevera to a fifth-place finish in the Preakness.
Makings of a great duel
"In those situations you want to be fair with everyone," said Castellano, who rode Gunnevera in his last five starts before the Preakness. "I was loyal to Gunnevera and my people from Venezuela. They weren't happy with some of the results and Mr. Brown asked me to ride Cloud Computing and I have to be loyal to Chad because he's been good to me for so many years. We've been successful together. I gave Gunnevera a lot of chances, riding him in the Derby, the Florida Derby, Fountain of Youth and Holy Bull, but it was time for a change."
Though Saturday marked Castellano's maiden voyage with Cloud Computing, he rode him expertly and registered his second victory in the Preakness and first since Bernardini's triumph in 2006.
The 142nd Preakness (see YouTube video above) started out as if it had the makings of a great duel. Always Dreaming quickly grabbed lead, but soon joining him was 2-1 second choice Classic Empire.
A game of equine bumper cars relegated the reigning 2-year-old champion to 13th in the early stages of the Derby and left him too far behind Always Dreaming to finish any better than fourth. But jockey Julien Leparoux left nothing to chance at Pimlico as the two favorites began battling before the first turn, opening a clear lead on Cloud Computing, who tracked in third along the inside.
Classic Empire and Always Dreaming remained as a team through six furlongs in a quick 1:11, but approaching the quarter pole the Derby winner began to drop back and Classic Empire spurted away to the lead.
Casse's verdict
"He just got beat," said John Velazquez, who rode Always Dreaming. "I didn't have it. That's it. There's not much to say."
Classic Empire ran off to a three-length lead at the eighth pole when Castellano guided Cloud Computing off the rail and began to gobble up ground outside of the leader.
"I saved my horse until the last part of the race," Castellano said. "Turning for home, I waited and waited and just wanted to make one run in the final eighth of a mile. That's how it worked out, and I got a great result."
Cloud Computing caught Classic Empire the final yards and registered a dramatic victory, covering the mile and three-sixteenths in 1:55.98 for the son of Maclean's Music's first stakes win.
"We were going to be aggressive and that's what we did," said Mark Casse, who trains Classic Empire. "He tried to kick back, but we were second best today."
Special meaning
Castellano credited the great communication he has with Brown as the reason why jockey and trainer were able to map out a strategy that unfolded to perfection.
"When Javier became available, we thought he'd fit well [on Cloud Computing]," Brown said. "He rode a terrific race. I'm so glad he went out there and executed our plan so well."
While Brown downplayed running in the Belmont Stakes, saying, "We really don't know … He's never struck me as a mile-and-a-half horse,' he was glad and also rather thankful for the opportunity to win a race with a special meaning to him.
"I was thinking about this in the winner's circle," he said. "I've always praised my mentor, Bobby Frankel, who taught me so much. It seems he won every race in his unbelievable career but the Derby and Preakness. I feel this is for him. Without his mentorship, I certainly wouldn't be here."
Frankel, who passed away in 2009, was unquestionably a Hall of Fame talent, who trained champions on the dirt as well as the turf. No one ever called him a 'turf trainer'.
Which is something that Chad Brown used to be in some eyes, until Saturday's Preakness, when he showed how dirt can sometimes be greener than even grass, especially during a career-altering experience such as the Preakness.
​How James Willoughby noted Cloud Computing as a horse to watch back in March