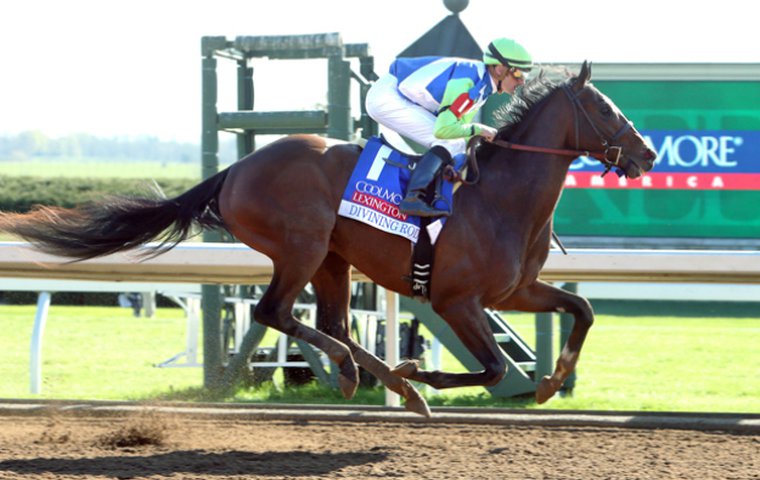 Since 1970, only seven Preakness winners didn't compete in the Kentucky Derby. Among the new shooters looking to buck the trend in Saturday's second jewel of the Triple Crown is Divining Rod, an impressive winner of last month's G3 Lexington Stakes at Keeneland.

Divining Rod is trained by Arnaud Delacour, who will be starting his first horse in a Classic race.
Having a fabulously bred 3-year-old in the barn, and one who appears to be peaking at an optimum time, isn't something either the 40-year-old French-born Delacour or his wife, Leigh, are taking for granted. The Delacours, who work as a team in operating their 45-horse public stable at Fair Hill Training Center in Maryland, have had a handful of stakes winners since they first began training together in 2007, but never a G1 winner.
"It's very special for anyone to have any horse running in a Grade 1, or any stakes, or, in fact, making it into in any race," Leigh, 35, said in a telephone interview, nine days before the Preakness. "We're just grateful to all the connections, and most particularly, Divining Rod himself, for getting us to this point."
Divining Rod, a homebred who carries the silks of Roy and Gretchen Jackson's Lael Stable, is a son of North America's leading sire of 2014, Tapit. The star power flows through his female side as well, as Divining Rod's dam, Precious Kitten, was a multiple G1 winner and earner of $1.9 million, and is a half-sister to 2004 Eclipse Award Turf champion, Kitten's Joy.
Divining Rod will be the first horse since Barbaro that the Jacksons have started in the Preakness. Barbaro, the brilliant winner of the 2006 Kentucky Derby, injured himself coming out of the starting gate in the Preakness. Following several severe bouts with laminitis during his recovery from his leg injuries, Barbaro was euthanized on Jan. 29, 2007. During his protracted battle with the hoof disease, the colt's condition was closely followed by legions of racing fans.
In 2002, while working as an assistant for Christophe Clement and overseeing the trainer's Monmouth Park division, Arnaud Delacour came to know the Jacksons who had horses with his boss at the time. In 2011, when the Jacksons ended their relationship with Barbaro's trainer, Michael Matz, they sent the Delacours 10 horses to train, including Barbaro's full brothers, Nicanor and Lentenor.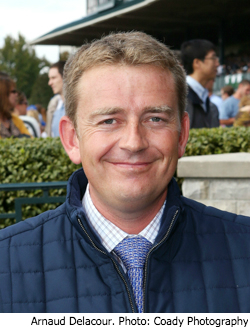 Before launching their own stable, the Delacours collectively earned the equivalent of an Ivy League education while studying under several masters of the game. Leigh, a native of Maryland and a former jockey, galloped horses and worked as a traveling assistant for trainer Graham Motion. Before his six-year stint with Clement, who is also a native of France, Arnaud worked for Alain de Royer-Dupré at his Chantilly yard and for John Gosden in Newmarket.
While Leigh developed her passion for horses and riding while growing up in Annapolis, the capital of Maryland, her husband spent his formative years on his family's breeding farm in Lisieux, located in the Normandy region of France.
After visiting Maisons-Laffitte Racecourse outside of Paris, Arnaud found he preferred the hustle and bustle of the racetrack over the leisurely pace of farm life.
"I wasn't especially excited about the farm," Delacour said. "There was not much action in that department. But I really got a kick out of going to Maisons-Laffitte. As soon as I went there, I knew that's what I wanted to do -- become part of the training side of the business rather than breeding."
The invitation to work for Clement in the United States came in the late 1990s and was delivered via Delacour's step-father, David Powell, an American-born racing journalist-turned-bloodstock agent who was friendly with the trainer. Powell currently works as the European-based racing manager for owner Magalen O. Bryant, whose stable of jumpers is among the best in France. In America flat racing, Bryant is known for winning last year's G1 Travers Stakes with V.E. Day.
Prior to joining Clement's barn, Delacour worked as an assistant for Royer-Dupré, whose accomplishments are lengthy and span the globe. While grateful for that experience, Delacour said it was during his tenure with Clement that he obtained the hands-on knowledge that proved to be so essential when he began training on his own.
"In Europe, you deal with [large stables], but you don't deal with them the same way as you do here," Delacour remarked. "In America, it's structured differently; you have different [divisions]. When you're an assistant in America with a large stable, you pretty much go on the road and work in different jurisdictions. You're guided by the trainer when training those horses, but after a few years, you pretty much train those horses yourself. So with Christophe, I learned to make decisions. With Alain, it was a great experience, but it was being with him all the time and working under him all the time. I organized the stable work there, but there was really no major decisions made when I was working for Alain, it was just reporting to him all the time.
"In those six years with Christophe, I saw pretty much all the aspects of what can be done when training horses," he added. "Without a doubt, that was a good education. Christophe is very communicative and shares his knowledge with his assistants, which is very helpful when you're learning."
The Delacour's first graded stakes win came in July of 2014 with the Lael-owned Ageless in the G3 Royal North Stakes at Woodbine. Ageless, a filly, subsequently finished fourth in the G1 Breeders' Cup Turf Sprint and was the Delacours initial starter at the World Championships. When Divining Rod won the Lexington Stakes by three lengths, which was the colt's first stakes victory, he became the couple's second graded stakes winner.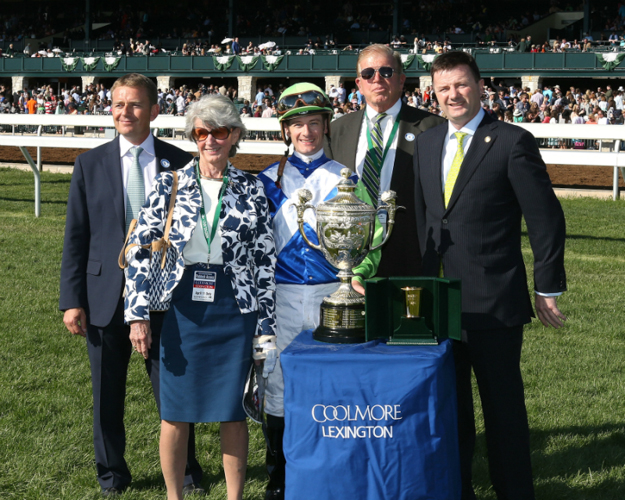 Divining Rod, a dark bay with a distinctive blaze, perfectly centered on his face, tipped his hand early in his career that he was a runner. In his debut, an off-the-turf maiden special weight at Laurel Park last November, the colt rambled to a 2 3/4-length victory. His next start came in a grass race at Tampa Bay Downs in late December, which Arnaud Delacour said was used as a prep for the G3 Sam F. Davis. Divining Rod finished third in that allowance race before finishing a very sharp, and narrowly beaten second to Ocean Knight in the Sam F. Davis.
At that juncture, Delacour was eager to see what unfolded in the G2 Tampa Bay Derby. If he was satisfied with Divining Rod's performance, he would have proceeded on to the G1 Blue Grass Stakes, which, if he ran well in and earned the necessary points, would have been followed by the Kentucky Derby.
But Delacour called an audible after Divining Rod set the pace in the Tampa Bay Derby, lost steam in the stretch, and finished third, beaten 7 1/2 lengths.
"To be honest with you, I was disappointed in his race in the Tampa Bay Derby," Delacour said. "For the first time in his career, he didn't finish very well. He went a little too quick on the front end, a little too eager, and he didn't quite finish. I didn't think at that point he was professional enough to consider the [Kentucky] Derby path.
"That race made us decide that we wanted to go to the Lexington, instead of the Blue Grass," he continued. "We knew that the Lexington was five weeks after the Tampa Bay Derby and five weeks before the Preakness. So going into the Lexington, we really thought if the horse performs well, we would probably give the horse a shot in the Preakness."
With a new rider in the saddle, French native Julien Leparoux, Divining Rod stalked the early leaders in 1 1/16-mile Lexington before powering home a most convincing winner.
"Leparoux was really patient -- he didn't take him back but he just sat on the pace and got him to relax there," Delacour said. "I think that paid off because the horse really finished with a good kick. It was what I had expected to see in the Tampa Bay Derby and I didn't see."
Javier Castellano, who win the 2006 Preakness aboard Bernardini, will ride Divining Rod for the first time in the Preakness. Leparoux decided to stick with Danzig Moon who he rode to a fifth-place finish in the Kentucky Derby.
There are no delusions of grandeur in the Delacour camp regarding the Preakness. This will be Divining Rod's sternest test to date, and the field is expected to include the top three finishers in the Kentucky Derby: American Pharoah, Firing Line, and Dortmund.
But Arnaud Delacour questions, like many racing pundits, whether the Derby might have taken its toll on the first three under the wire, and he knows he has a fresh horse.
"I still think the first three horses in the Derby who are running back in the Preakness are very solid horses, and there is not much between them," he said. "They all had to fight hard and I thought they all had a great performance.
"I'm not sure who will come out of the Derby in the best shape because it was a hard race for the three of them," he added. "So, my guess is the one to beat is the one who comes back the best from the Derby."