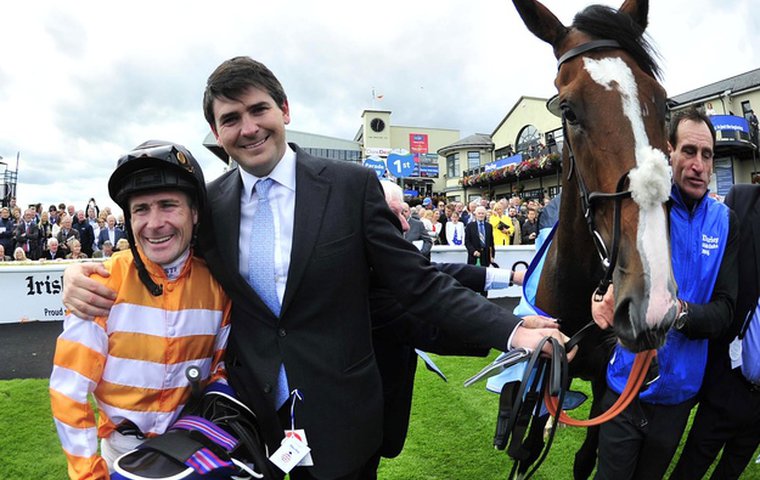 It was a career-defining month for Hugo Palmer, one of Newmarket's upwardly mobile young trainers. Now into his fifth season, the man of aristocratic heritage saddled an eye-catching four individual Group winners in July.

Pride of place belonged to Covert Love, whom Palmer supplemented for the July 18 Darley Irish Oaks at a cost of €40,000. The filly who parlayed that fee into the winner's purse of €232,000 is now heading for Thursday's Darley Yorkshire Oaks, one of three championship races at York's Ebor Festival, which starts tomorrow.
To cap it all, Covert Love's triumph came the weekend before Palmer, 35, married his Australian fiancée, Vanessa Webb. He consented to a brief honeymoon but the couple will kick their shoes off properly during an extended visit to the Melbourne Carnival in October – when Palmer will also take 5-year-old gelding Short Squeeze in search of some Aussie dollars.
That foray is among a number of foreign assignments that highlight the breadth of Palmer's horizons. He made an inaugural visit to the Fasig-Tipton Saratoga Selected Yearling Sale August 10-11, after which he flew straight on to the Arqana August Yearling Sale at Deauville, in France.
The Saratoga trip was part of a broader brief, since Palmer plans to saddle New Providence for the G2 $400,000 Bolsten Spa Stakes on the Travers Stakes undercard on August 29. "They say time spent on reconnaissance is seldom wasted," Palmer ventured, "and hopefully I'll be able to watch American Pharoah run in the Travers, which would be quite a bonus."
Palmer has come a long way since he set up shop in Newmarket with 11 horses in March 2011. All were bought on credit; he managed to sell on eight of them but still made a trading loss at the end of his first season. It was a very different experience from his formative racing years, when he was employed by others.
But then, it's fair to say training horses was not the sort of thing expected of Palmer, the eldest of three children of the 4th Baron Palmer, whose family made its fortune in the biscuit business.
Indeed, Huntley & Palmers Ltd was the world's biggest biscuit manufacturer a century ago, when it employed more than 5,000 people. It boasted warrants from the British royal family, Napoleon III and Leopold II of Belgium. The company's factory in Reading, not far from Ascot racecourse, was so big it had an internal, steam-driven railway network.
However, racing's lure proved irresistible despite Palmer's father ensuring he sat behind various desks during his school holidays. Office life was plainly not for him, so he spent time on stud farms and working in racing stables until he got a job with Australian training icon Gai Waterhouse. The year he spent there in 2000 would have a significant impact on his outlook.
"It gave me a different perspective," he reflected. "Unlike many trainers in Britain, Gai is a real teacher. None of her children want to train, so she loves taking in foreigners like me. That way, she isn't passing on her knowledge to someone who will one day be competing against her."
The level of commitment demanded at Waterhouse's stables proved an eye-opener. "We have it easy in Britain with our 5.30am starts," Palmer said. "In Australia, I was up at 2.15am every morning. It was seriously hard work, but very rewarding."
Waterhouse also impressed upon Palmer the importance of being thoroughly prepared for the yearling sales season, and the opportunities it might present. A measure of that was evident in how Palmer came to train Covert Love, who failed to sell at €26,000 when she was offered at the Goffs yearling sales in Ireland in October 2013.
"I'd seen the filly and liked her, but I had no order," Palmer recalled. "[Prominent bloodstock agent] Hugo Merry bred her with Darley's Mark McStay [under their Sommerville Bloodstock banner], so when Hugo signed the ticket I knew she hadn't sold. I went straight round to him and said I loved the filly and would love to train her."
It was only this May when she broke her maiden, but just two months later she had joined the exalted ranks of classic winners in the Irish Oaks. She went into that on the back of a Listed victory at humble Newcastle; it required a huge leap of faith to stump up the €40,000 supplementary entry fee.
"When the idea was first mooted we thought it was crazy," Palmer said. "But the more we looked into it, the more it began to ring true. And Glenn Magee, who rides her out in the mornings, has been adamant for a while that she was a Group 1 filly."
A Group 1 filly she has certainly proved to be, so much so that another £36,000 has now been paid to supplement her for Thursday's G1 Yorkshire Oaks.
Covert Love's Curragh triumph came during a golden spell for her trainer. Palmer had barely taken in the enormity of his achievement before he saddled Home Of The Brave to win the G3 Friarstown Stud Minstrel Stakes at the Curragh 24 hours later. And he'd only saddled his first Pattern-race winner of 2015 the previous week, when the aforementioned New Providence made off with the G3 888Sport Summer Stakes at York.
But that wasn't all. Palmer was on his honeymoon when Galileo Gold, a horse sold to Sheikh Joaan Al Thani in the preamble to the Qatar Goodwood Festival, won his third consecutive start in the G2 Qatar Vintage Stakes for 2-year-olds. The timing could not have been more apposite for a sheikh anxious to see his country's lavish 10-year sponsorship deal with Goodwood get off to a flying start.
The flying start theme also applies to Palmer, whose string looks sure to expand beyond its present 66 horses at the close of the yearling sales season in November.
"In my experience there are few such things as concrete sales orders," Palmer said. "Against that, there has been renewed interest from existing clients and lots of others are making the right noises.
"Obviously July was hugely exciting for us. It's the sort of thing you spend 365 days a year working to achieve, but it was also a massive release to see horses show on the racecourse what they can do at home. As Hannibal Smith from the [hit television series] The A-Team was fond of saying: 'I love it when a plan comes together.'"
It will surely be the first of many where Palmer is concerned.