There are a precious few things in life that are certain. There's death. And taxes. And maybe post time not being post time at Gulfstream Park.

There's also something at Gulfstream Park that's a near certainty.
Each year, at Gulfstream Park's Championship Meet, it's a no-brainer that Todd Pletcher will emerge as the leading trainer.
For 15 straight years, the seven-time Eclipse Award winner has turned the Hallandale Beach, Florida, racetrack into his wintertime playground, winning the Gulfstream training title in each and every one of those seasons.
"[That streak] is unbelievable and I don't think it will stop anytime in the near future," said Jack Wolf, the Managing Partner and CEO of Starlight Racing, whose horses have been trained by Pletcher for about 16 years.
The streak may be astonishing on many levels, but it is also a reflection of the quantity and quality of Pletcher's stable and how all facets of his operation seem to come together in a perfect harmony at his Florida base.
'Gulfstream's program fits our program well'
"We don't really point the whole stable toward it, it's just a natural progression. Gulfstream racing suits our stable well and our model well. We focus on developing classic 3-year-old types and stallion prospects. Gulfstream has a very good program for 2-year-olds turning three and a good schedule of Triple Crown prep races," Pletcher said. "I think their program fits our program well."
Given that Pletcher is the sport's all-time leader in earnings with $368,476,045 through Dec. 2, it's certainly not startling that success seems to follow him wherever he moves his stable.
Yet at Gulfstream, success has become dominance for Pletcher. Earlier this year, the Championship Meet training title was decided about a month before the end of the meet as Pletcher registered an imposing win total. His horses reached the winner's circle 70 times, only two shy of his personal best 72 wins at the 2011-12 meet. Adding even more glitter to those numbers, his 70 wins nearly matched the combined total for the two trainers who tied for second, Jorge Navarro and Mike Maker, each of whom had 36.
And it's not just Pletcher's edge in starters that accounts for a Secretariat-like winning margin in the trainers' standings. Maker had only 20 less starters than Pletcher (201) and Navarro was 58 behind (163). The difference stemmed from their winning percentages. Maker won at an 18 percent mark and Navarro 22 percent. Pletcher, however, won races at an amazing 32 percent clip last winter, a sensational number for someone who saddled 221 starters and a reflection of how efficiently his stable functions in the warm Florida sunshine.
"I think Gulfstream is definitely important to Todd because it starts the new year and Todd is always focused on trying to do better than his previous years," said Mike Repole, who won three owners' titles at Saratoga since employing Pletcher as his main trainer for about nine years ago. "Getting off to a fast start is always important to him."
It didn't take Pletcher long to break into the win column at the current 2018-19 Championship Meet as he won the third race on the Dec. 1 opening-day card, prevailing with his second starter of the day. Fittingly, that initial victory came with a 2-year-old maiden, Bourbon In May, in what looms as a sign of things to come in the months ahead.
Each year, Pletcher arrives in a Florida with a platoon of talented 2-year-olds, using races at Gulfstream and morning training at Palm Beach Downs as springboards to success at three, sometimes in major Kentucky Derby preps. Not only has he won the G1 Florida Derby five times, including four wins in the last five renewals, he's captured the G2 Fountain of Youth three times and the G2 Holy Bull twice. He's also sent out horses from his Florida base to win the Wood Memorial at Aqueduct and Arkansas Derby five times apiece.
"Gulfstream is where Todd starts to develop his rising 3-year-olds in order to get them ready for their big 3-year-old season. All of his horses that are preparing to make a Kentucky Derby or Kentucky Oaks run will most likely have a start at Gulfstream," Repole said.
Triple Crown: 'I'm feeling better about it than I did a few months ago'
Some might wonder what fate has in store for Pletcher on the Triple Crown trail since his 2-year-olds have yet to distinguish themselves on dirt with December at hand. Pletcher, though, sees some similarities between now and last year, when he ultimately wound up with four Kentucky Derby starters, all of whom won graded prep races for the Run for the Roses.
"It's a little early to talk about our 2-year-olds," the 51-year-old future Hall of Famer said. "If you asked me that same question at this time of year last year, I would have said we don't have a lot, but then all of sudden you have [Wood Memorial winner] Vino Rosso coming around. [Arkansas Derby winner] Magnum Moon breaks his maiden on January 13 [at Gulfstream]. [Louisiana Derby winner] Noble Indy broke his maiden on December 3 [at Gulfstream] and [Florida Derby and Holy Bull winner] Audible was running in allowance races. I feel good about the way our horses are looking and coming around so we're optimistic, but you have to get lucky and have horses continue to develop. I'm definitely feeling better about it than I did a few months ago."
Of course, more than just swift 3-year-olds go into a such a massive streak and prolific success in one locale. For Pletcher, it has been the confluence of the main factors that have enabled him to rise from an assistant for D. Wayne Lukas to an icon who has re-written the sport's record books.
A team of high-quality workers, a comfortable training spot, the inherent speed in his horses, and support from prominent owners and, in particular, a Hall of Fame jockey with 6,000 wins are all key elements in that mix.
'Appraising horses appropriately'
"The streak is a credit to the whole staff and Anthony Sciametta and Tristan Barry are the two main assistants there and they've been there for all 15 years. We pride ourselves on consistency with our handling of the horses and placing them in the right spots and appraising them appropriately. That's a lot of what goes into winning races. We hope they are all stakes horses, but the ones that are not, you have to find the right level for them," Pletcher said.
Digging deeper into that, much like the way major league baseball players use spring training in Florida to prepare for the regular season, Pletcher uses Palm Beach Downs as his launching pad for success throughout the year.
"Palm Beach Downs is really good for our stable," Pletcher said. "It allows us to have a majority of our horses in one place during the winter months. It's a small facility with only about 180 horses on the grounds, so it's a quiet atmosphere for the horses and there's also a mile racetrack where you can get them ready to run. It's kind of in-between the farm and the racetrack life for horses.
"One of the keys to a lot of successful stables is being able to work horses in company and get a better comparison of how fit your horse is. When we can match up big caliber horses, it's a good barometer of the condition they are in and the horses running against them."
The speed Pletcher instills in his horses at Palm Beach Downs also pays a strong dividend at Gulfstream, where the track is usually kind to horses on or near the early pace.
"The horses Todd trains tend to be more forwardly placed and that track tends to favor that type of horse," Wolf said.
Pletcher's training regimen has also played a key role in one of his strong suits at Gulfstream – and a lot of other tracks. Only a handful of trainers can match Pletcher's success with horses returning from lengthy layoffs. Many of them, in particular younger ones, return from the time away from the races better than ever.
"One of our strongest percentages from a win standpoint is horses coming back from layoffs of six months or more," the two-time Kentucky Derby winner said. "I don't have a real explanation for it. It's just that we try to have them prepared off the layoff. We look to have them ready to run first time back and it's one of those things that has worked for us. Generally, you don't want to have too many starts like that. You want to have more consistent starts. But, when we do give them time, we do it for a reason and we try to bring them back with a race in mind and prepare them for it."
'Todd was a genius for stopping Audible when he did'
A great example of Pletcher's prowess in comeback starts came in a Churchill Downs stakes that could have major implications for the stable's Gulfstream Park meet.
After Audible finished third in the Kentucky Derby, the original plan was to rest him for the Belmont Stakes. But, during those five weeks, Pletcher did not like what he was seeing in the Florida Derby winner and he was given a lengthy rest.
Owned by WinStar Farm, China Horse Club, Starlight Racing and Head of Plains Partners, Audible was sidelined for nearly six months before returning in the seven-furlong $200,000 Cherokee Run Stakes at Churchill Downs on the Nov. 3 Breeders' Cup Saturday card. Entered at a distance less than a mile for the first time since his career debut on Sept. 27, 2017, Audible was razor sharp and posted an impressive two-length score that could ultimately propel him to a start in the $9 million Pegasus World Cup at Gulfstream on Jan. 26.
"Todd was a genius for stopping on Audible when he did," said Wolf, who along with Sol Kumin's Head of Plains Partners purchased a 15 percent share of the racing rights to both Audible and Triple Crown winner Justify from WinStar, China Horse Club and SF Racing this past winter. "There was some question whether the seven furlongs would suit the horse, but Todd loved the timing and the horse was training more forwardly than he anticipated. He had planned on bringing him back in the Harlan's Holiday [on Dec. 15] but the horse was doing, so well he brought him back on Breeders' Cup weekend."

The Harlan's Holiday looms as Audible's final prep for the Pegasus in January, when he will he get a chance to make a loud statement about his status among the sport's top stars.
"We were really pleased with that win. We were trying to devise a schedule that will get Audible to the Pegasus. The timing of the Cherokee Run was good in terms of where he was in his training and good timing with the Harlan's Holiday and then to the Pegasus. The timing was the key, but I'm really, really pleased with the way he ran. I think seven furlongs was not his optimal distance, but his class prevailed and he turned in a very good effort," Pletcher said.
"We feel he can be among the major players in the division this year based on the Holy Bull and Florida Derby. He ran a huge race in the Kentucky Derby. We feel if he improves off his 3-year-old form, he can be one of the big horses this year."
Hall of Famer Javier Castellano rode Audible in the Kentucky Derby and Cherokee Run, but he was handled by Pletcher's go-to jockey in the Florida Derby, the aforementioned Hall of Famer and 6,000-race-winner, John Velazquez.
Since April 12, 1996, Velazquez and Pletcher have formed a duo unequaled in racing history. Together they have won a staggering 1,750 races with earnings of more than $145 million and more than 440 stakes wins sprinkled in for good measure.
Velazquez: 'things can sour, but we've always reconnected'
As much as those numbers would be mind-boggling in any era, in this generation, with the relationship between trainers and owners often resembling a revolving door, they figure to be unrivaled for many a decade.
"I'm just a little piece of the puzzle who has taken advantage of the opportunities they've given me. I'm glad to be a part of the team and the great success. The years alone are amazing. When you put all those years together, it has to be record," Velazquez said. "Things can sour for a bit, but we've always reconnected. Winning keeps us together. If one of us was struggling, it would be hard to stay together, and it helps when you have the trust of everyone. You have to have trust to get through so many ups and downs over the years.
"We've had some issues and sometimes owners get mad, but we've never totally broken apart. There's great communication and that helps to balance things. Sometimes I have to take someone else's horse and he has to ride someone else, but it's the loyalty we have for each other that keeps us together."
If there was a time that could have shaken such a solid foundation, it came in the summer. After a sensational first four-to-five months, Pletcher fell into a prolonged slump – for him. While 99.9 percent of the trainers would have sold their soul for Pletcher's results, his summer and early fall did not match the lofty standards he has maintained for much of his career.
During the Belmont Park spring meet, Pletcher, who has 4,659 career victories with a winning percentage of 23 percent, finished fifth in the trainers' standings with 18 wins and an 18 percent winning strike rate.
A drop down the world rankings
Then at Saratoga, where Pletcher owns 13 training titles, the expected slugfest between him and Chad Brown for the top spot never materialized. Pletcher was second with 19 wins, but wound up lapped by Brown, who had a record 46 wins. Even worse, Pletcher's winning percentage slipped to 15 percent.
A year earlier, Pletcher was the top trainer at the Spa with 40 wins and a 24 percent winning percentage.
In the TRC Global Rankings, Pletcher, a former world #1, is currently down in 19th spot in the trainers' standings, making him just the seventh-ranked U.S.-based conditioner based on results in Graded stakes.
"Like anybody, Todd has good and bad years," said Angel Cordero Jr, the famed jockey and agent for Velazquez. "He didn't have a good year at Saratoga because he didn't have the material. You need good horses at Saratoga."
Pletcher himself will admit 2018 had some ups and downs for him that were below his expectations.
"We had what I would describe as a really terrific first five months of the year and then the following four months were below our expectations," Pletcher said. "June, July, August, September, were not the kind of months we were hoping for. Our 2-year-olds were slow to get going and we had some setbacks with horses going to the sidelines like Audible and Magnum Moon. When you lose a couple of your major players to injuries, it can really slow you down, especially when your 2-year-olds are slow to develop."
'In no way is he pleased with his second-half results'
The switch back to Belmont Park only worsened Pletcher's slide as he finished seventh with just nine wins and a 13 percent win rate. Yet, through it all, his main supporters saw no signs of Pletcher losing his even keel or confidence. As Cordero said, "Whatever he knows, he hasn't forgotten it."
"I would say that Todd's 2018 season is almost like a tale of two cities," Repole said. "The first half was extremely impressive. He won so many big races like the Florida Derby, Wood Memorial, Arkansas Derby, Louisiana Derby, I can go on and on. The second half has been much tougher. There was some bad racing luck with injuries to some key horses, some tough losses and no 2-year-old superstar emerging. It has been a much tougher second half.
"Ninety-nine percent of the trainers in this game would look at Todd's second half and be extremely pleased with the amazing results, but not only do we in racing hold Todd to a higher standard, Todd holds himself to a higher standard. In no way is he pleased with his second-half results or looking for any silver lining. Todd, very much like me, hates losing more than he loves winning. When you have this level of success, winning seems always to be expected. Losing is much tougher and teaches us many more life lessons.
'Winning the Keeneland meet is huge for Todd'
"I know Todd is more focused than ever before on trying to win another Gulfstream meet, another Saratoga meet, and trying to add some more Triple Crown wins and Breeders' Cup wins for him and his owners. Some of those wins better be for me!"
In recent days, there has been a much more typical vibe emanating from Pletcher's barn.
He won the Keeneland fall meet title with nine wins from just 19 starters for a superb 47 percent winning rate, which seems a better fit for coin flips than winning horse races.
"Winning the Keeneland meet is huge for Todd. To do what he does so well in New York and Florida and then win that meet at Keeneland is unbelievable," Wolf said. "He keeps such an even keel. He's a competitive person and I don't think he'll change his method of training or approach to it if he is having an off-time. He has confidence in his abilities and will train horses the way he always has."
The tried-and-true methodology also came to the forefront at the Breeders' Cup, where he seemed to have a hand that was weaker than usual at the World Championships.
What happened?
In the first Breeders' Cup race, Pletcher landed in the winner's circle when Bulletin notched a front-running win in the inaugural Breeders' Cup Juvenile Turf Sprint.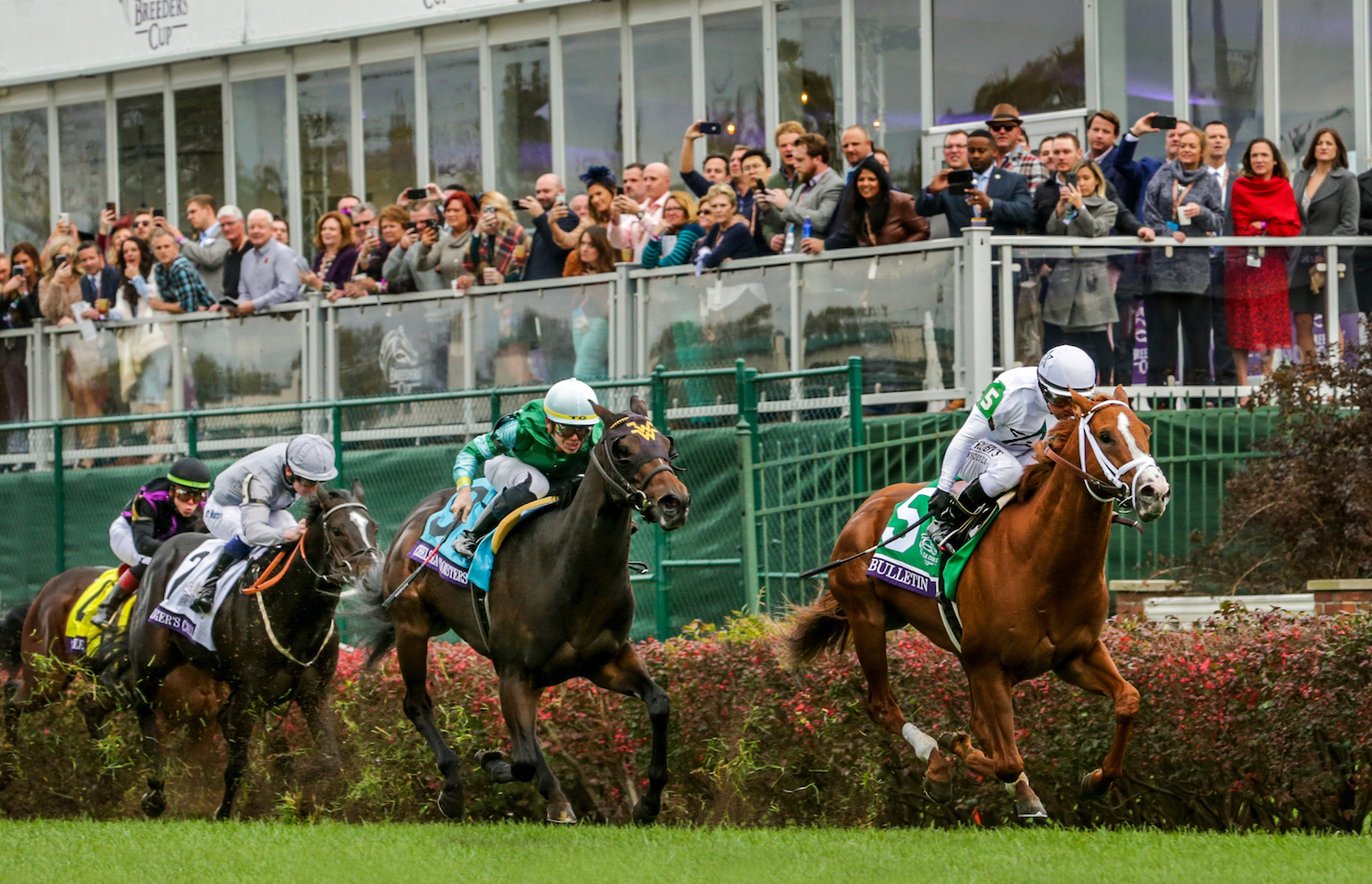 "It was a welcomed surprise to us to have Bulletin make the Breeders' Cup. At the start of September, we weren't sure where we would be with him, so it's one of those things that came together at the right time," Pletcher said. "We were fortunate that they added a new category for a juvenile turf sprinter [at the Breeders' Cup] and we were fortunate enough to have the best turf sprinter. Sometimes you get lucky and things fall in place."
Lucky? There's been much more than luck rolled into the success story that Todd Pletcher has crafted for more two decades at Saratoga, Churchill Downs, Belmont Park, Keeneland, and, yes, Gulfstream Park.
For a while this year, it looked like there might actually be suspense about the trainers' race at Gulfstream Park. But after the Keeneland meet and Breeders' Cup weekend, it looks like the ship has been righted.
It's not a certainty, but, when it comes to a Sweet Sixteen for Pletcher at Gulfstream Park, it's probably the next best thing.