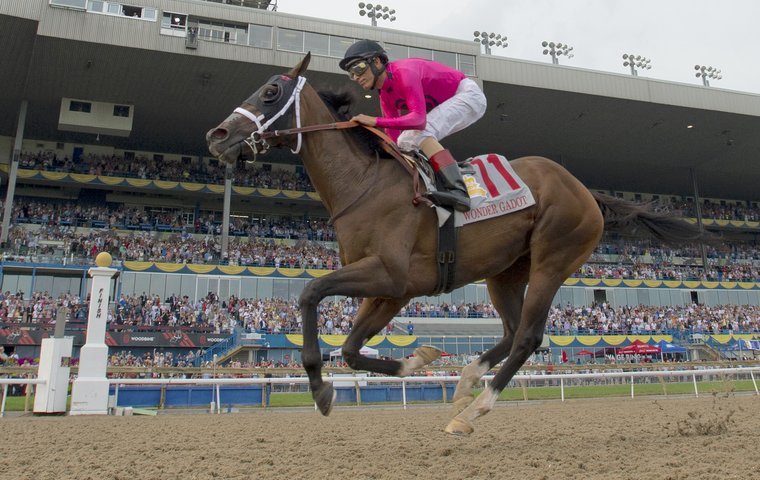 Woodbine Racetrack has plenty to celebrate as a memorable marathon season there – it began April 21 - winds down. Yet, although there are still a few stakes to run before the final day on December 16, many eyes are already turned ahead to next year.

That's when Woodbine will debut a new, second grass track to go along with its famous E.P. Taylor turf course and its one-mile, synthetic main track.
Highlights of 2018 included:
Popular filly Wonder Gadot's triumph over the boys in the Queen's Plate in June
Oscar Performance rebounding from a dismal experience in the Arlington Million to win the Ricoh Woodbine Mile
Desert Encounter becoming the eighth European shipper in nine years to win the Pattison Canadian International
The success of the Turf Endurance Series
The emergence of promising Japanese apprentice riders Kazushi Kimura and Daisuke Fukumoto
"We were very successful on our three big days, from both a handle and a quality of racing perspective," said Jonathan Zammit, Woodbine's Vice President of Thoroughbred Racing Operations. "Another thing that went well was the Turf Endurance Series, which picked up so much that we were turning away horses at the end. Of course, Wonder Gadot was a great story for us."
He wasn't the only one that was awed by Ontario-bred Wonder Gadot, who ran second in both the Longines Kentucky Oaks and the Woodbine Oaks before winning the Queen's Plate by 4¾ lengths.
Woodbine television analyst Dawn Lupul said, "I had to think about it for a while, but for sure my favourite moment of this season was Wonder Gadot in the Queen's Plate. The crowd was so excited when she crossed the wire and she looked every bit the champion in the winner's circle. It was a special moment on a beautiful day."
Track announcer Robert Geller agreed, calling the victory "sparkling", but he added that his own favorite moment was the repeat win by Johnny Bear in the G1 Northern Dancer. He said it was "a thrilling race to call".
He also enjoyed watching "the growing success of promising Japanese apprentice riders Kazushi Kimura and Daisuke Fukumoto, who have added further international flavour to Woodbine".
Fan ambassador Will Wong also gave a nod to Kimura and Fukumoto, who have earned 68 and 29 victories, respectively. "It was great seeing names like [theirs] and Rafael Hernandez, Skye Chernetz, Jerome Lermyte, and Hannah Twomey really step-up their game and contribute to the changing, diverse face of our jockey colony."
Pink Lloyd's legacy unscathed
But Wong's standout memory wasn't even a victory, it was when reigning Horse of the Year Pink Lloyd lost the July 8 Shepperton Stakes after an 11-race win streak. "His legacy and all that he has done for the sport and Woodbine's fans still remains unscathed," Wong said. "But it is a sign of the times for mobility on the local circuit that others too can shine and make their mark with hard work and luck."
One person who benefited from Wonder Gadot's loss in the Woodbine Oaks was trainer Catherine Day Phillips, whose Dixie Moon defeated that titan by a head. But the day that meant the most to her was Wednesday, August 1.
"We ran six horses in four consecutive races and won two allowance races," she said. Her husband, Todd, and sons Blake and Colton were on hand to help. "It was a special evening. Colton told me a few weeks later that was the day that he knew he wanted to be more involved with the racehorses."
New Concierge Service
Horsemen across the board had an excellent experience during the 2018 season thanks to Woodbine's Concierge Service, which offers assistance with seating, dining, and anything else necessary to enjoy a day at the races. "We really put an effort forward to take care of horsemen from every aspect," Zammit said.
"Our one-stop shop to take care of every aspect of your stay is something we are very proud of. Whether you are from the United States, or are international, or if you are a local horseman on Woodbine's property, we take it seriously and want to offer amazing experience that is just that much more enjoyable. We help people with where to go in the city of Toronto, get them licensed, and help set up stalls. Anything you may need, no matter where you are on the spectrum, we have a team and resources dedicated to helping you."

"Visitors make a choice to compete at Woodbine," Zammit added. "When they choose to come here, we value that, and want to make sure their stay is top notch."
He mentioned Woodbine employees Karl Lagerborg, Martha Wakely-Scott, Julie Bell, and Steve Lym as instrumental in the development and success of the program.
Woodbine's special amenities, which are not typically found at racetracks in North America, are also available to all horsemen whether local or shipping in. "We are very blessed here with a complement of assets aside from our actual racetracks," Zammit said. "We have not only a dirt training track, but a turf one as well. We have a sand ring and a European jogging path. Woodbine has an abundance of luxuries for those looking to develop their horses, available as soon as they arrive on site."
Changes on the way
With the 2018 season wrapping up and the addition of the new turf course on the way for 2019, Zammit noted that the race cards offered will be different, and more exceptional. "We are looking at our program to understand how we can optimize not only the two turf tracks, but all three. We won't forget that we have the main track, and all three tracks will have to be firing on all cylinders. We want to strike the right balance with the main track horses and the horsemen, while dispelling the notion that we only run turf races. Of course, it's a big part of our future, but the program will be balanced."
The turf schedule got a boost when the Summer Stakes, held in September for juvenile colts, received Grade 1 status for 2018. Its sister race, the Natalma Stakes, was given that designation in 2016. "The field sizes for those races are very good," Zammit said. (The races drew a combined 25 runners this year.) "They are a real highlight on our schedule now for future and developing stars and those looking at the Breeders' Cup."
Two-year-olds will be showcased again on the final weekend of stakes action at Woodbine; the December 8 Display Stakes is run over 8½ furlongs. Previous winners include King And His Court in 2016 - he went on to run second in the Plate Trial - and Admiralty Pier in 2017. He was Graded stakes placed at Keeneland just months later.
The 1¾-mile G3 Valedictory Stakes on December 9 is the last Thoroughbred stakes race in Ontario for 2018. Melmich, who won the Valedictory in 2015, will be back to try to score again. He has already earned just over $1 million.

The 160th running of the Queen's Plate, first leg of the Canadian Triple Crown, will be held on Saturday, June 29. It is the highlight of Woodbine's two-day Queen's Plate Festival. Tickets for the festival can be purchased from Thursday on Ticketmaster.ca. Reserved grandstand seating starts at $40 (for a limited time). For more information, visit Woodbine.com