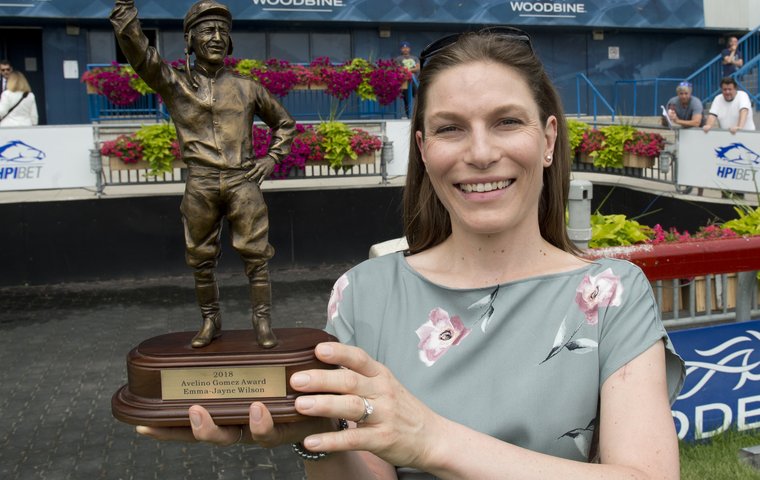 Jockey Emma-Jayne Wilson could see trainer Kevin Attard coming towards her across the parking lot, so she darted between cars and waited. "I went against my better judgement," she admitted. "I thought, no don't do it! But I jumped out and scared him."

Unfortunately for Wilson, Attard was walking with an owner she didn't see. "I was mortified," Wilson said. "Kevin laughed, but I felt awful. I even went back and apologized again later. I'm all for a little fun, but I take pride in my professionalism."
No one would deny that Wilson is anything but a focused, dedicated competitor, but she also has a prankster's heart inside. "It's all about balance," she said. "We are all seriously competing against each other and we have a very dangerous job. But the other side of me likes to have a little fun and lighten it up while brightening the people around me."
The fact that she is a jockey at all is still surreal to Wilson, who has won over 1,500 races and earned over $72 million in purses. "It was one of those things that I always wanted to do," she said. "At career day in school as a kid, I would put on my riding breeches and tall boots and go to school with a whip and say I wanted to be a jockey. The dream was always there."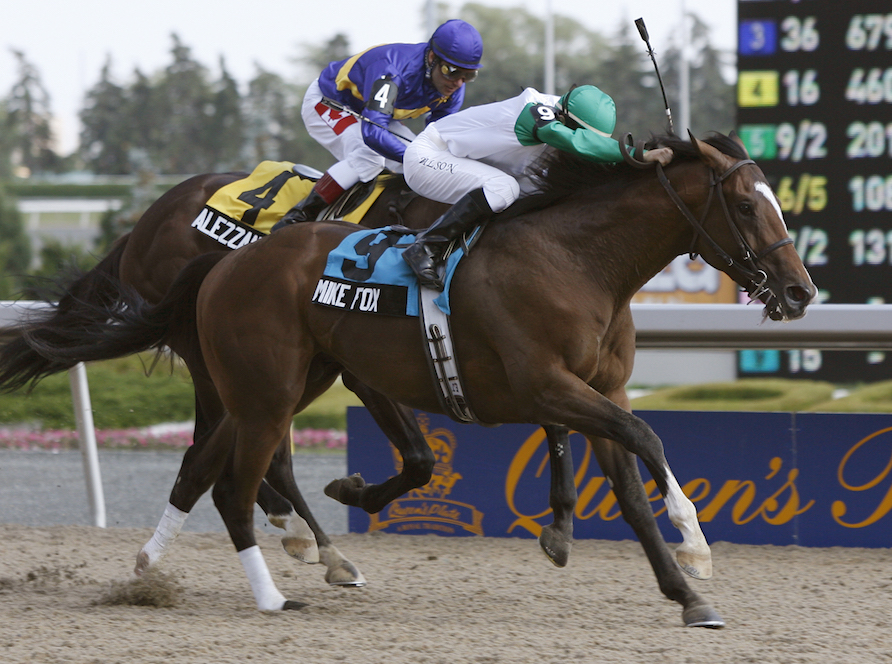 She rode just four winners in 2004, earning about $80,000. In 2018, she won 49 of 414 starts for earnings of $1.8 million. "I started my venture as a jockey just wanting to give it a go," she said. "A friend of my mom's got the phone number for Sandy Hawley, a legend in Canada. He gave me the number for a trainer at Woodbine. In the beginning I was terrible."
Over time, Wilson learned how to sit a racehorse, which is completely different from the riding she was used to. "Show horse riders smooch and kick; if I see an exercise rider doing that, they are usually getting run off with."
But, once aboard a racehorse, Wilson flourished. "Once I was on the other side of the rail, sitting on these horses, being at Woodbine, I was hooked. It became something I gave 100 percent of my focus."
Over the years, Wilson has ridden some standout horses, including Interpol in the G1 Northern Dancer Turf, and Coronation Futurity winner Shakhimat in the G3 Transylvania at Keeneland. 2007 Queen's Plate hero Mike Fox is probably the best known; the experience of riding the 15/1 shot to victory is emblazoned in Wilson's memory.
"You know you're riding in the Queen's Plate, but only in fleeting moments," she said. "The doors open and it's just another horse race, but in a way it's not because the horse you are on is one of the best in his class and earned his right to be there. You believe in the horse you are on."
Wilson recalls three distinct moments from her Queen's Plate victory. "Mike Fox was number nine, drawn on the outside," she said. "I couldn't hear announcer Dan Loiselle, but you can hear the roar of the crowd and feel that little flutter. I genuinely thought we could win and said before the race I wouldn't trade horses with anybody.
"When the doors open, the race is on, and it's all the handicapping, the discussions you've had with the trainer, all those things you worked for kicking in. At the two-and-a-half furlong marker I was in a hard drive [sitting third], but no one was coming past me with only two in front. I thought I'm going to be third in the Queen's Plate!"
But then Mike Fox dug in. "Your better judgement says to shut up and ride," Wilson explained. "It wasn't until a few jumps before the wire when I had gone by the favorite, I was in second and gaining, I remember thinking 'I could run second!' These moments don't linger, they are so fleeting. I had tunnel vision the last 70 yards; when I was past the leader everything disappeared, nothing left but the wire. It was surreal."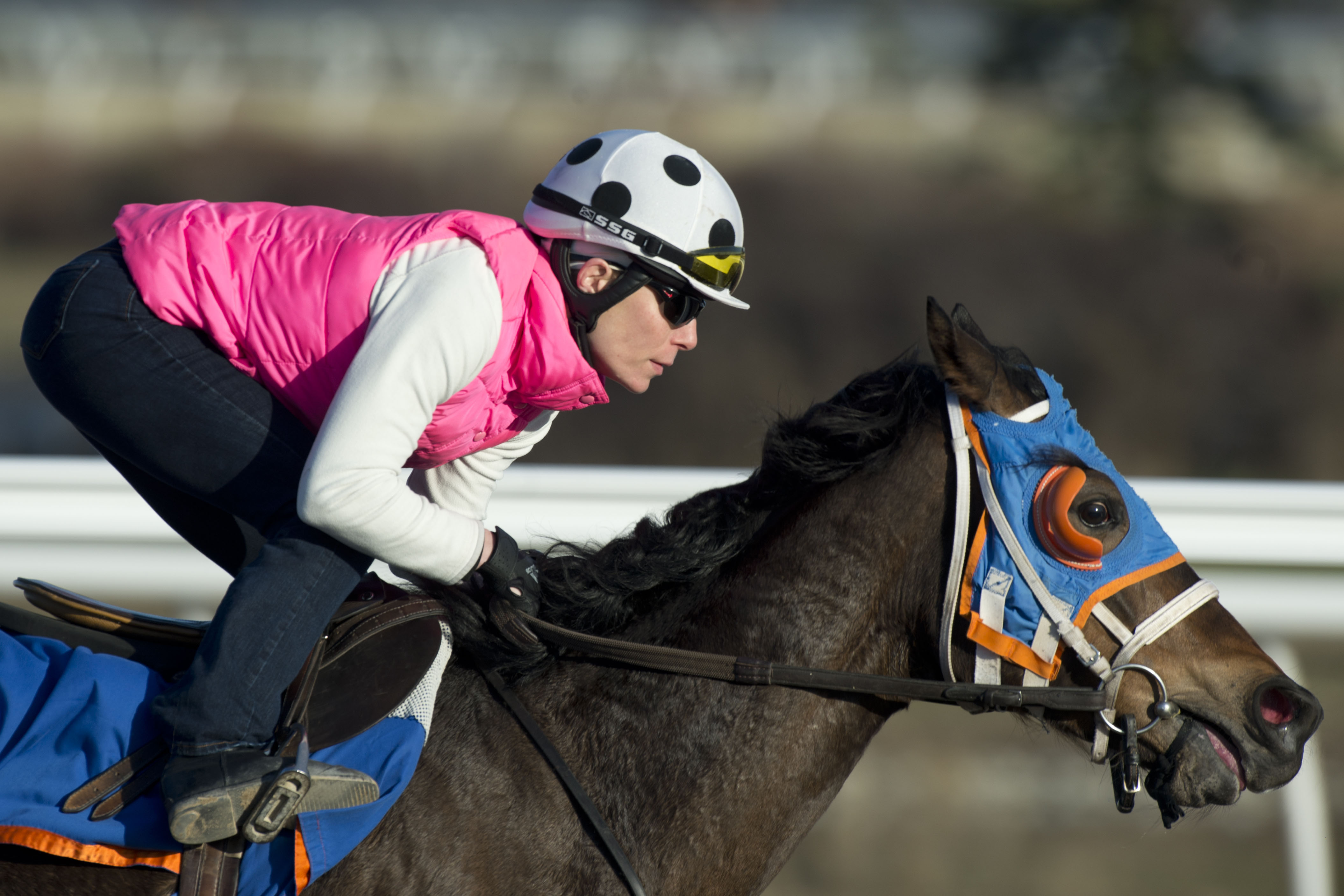 Thanks to her intense game face while on the back of a racehorse, Wilson has been called 'Mr Wilson' and 'Big Bad Serious Emma' by fans along the rail. "They're accurate on that," she agreed. But, despite being a fierce competitor, Wilson genuinely believes in balance through all things. "With my diet alone, I'll eat steamed fish and plain green beans on some days, but other days I'll eat a 12-ounce New York strip with a baked potato," she said. "You have to have a balance in life."
Cue the pranks.
Wilson's most memorable prank ever was one that took weeks to pull off. "Bobby Bertrand was the clerk of scales at Woodbine for years," she said. "His desk was in a glassed-in, 15 x 30 area. On the last day of racing, I filled his office full of balloons. I'm not talking to your knees, I'm talking over your head completely full. I had balloons stashed at my house in garbage bags, in an office on the backstretch, balloons just stashed all over. I ran the risk of being busted at any given time. On the last day, a few others helped me out filling that office up sky high. There is security footage of Bobby coming in the next morning and taking a safety pin from a jockey's armband and just slashing and slicing."
Jumping out and scaring people is more common. Wilson targets Woodbine jockeys Jesse Campbell and Alan Garica "relentlessly", as well as valet Tyler Gaskin, who has been successful in pranking Wilson back. "I've had to make a truce with a couple people," Wilson admitted. "I would be worried that, if I ever got into a prank war with one person, it would go too far."
Another time, she appeared behind now retired rider Gerry Olguin. "He was leaning in the back passenger side door of his car, swung his backpack over his shoulder, and I'm standing right there behind him and said in a deep voice, 'Gerry!' He screamed and tensed so hard that he wrenched his wrist. I laughed so hard I was on the floor of the parking lot."
She is by no means reckless. "I pick my spots to play pranks, and I take my job very seriously," she said. "I'm very aware around the horses; you can't get silly around them. [Woodbine] is a place of business."
Nor would Wilson have it any other way. "I followed my dream. I only ever booked off once in however many years, and that was because my wife was in the hospital."
Wilson has twin 2-year-old daughters with wife Laura Trotter, and finds an ideal life balance is even more paramount now. "It's not just while riding racehorses, it's every day. During the off season, I have vicious workouts with my personal trainer, who pushes me to the limit. When I come home, I play hide and seek with my girls, who think I really disappear if I put a blanket on my head."
If she could share one thing with the fans on the rail, it is the feeling of sitting on a Thoroughbred. "The power, oh my," she explained breathlessly. "It's raw. It's genuine. It's intense. You take these horses that are raring to go and they just want to explode [out of the gate]. People can understand that power, but the part that you can't explain is that you're a part of it. There's nothing else but you, and them. When they get going, you're just perched up there, waiting for that moment in the race where you communicate with your hands, telling them to pick it up, get going, and they level off and run on …"
The best way she could describe it was likening it to the built-in launch control system in her Porsche.
"You put it in sport mode and put your left foot on the brake and the right foot on the accelerator," she explained. "Floor it to the ground. You sit there, with this engine behind you revving and rumbling at 6,000 RPM, the car is shaking, and you take your foot off the brake and it just goes. But launch control has nothing on sitting there, holding the lines in direct contact to the horse, with your body perched over the top, fluidly rolling down the lane."
Wilson has been able to share this experience more than most thanks to virtual reality technology that Woodbine debuted at Equestricon two years ago. She wore a 360-degree camera on her helmet several times, including while winning a race on Lapochka, which you can view via the YouTube video above, although it is obviously meant for a virtual reality headset.
"Even though I ride races, I still think it's cool," Wilson said. "Watching people wear the headset, it's amazing to see them experience my thoughts as they happened."
Look for the playful and competitive Wilson on the Queen's Plate card at Woodbine on Saturday (June 29).