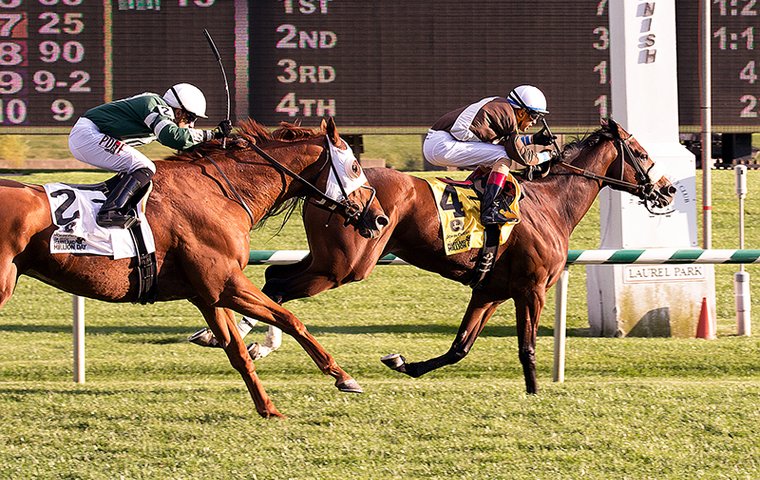 Hillwood Stable's multiple stakes winner Phlash Phelps will miss the rest of the year with bruising of the cannon bones, denying the 6-year-old gelding the chance at a rare third consecutive victory in the Jim McKay Maryland Million next month.

Phlash Phelps, a bay son of leading Maryland sire Great Notion, has raced only once this year, rallying from far back to win the six-furlong Mister Diz by a neck as the favorite on June 24 at Laurel Park. Among the horses that finished behind him that day were stakes winners Talk Show Man, Blu Moon Ace, Sonny Inspired and Ben's Cat, the late champion's final start.
Based at Laurel with trainer Rodney Jenkins, Phlash Phelps shows only one work since the Mister Diz, a half-mile breeze in 46.80 seconds on July 28 at Laurel – the third-fastest of 53 horses at the distance.
Jenkins noticed something amiss in the way Phlash Phelps was moving on the track in the space before and after his lone breeze, and sent him to the New Bolton Center in Kennett Square for evaluation, where the bruising was detected."Phlash will not be back this year. He has bone bruising of all four cannon bones. He's not lame at all, but his stride is about half the size it usually is. That's the reason I haven't run him since the Mister Diz," Jenkins said. "I just never was happy. He's worked good but I'm not going to run that horse until he's 100 percent. They said I can put him back to work in January.
"It was a couple weeks after the Mister Diz that I noticed it," he added. "I said to the girl that gallops him, 'He's not moving like himself.' If you watch him jog and everything you'd say he's fine, but I know him. He's pretty good most of the time.
Jenkins said two of his other top horses, grass specialist Top Of Mind and multiple stakes-winning 3-year-old filly Shimmering Aspen, have had similar issues. Shimmering Aspen's showed up after her maiden triumph last fall but she has gone on to win four of her last five starts, including back-to-back stakes.
Top Of Mind hasn't raced since finishing eighth in the Cape Henlopen on July 8 at Delaware Park. The five-time winner was second last fall in the G2 Commonwealth Turf Cup, set to be run Sept. 30 as the Baltimore-Washington International Turf Cup.
"They just need time. They want them out six hours a day in the fields. They said to keep them moving and everything," Jenkins said. "They don't go lame; they just get short-strided."
Phlash Phelps had won the last two editions of the Maryland Million Turf. Horses to win consecutive Maryland Million races are Ben's Cat (2010-12), Countus In (1989-91), Docent (2001-03), Mz. Zill Bear (1993-95) and Hall of Famer Safely Kept (1989-91). Eighttofasttocatch also won the classic three times (2011, 2013-14).
The 32nd Jim McKay Maryland Million will take place on October 21 at Laurel.
While Top Of Mind will also be out for the rest of the year with bone bruising, Shimmering Aspen is entered to make her return to graded stakes company in tomorrow's G3 Charles Town Oaks. She is the third of four also-eligibles in the seven-furlong sprint that drew an overflow field of 14.
Shimmering Aspen faded to seventh after taking a short lead into the stretch of the 1⅛-mile G2 Black-Eyed Susan on May 19, racing inside on a tiring sloppy and sealed main track at Pimlico. She bounced back to take the June 17 Alma North and Aug. 12 Twixt, both seven furlongs at Laurel, by 11¼ lengths combined.
"She's doing well. She's acting like her old self. She's pretty much the same all the time," Jenkins said. "I really think she fits in the race. Seven-eighths I think is her best distance and she has speed so the racetrack should suit her. She's doing well. We hope she runs well."