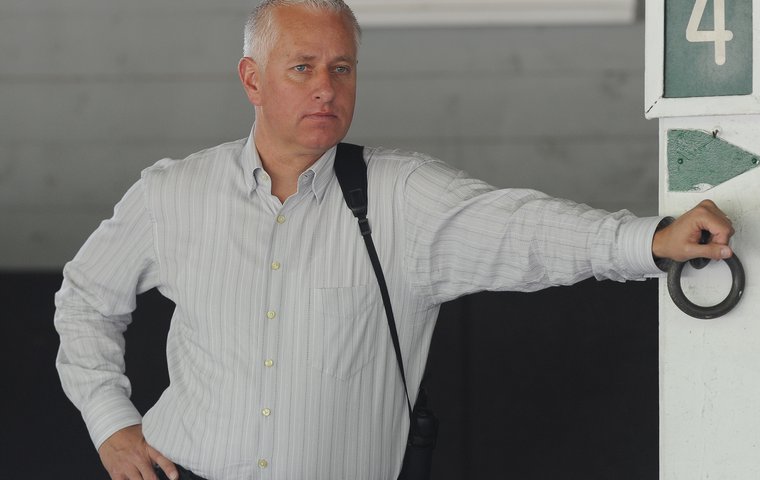 When the Saratoga Race Course meet kicks off on Friday, Todd Pletcher will be eyeing his 13th training title at North America's pre-eminent summer racing venue, which features 40 days of high-level competition.

Pletcher, 49, has led his competitors in number of wins for the past six years at the upstate New York track. Now in his 21st full year of training, Pletcher enters the 148th racing season there with 458 victories at the elite meet.
Currently the nation's leading trainer in money won — a position of supremacy Pletcher has held at the conclusion of the North American racing season each of the past six years — the future Hall of Famer has captured nearly every major Saratoga stakes, frequently on multiple occasions. Among the notable races won by Pletcher in Saratoga are the Alabama, Coaching Club American Oaks, Hopeful, Jim Dandy, King's Bishop, Spinaway, Travers, Whitney and Woodward.
Saratoga has long been been a destination for the unveiling of future stars in the Pletcher barn. The trainer's body of work with juveniles at Saratoga is outstanding and is highlighted by Uncle Mo, the undefeated champion 2-year-old male of 2010 who successfully launched his career there in a much-heralded performance.
Super Saver, Pletcher's Kentucky Derby winner, debuted at Saratoga by finishing second during the 2009 season. Palace Malice, his most recent Belmont Stakes winner, shed his maiden status as a 2-year-old at the 2012 meet.
Pletcher, whose first graded stakes win at Saratoga with a 2-year-old came in the 1999 Sanford with More Than Ready, has a combined record of 23 wins in the six graded stakes contested on the dirt for juveniles at the meet: the Adirondack, Hopeful, Sanford, Saratoga Special, Schuylerville and Spinaway. Overall, he has won 192 races for 2-year-olds at Saratoga.
With divisions at Belmont Park, Monmouth Park and Saratoga, Pletcher presently has 200 horses in training.
He participated in a Q&A with Karen M. Johnson on June 29. The topics discussed included the 2016 Saratoga meet; reflections on years past in Saratoga; training philosophies; crucial issues currently facing the racing industry; Thoroughbred aftercare; and international racing.
In what ways does the Saratoga meet bring more pressure to your job?
"Probably any real and true pressure would be self-imposed. Everyone wants to have a good showing at Saratoga. We have owners that love to run horses at Saratoga so, naturally, you want to have success for them, and have them enjoy the meet.
"Sometimes you can control things; sometimes you can't. As much as you would like things to happen during that six-week period, you're going to have some [2-year-olds] who are just not ready and you're going to have some weather issues that may or may not allow for horses to perform to their capabilities or get to run on the grass or run when something else outside of your control happens.
"At the end of the day, we want to perform well all the time. But certainly, during Saratoga, with its limited meet, you would like to excel during that time frame."
Since you won your first Saratoga title in 1998, in what manner has the competition intensified?
"Saratoga has always been extra tough. I don't think that it has changed since 1998. It's a collection of a lot of the best horses in the country. You have the best of the Northeast, the Midwest, and California shippers. It's consistent in that regard.
"You have to expect that the races are going to be a little bit tougher than they normally are. You're going to enter in some allowance races and feel like you have a really good chance and then you're going to pick up the overnight and say, 'Oh man, I can't believe those two horses are in there'. It's part of Saratoga that everyone is sort of willing to drop down in class a little bit in order to try to win. I think that's what makes it fun and competitive and that much more rewarding when you do win."
What barometer do you use to measure your success at Saratoga? Is it number of wins or something else?
"That's a really good question. I don't know how you technically can say you achieved the most you could. We have one simple strategy the year-round and that is to do the very best we can with each horse we have. In some cases, winning the Grade 1 stakes means we brought the most out of that horse. In another case, winning a maiden $35,000 [claimer] might be a really good training job with that particular horse. We just try to focus on that and do the best job we can with each and every horse."
Do you believe a winning debut by a 2-year-old at Saratoga carries prestige with regard to that horse's appeal in the breeding shed?
"I don't think ultimately that it makes a potential stallion's career more [attractive], but I will say when you do have one — and I will use Uncle Mo as the obvious example — win as impressively and as fast as he did, and then go on to back it up with quality races, then yes, it can add something. But on its own, the answer would be, no."
Your 2-year-olds typically train at Saratoga during the off-season. What is it about the track and the environment that makes it an ideal place to train young horses?
"Part of the advantage is that a good portion of these babies are not going to be ready to run until the Saratoga meet. These 2-year-olds are coming in May and June and are getting to train two or three months at Saratoga in preparation for the meet and I think that is an advantage.
"I used to say it was a good, quiet place to get them ready, but I'm not sure that is really the case anymore. It's gotten more and more crowded. From that standpoint, maybe that is a good thing — it gets them accustomed to a busy setting and having a lot of horses on the track at one time gets them accustomed to the busyness of the racetrack.
"Climate-wise, I think it's pretty good in the earlier summer months — even though there will be hot days — it's still fairly cool in the mornings; you get good training conditions and good training weather.
"I think the Oklahoma [training] track has some advantages, but you have to be a careful with it as sometimes it can be a little deep and demanding on young horses. It's a good place to leg them up.
"When the main track opens, we train the majority of our horses there. Partly, because we keep quite a few horses [stabled] on the harness track, and what we try to do is meet on the main track and train the horses at the same time, so we can see them all.
"I've actually found the main track to be a really good surface to train on. We particularly like to work babies from the gate in preparation for their debuts on that track. On occasion, we'll come over to train on the Oklahoma turf course, and when there is a lot of rain, sometimes the Oklahoma [dirt] track will be a little better [than the main track]."
What are your early impressions of your 2016 2-year-old crop?
"You really start to find out the quality of your 2-year-old crop when you start running them. We're just getting to the point where we are breezing some their first five-eighths, so we're going to learn a lot about each individual and what our whole 2-year-old crop looks like.
"Last year at this time, I was concerned that our 2-year-olds weren't looking that good, and it kind of turned out to be true; we kind of had, by our standards, a slow 2-year-old season. I would be a little more optimistic at this point that, hopefully, we're a little deeper, but the next couple of weeks are going to tell us a lot about it.
"We've gotten off to a pretty good start with our 2-year-olds with winning the Astoria [Bode's Dream] and Tremont [Silver Mission] and having some debut winners. It's encouraging, but a lot times, as I've said in the past, you're training your 2-year-olds with your own 2-year-olds, and while you might think yours are good, they might not be nearly as good as some of your main competition."
You often find yourself in the spot where you have multiple 2-year-olds running in the same maiden race at Saratoga. Does this scenario ruffle the feathers of your owners? If so, how do you handle the situation?
"There is only really one way you can handle it and that is you try to do what is best for each individual horse and each individual owner. What we will obviously try to do is split up as many of our good maidens as possible — sometimes the races will divide and that will take care of the issue. Other times, you might have to ask an owner, 'Look, I think this one is little further along than yours; I would like to wait another week'.
"The good thing is there are maiden races pretty much every week in Saratoga, and sometimes you think this horse is better suited to 5, 5 1/2, or 6 furlongs, so they can be divided up that way. Also, a lot of these horses get ready at different times, so you split them up based on that.
"But there are occasions when you're going to have run two against each other when you really don't want to. On the flip side of that, some of our owners have multiple trainers and we might be running a maiden we like against against one of our client's other 2-year-olds with a different trainer. Because of that, I don't think most of our owners get too upset when we have more than one horse in a race.
"I think the one thing that everyone can appreciate is we're doing the best job we can with every horse, and we're trying to win with all of them. All you can really do is put the horse in the best position [to win]. Hopefully, we don't have too many that finish first and second because I think that makes it a little tougher when you finish second to a stablemate. It's a littler harder [for an owner] to understand compared to when you finish third or fourth and have two or three other horses beat their horse."
What past 2-year-old impressed you the most with their Saratoga debut?
"I would have to say Uncle Mo. We've been fortunate to have a lot of debut winners over the years, at Saratoga, and a number of places, but I don't know that we've ever had one run that fast, win by that far, and be that impressive first time out. We felt like training up to his debut he was our best 2-year-old. He certainly exceeded expectations on that day.
"He then really moved forward to win the Champagne in his second start and then the Breeders' Cup Juvenile, and doing it in the fashion that he did. He didn't start as many times as a lot of 2-year-olds, but I think his three-race campaign was as good as any [2-year-old] has ever had."
Which horses are you currently considering for the Travers, and what are their anticipated prep races?
"Right now, Destin and Stradivari are the two main ones. The most likely scenario is that Stradivari will run in the Curlin and Destin will run in the Jim Dandy." [Note: since this interview, Stradivari has sustained a career-ending injury.]
Your two Travers winners, Flower Alley and Stay Thirsty, both prepped at Saratoga by winning the Jim Dandy in advance of the Travers. How important is it to have a race over the Saratoga track in preparation for the Travers?
"I don't know that it is a must. But I do think it's an advantage when you have horses come up here and they get to train over the track and get a prep race. We felt with both our Jim Dandy and Travers winners — we've had a lot of luck in the Jim Dandy over the years, not quite as much in the Travers — they were coming into the Jim Dandy training unbelievable. We felt very confident going into the Travers that they would maintain that form. We were really optimistic with both of those horses."
What has been your toughest beat at Saratoga, and why?
"There are three that stand out as really, really tough beats: Uncle Mo in the King's Bishop when he lost by a nose to Caleb's Posse. I felt so bad for the horse because he had been through an illness and we got him back and he was training great and he just missed. With everything that he had been through . . . that was tough. And the two Whitneys that were pretty close [finishes] with Liam's Map last year and Quality Road [2010].
"They each had the lead close to the wire in all three races, all Grade 1s, and you just miss. Tough losses."
Did you replay those races in your mind later on those nights?
"You don't have time to pout in this business. You've got to get up the next morning and get back to work and try again. It's frustrating though. That's one of the most difficult things for me being a trainer; [I'm] a competitive person and like to win, but you've got to get used to getting beat a lot. You've got to pick yourself up and stay level and keep hard at it. Although there are certainly some [losses] that are more disheartening than others."
At the halfway point in 2016, what is your assessment of the kind of year your stable is having?
"Actually, I felt going into 2016 that it was going to be a rebuilding year for us. We had a number of horses retire at the end of last year. As I stated earlier, our [2015] 2-year-old crop wasn't as strong as it was in previous years. From a historically perspective, compared to what we accomplished in other years, [2016] may be below some of our record standards. But, at the same time, based on what we felt we had coming into this year, in some ways it has exceeded what our expectations were.
"We've had some horses step up, like Destin and Stradivari, and Stanford winning [the Charles Town Classic] and Mshawish winning the Donn on the dirt. Those were things that we were not necessarily thinking had to happen this year, but did, and have helped keep us currently at the top of the trainer standings. But it's a long way to go."
When your stable goes through a cold streak by your standards, how do you take stock of the situation?
"When you have a stable the size of ours, I think we internally go through some cold streaks that people don't even recognize. For example, we can go 0 for 13 on Belmont Stakes day, and 0 for 13 for some trainers might be a month, but for us it's one day. You finish second in the Acorn, and finish second, beaten a whisker, in the Belmont Stakes, and it can be frustrating.
"I probably focus a lot on what is not going right and try not to get too caught up when we do win. I'm always looking at areas where we can potentially improve. I'm probably more aware of our cold streaks than maybe the general public is.
"At the same time, you can't over-analyze those things. If you have a consistent program over a number of years that is proven to work, you don't want to make major adjustments, but you always do want to try to improve. To balance that out, I think you have to be a little bit aware of not getting too caught up in a few losses or a few wins. You've got to stay focused on the program itself."
Who are the current freshman sires that have caught your attention?
"We've got a handful of Stay Thirstys in Saratoga and we like the way they've been training, and he's had a few winners already. He would be one that I would be optimistic about. For selfish reasons, I would like to see him succeed."
As the yearling sales' season begins, who are the sires represented by their first crops that you're interested in seeing?
"I'm always interested in seeing stallions and how their babies are coming out — what they look like— and trying to get a line on who might be the next hot stallion.
"In the case of the Fasig [Kentucky] sale, we [had] quite a few horses horses we trained who are now at stud — Graydar, for example.
"I think one of the things I'm proudest that we've been able to [accomplish] in our organization over the years is to turn out productive stallions. I was looking through the Fasig catalogue and I think almost 25 percent [of the yearlings were] by stallions that we trained. It's pretty rewarding to see those horses going on to do well.
"Uncle Mo has had an unbelievable success. Mission Impazible is doing good. We had, I think, three winners by More Than Ready last year. It's a lot fun to see that."
What does your stable do in terms of Thoroughbred aftercare support?
"We do a lot. Each year we try to sell a lot of my lifetime breeding rights through the Thoroughbred Charities of America auction. We designate a portion of those proceeds to aftercare programs. Specifically, we try to support Anna Ford and New Vocations and also Old Friends and some other organizations.
"It's very important for everybody to be on board with [aftercare] and we certainly try to retire a few horses who maybe aren't able to keep competing at the level they were meant to. Rather than see them go down through the claiming ranks, we try to designate some of those horses for New Vocations and programs like that to make sure they have a productive and healthy lifestyle away from the racetrack where they might make great companions for some people."
In your view, what is the most important issue facing U.S. racing today?
"There are so many. The medication rules need to become more uniform. It's very difficult as trainers, especially when you race in multiple jurisdictions, and there is a difference in rules, even between so many neighboring states. It can be frustrating.
"I think American racing is unfairly criticized at certain times, and I think part of it is self-inflicted. I think we are unfairly criticized for medication use, which is probably used all over the world, just not on race day.
"We don't do enough to show how well our horses are being taken care of. There is positive data that has come out that we have made some significant improvements in areas like fatalities and fatal breakdowns.
"I do think we're doing a better job and we can continue to do a better job. But I think we do a poor job of sometimes promoting the positive side of this sport, and the good things that racing does — like aftercare and the improvements we made there and of the care of the horses while they are in training."
How could it be better promoted?
"I think just by making the point of showing all the good things that are going on on the backside — the horses being taken care of and the horses going on to good homes when they are retired. All the things a lot of us on the backside see we need to get that shown to the public a little more instead of the negative stories."
Could that be accomplished by the media?
"It could be. I do think there are some media who do try to promote that. But I think the racing industry should as well. I don't know who could take on that challenge, but promoting the good things could come from a number of areas, I suppose."
What are your thoughts on proposed legislation to provide federal oversight of horse racing in the U.S.?
"I think there is an argument for it. Like I said, I think trying to create some [medication] uniformity is important. But it's much like government itself; there is government at the state level and there is government at the national level. Which takes precedence? It's a complicated issue; a little more complicated than some people realize.
"You can't just say, 'Make all the rules the same for every state'. Every state has their own agenda, so to collectively do that . . . this is not a league, this is not the NFL, this is not where you buy a franchise. Racing is different. It's more complex than that.
"I think an argument could be made for a [U.S. Anti-Doping Agency] type organization overseeing the testing. But a lot of [drug testing] is in the fledgling stages and a lot of science is not known, and testing is serious business. There is a lot at stake, so it's not where [an organization] can come in and make a bunch of rules. There is a lot of scientific data to be examined before you start penalizing people. I think we're making steps in the right direction, but it's a slow process."
In 2011, you made your first European foray with two horses — Bridgetown and More Than Real — who ran and lost at Royal Ascot. You haven't been back since to run a horse. What was the experience like and what would motivate you to go again?
"The experience itself was great. I've been back again to Royal Ascot for the races and I think it's a fantastic event. I enjoy international racing and I think Wesley [Ward] has paved the way for Americans to go there, and he has shown we can be successful.
"His success did a lot of favorable promotions for U.S. racing. And now to have Tepin go over and win, it shows that our horses can win anywhere in the world, with or without any medication. We also saw that with California Chrome in Dubai.
"We've given Dubai a crack a few times, especially since they went back to dirt. My main motivation to go back to run in an international race, Royal Ascot, or wherever it is, is to do it with a horse that we feel like has a legitimate chance to win.
"I'm not sure the two I took to Royal Ascot were the right two, but I think we learned something about it. Hopefully, down the road, when the timing is right, and the horse is right, we can try it again."