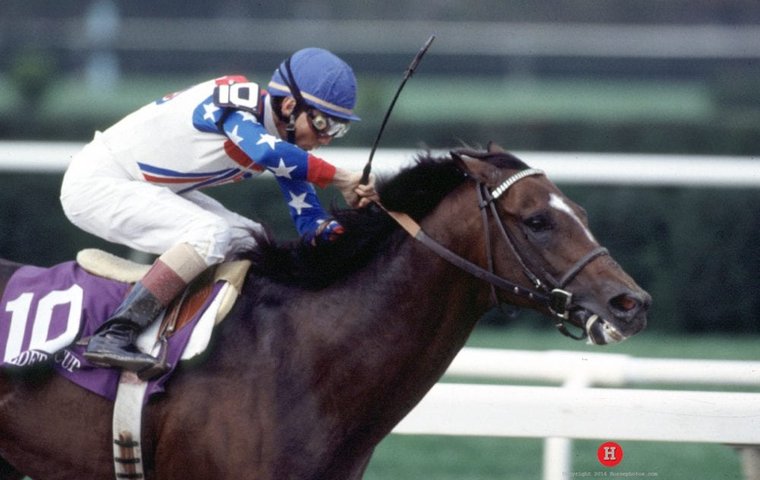 A quarter of a century always sounds like more than 25 years. Either way, it has been that long since a rangy, dark bay Thoroughbred with a white-rimmed eye ran rampant across North America, racking up a ten-for-ten record that stands alongside the greatest campaigns ever laid down by an older male.

Cigar was a racehorse in full bloom during 1995. The son of Palace Music, a major winner on grass, transformed himself from a mediocre turf horse into a main track champion by tapping into the blood of Seattle Slew flowing through the family of his dam, Solar Slew. Once Bill Mott figured it out, there was, quite literally, no stopping Cigar, who flew the red, white, and blue design of Allen Paulson's Gulfstream Aerospace brand.
History was made, because no horse since Tom Fool in 1953 had gone ten races in a season without losing. Certainly, Dr Fager's eight-for-eight in 1968 requires acknowledgement, since it earned for him an unprecedented collection of titles as champion older male, sprinter, and grass horse, in addition to Horse of the Year. But ten-for-ten has that satisfying ring of decimalism. Cigar didn't need to go to 11. He just made ten one louder.
In the abstract, Tom Fool's six-month season of 1953, from late April to late October, was a gem of perfection. Upon closer examination, however, it was also an oddly asymmetric campaign.
Tom Fool's first race, on April 24, was the overnight Sation Handicap at Jamaica, in which he carried 128 pounds going 5 1/2 furlongs and defeated Do Report, a capable but unspectacular sprinter, by 2½ lengths.
Tom Fool made his next start in another minor handicap, but the person it was named was major. Joe H Palmer, who bore the rare description among sports writers as being both respected and beloved, succumbed to a heart attack in October of 1952 while writing about the racing that day at Jamaica Racetrack for the New York Herald Tribune. One week earlier, Palmer had extolled the virtues of Tom Fool's final race as a 2-year-old in the East View Stakes, which sealed the deal on his divisional championship.
One of Palmer's favorite subjects was John Blanks Campbell, the New York racing secretary who, according to Palmer, kept track of a '130-pound club', consisting of "owners and trainers who begin to throw themselves about and squeal like a pig stuck under a gate if so much as 130 pounds is put on their champions."
There is no record of Greentree's Jock Whitney or trainer John Gaver Sr making such sounds at Tom Fool's 130-pound assignment from Campbell for the first running of the six-furlong Joe H Palmer Handicap. With cold efficiency, their colt beat ten-year-old Tea-Maker by a length and a half, and Tea-Maker, in his day, was good enough to win the Vosburgh.
Four days later, the real racing began. Burdened again with 130, Tom Fool defeated the British ace Royal Vale (under 127) by a half-length in the Metropolitan Handicap, which was followed by similar results in the Suburban, the Carter, and the Brooklyn Handicaps. By then he was carrying 136 pounds.
Few serious scrapes
Except for a narrow win over Royal Vale in the Suburban, Tom Fool escaped the peak handicap portion of the season with few serious scrapes. His final four victories came in stakes weighted by allowances or age, when the year's top 3-year-old would be expected to challenge the older kingpin. That should have been Native Dancer, but his season ended in August, leaving the rest of the year at the mercy of Tom Fool.
Walking his beat at Saratoga, Tom Fool dismissed one horse in the Wilson and one in the Whitney (they were not the same horse). Back at Belmont, he dusted two in the Sysonby, then he traveled down the road to win a three-horse Pimlico Special. He was, quite clearly, the Horse of the Year.
Competing 42 years later, Cigar had the advantage of kinder, gentler racing secretaries who were risk averse at losing a marquee runner if their handicap weights displeased an owner or trainer.
After winning an allowance race at Gulfstream Park – while Mott vacationed in Costa Rica – Cigar was assigned 115 pounds for the Donn Handicap, compared to 127 on the freshly crowned 1994 Horse of the Year, Holy Bull. Alas, what could have been a fascinating encounter turned into a frustrating debacle. Holy Bull ruptured a ligament below his left knee challenging Cigar on the backstretch and limped into retirement, while Cigar won off by five lengths in a vacuum that confirmed little beyond his new-found consistency on the dirt.
And so, the show began. The weights carried by Cigar in handicaps may have been inconsequential, but his travel schedule was unprecedented. Not since the days of the barnstorming Round Table had an older male on his way to Horse of the Year appeared in so many places.
Heading for California
Cigar said farewell to Florida in the ten-furlong Gulfstream Park Handicap with a mid-race move that effectively froze the opposition in place. At Oaklawn Park in Arkansas, he dusted local hero Silver Goblin and 1994 Breeders' Cup Classic winner Concern. Then, in May, Cigar made his first appearance on national network TV during ABC's coverage of the Pimlico Special. He was a hit, with New York stakes winner Devil His Due playing second banana.
After a period of training back home at Belmont Park, Cigar had his June dance card filled by Suffolk Downs in the Massachusetts Handicap. The Boston fans turned out in force, and Cigar responded with a four-length win that was easy enough without insulting the local talent.
At that point Mott said, "Whoa." He wanted to rest Cigar for the fall. Paulson, on the other hand, yearned to display his horse back in California, where an earlier incarnation of Cigar the Grass Horse had been so embarrassing. Guess who won that conversation.
For his appearance at Suffolk Downs, track management arranged for a police escort to accompany Cigar to the track as if a great treasure was in transit. In contrast, when Cigar arrived at Hollywood Park a few days before the July 2 Hollywood Gold Cup, there was a clean stall ready and waiting, but that was it. The provincial mood was strong out West, where horses like Best Pal and Tinners Way held greater cache. Even Concern had been made an honorary citizen since traveling from Maryland to win the Californian.
Adding insult to indifference, on raceday Cigar was not found among the top three Gold Cup selections in the Los Angeles Times consensus of public handicappers. He was favored at 90 cents on the dollar, however, which meant someone was paying attention, and he was carrying a career high of 126 pounds. A quarter of a century later, Jerry Bailey's recollection of their 3½-length victory over two-time Pacific Classic winner Tinners Way remains vivid.
"I don't think he was respected that much in California," Bailey said. "And he won that race very easily. He could have won by a dozen lengths if I'd asked him. But Cigar was the kind of horse who didn't need to do that. He knew when his job was done."
Gritty performance
Cigar had earned Bailey's everlasting admiration earlier in the year at Oaklawn Park when the rider was not at his best.
"Three days before the Arkansas race, I was kicked in the chest by a horse at Keeneland named Gregory Hines," Bailey said. "Thank goodness I was wearing a flak vest – they were relatively new at the time – and X-rays showed my sternum wasn't cracked. So I packed myself in ice for two days and rode him, but I wasn't much help. Basically, he was carrying 120 pounds of dead weight. I was very impressed."
Cigar was also struck in the face with an opposing rider's whip that day in Arkansas.
"He just shook his head and dove back after the other horse," Bailey said. "It was a pretty gritty performance."
While Tom Fool coasted through the last part of his 1953 campaign, Cigar was confronted by a relay of challenges, including the weather. The advantage, though, was a series of three games on his home field of Belmont Park.
First came the Woodward Stakes, on September 16. Cigar's primary opponent in a modest field figured to be Star Standard, runner-up in that year's Belmont Stakes. The result was an efficient win by Cigar by nearly three lengths over Star Standard, with the rest thoroughly outclassed.
Next was the Jockey Club Gold Cup of October 7 over a Belmont surface listed as 'fast' but still sticky from recent rains. Mike Smith, aboard Star Standard, did everything in his power to carry Cigar wide on the final turn, a move that gave Pat Day and Whitney Stakes winner Unaccounted For a broad welcome mat along the inside. Day took full advantage, but once Bailey shook free of Star Standard, Cigar held Unaccounted For safe by one length at the end.
The Breeders' Cup Classic, at Belmont Park on October 28, 1995, would be the tenth and final start of the season for Cigar, and there were many reasons to doubt the outcome. There was the ongoing threat of rain, which rendered the track a sloppy mess. There was the opposition, which included several classy runners who had yet to test Cigar. And there were the possible lingering effects of an alarming case of hives Cigar suffered just six days before the Classic.
"The hardest races to win are the ones you're not supposed to lose," Ron McAnally said once as he brought John Henry to the paddock for a mile and one-half turf race at level weights. Mott was in a similar position. Having ascended as a national sports figure, Cigar was not supposed to lose the 1995 Breeders' Cup Classic. So, he didn't.
"Cigar was horse who always wanted to do things aggressively," Bailey said. "He was probably a great miler who Bill Mott was able to stretch to a mile and a quarter. It was usually all I could do to keep him from taking off the first part of his races, sometimes to the point when my hands went numb, and my arms got so tired I had to let him go. The Classic was one of those days."
After five of the ten furlongs had been run, Bailey surrendered, and Cigar took control. A minute later, as the big horse splashed past the winning post, 2½ lengths in front of Saratoga Cup winner L'Carriere, Belmont announcer Tom Durkin was able to deploy the cherry on top of his historic call:
"And here he is – the unconquerable, invincible, unbeatable Cigar!"
"Those were all different words I could have used," Durkin said later. "As it turned out, I used them all."(See video below.)
The ensuing 25 years have seen champions come and go with pretensions of being some version of the 'next' Cigar. In 2003, Horse of the Year Mineshaft won seven of nine starts, but he didn't last until the Breeders' Cup. Curlin's second term as Horse of the Year in 2008 was adventurous but not flawless, beginning in Dubai and featuring unsuccessful diversions to grass and synthetic surfaces, while Ghostzapper's 2004 Horse of the Year campaign was a masterpiece in four parts, but only four.
"Gun Runner reminded me of Cigar a little bit," Bailey said, referring to the 2017 Horse of the Year, who won five of six at age four, including the Classic. "What he ended up being did not look like that at three, but he certainly got better as he got older."
Few stallions aged better than Cigar. In 1996, he crafted a second straight Horse of the Year campaign that was even more ambitious than '95. But it was not perfect, ending with narrow losses in the Jockey Club Gold Cup and the Breeders' Cup Classic at Woodbine. At that point, however, there was nothing that could dampen the effect he'd had on the sport, and on the people in his racetrack family.
"Sometimes I'll wake up, or I'll stop and think, 'I'm training Cigar,'" Mott said at the end of the epic 1995 season. "It's tremendous responsibility. And It's a tremendous privilege, too. I always like to remind the people who work for me just how special it is for us to be around this particular horse at this time in history."
Cigar ended up with just shy of $10 million in earnings and was retired to Coolmore's Ashford Stud in Kentucky. When he was found to be sterile, the only thing left was a large insurance settlement and a pensioned life at the Kentucky Horse Park in Lexington, where he shared a daily stage with John Henry. It also meant that there would never be another Cigar. As if there could be.

An earlier version of this story included a horse that did not run against Cigar in the Woodward Stakes.