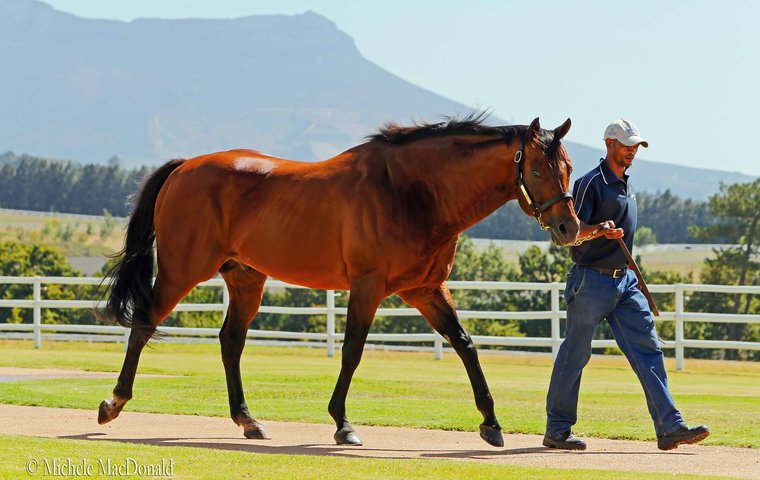 An exotic tale highlighted by a voyage to Africa and a leading sire title all began with an intuitive flash of love at first sight. From the moment Gaynor Rupert, of South Africa, initially viewed the classically molded frame and handsome head of Trippi at Ocala Stud in Florida, she sensed that he was everything she could want as she began to build her Drakenstein Stud Farm in the Western Cape.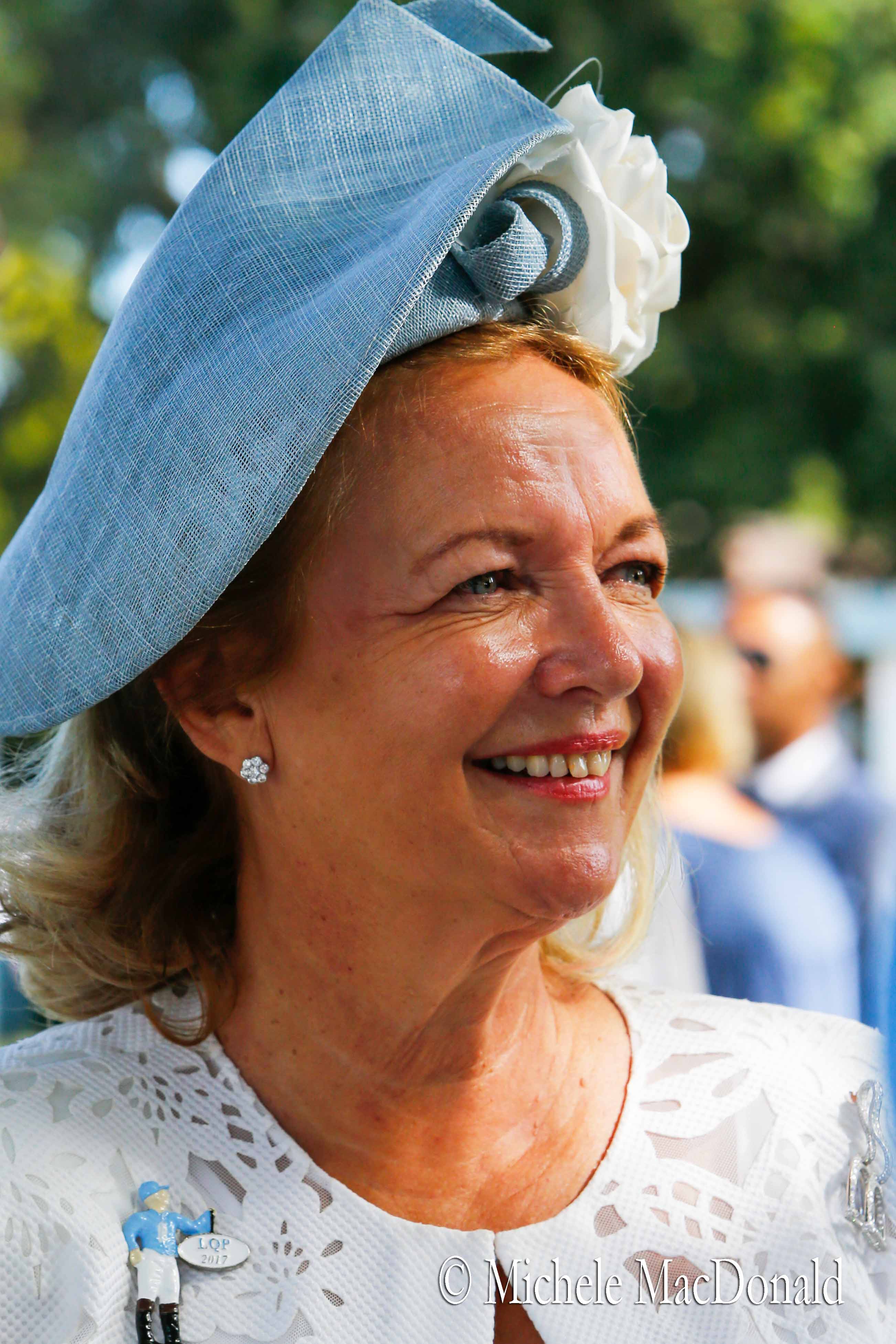 He's the most beautiful horse you will ever see," Rupert (pictured left) said recently, adding that, even though she inspected many other stallions during her visit to the United States in 2008, she could not get Trippi out of her mind.
Her instinctive attraction to the bay horse, backed by the unassailable facts that Trippi was a speedy G1 winner and a proven sire, ranking as the top stallion in Florida while capable of getting runners on dirt, turf and synthetic surfaces, turned out to be an unerring guide.
Rupert bought Trippi, and, since his arrival at Drakenstein that summer, he has risen to become the latest in a long string of American-bred horses to stand tall in international racing and breeding. By the end of the 2015-16 South African season, the son of End Sweep ranked as that nation's leading sire, with progeny earnings of R29,127,817 (about $2.2 million).
Trippi accounted for 11 stakes winners in that championship season, and his 112 offspring who reached a finish line first gave him 60 percent winners from runners as he followed an illustrious group of previous South African leading sires bred in America that includes Fort Wood, Al Mufti, Badger Land and Western Winter.
Worldwide, the U.S. has produced top sires for every continent, from Sunday Silence in Japan to Danehill in Australia and Europe to Southern Halo in Argentina, not to mention Northern Dancer and his son, Sadler's Wells, who transformed the landscape across Europe.
While Trippi has not dominated racing in South Africa, he has ascended to the pinnacle; he had ranked a challenging second in 2014-15 and is currently second in the ongoing 2016-17 season.
Critics silenced
His offspring as a group in his leading sire year outperformed those sired by the likes of Arlington Million winner Silvano, U.S. champion and Breeders' Cup Mile winner Miesque's Approval and Clark Handicap winner A. P. Arrow, to name just a few ranked South African sires that are familiar names in America.
While Trippi has authoritatively silenced some South African critics who claimed he could not prevail in the sire championship because his offspring were too speed-centric in a land where the richest prizes are offered in events between a mile and 2000 meters, he also has drawn the attention of global racing leaders.
Coolmore's M. V. Magnier joined with partners, including leading South African owner Markus Jooste, in buying a Trippi colt bred and consigned by Drakenstein for a South African record-equaling R6 million (about $455,650) at the Cape Premier yearling sale in January.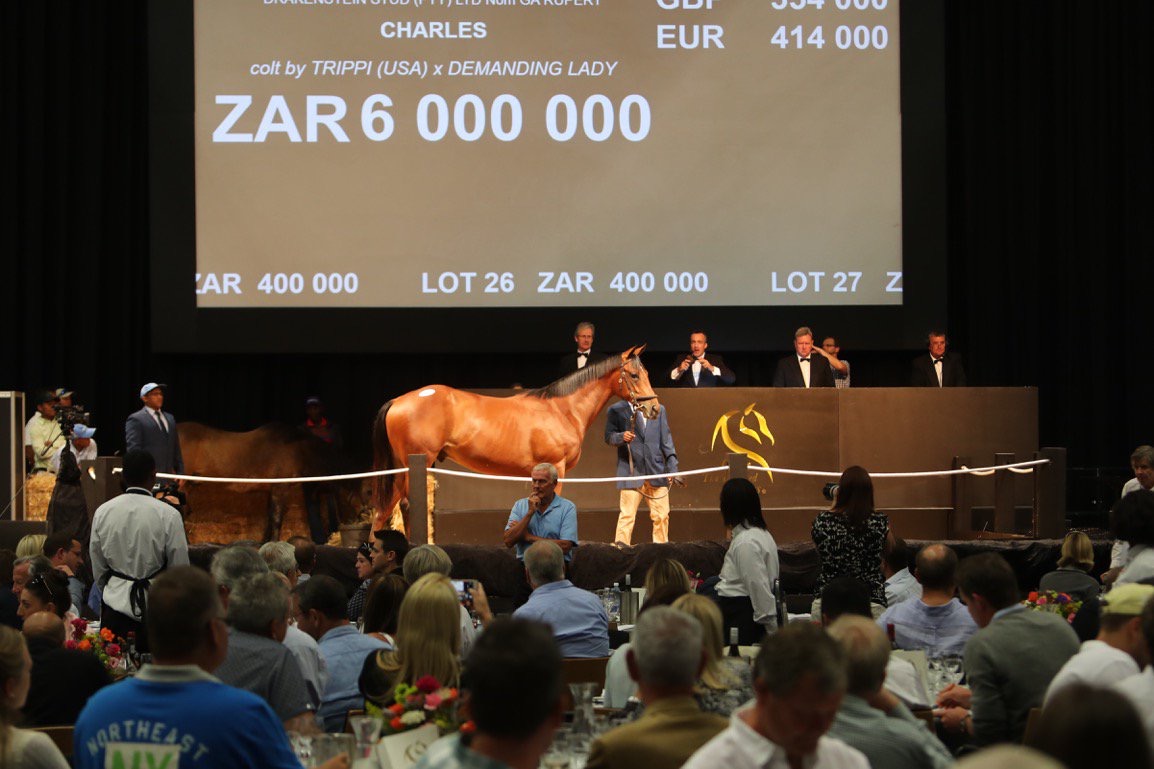 "He's from a top-class nursery and is an outstanding individual. We've bought him together with a couple of partners, and are delighted to have got him," Magnier said of the colt, the first foal of G2 winner Demanding Lady and from the family of Coolmore's G1 winner and stallion War Command.
Trippi's ascendency is particularly sweet for Rupert as he represents the fruition of her innate horsemanship into high accomplishments in racing and commercial breeding.
"I was very, very lucky with Trippi. I just always knew that he would be a success. And I don't think we've seen the best of him yet," Rupert said.
"He's from a top-class nursery and is an outstanding individual. We've bought him together with a couple of partners, and are delighted to have got him," Magnier said of the colt, the first foal of G2 winner Demanding Lady and from the family of Coolmore's G1 winner and stallion War Command.
Trippi's ascendency is particularly sweet for Rupert as he represents the fruition of her innate horsemanship into high accomplishments in racing and commercial breeding.
'Not seen the best of him yet'
"I was very, very lucky with Trippi. I just always knew that he would be a success. And I don't think we've seen the best of him yet," Rupert said.
Trippi's champion sire title "means a huge amount to the farm and especially to Gaynor for selecting Trippi as the first stallion who stood on the farm," said Drakenstein racing manager Kevin Sommerville.
"A lot of owners and trainers have always thought that Trippi can't be champion sire because he doesn't get that type of horse (to win from a mile to 2000 meters), and it was really nice to sort of disprove all of them and say, 'He can,'" added Sommerville, noting that Drakenstein's own five-time G1 winner Inara, a daughter of Trippi, "is exactly that type of filly."
"It hasn't been a surprise to us at Drakenstein that Trippi ended up being the champion sire, but we are super proud of him and his achievements," Sommerville said. "It's no mean feat at all for Trippi to have achieved what he has in such a short space of time as a stallion here."
After covering his first South African book of mares in the summer and fall of 2008, Trippi became that nation's leading first-year sire in 2011-12 before marching onward to become champion sire.
The now 20-year-old, who retains movie-star caliber good looks that belie his age, has exceeded normal standards most of his life. As with most horses that possess a rare level of quality, he walks with confidence and character, and he holds his head high as he looks above and beyond those who come to photograph or inspect him.
While he might not seem to be the bluest of blue bloods on first glance at his pedigree, he did have a genetic right, as became apparent over time, to be a good horse.
Trippi was a member of the second of four crops of foals End Sweep sired in America prior to moving on to leave a mark worldwide in his meteoric stud career. A graded stakes-winning son of Forty Niner and the best foal of his G1-winning dam Broom Dance, by Dance Spell, End Sweep set a global record in 1998 with 33 juvenile winners from his first crop, making him America's champion freshman sire.
Sold the following year to Arrowfield Stud in Australia and then shuttled to Japan after the Shadai Stallion Station purchased a 50 percent interest, End Sweep sired Japanese Horse of the Year Admire Moon and champion Sweep Tosho as well as Oka Sho (Japanese 1000 Guineas) winner Rhein Kraft before dying from complications due to fracturing his withers in an accident. He was only 11.
Trippi, who joined fellow North American G1 winners Swept Overboard, Dark Ending and Nany's Sweep among the best offspring of End Sweep, was produced by Jealous Appeal, dam of three other stakes winners. By the sprinting In Reality stallion Valid Appeal, Jealous Appeal was out of a daughter of champion turf and long-distance specialist Cougar II.
Bred by Harry Mangurian, Trippi did not emerge into the public arena until he was offered by Mark Casse, then operations manager of Mangurian's Mockingbird Farm, at the 1999 Keeneland 2-year-olds in training sale.
Far down on the auction results sheet, Trippi was purchased by Cot Campbell of Dogwood Stable for $65,000 during trade that yielded three seven-figure sales topped by the $2 million — then a world record for a juvenile — that Coolmore paid for La Salle Street, a son of Not For Love who subsequently never won a race.
As Campbell recalled later, Trippi was "rail thin" at the sale but still looked to be an athlete. Plagued by bucked shins and a viral infection in following months, he did not race until he was three — and then he streaked through his first four starts for Todd Pletcher, including the Swale and Flamingo Stakes, and earned his way into the Kentucky Derby.
In his Memoirs of a Longshot, a Riproarious Life, Campbell said he named Trippi after "one of the great practitioners of football's end sweep … University of Georgia All-American Charley Trippi.
"The horse blossomed in January 2000 and won race after race with his blinding speed," Campbell wrote, referring to Trippi as "a gentleman" whose "character could be seen in his lovely head and big generous eye".
"Could he ever scorch the earth," Campbell declared. "In his races, he would break a half-length behind the field. But the next three strides would find him two lengths on top, and chances are he would never look back."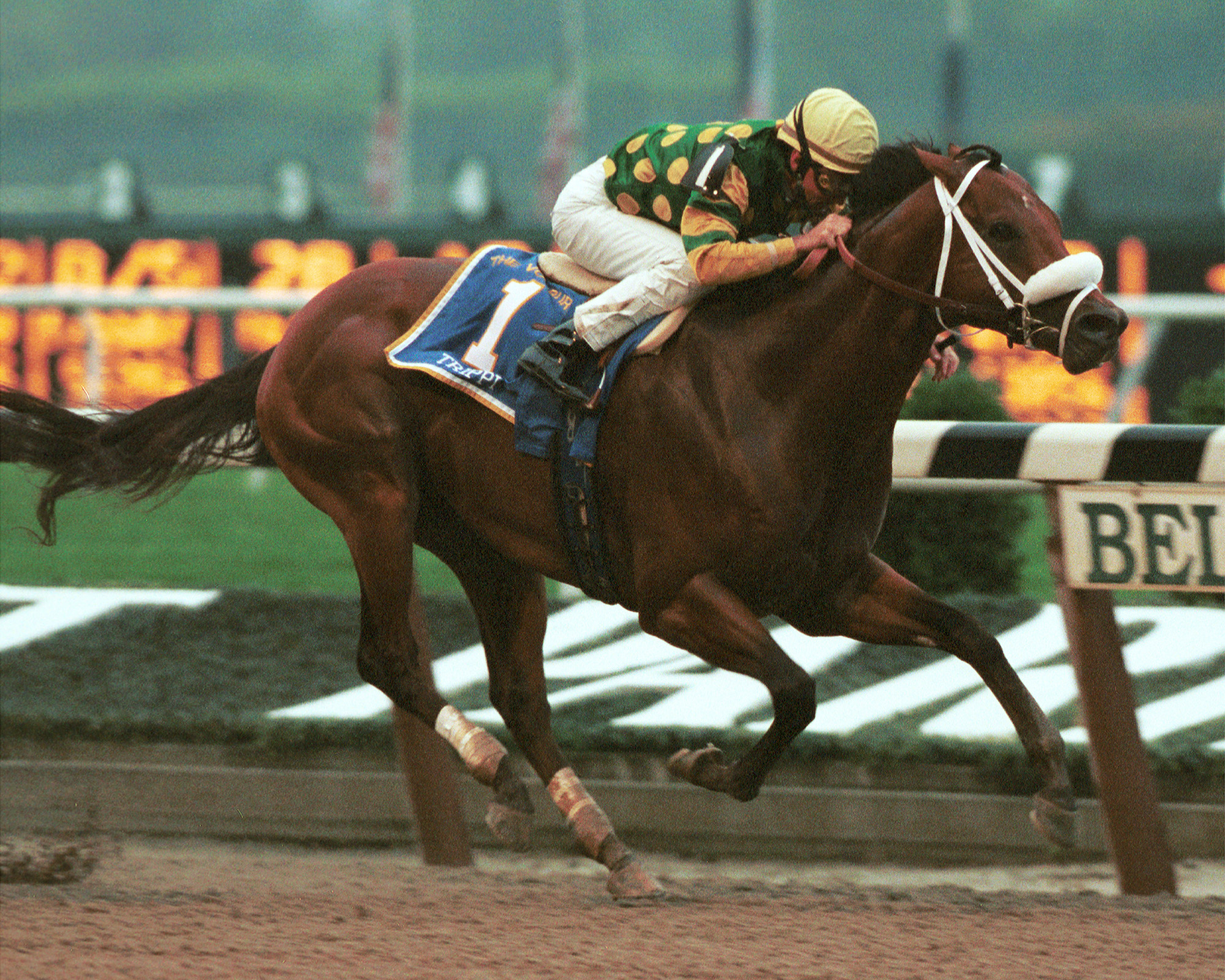 As fate would have it, Trippi did not wear the roses at Churchill Downs on the first Saturday in May after pressing Hal's Hope through crazy fractions of :22.47, :45.99 and 1:09.99 in the 1¼-mile classic. But, even though unplaced, he finished ahead of a number of talented horses and future sires, including eventual Belmont Stakes winner Commendable, 1999 2-year-old champion Anees, and G1 winners High Yield and The Deputy.
Trippi won a pair of G2 races at seven furlongs in his next starts in June and July. In September 2000, he set wicked fractions of :22.20 and :44.60 and still turned back a challenge from his Pletcher-trained stablemate and now notable international sire More Than Ready to capture the G1 Vosburgh Stakes at Belmont Park, finishing the seven furlongs in 1:21.66.
Plagued by foot problems as a 4-year-old, Trippi was retired without another win, but the Vosburgh victory had guaranteed him a shot at stud.
Bittersweet goodbye
He began the next stage of his life at Ocala Stud and, following in his sire's hoofprints, jumped quickly from the gate in his new career, leading all Florida freshmen sires with 16 juvenile winners from his first crop and finishing second to Exchange Rate in progeny earnings.
By the following season, in 2006, Trippi led all Florida sires by juvenile earnings and had accounted for five stakes winners. When Rupert arrived to visit Trippi at Ocala Stud, operated by J. Michael O'Farrell Jr. and his family, the stallion had sired 12 stakes winners, 16 stakes-placed runners and the earners of nearly $11 million.
"I listen to a lot of advice and then I go to look myself," Rupert said of the experience. "When I went to Ocala and met Michael O'Farrell, I could see these are genuine people, these are honest people. They've got a wonderful farm, all their horses look good. I went all over Kentucky (looking for stallions), but we ended up finding Trippi. He just fit the bill."
For the O'Farrells, watching a horse like Trippi leave their farm was bittersweet, although he returned dividends on their investment when sold to Drakenstein.
"We hated to see him go," said Michael O'Farrell's son, David. "But they [Rupert and her team] were such nice people, and that gave us confidence."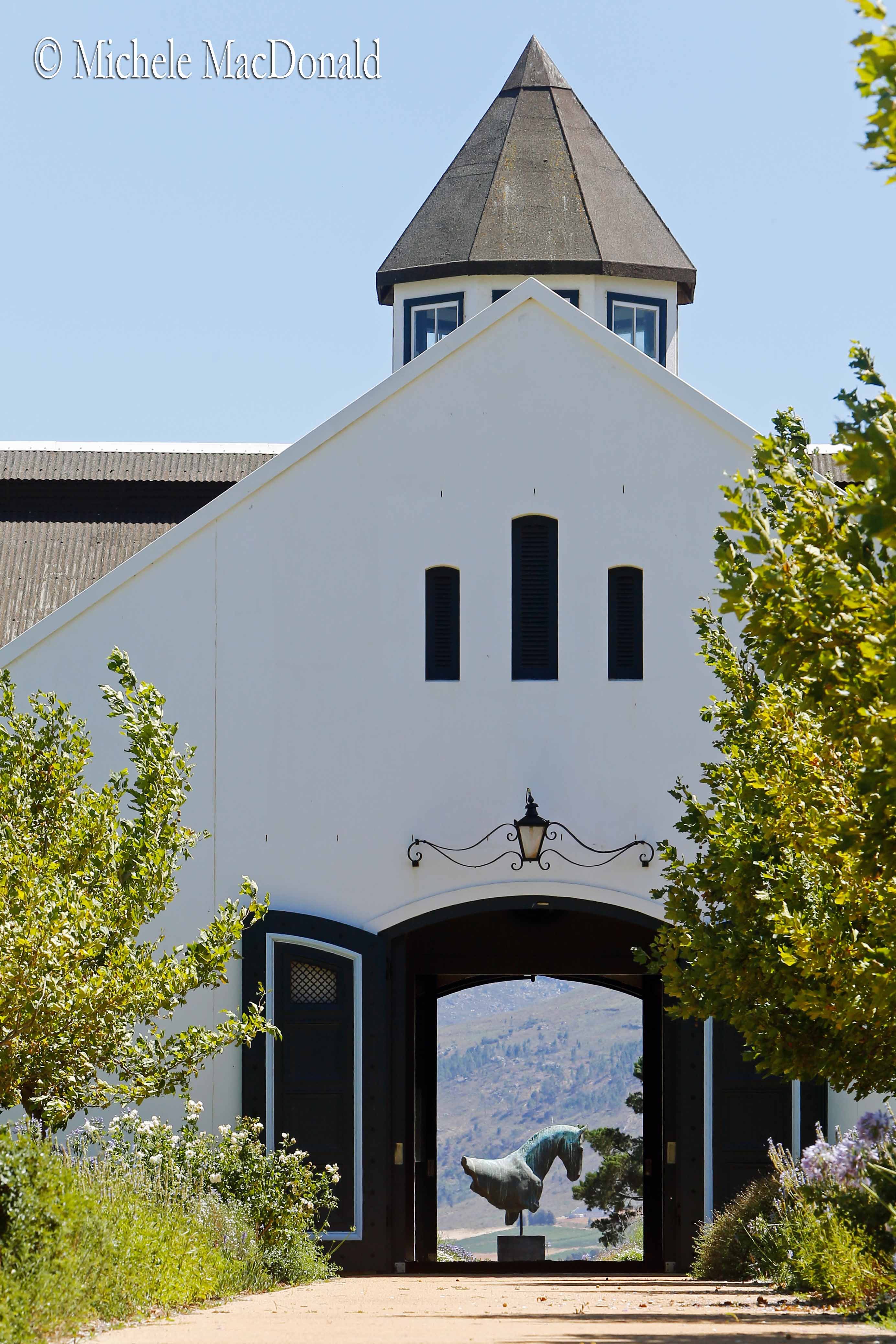 Trippi was a perfect horse to stand in Florida as he sired precocious and "super athletic" individuals, David O'Farrell said. The primary reason he was sold is that two of the partners in the horse at the time were dispersing their stock, while a third was reducing his holdings.
Meanwhile, Rupert was still in the early stages of developing Drakenstein, which today features an impressive stallion roster including European champion Duke Of Marmalade, sire of four European classic winners in 2015; Kingsbarns, a G1-winning son of Galileo, and South African Horses of the Year Futura and Legislate.
Drakenstein is located on the picturesque L'Ormarins estate at the base of the Groot Drakenstein mountain range and adjacent to the vineyards that produce wine under the direction of Rupert's husband, Johann, chairman of a luxury goods empire that includes Cartier and Montblanc. It was Johann Rupert who, more than a dozen years ago, encouraged his wife to buy her first Thoroughbred yearling and eventually build a breeding establishment.
"My grandfather had horses and, in fact, he banned his children from ever betting on horses because he lost all his money. He immediately made all the children fascinated with horses, of course," Gaynor Rupert recalled with a smile in relating how she had harbored an interest in horses for most of her life.
Artistic beauty
After Johann Rupert assumed control of L'Ormarins upon the sudden death of his brother, Antonij, in an accident in 2001, he suggested that his wife set up Drakenstein on the estate property that now spans about 3,200 acres.
"He wanted to take on the wine on the lower slopes and he said, 'Why don't you bring your horses to L'Ormarins?' " Gaynor Rupert said. "I had 12 at the time and they were on Micky Goss's farm, Summerhill Stud (in KwaZulu-Natal), so I think my husband didn't realize that 12 years later there would be seven stallions, 96 broodmares, a yearling farm in the Karoo and everything else. It's grown, and it's been an absolute pleasure."
Rupert's dedication to her horses and to creating a unique artistic beauty at Drakenstein has become known to those involved with Thoroughbreds around the globe. David O'Farrell said that, based on what he has seen in photos and learned, Drakenstein is on his 'bucket list' of places to visit.
"Trippi is in about as close a place to heaven as you can imagine," he said.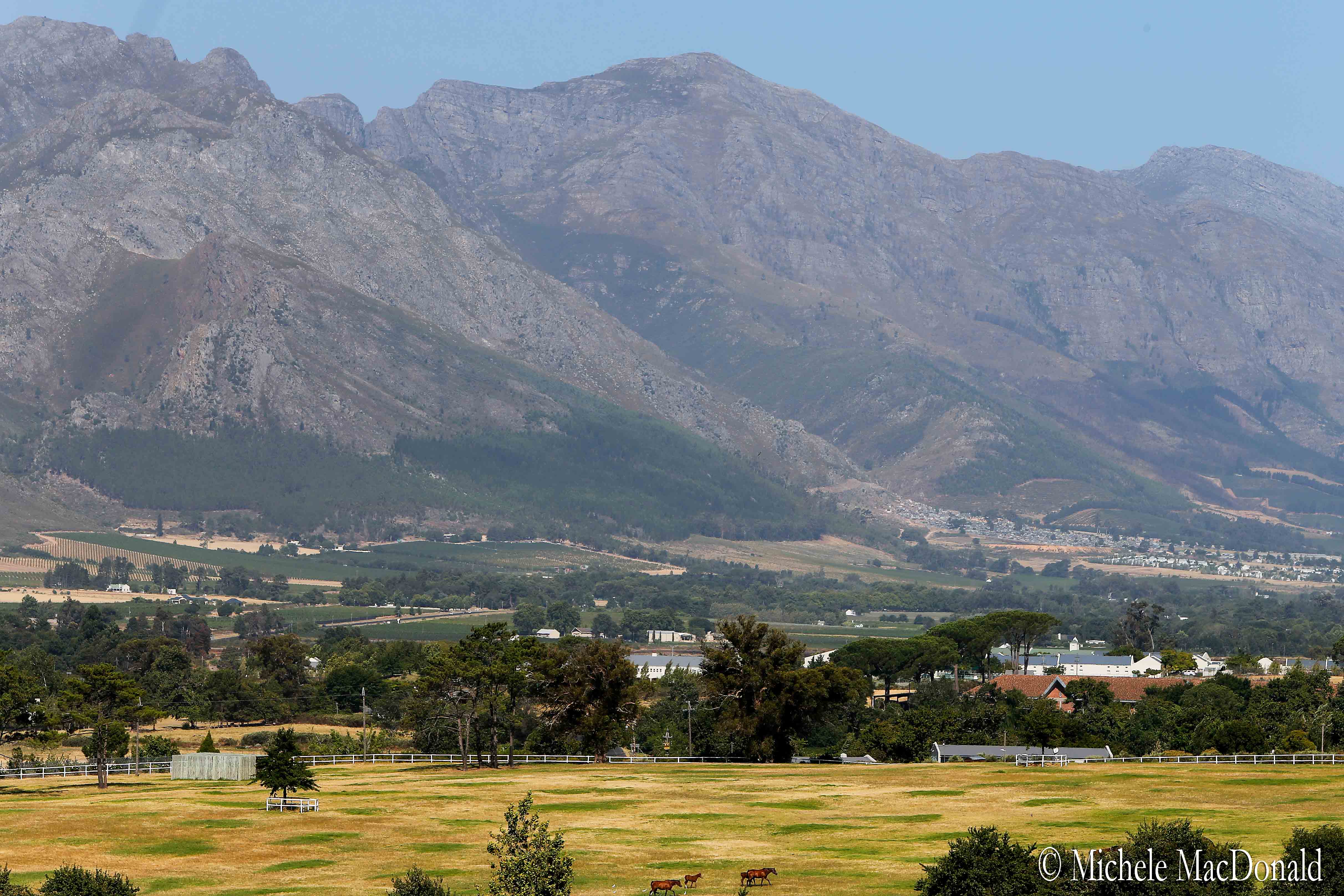 While Trippi has moved to the Southern Hemisphere and far away from Florida, not much else about his life is different, other than it probably is physically easier since Drakenstein keeps his book at around only 50 mares supplied by syndicate members, according to Sommerville.
O'Farrell recalled that Trippi's foals were "definitely lively" in temperament in addition to often stamped in his image, and Sommerville said that is still very much the case.
"One of the hardest things to find is a stallion that is ultra-consistent and predictable, which makes them very easy to work with. Trippi is that one stallion. He's one of the best that I've ever seen," said Sommerville, who previously worked internationally, including posts at Juddmonte Farms in England and with the Keeneland Association's sale department in Kentucky.
Adding quality
"Any type of [horse] that you want to get out of Trippi — for example, if you want to get a horse that can get 2000 meters — then you send him that type of mare and he seems to get you that type of individual. He's very, very predictable in the progeny he throws from the mares that you give him," Sommerville continued. "While in the main he produces sprinters/milers, they're not your classic sprinters in that they're not heavy and bulky. He's one of those rare sprinting stallions that actually adds quality.
"So, even when you're sending a big heavy sprinting type of mare and you want to get a sprinter/miler, he adds quality on top of that, which is quite hard to find."
Trippi's foals are widely known to be spirited, or as Sommerville says, "independent".
"They are very much horses that know what they want, and they don't like to be forced to do what they don't want to do," he said. "So, in the hands of some very patient trainers and trainers who don't get too hard on horses, they can really thrive. If you allow them to do sort of what they want to do and feel comfortable with, then they really put in a lot of effort. They are very, very genuine, but you have to give them a chance to be genuine."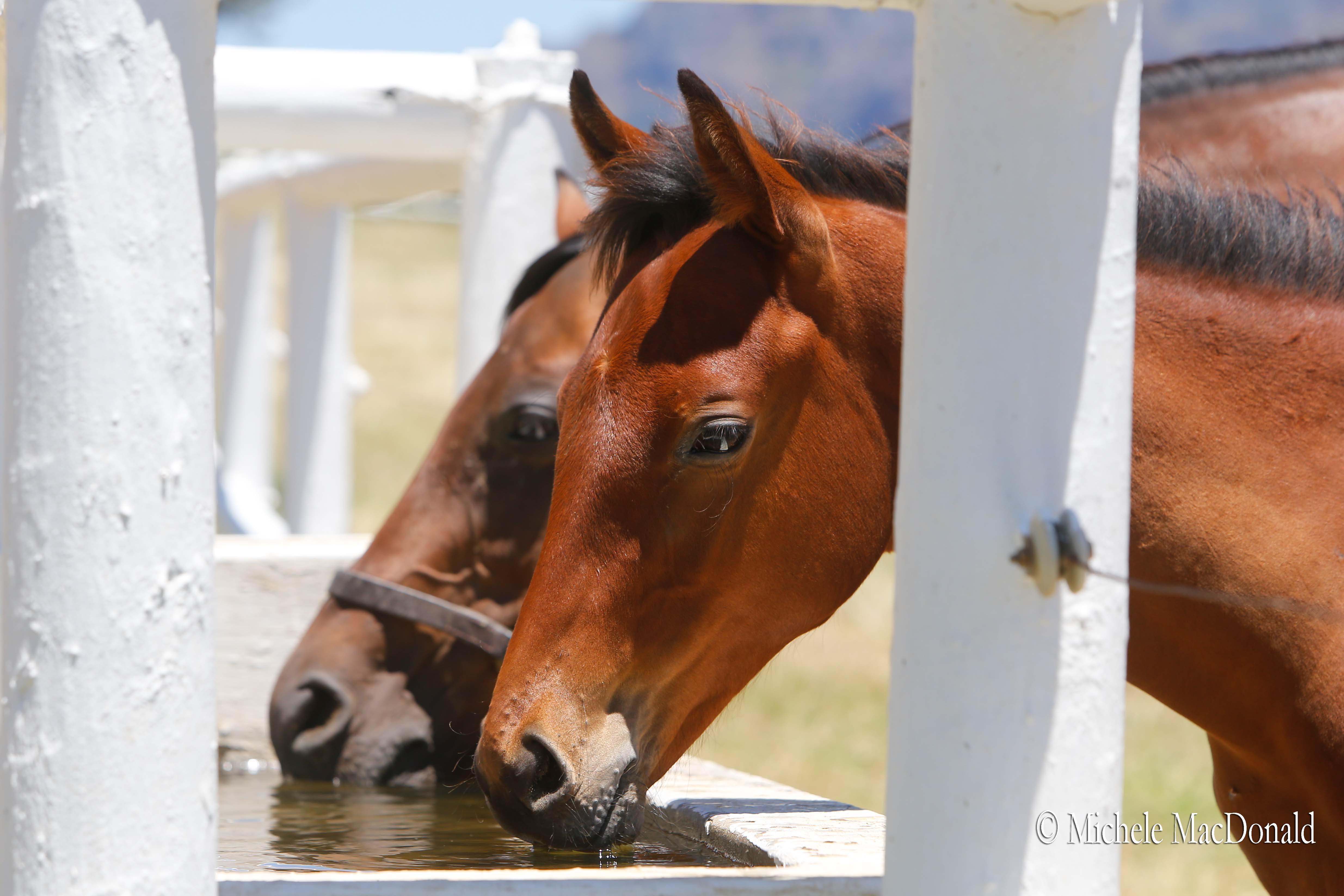 Perhaps more than any other characteristics, however, Trippi gives his foals the refined elegance that Rupert first noticed when she inspected him at Ocala Stud combined with the capability to achieve over different surfaces.
Data compiled by the American Jockey Club through early March shows that Trippi has sired exactly 1,000 foals of racing age from 12 crops, and, of those, 83 percent have started and 66 percent have won, which would be laudable figures in any market. He has 67 black-type winners, or a strong seven percent of his foals of racing age, and another 65 that have placed in black-type races.
To date, Trippi's offspring have earned over $47.3 million, led by Japanese dirt and turf stakes performer A Shin Wezen with about $1.85 million and by Gourmet Dinner, winner of the $1 million Delta Jackpot Stakes in 2010, who banked a total of $1,159,627. Trippi also has the distinction of siring a Royal Ascot G2 winner in Jealous Again, who captured the 2009 Queen Mary Stakes.
In South Africa, Trippi has sired G1 winners Afrikaburn, For The Lads and Real Princess, in addition to Inara. He also has begun making a mark as a broodmare sire, with his American graded-stakes winning daughter Miss Macy Sue producing 2015 Breeders' Cup Dirt Mile winner Liam's Map.
And so Trippi continues to benefit just about everyone who has been involved with him, and he has fulfilled all that Rupert saw in him in storybook fashion.
"I think Gaynor is very pleased that a horse she fell in love with has become a foundation stallion for the farm," Sommerville said. "It doesn't always work out this way, but it has worked out with Trippi."