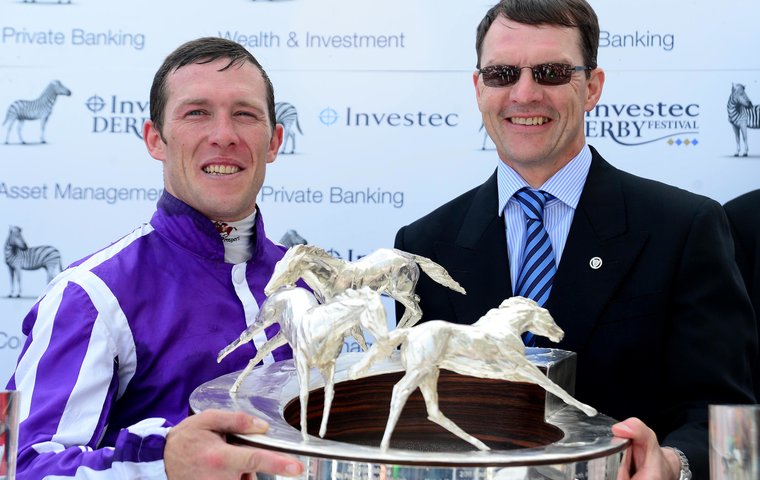 The name Padraig Beggy might not have been well known in international racing before 4.33pm on Saturday, June 3, but all that changed when Wings Of Eagles soared past the famous Epsom winning post.

Suddenly journalists everywhere were scrabbling for details on this relatively unknown jockey who had just ridden only his second winner of 2017 - on a 40-1 shot to win the Epsom Derby for Aidan O'Brien.
However, in his native Ireland, it is a very different story. Social media erupted with messages of congratulations from racing professionals who have known the 31-year-old since the start of his riding career.
Beggy, 31, made his return to an Irish racecourse, after his incredible G1 success, at Leopardstown last Thursday evening, and the queue of well-wishers lining up to shake his hand made this interview near impossible to complete.
At the head of the queue was a 78-year-old trainer, Owen Weldon, the man who gave the jockey his first start in racing, proudly carrying Beggy's first ever stable pass, complete with the obligatory baby-faced photograph.
Incredible experience
"It all started with Owen," admits Beggy. "I was 14 and wanted to leave school. Someone suggested that I should go and work for him for a summer because of my size. From there, I went to RACE [Racing Academy and Centre of Education] in Kildare to do the apprentice course. Owen taught me how to ride, but it was RACE that made me into a jockey.
"My experience there was incredible. I was apprenticed to Kevin Prendergast, where I worked alongside other jockeys, such as Stephen Craine and Chris Hayes. Kevin is a master to teach young jockeys. He starts the young lads riding yearlings to teach them horsemanship and we were never allowed wear gloves, so that we could get a proper feel of the reins. He gives everyone a chance and I rode some nice winners of handicaps on big-race days for him."
Ireland is blessed with many talented jockeys, but that can often be a curse to many young riders who find themselves on a level footing with some of the best in the world once they have lost their apprentice claim. Like many before him, Beggy took the decision to venture out and attempt to forge his career abroad.
He first went to England, where he rode for John Quinn and David Evans, before moving on to Malaysia for a time and eventually ending up in Australia.
Riding for Cummings and Waller
His stay there started out well with 31 winners in 18 months for trainers like Noel Mayfield-Smith, Bart Cummings and Chris Waller, but Beggy returned home to Ireland in late 2014 under a dark cloud with a suspension from the Australian authorities for a prohibited substance.
"The only thing on my mind back then was to get back riding. With the help of some friends from my apprentice days and Joseph O'Brien, I was working at Ballydoyle within two weeks of arriving home.
"From the very first day there, I knew it was the right place for me."
He says it was a huge help that he knew many of the staff there already, but his start there was slow, with no work-riding to begin with.
"Aidan had a chat with me early on and said, "Padraig, you keep working hard and someday we'll repay you."
"But I don't think he meant the Derby!"
Beggy says he has ridden some talented horses at Ballydoyle. One of the first he rode regularly was Johannes Vermeer, who finished his 2-year-old campaign in 2015 by winning the G1 Criterium International at Saint Cloud.
Working with Minding
"In my second year there, I rode Minding as a 2-year-old. I'm lucky that Aidan shares the rides around in the better races. I rode Hydrangea to finish second to Rhododendron in a Group 2 at the Curragh last August, and Aidan let me keep the ride on her in the [G1] Moyglare Stud Stakes the following month. I was gutted to miss out on my first Group success by just a short head but also delighted for Joseph O'Brien, who has given me so much support since I came back to Ireland, and his brother Donnacha, who won it with Intricately."
Beggy's first Group winner was also his first winner of 2017, when he was successful in the G3 1,000 Guineas Trial at Leopardstown on Hydrangea.
The pair went on to finish third in the G1 Irish 1,000 Guineas at The Curragh behind stablemates Winter and Roly Poly.
Beggy had plans to go to Kilkenny for a friend's stag party on Epsom Derby weekend, but he was more than happy to miss out when he got the call up to ride Wings Of Eagles, one of six runners for O'Brien in the big race.
"I knew I was on one of the outsiders of the bunch, but we were chatting on the plane over about how there was barely a pound between all of them and they had all been trained by Aidan to run the race of their lives on the big day. Michael Hinchey, who rides Wings Of Eagles every morning, told me the horse was in great form and he was confident that he would run a big race.
Aidan's telling remark
"I walked the track with Aidan and the team in the morning and it is every bit as undulating as everyone says it is. Aidan turned to me at the bottom of the home straight and said, 'It's still a long way home from here'.
"That stuck in my head on the way round. We were going so easily a furlong and a half from home that I thought to myself we were in with a chance.
"I put my stick down 100 yards out and I knew if I could keep him straight and balanced then the race was ours (see YouTube video below). Everything was a bit of a blur afterwards. Aidan congratulated me and told me to make sure to weigh in and all of the team were so happy for me, if a little surprised.
"It did upset me a bit that some of the press tried to make a big deal about my ban in Australia, but that wasn't going to ruin the fact that I had just won the Derby. There wasn't much time to celebrate afterwards as I was in work in Ballydoyle at 6am the following morning, but it has started to sink in properly now.
"It was the best day of my life and, to be honest, I thought the chance to ride big winners like that had gone by me now."
There will no doubt be more big race rides in Padraig Beggy's future if he continues his association with Aidan O'Brien. Wings Of Eagles is likely to go for the Derby double in the Irish Derby at The Curragh on Saturday, July 1, but it is far from certain the same jockey will be in the saddle on that occasion.
"If Ryan [Moore] rides him next time, then I will wish him the best of luck. I have already had a great day on the horse. I won the Derby and nothing can change that. It could be a great weekend for me anyway as my girlfriend, Megan, is pregnant with our first child and the baby is due the day after the Irish Derby."
All future celebrations in the Beggy household will be richly deserved. The good days have been a long time coming, but the hard work and patience have finally paid off.