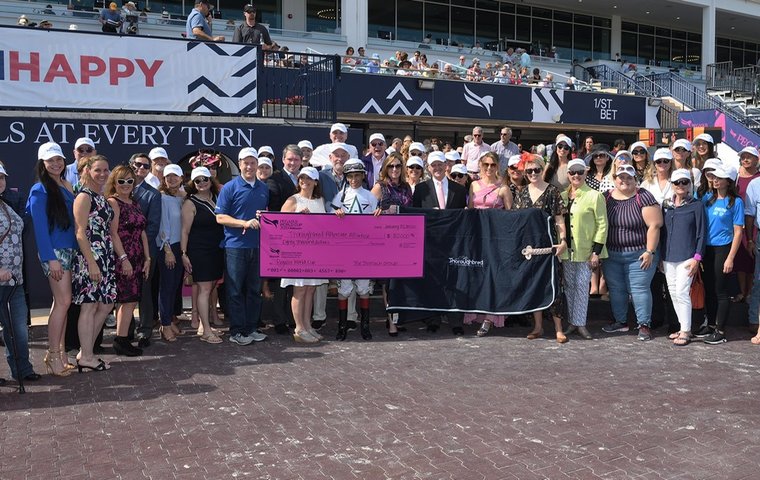 After the fourth race on the Pegasus World Cup card at Gulfstream Park on Saturday (January 25), the Thoroughbred Aftercare Alliance and around 25 of its accredited aftercare organizations accepted a check for $80,000 from the racetrack.

The money represents two percent of the purses of both the Pegasus World Cup Invitational and the Pegasus World Cup Invitational Turf, which The Stronach Group announced would be awarded to Thoroughbred aftercare. The gift is one of the largest purse contributions to aftercare at a major racing event.
Accepting the check on behalf of the TAA was TAA President John Phillips, board members Jen Shah and Walt Robertson, founding board member Jack Wolf, operations consultant Stacie Clark Rogers, staff Erin Shea and Steve Ruddy, and representatives from the following TAA-accredited organizations:
Akindale Thoroughbred Rescue, CANTER Michigan, Caribbean Thoroughbred Aftercare, Equine Encore, Equine Rescue and Adoption Foundation, Equine Rescue of Aiken, Florida TRAC, Heart of Phoenix, Hidden Acres Rescue for Thoroughbreds, LongRun, Maker's Mark Secretariat Center, MidAtlantic Horse Rescue, Old Friends, Our Mims, Peaceful Ridge Rescue, Racing for Home, RVR Horse Rescue, Second Chance Thoroughbreds, South Florida SPCA, Square Peg, Thoroughbred Athletes, and Thoroughbred Retirement Foundation.
The money awarded will be used for grants to accredited organizations earmarked for equine care. Since 2012, the TAA has awarded more than $17.2 million to accredited aftercare organizations. Currently 74 organizations hold TAA accreditation across the United States, Canada, and Puerto Rico.